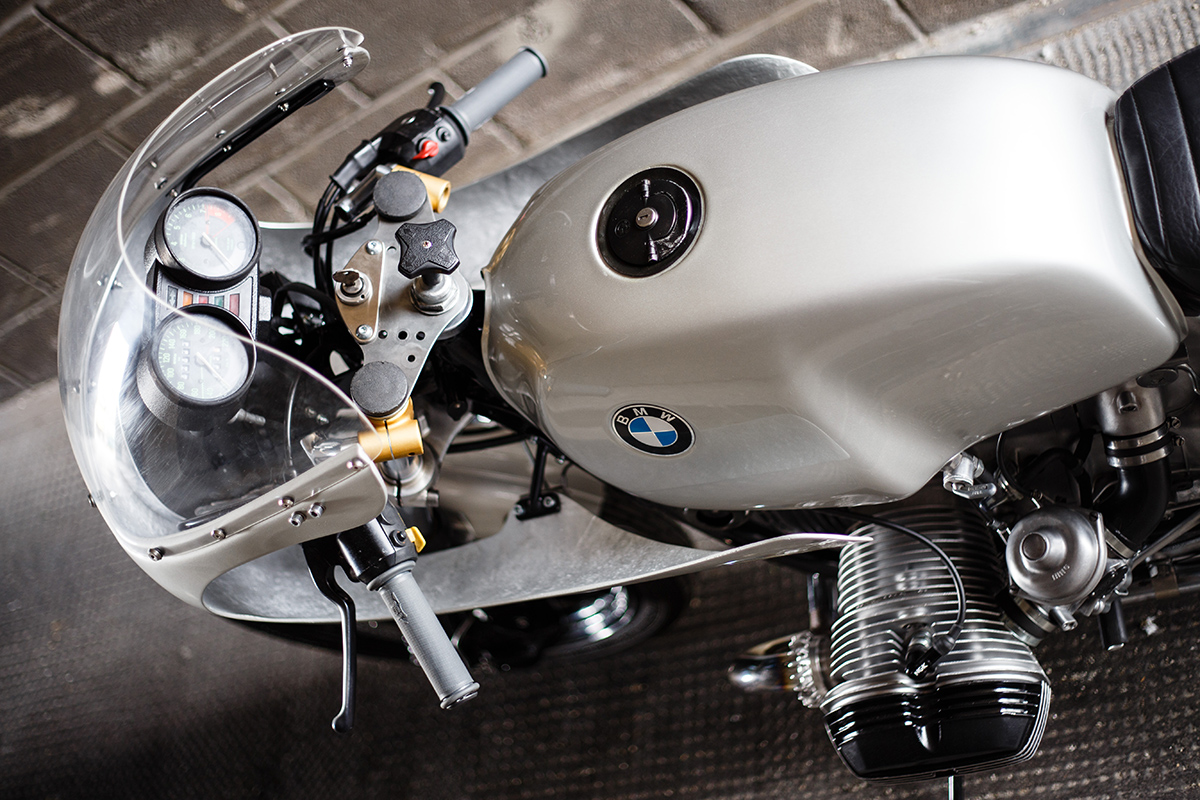 "As the story goes my first word was 'car' rather than 'mummy'. I'm not so sure whether this is the truth or just a funny story to tell at family reunions. However, my passion for noisy engines on wheels has been a lifelong affair." says Paul. "I think it was a pretty typical life for a man that loves motorcycles. First I was illegally riding them at the age of ten and eleven years with my friends. I visited all the motorsport events I could as a young man and the first bike I owned was a 1976 50cc Vespa, which according to some people isn't a real motorcycle!"
At the age of 18, and at the request of his parents, Paul directed his attention away from motorcycles and headed to University to study law. As a student, he revisited the Vespa platform, this time riding a 125cc Sprint to and from campus. Thankfully, Paul's geographic location of Austria allowed him to satisfy his need for speed on the ski slopes. Fast forward a few years and his next stop was Uganda, Africa working for the United Nations.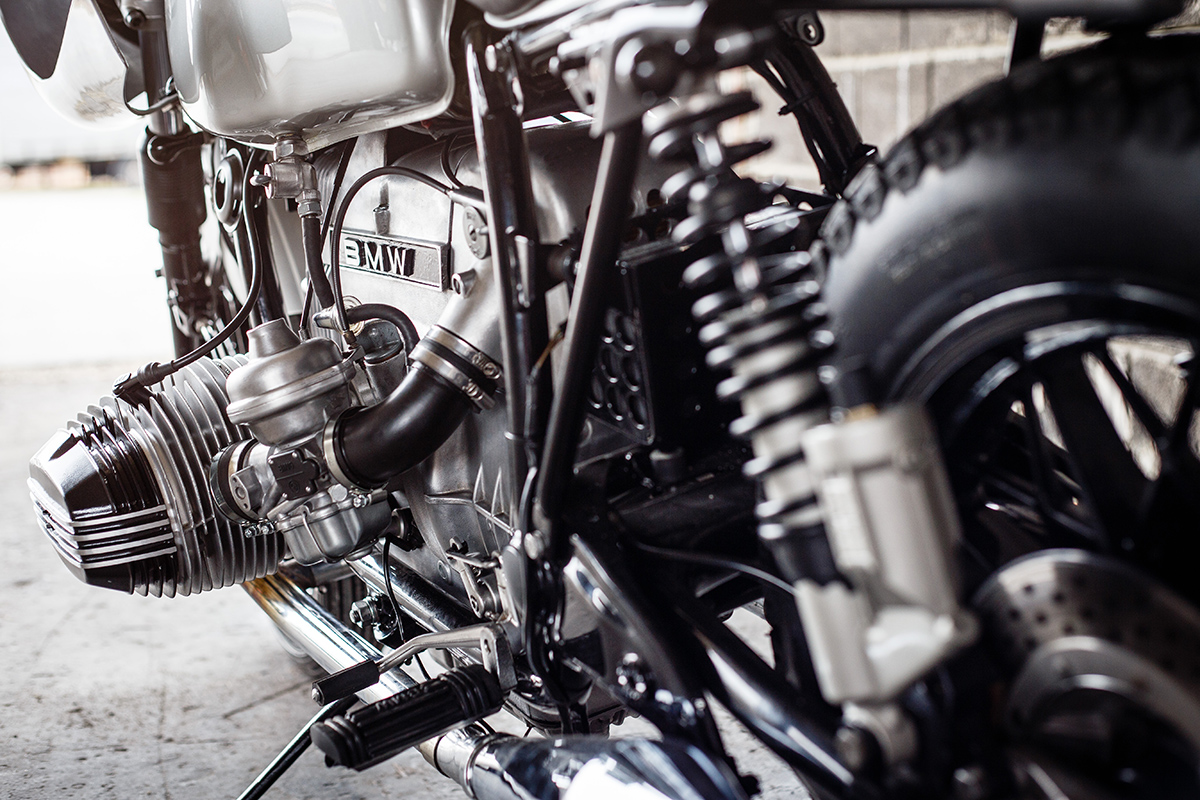 "It was the lack of opportunity to ski where I was based in Uganda that made me buy a BMW R80 GS" Paul recalls. "At that time (1996) there were very few of these 'big bikes' registered in Africa. My BMW stood out among the little Hondas and Suzukis and with a set of motocross tyres it took me on many wonderful solo trips. I rode throughout Uganda, right up to its northern border and Sudan. I will never forget those rides through the African savanna."
After 4 years in Africa, Paul made the pragmatic decision to head to London where he took up a position as an investment banker. His beloved BMW R80 joined him for the journey, but the rides to and from work through London traffic couldn't compare to his African adventures. Seeking other ways to satisfy his two-wheeled obsession he began tinkering with bikes after work. Bunking up with the guys at Untitled Motorcycles in Camden he restored a Honda CB750 K1 and gained some valuable mechanical knowledge.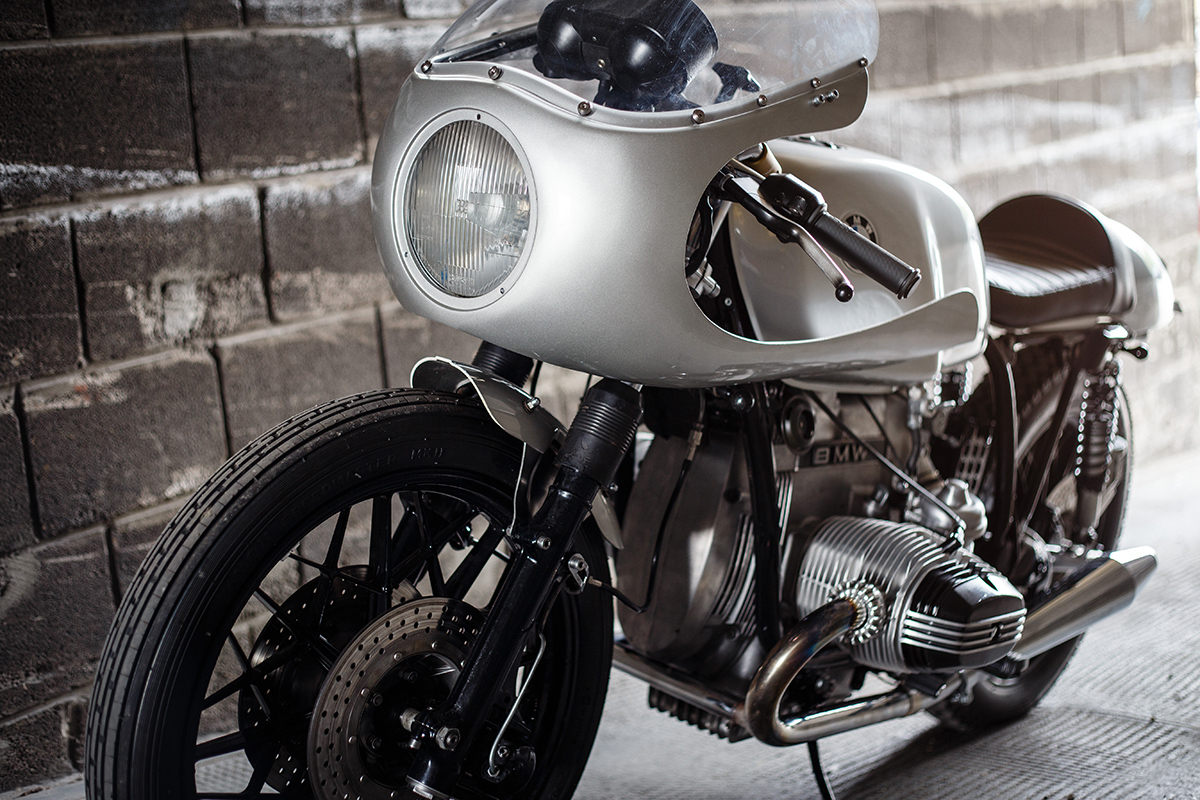 By 2013 the city life had Paul seeking his next adventure, but this one nearly cost him his life. From the bustling city streets of London, he jumped on a plane to the equatorial, jungle covered Congo where he had a shot at gold mining. His motorcycles once again took a backseat during this new career direction. His time in the Congo was short lived though. After contracting life-threatening myocarditis he returned home to begin a long battle of recovery. "This turn of fate made me realise that life is too short so I decided to follow my two passions of motorbikes and writing".
Paul found a new workshop space which he shared with a friend and began building his first custom bike, a 1979 BMW R100 RS Cafe Racer. He purchased a pair of R100s from a couple who'd left them sitting in their shed for 15 years. Still weak from his condition progress was slow, but he persisted, determined to beat the disease and achieve his goal.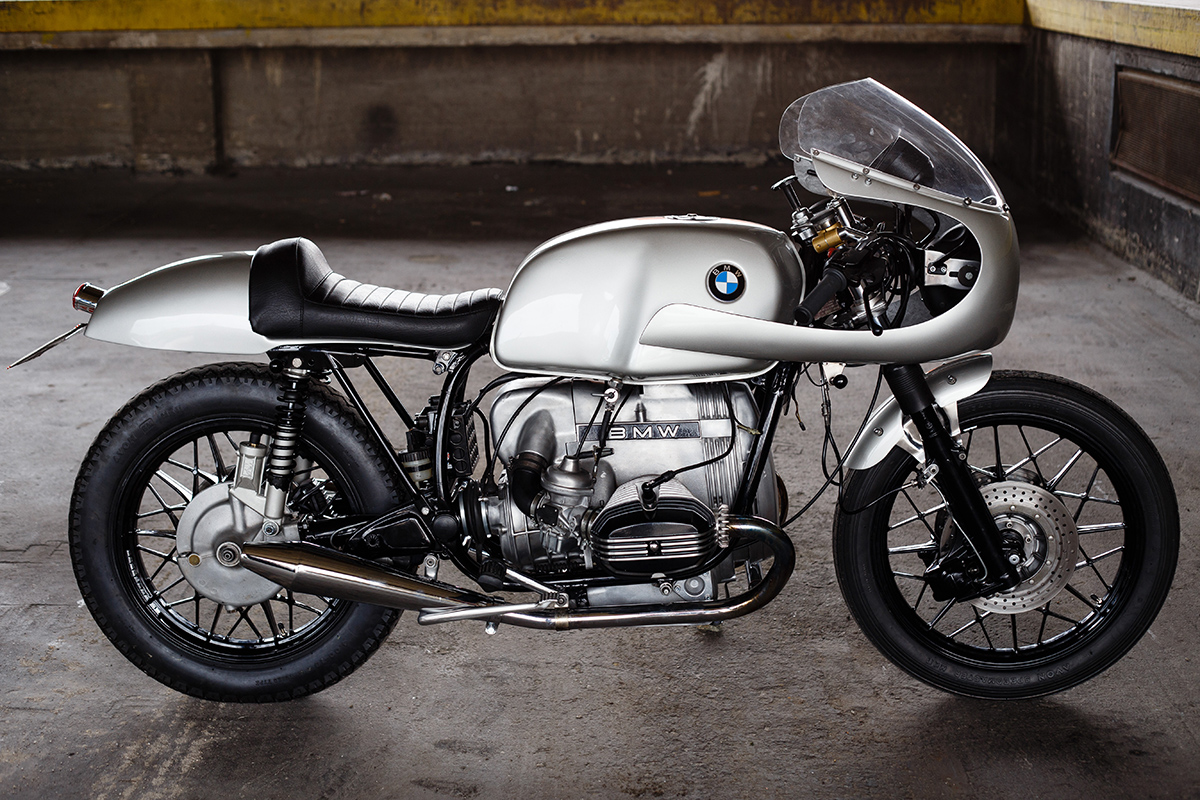 Paul began his build by completely dismantling one of the R100s and sending the frame and wheels off to be sandblasted and powder coated. Meanwhile, the original forks were overhauled and he fit a pair of refurbished Marzocchi Strada GT shocks to the rear. Along with being treated to a tune up the engine's cylinders were honed to take a fresh set of piston rings and its exterior was given a good clean. A set of aftermarket exhausts were also mounted for an additional boost in power.
To restyle the airhead into a sleek cafe racer Paul sourced a Ducati SS-style front fairing and cafe racer rear cowl from classic BMW experts, Flat Racer. With a bit of guidance from Flat Racer crew member Edgar, Paul tweaked the subframe to hold the new tail section. Rather than using the supplied mounting gear for the front fairing, he put together his own hardware and trimmed the side sections to fit his tall proportions. Paul replaced the factory bars with vintage Tomaselli items and mounted aftermarket indicators and mirrors using brackets he fabricated himself. He also fabricated a box to secure the battery low in the frame.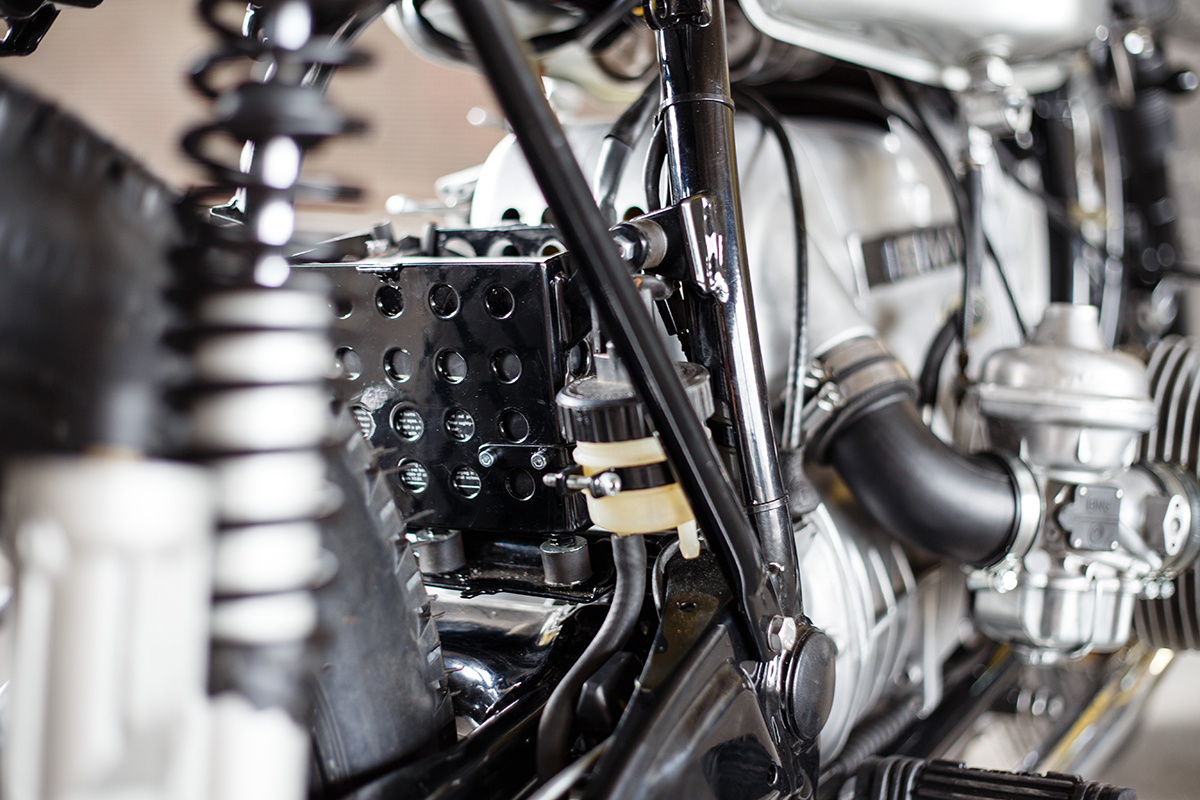 "I am impressed by the fact that only a few pieces needed to be changed and different colours applied to transform the BMW into a completely different motorbike." says Paul. As simple as the changes may be there's no denying that Paul certainly went through a hell of a lot to get to this point, and we're glad it all paid off.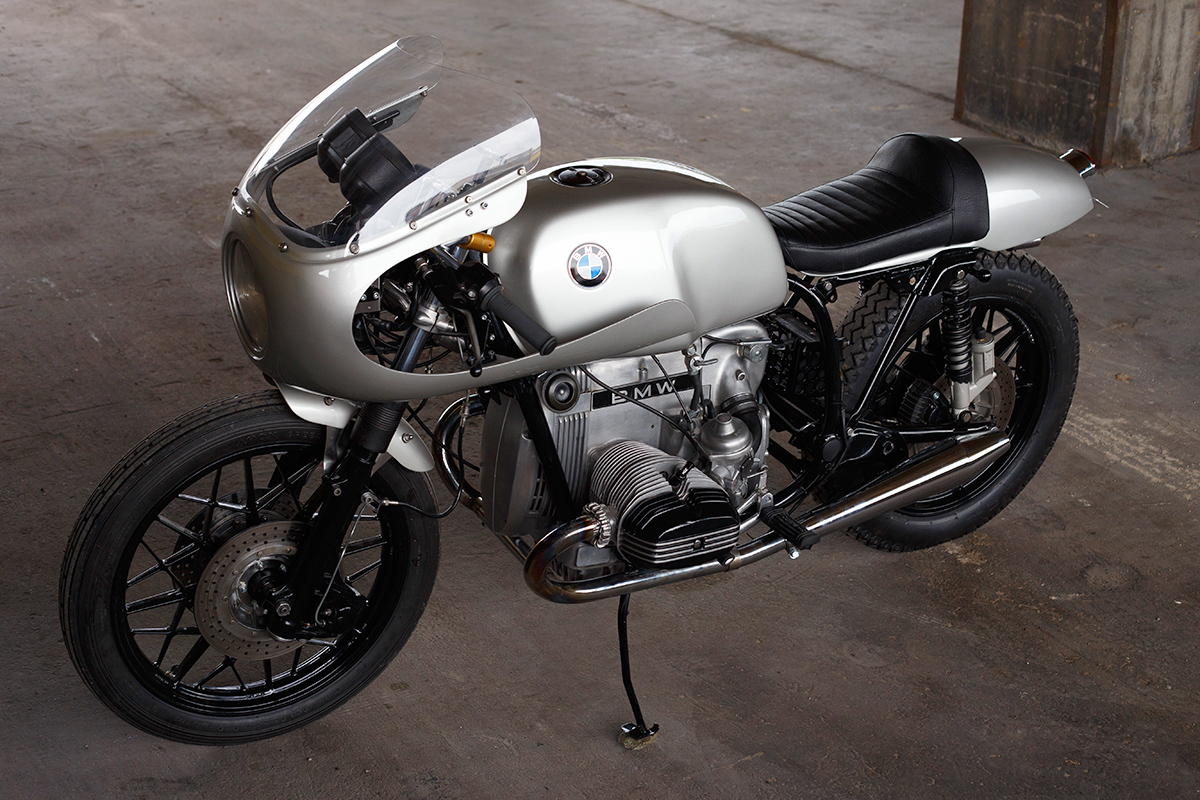 When we interview a builder about their custom build we always start by asking how they ended up building their own bike. Usually, it's a simple tale of 'like father like son', or I saw one on the street and thought "that's cool!", but occasionally we are sent a story that's unlike any we've heard before.
A couple of weeks ago I came into contact with Paul Tremmel who had just completed his BMW R100 RS Cafe Racer. Paul's life prior to building this bike reads like a movie script so rather than just talking about the bike we thought it would be best to share the story of how it all lead to the creation of this Bavarian cafe racer.