I recently became acquainted with Maximiliaan van Kuyk of Maverick motorcycles. Max and his brothers stumbled into the Cafe Racer scene in much the same way I did, but their journey took a slightly different path to my own. After seeing his latest bike, a stripped down, unashamedly raw BMW R100RS, I decided the best way to introduce this bike was to invite him share the story that lead up to this build in his own words…
"We grew up around engines and gearboxes. My father was a rally car driver and although he competed on a national level he was his own best mechanic and passed that knowledge on to us. Our childhood weekends were spent on motorbikes and go karts competing in local championships. Getting our hands greasy, learning how to take apart an engine and put it together again was just part of the fun. I never thought that part of my life would intersect with the artistic or financial part, until I had a chance encounter in Melbourne, Australia back in 2009.
I had my first encounter with a Cafe Racer. It was a Honda CB750 in classic blue and looked almost identical to Mike Salek's famous CB750, apart from still having all 4 original exhausts. It captured my attention the way no machine had before. I was obsessed. At the time I had no idea what a Cafe Racer was or where they came from, all I knew was I wanted one."
"I took some photos of the CB on my crappy Blackberry and sent them to my brothers who subsequently fell for it just as hard as I did. I spent months researching these bikes and learning what they were, where they came from, what they stood for and why they were called Cafe Racers. Stripped down, bare essentials, old school racing cool. And the connection with the dawn of Rock and Roll was just the cherry on top.
By the time I got back to Europe my brothers and I had all purchased project bikes. Seb bought a Moto Guzzi 850 Lemans 3, I got this BMW R100RS and Alex went with an Yamaha XJ650 over in his home town of LA. We used them day in, day out as commuters and for weekend joyrides, because to us they were there to be ridden. Not prize pieces to hide away in the garage and use 5 times a year. "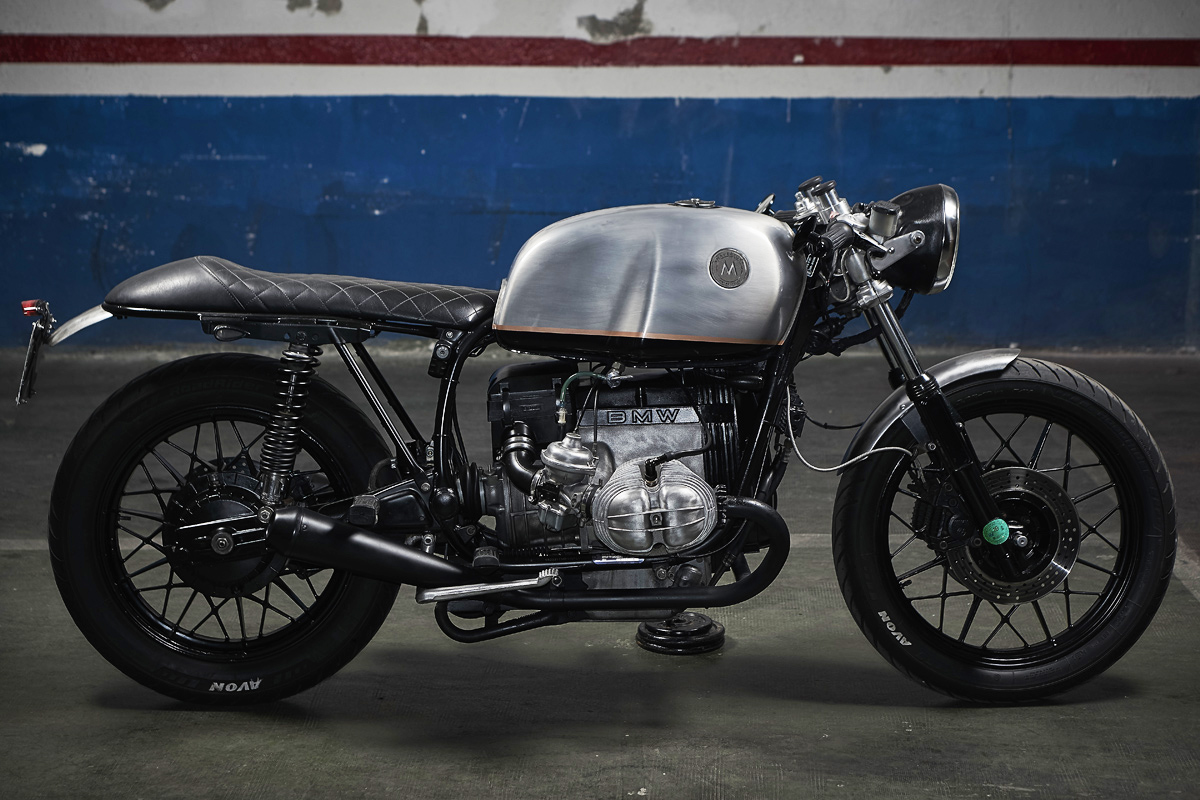 "Nowadays we help other people build their bikes and have set up with a few mechanics from Barcelona and LA to help us buy, design and build Cafe Racers for customers. That's how Maverick Motorcycles was born. This bike is the first of our workshop builds to be finished. It's the original Maverick, or as we like to call it Maverick #1. We plan on continuing the brand and have tonnes of cool collaborations coming up, so hopefully this bike will always represent the birth of something special."
"When I started the build I really didn't want to hack into the bike too much, so I decided not to do any major chassis work. In order to clean up the front end I commissioned Cognito Moto to create a custom top triple tree with integrated Moto Gadget speedometer. They hadn't done any BMW's before so it was great to work with them on their first. Anyone that knows these bikes knows the original clamp is rather thin so it was a challenge making a solid looking clamp that would fit. Thankfully they know their stuff and nailed it, like everything they do.
Another challenge was relocating the battery to open up the triangle in the frame. It gave us the challenging task of removing one of the exhaust manifold regulators, but it was well worth it in the end. Not just for the look but also the ride. When you get rid of that oversized car battery sitting up high in the frame it lowers the centre of gravity and makes them feel much more balanced beneath you. Next I handcrafted the front and rear fenders and lifted the entire engine out of the frame to polish and paint it."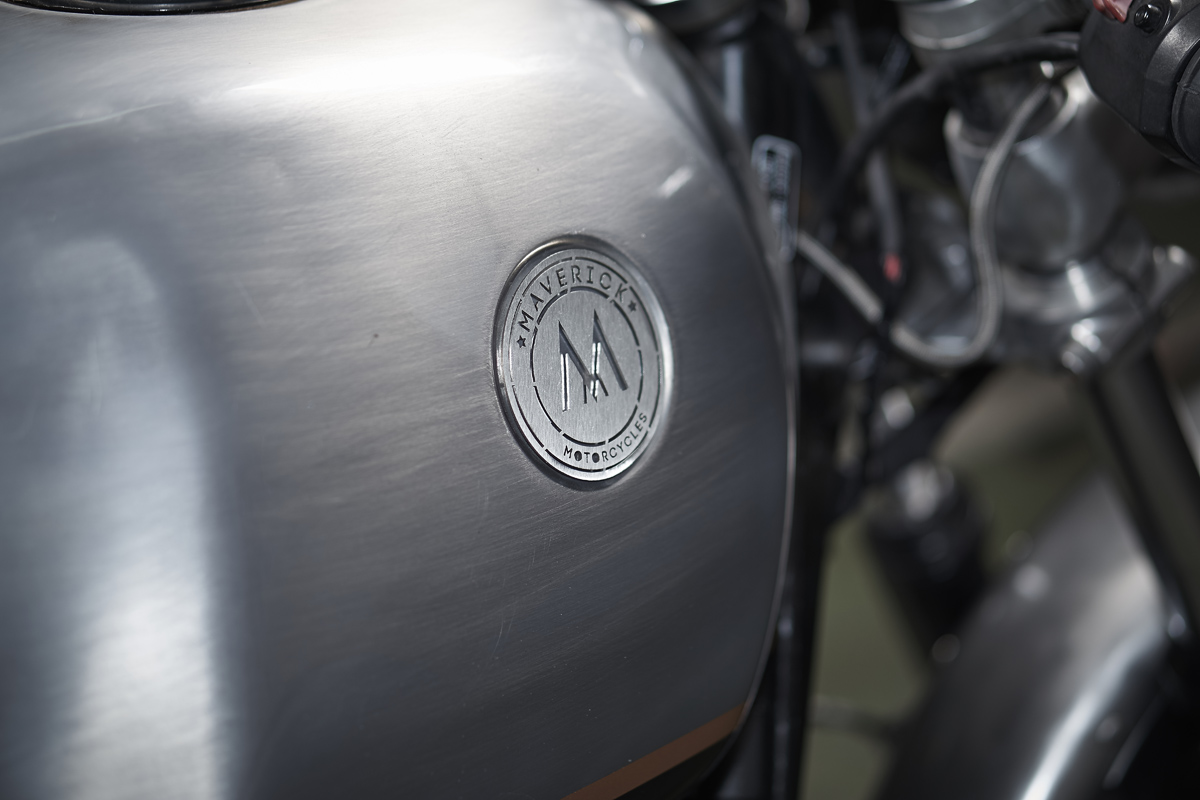 "While I was working on the engine I also swapped the clutch out for a brand new one, because I was pretty sure it had been running for 30 years on the original! The other interesting part of the build, that my father actually helped me with, is a negative battery disconnector. These bikes are so old and require so much power that battery life, especially when you're running a smaller one, can be a pain. So we added a switch just inside the triangle of the frame that you can twist to connect or disconnect the battery from the chassis when it's parked. This reduces battery bleed. The other more obvious transformations include the custom made seat and the amazing clear epoxy paint over the bare steel gas tank."
Build sheet:
Frame De-tabbed and sprayed
Battery Box and Electronics reloctaed
Cognito Moto top triple tree
MotoGadget Mini speedo
MotoGadget lights
Harder Progressive front springs
New racing clutch
Avon Roadrider tires
Tarrozi racing clipons
Custom seat
Rizoma rear indicators
Hand crafted front and rear fenders
Megaphone exhausts
Custom battery bleed disconnector.
Original Koni adjustable rear shocks refurbished
Original Brembo brake clamps rebuilt
Engine, rims, driveshaft etc painted and polished
"I did a fashion shoot of the Maverick #1 recently for 'Off The Rails' magazine, which was published in print (see below). I hope people like this bike. Maybe Maverick's next build will be a bike that's shiny and new. I once heard a British bloke in a bike video say, "A Cafe Racer has to have a little dirt and grit on it. It's gotta be ridden." I couldn't agree with him more."