Perth's Kaylan Galloway is a guy who likes to do things the hard way. Probably because he can. A welder by trade, he is a one-man band on a mission. Being a long time BMW K-series fan this bike, a BMW K100 based cafe racer, is his second. The first was a K75 he built whilst living in Holland. That bike was more of a budget build so this time around he decided to up the ante.
It might not look it but underneath all that bodywork is an '84 BMW K100. With the donor bike sorted Kaylan decided he wanted a bit more oomph. But, rather than spending time reworking the old engine he went all out. So this machine now runs on a 2005 K1200 powerplant installed under the guidance of local expert Thorsten at Munich Motorcycles. The extra 200cc of Bavarian grunt needed help being transferred to the rear wheel; so they mated the BMW K100 bell housing to a K1100 drivetrain. This resulted in a huge suspension upgrade because of the monoshock Paralever final drive and a big aesthetic upgrade thanks to the single-sided swingarm. The rear hub from the K1100 was then laced up to an edge spoke rim from a '04 1150GS, again thanks to Munich Motorcycles.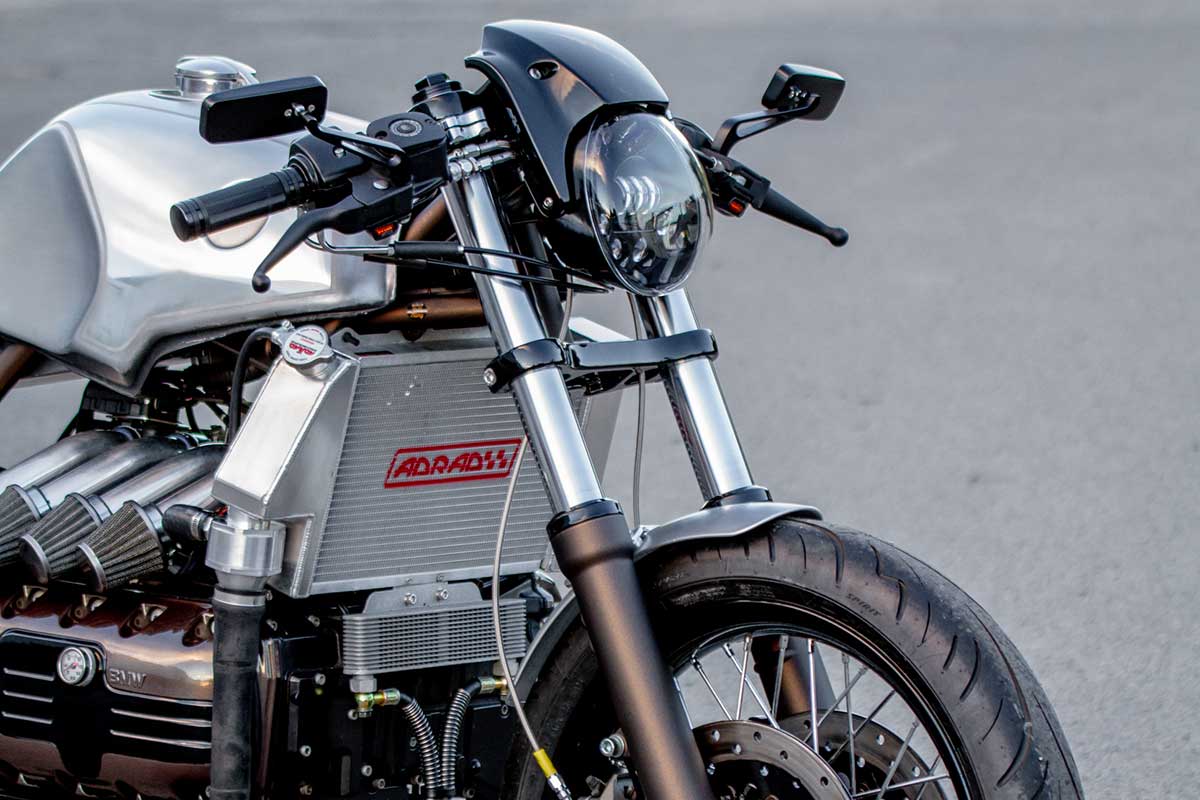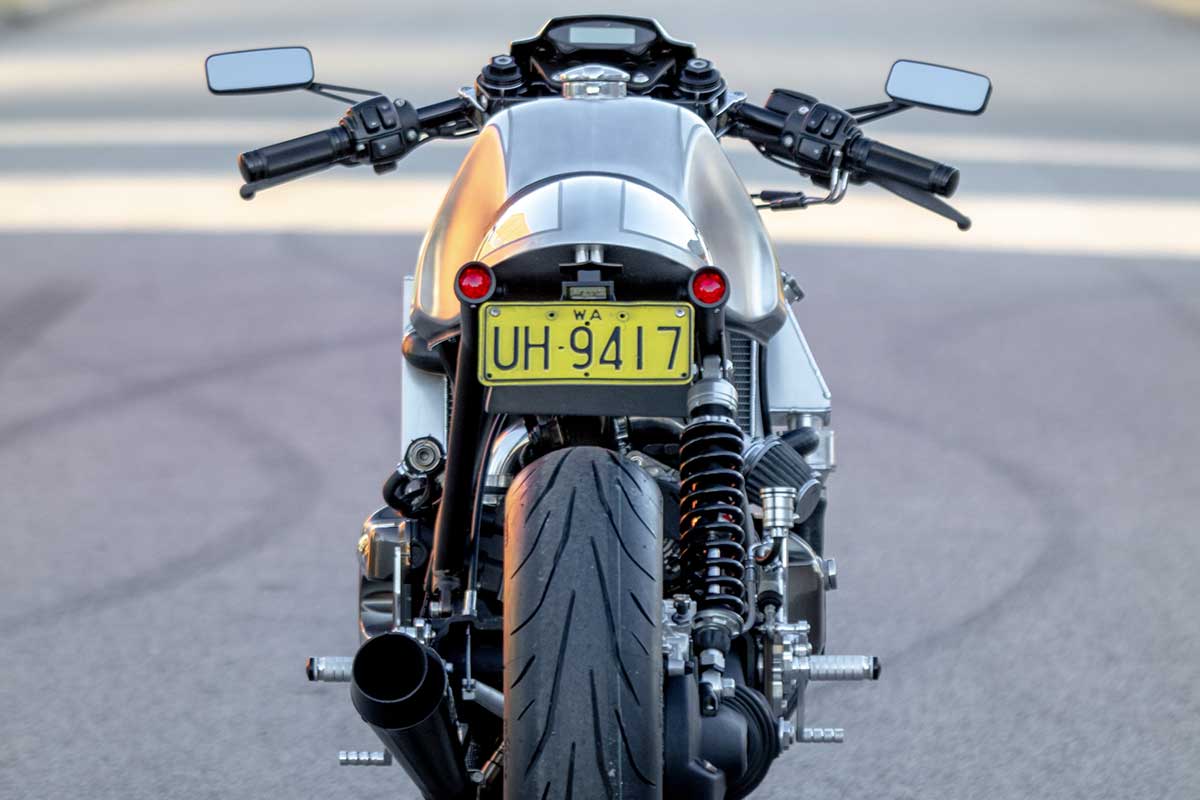 With the engine and rear end sorted, attention was diverted to the front. Kaylan wanted a front end with presence but opted against a USD conversion. Instead, he found the biggest, chunkiest telescopic front end he could find; a "standard" 49mm setup from a Harley Davidson V-Rod. The new front wheel hails from a '06 Harley and was powder coated black to match the rear. Serious stopping power comes from twin radial-mounted Brembo M4 monoblock callipers. The headlight and cowl are also from a V-Rod and nestled inside is a Koso Digital GPS dash. Roland Sands clip-on bars adorn the new front end and there are tiny Speedkings LED indicators (see if you can spot them) up front. An SW-Motech alloy front guard covers the wheel and is bolted in place using a bracket that Kaylan fabricated himself.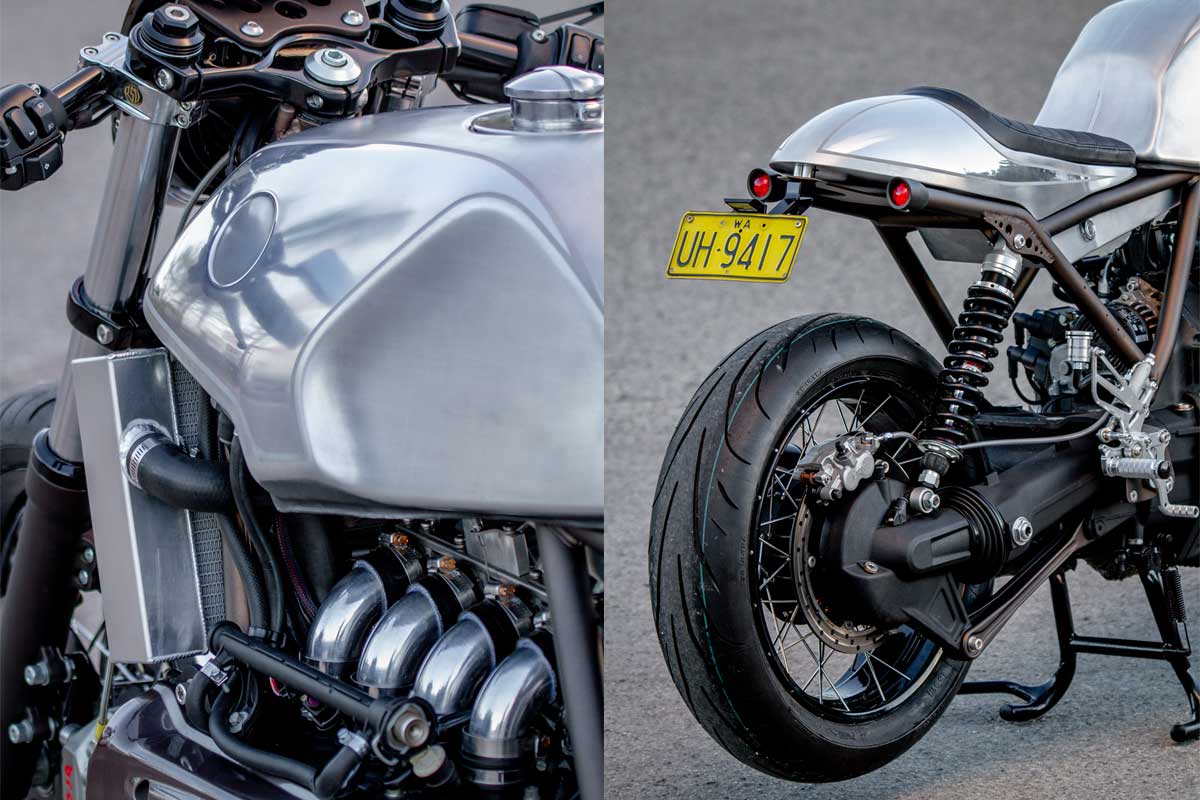 Speaking of things that Kaylan made himself, using a sandbag and an English Wheel he shaped the stunning seat unit and electronics tray from scratch. Kaylan opted to retain the BMW K100 alloy tank which he's hit with a striking triple finish (polished, brushed and blasted) to match his seat unit. Other alloy details on the bike include a custom radiator made by Perth Radiators and the air intake. The exhaust is the stock K1200 unit that had to be slightly modified for clearance; it's been capped with a stubby reverse cone muffler from M4. BMW S1000RR billet rearsets were adapted to the frame and an adjustable YSS monoshock replaces the stock item. LED stop/tail/indicators were plugged into the frame to round out the lighting aspect. The number plate sits on an aftermarket alloy tail tidy, another part that was adapted to suit the frame.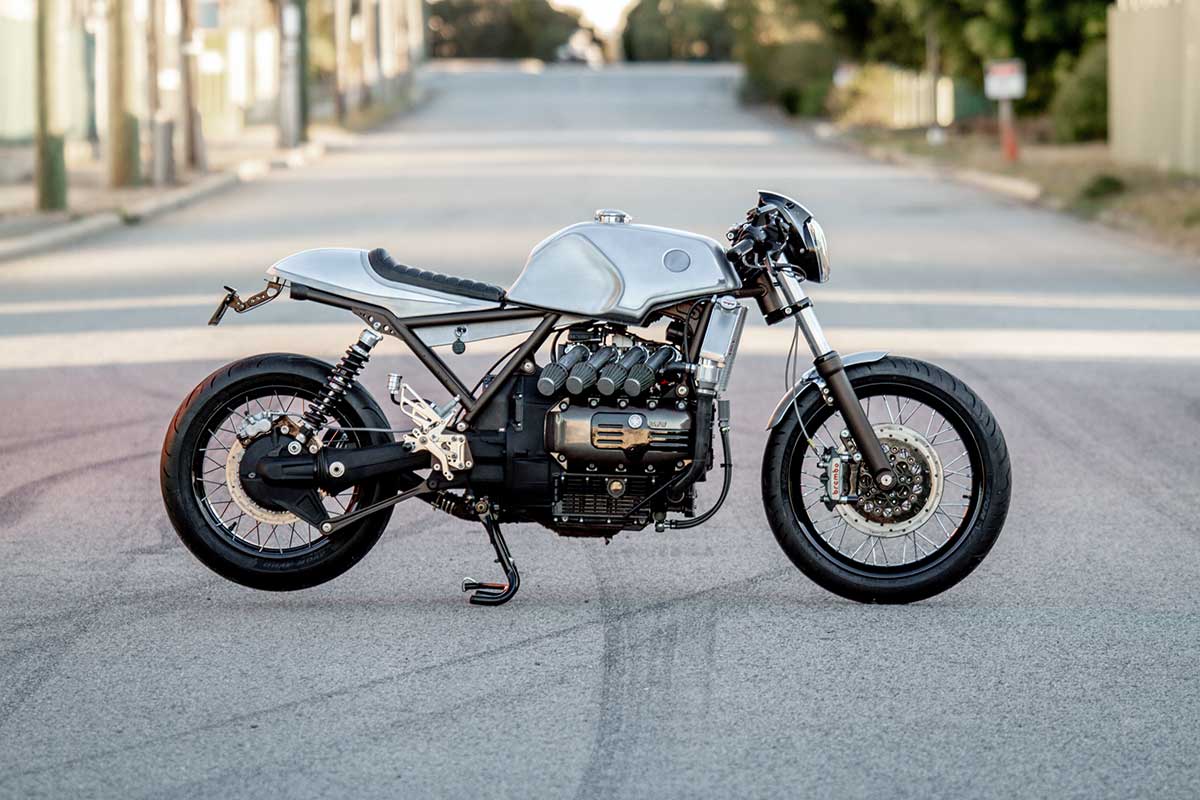 With the fabrication done the frame was sent off to local Perth powder coating gurus, Bling Custom Coatings. Kaylan chose a matte metallic bronze, a nice touch that really works with the blasted and brushed accents on the bodywork. He also wired the entire bike himself using top-shelf components from Motogadget. Dynojet Power Commander handles the fueling. Lorenzo Poli at Poli Motor Trimming is responsible for the upholstery on the seat, rounding out the build with a very understated but stylish leather item. A performance street bike needs some good rubber, this time coming from Avon. The front is a 19" 120/70 Spirit ST and the rear is a suitably upsized 17" 160/60 3D Ultra.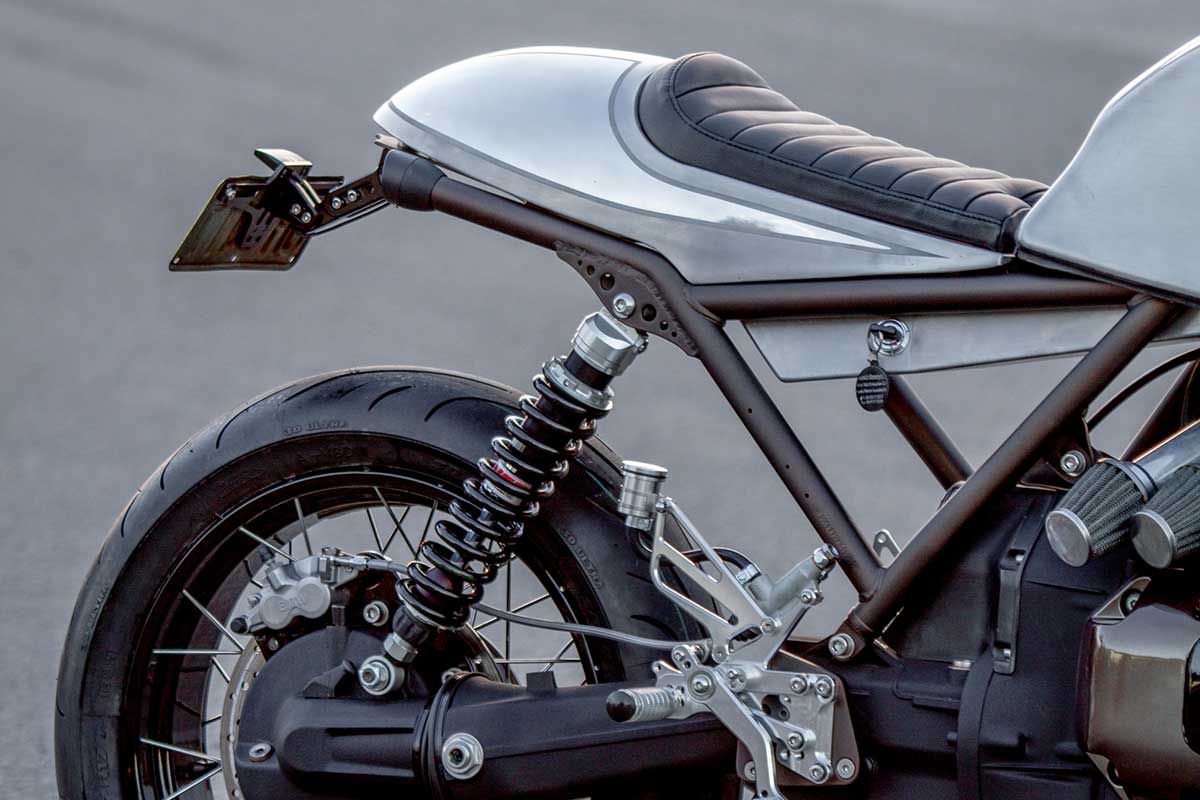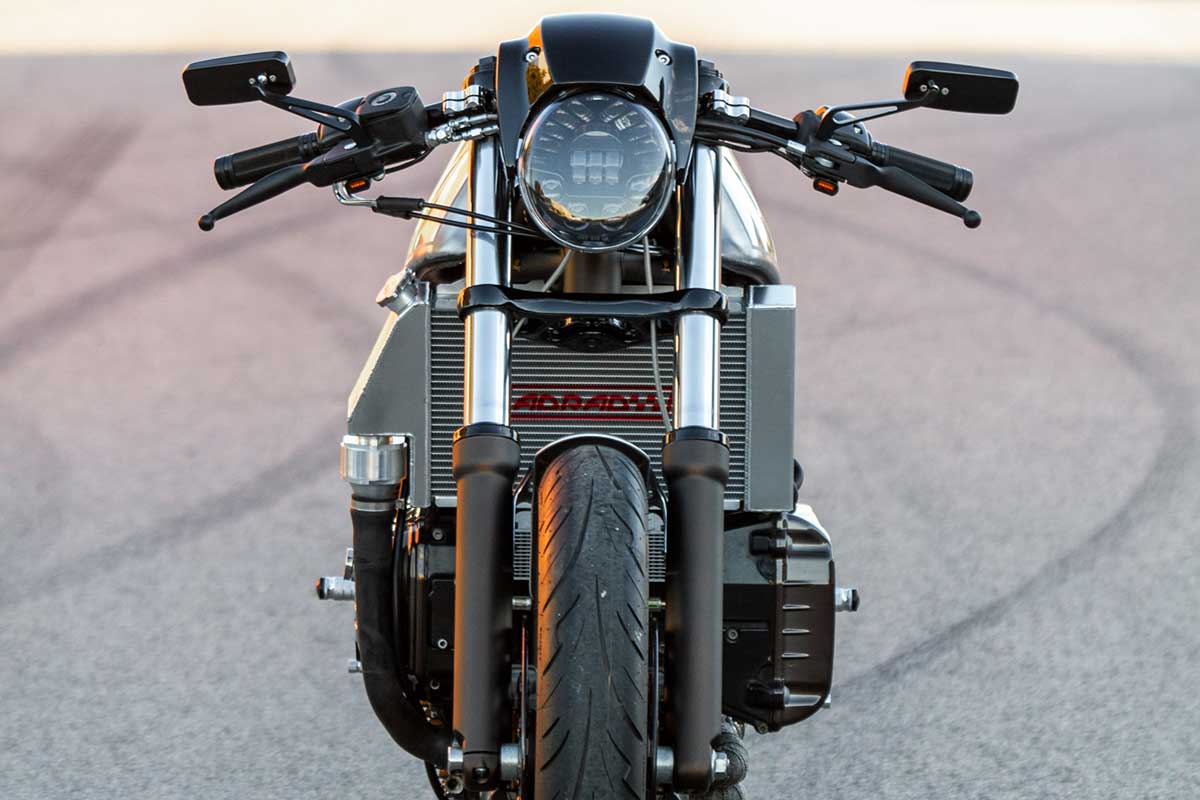 When I asked Kaylan what possessed him to build a bike on such a monumentally ambitious scale this is what he had to say. "After building a BMW K75 in Holland I wanted to make one that was bigger and badder. The builders I follow are Harley/chopper guys like Jesse James, Billy Lane, Russ Mitchell and Indian Larry. I wanted to push myself to make an ugly bike look good and I used the natural lines of the bike as my inspiration". Kaylan, originally from New Zealand, has raised the bar for builds coming out of Australia. No mean feat considering the sheer amount of local talent there is in this vast, sunburnt country.
Words and photography by Ben Pilatti