I am Nigel Petrie from Engineered To Slide and I want to share with you my new BMW R Nine T Racer build. For as long as I can remember I have been obsessed with cars and motorcycles. I have been heavily involved in Motorsport for the past 15 years. Motorcycles have always been a refreshing getaway from the complexity of building race cars. Whether I am pitching my drift car into a corner at 120kmh or riding the Great Ocean Road, cars and bikes are what I live for.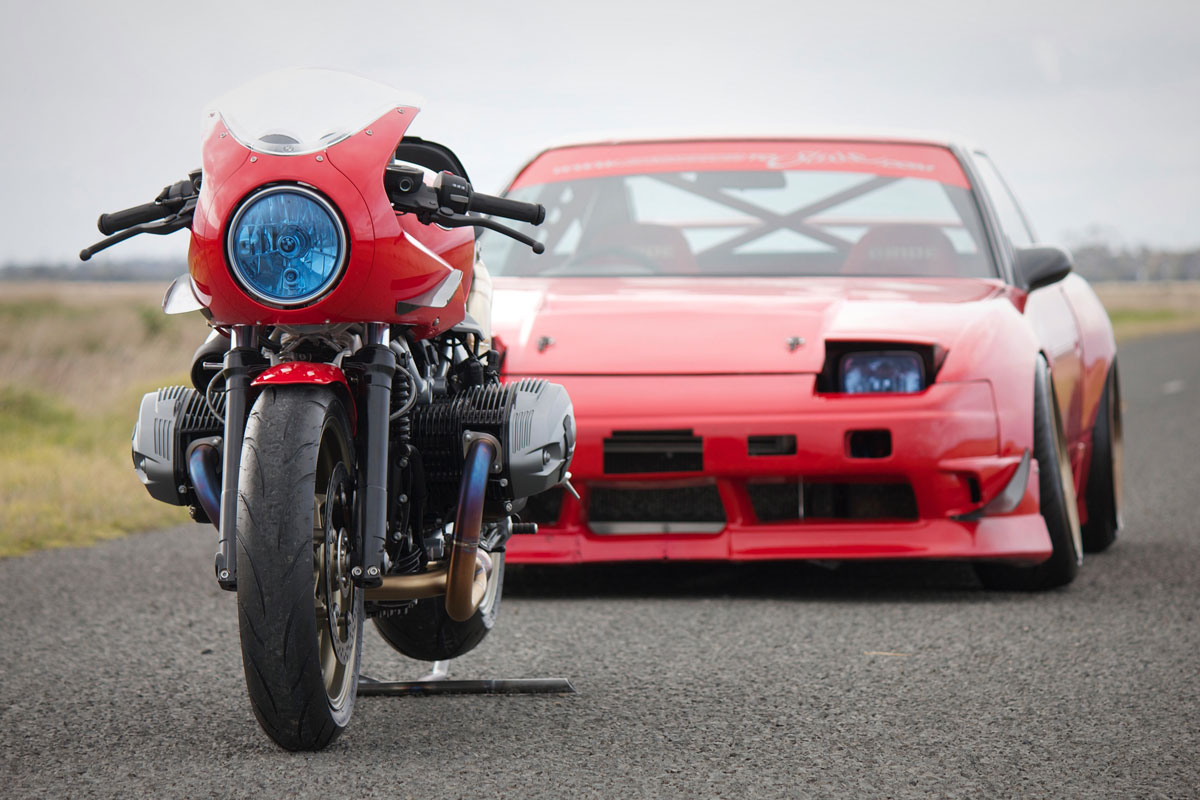 Up until now, these two disciplines have stayed fairly separate. Over the last few years though I had been concocting a plan that would blur the lines between the two. I couldn't get the idea of styling a motorcycle to match my 180SX out of my head. But, if I was to do it I would have to integrate these three key elements. The first would be to incorporate an iconic Rays ENG TE37 wheel into the build. This rim revolutionized Japanese motorsport with its lightweight forged aluminium construction and has been a wheel of choice for the past 25 years. The second was the paint, that bright red hue that I painted my drift 180SX 10 years ago needed to be applied to the bike. The bike also needed to have enough surface area to make the red paint a feature. The third was the exhaust. I have built a bunch of exhausts in my time and love swinging off the TIG, this one needed to be big, loud and bold!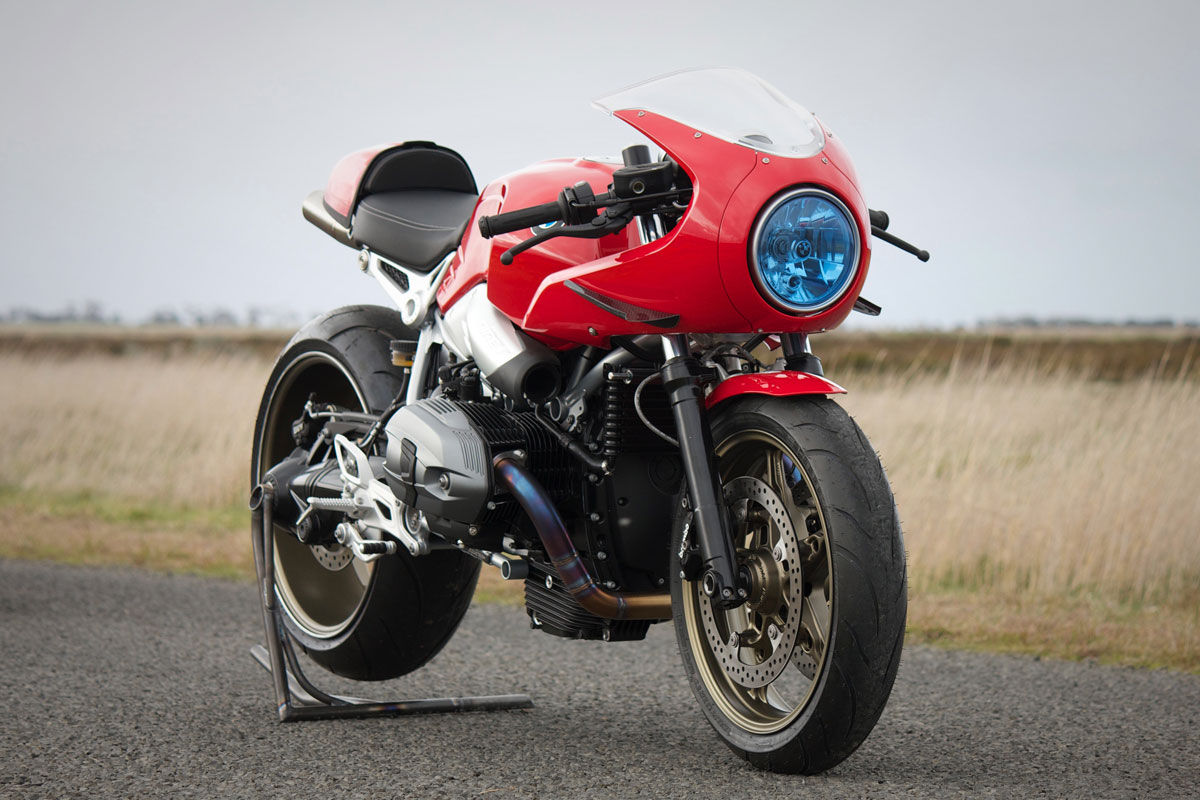 This idea really started to dominate my thoughts. I continually found myself trawling classifieds searching for anything with a single-sided swingarm. Then I got a call for my photographer friend Dean Walters. He had a new camera that needed testing and a pair of custom BMW R Nine T Racers to ride. As we cruised through the Melbourne CBD I found myself admiring the BMW more and more, then it clicked, this is the bike! The swooping style of the BMW R Nine T Racer was perfect. That single-sided swingarm gave me complete freedom and I could frame a TE37 with a nice exhaust system. I was starting to get excited. So I spoke to the guys at BMW Australia and pitched my idea. A day later that I was on my way home with a brand new BMW R Nine T Racer!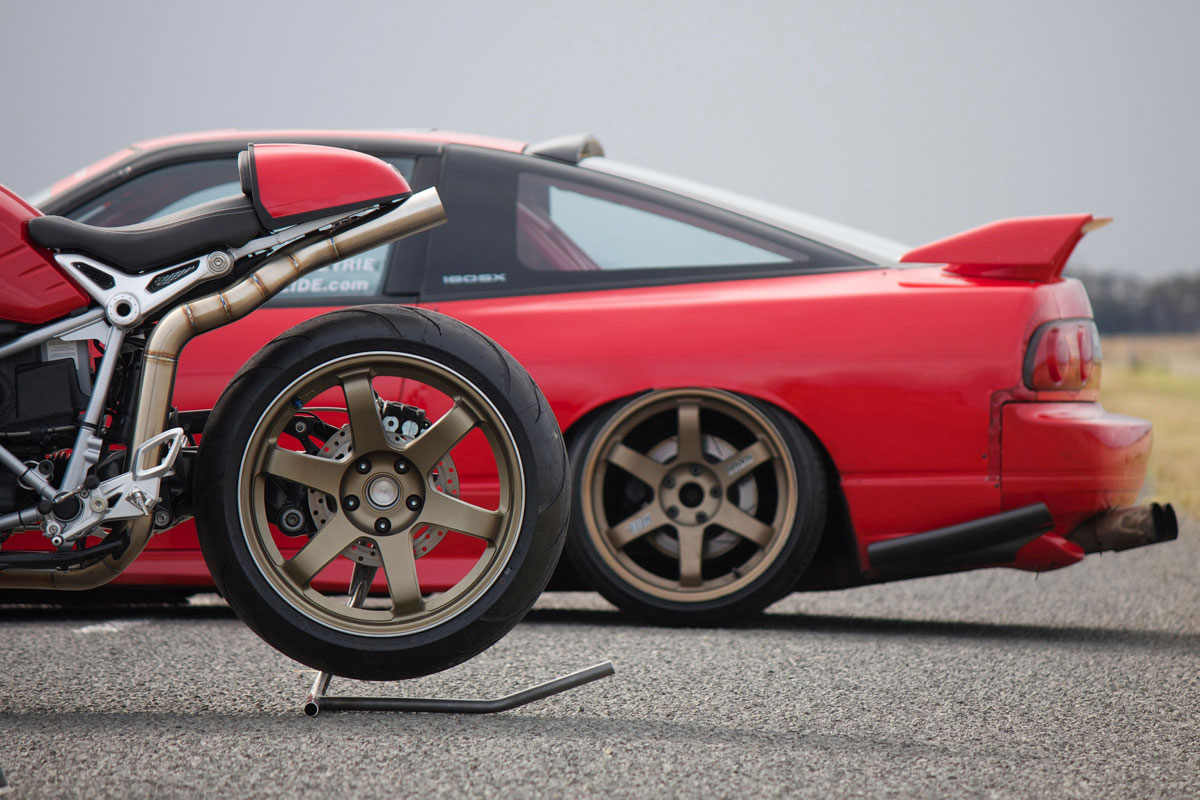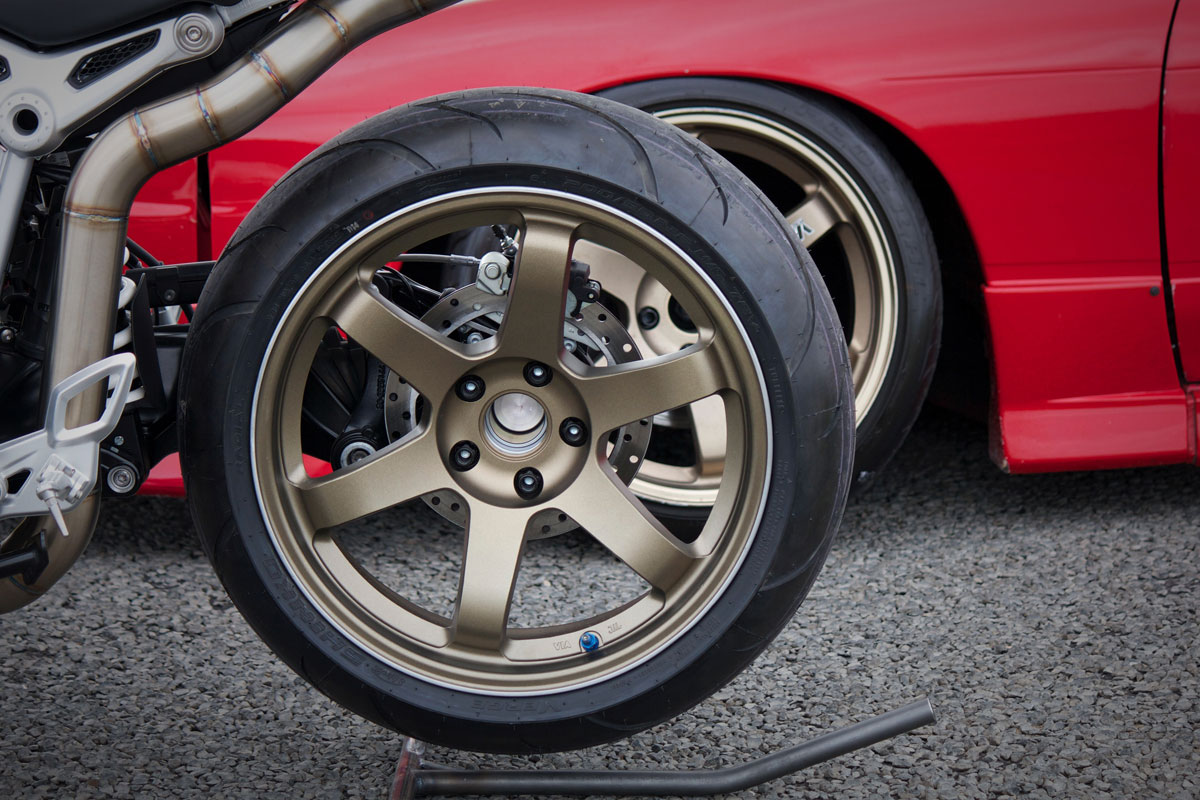 Eight years ago I cracked the inner lip on a TE37 rim competing in a national Drift series in Tasmania. I took it off welded it up then cracked it again 2 weeks later in Sydney. Since then the rim had been functioning as a 18×10.5 garden hose reel. First things first I spun up an adapter to change the BMW stud pattern from 120PCD to match the Nissan 114.3mm. The next move was to find an 18-inch tyre that would suit the look and size I needed. Luckily for me, the guys from Shinko tyres opened up their warehouse. I was able to select one of their Verge 011 in 200/50/18 for the rear and a matching 17-inch front tyre. The 200 tyre meant I had to cut the 10.5-inch wheel down to 6.5 inches and weld it back together. It was a process that I painstakingly completed to ensure it was very well executed.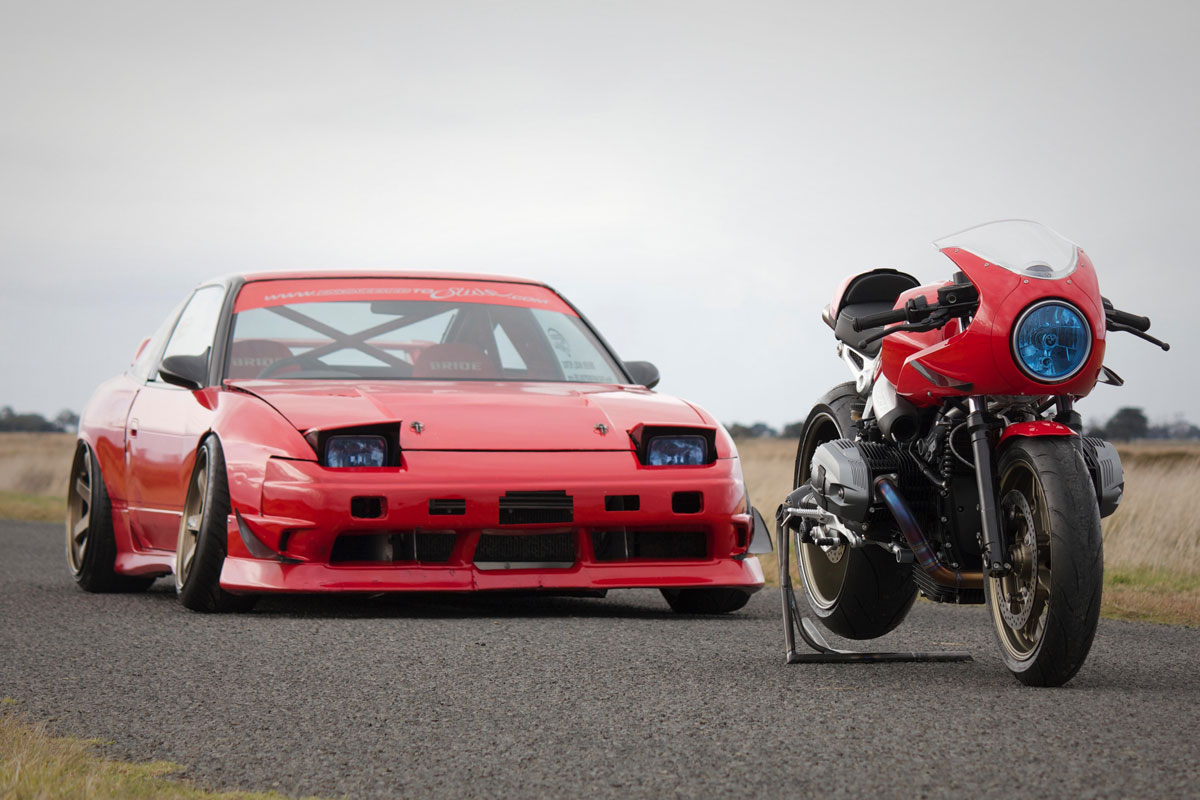 After that was done I needed to strip the bodywork and take it all over to Karl at KDS Designs. Karl applied a matching red hue to the bodywork. The wheels were also treated to a fresh coat of signature TE37 bronze. I then had Karl mix up a blue tint for the headlight to add to the 180SX matching theme. As Karl was finishing up the paint I headed home and put 14 hours into building the stainless exhaust. The idea behind the exhaust was to channel more 4 wheeled inspiration. The aim was to create a pair of 1 3/4 inch headers that would merge into a 2 1/2 inch exhaust. These would then merge again before splitting into two 2 1/2 tips that exit under that neat BMW rear end. I also wanted it to function as a frame for the wheel and to accentuate the lines of the R Nine T Racer.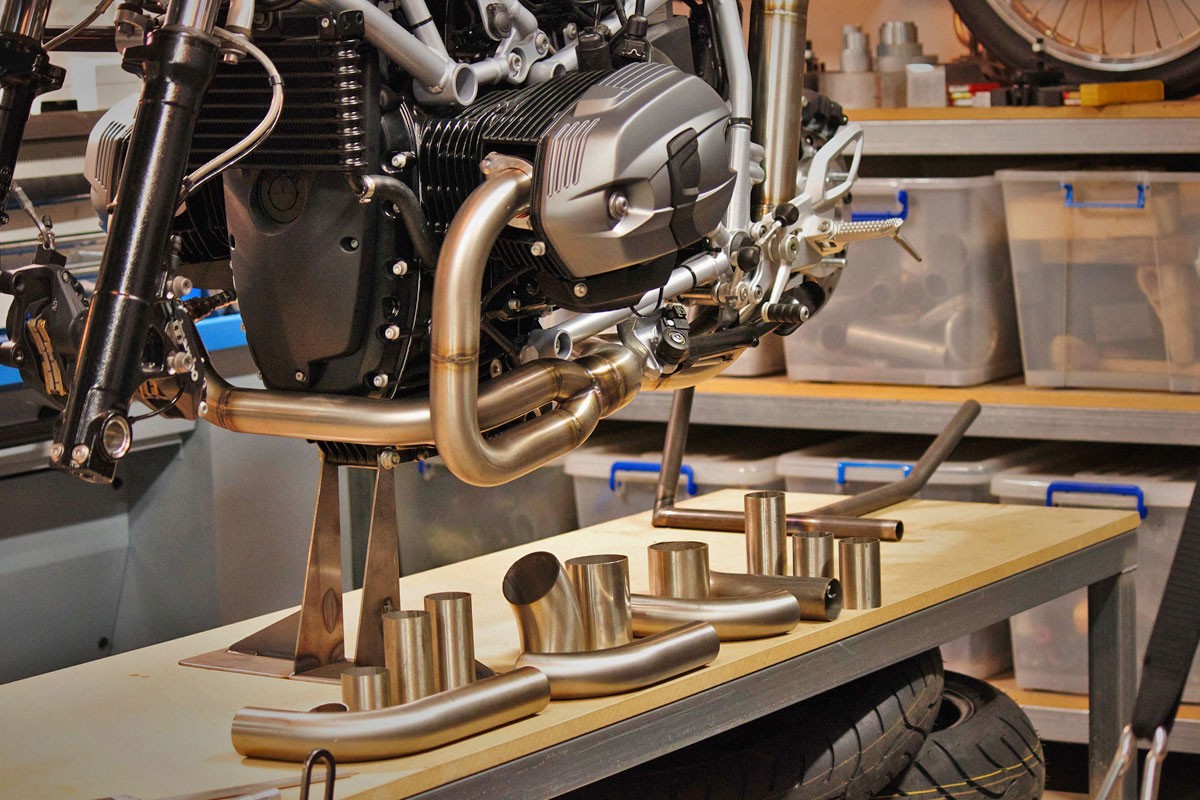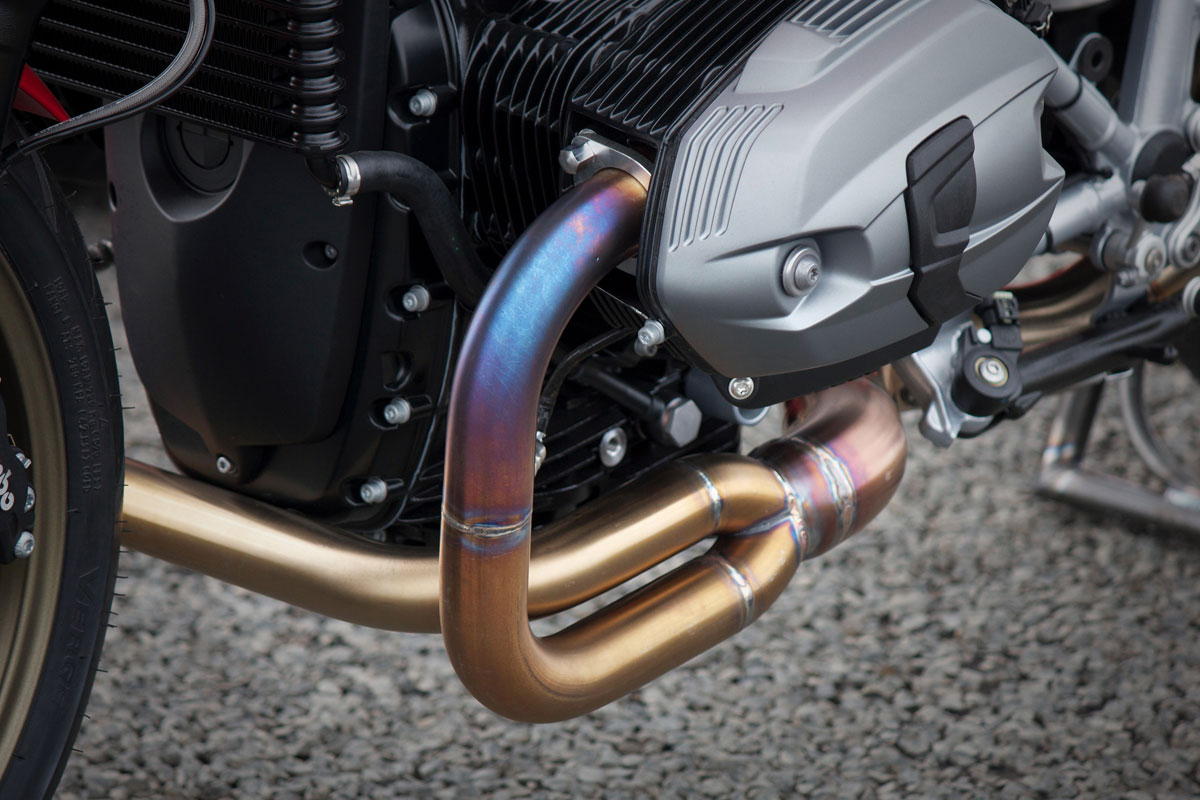 The assembly was a straightforward process as the bike was essentially stock and brand new. My excitement surrounding the build peaked when the Shinko rubber was stretched over my custom TE37 rear wheel and bolted to the bike. My vision was becoming a reality! I applied finishing touches by recycling more old race car components such as the carbon canards that add a little additional race to the BMW R Nine T Racer.
With the bike complete I cleaned the exhaust and fired it up to begin the colouring process. By far the best part of building a custom exhaust is watching the colour run through it. On its own, the bike looked incredible, but when sat next to its inspiration it takes on a whole new meaning.
I don't trust every crazy idea I have. When it's one that stays with me for years then I just know I have to make it a reality. I now call it the BMW R Nine TE Racer, see what I did there?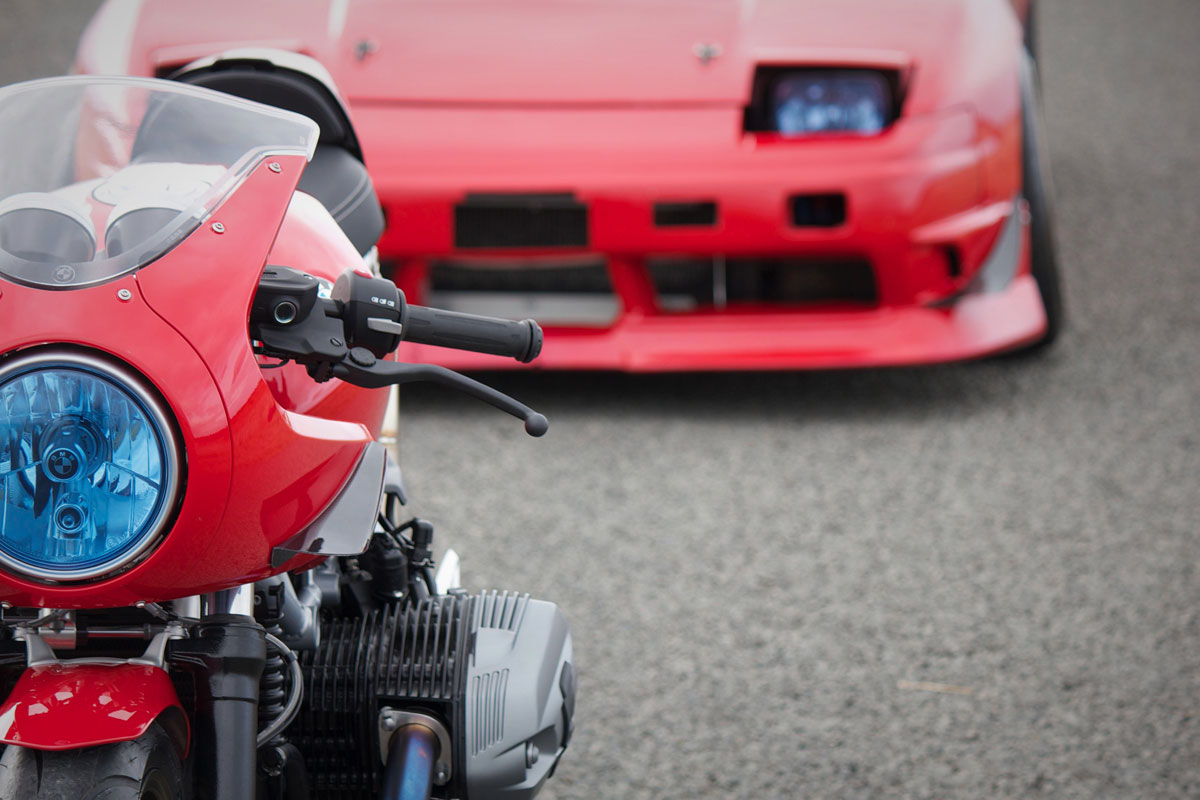 How does it ride? Sorry, what was the question? I CANT HEAR YOU! Yep, it's loud. Like really damn loud. Of course, that rear wheel is a little heavier than it should be. Of course, this exhaust probably detracts from the final HP figure. Of course, the handling is probably a little worse off because of the new dimensions. But it rides like a dream and I am having the time of my life on it.
I would like to thank BMW Motorrad Australia for believing in this idea. Karl from KDS Designs for the stunning paintwork. Shinko Tyres for the rubber and Dean Walters for the initial introduction to this stunning machine and for taking these photos. If you haven't experienced a BMW R Nine T then I suggest you do.
Story and photography by Nigel Petrie