For many years the United States was the biggest source of inspiration for custom motorcycle builders around the world. Then during the first decade of the 21st century, another country's custom scene began to catch everyone's attention. Unbeknownst to pretty much everyone outside of Japan, the country had an incredible custom motorcycle scene full of highly skilled builders and a huge aftermarket parts industry. As the internet slowly revealed what was going on in the east the world sat up and took notice. Many were so impressed by what the Japanese were doing they began building bikes influenced by what they saw.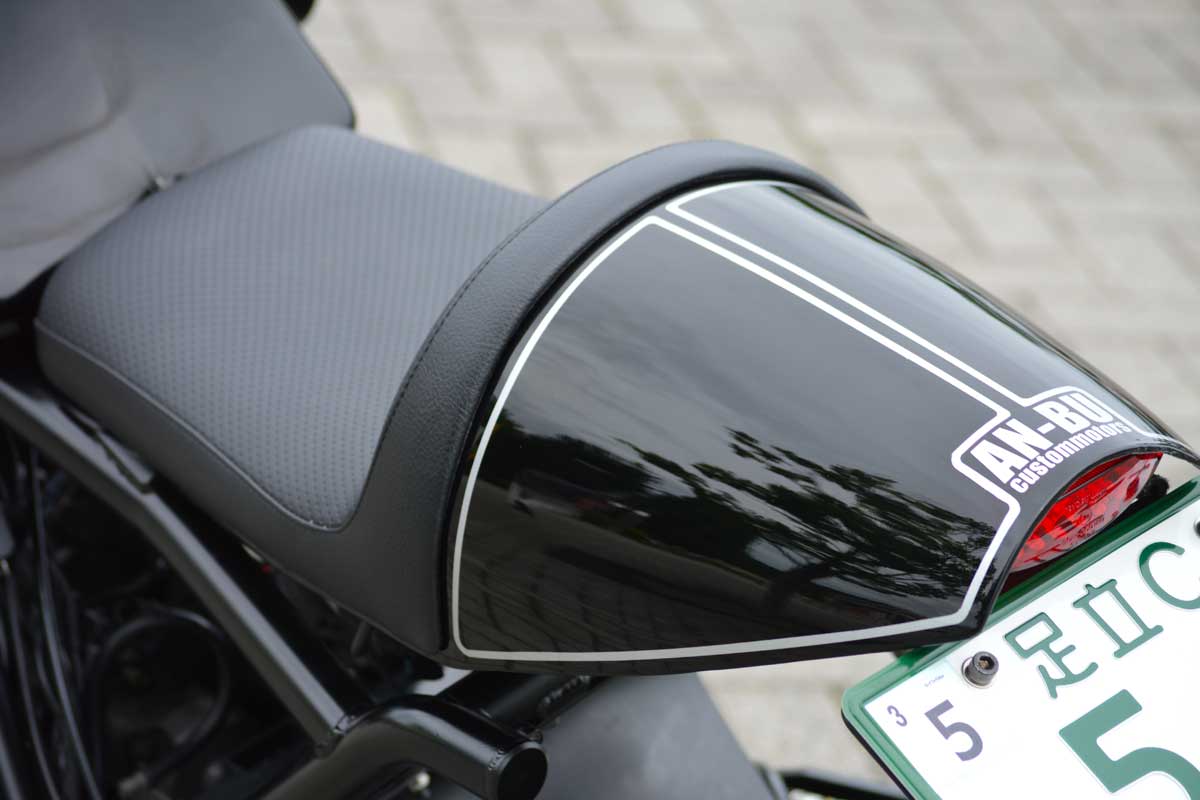 One builder whose influence can be seen on the pages of many websites like this one is Koichi Fujita. He is the owner/operator of An-Bu Custom Motors in Nagoya. An-Bu Custom Motors, like many of our favourite Japanese workshops, has a distinct style of its own. The most recognisable aspect of Koichi-sans work is the use of custom made fairings, asymmetrically mounted headlights and military-styled livery. Koichi-sans latest build follows suit in every aspect aside from the graphics. Instead, his BMW K100 RS wears a classic all black and white Bavarian colour palette.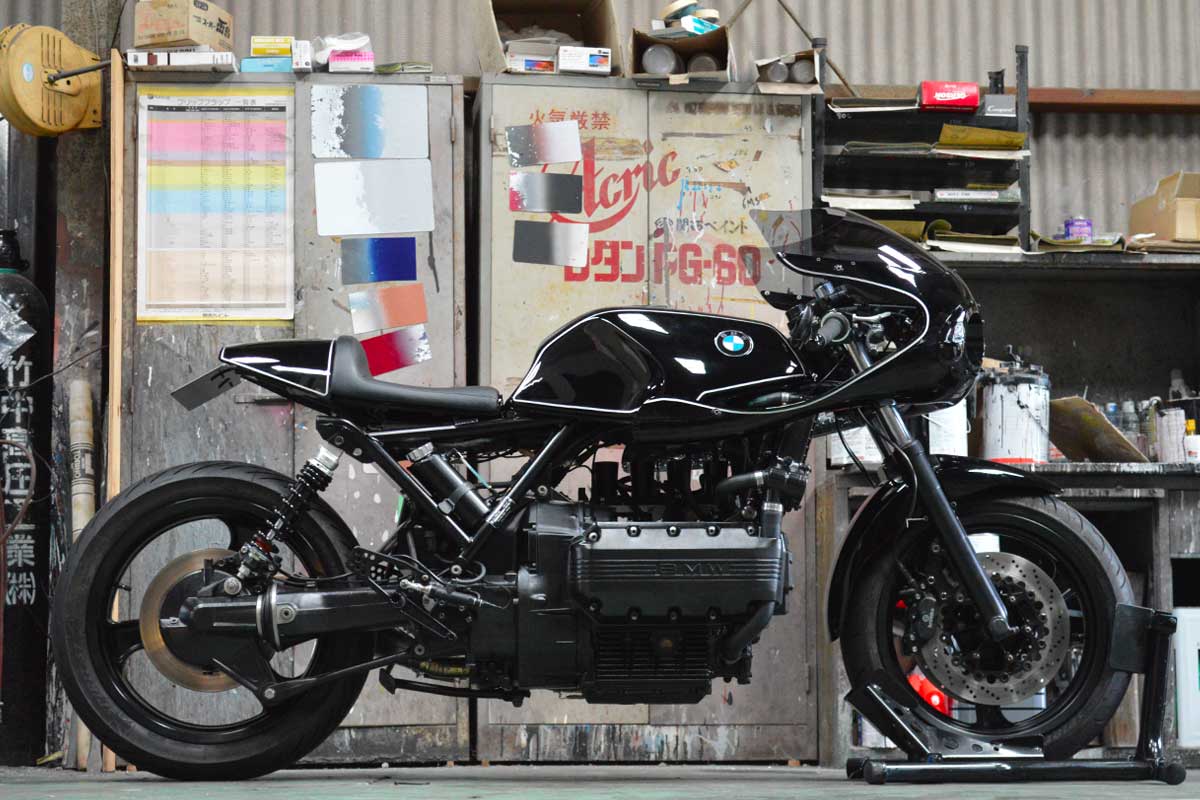 Koichi-sans goal with his BMW K100 RS was to transform the dated sports tourer into an aggressive street machine. Achieving this goal meant putting the flying brick on a diet and swapping factory components with performance-focused alternatives. Koichi-san kicked things off by ditching the factory fairing, seat and tail to make way for his trademark An-Bu custom bodywork. The bulky factory airbox went next followed by the side panels. This left the frame open an airy to counter the mass of the enormous inline-four. Then to tighten up the tourers proportions, the subframe was drastically trimmed.
When the Bavarians built the BMW K100 RS they did their best to keep its weight down. This meant ample use of aluminium in the construction of the engine (covers and cylinder bores) and the bike's fuel tank. For this reason, Koichi-san opted to retain the factory tank. During the rebuild, he also used light weight materials where ever possible. Custom alloy additions include a new battery stay, velocity stacks, bracketry for mounting non-standard parts and a custom made radiator reservoir tank.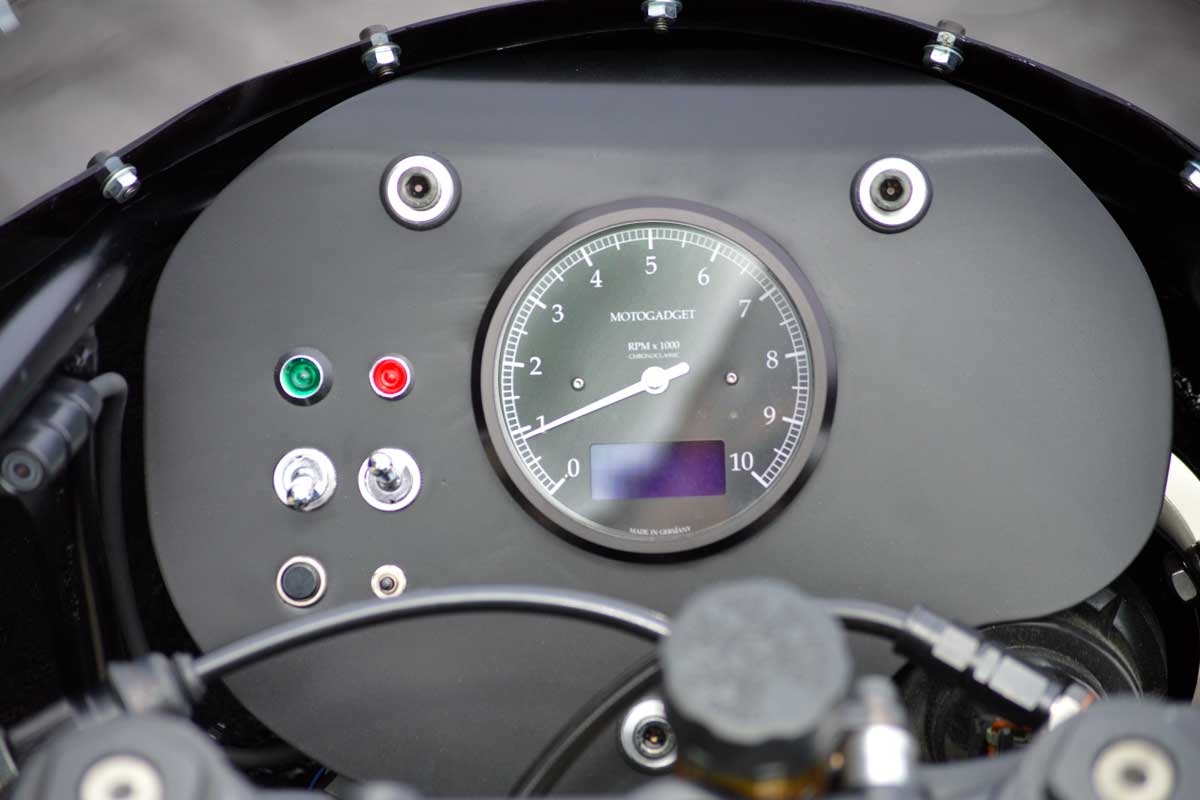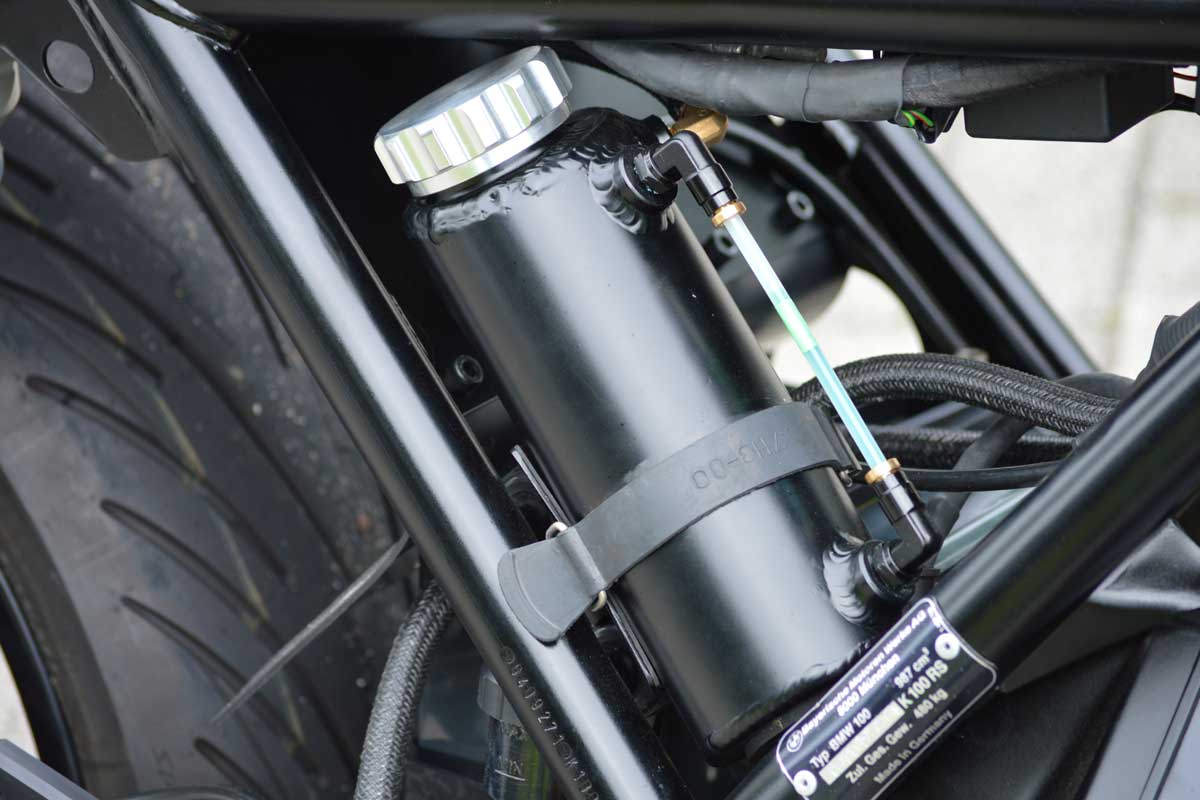 Positioning the rider in a suitably aggressive stance is a set of An-Bu 40mm clip-on bars wearing ARIES grips and Rizoma SPY-R bar-end mirrors. Rearset footpegs mounted using custom alloy hardware reposition the feet for improved road clearance. For handling upgrades, the K100 RS standard wheels wear AVON Spirit ST all-weather rubber while stopping power is provided by a complete Brembo calliper configuration. A modern YSS shock smoothes out rear end bumps and the front forks have been rebuilt and lowered for both performance and stance benefits.
As for in-line fours performance, a modest increase in power comes from improvements to the intake and exhaust. The "octopus legs" exhaust, as Koichi-san calls it, was fabricated using carefully calculated lengths of stainless steel which merge into a one-off carbon fibre muffler. For optimum results, the fueling has been tuned to suit both the new exhaust and intake velocity stacks.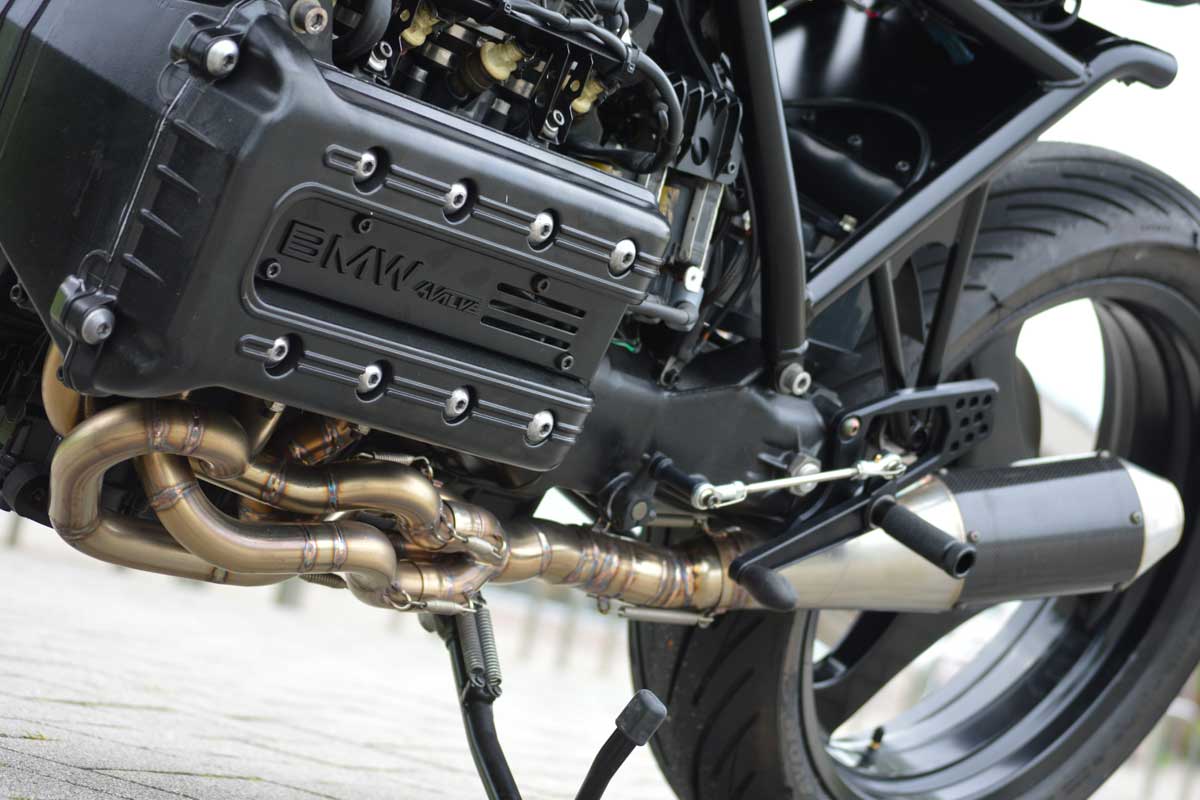 Being careful to not exceed the weight of the discarded factory parts, Koichi-san constructed a front fairing and tail section from fibre reinforced plastic. The minimalist tail reduces the BMW to a single-seater and incorporates an LED brake light into its design. The fairing is a classic An-Bu design in its proportions and finish. Held together by blacked-out fasteners that recreate the look of aeroplane rivets it bears a signature An-Bu asymmetrically mounted headlight. Behind the smoked perspex windscreen, the K100 RS gauges are gone. In their place is a custom dash featuring a single Motogadget Chronoclassic gauge and a handful of warning lights and accessory switches.
While this BMW K100 RS isn't what we'd call a typical Koichi-san build, it has a great balance of An-Bu attitude and classic BMW esteem. As far as flying bricks go it's one of the better custom builds we've seen and another great example of why the influence of An-Bu's work has been so widespread.
Shop This Look
| | | |
| --- | --- | --- |
| Image | Product | Buy Now |
| | Rizoma accessories | |
| | Clip-on handlebars | |
| | Motogadget Chronoclassic | |
| | Avon tires | |
| | Kellerman indicators | |