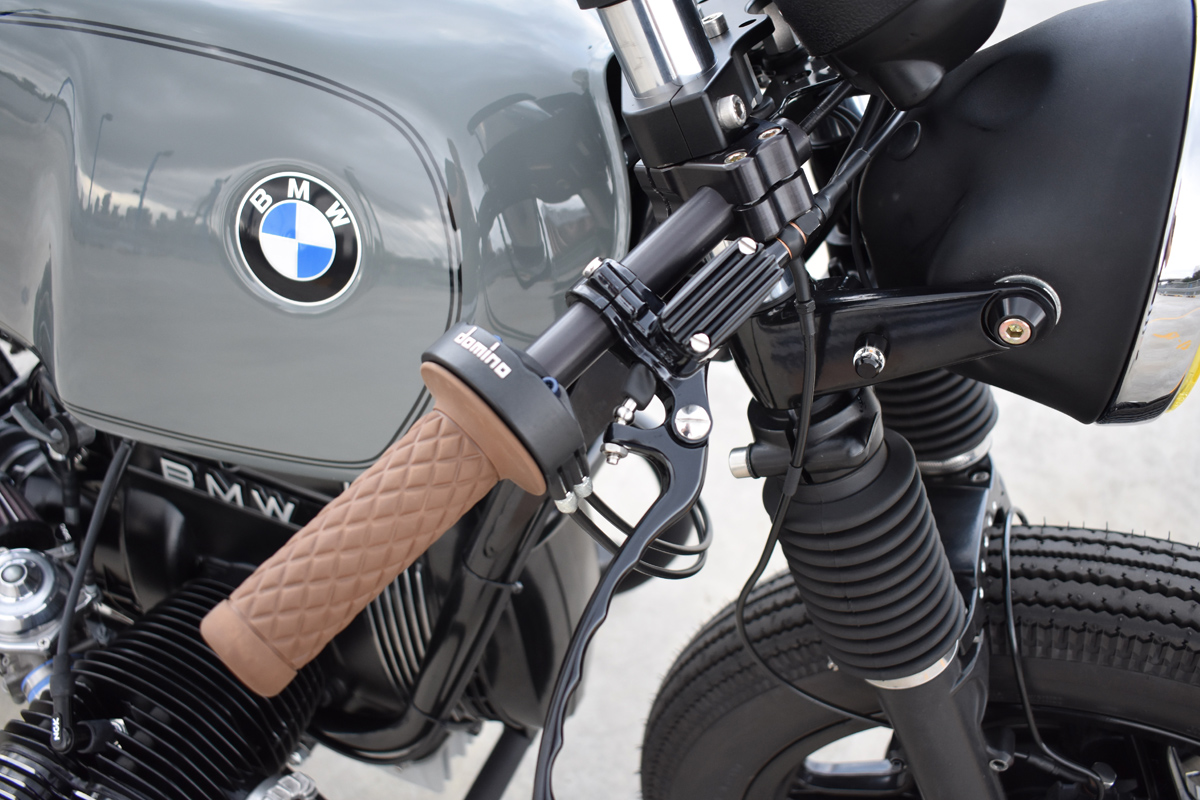 "I thought to myself, if I can fix and maintain a 40 million dollar yacht, then I can build a little bike no problem," says Brock and the proof is definitely in the pudding. During the build, Brock paid special attention to the BMW's finer details. Closer inspection reveals flush-fitting brass fixtures, lathed stainless hardware, hand drilled details and carefully polished engine fins. Brock was also careful to retain aspects of the BMW that gave it its classic good looks. These included the bikes Bosch headlight, gauge cluster, Brembo brakes, front forks and wheels which have all been rebuilt to work like new.
The more modern aspects of his BMW can be found in the electrical system. The bike is powered by a Motogadget M-Unit running a custom-made loom. The indicators are tiny M-Blaze pins discreetly mounted to the headlight brackets and tail unit and the ignition has been replaced by a keyless M-lock system. An Antigravity 12 cell lithium battery has been stashed out of sight beneath the rear engine cover and is held in place by custom stainless brackets and straps that Brock made himself.
The BMWs original forks have been rebuilt using Brock's personal suspension preference, Progressive Suspension springs and in the back, he's installed a matching mono-shock. The wheels wear period styled Shinko Super Classic rubber and the stock controls have been replaced with Joker Machine clip-on handlebars and rear set foot pegs. To give the bike its unmistakable cafe styling Brock has installed a bolt on subframe and suede seat from VonZeti in the UK which he finished in black to match the rest of the chassis. With the new tail in place, he leveled everything out by lifting the rear of the tank by an inch and dropping the triple trees 2 inches down the fork legs.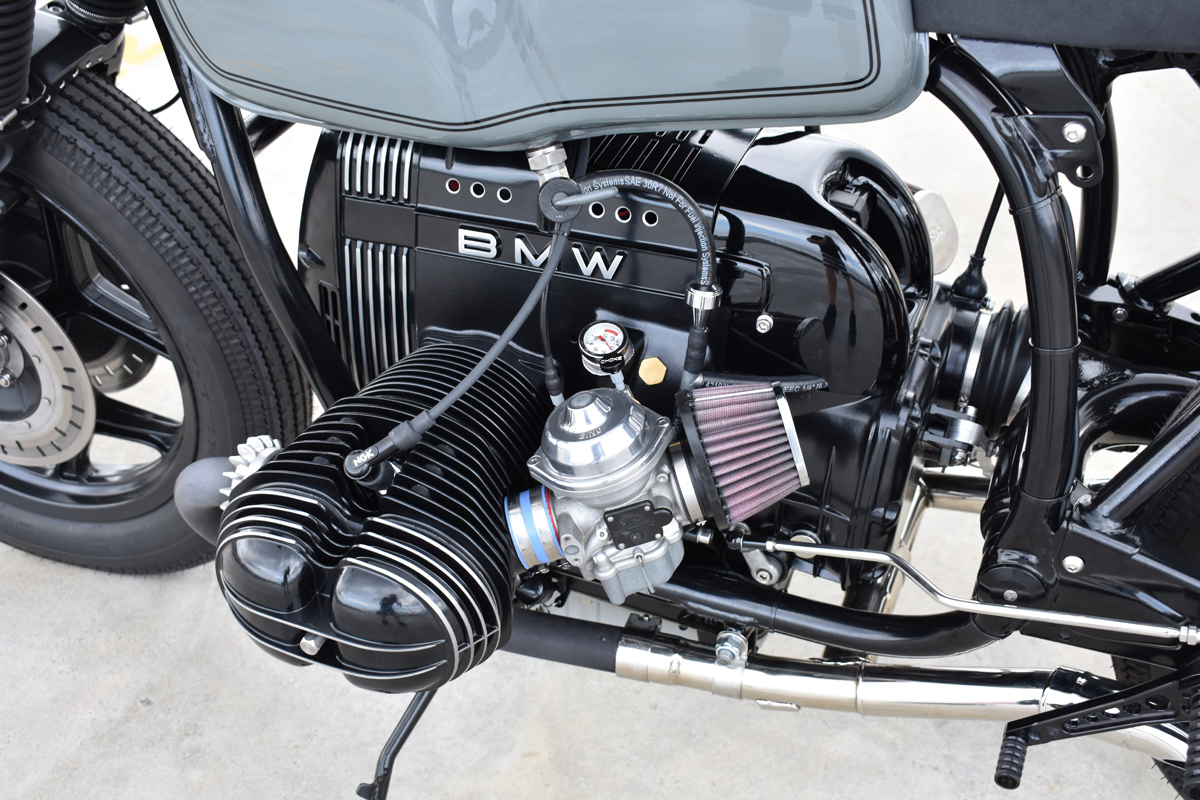 The R100RT boxer engine remains untouched other than new seals and a full service, but it benefits from the reduced weight it has to haul and the installation of free-flowing pod filters and an open exhaust. Slung under the engine is larger MAC sump and a custom made oil pickup he turned on a lathe to keep the thing running cool and smooth.
"I ride it to work 5 days a week, so I did my best to make it reliable," says Brock and reliable it certainly is. However, the BMW had to get its colorful name from somewhere and as anyone with an old bike styled this way would know it's no luxury cruise liner. Thankfully Brock has access to one of those too so he's not that phased.
Other parts used:
Toaster Tan triple tree
Shinko Super Classic Tyres
Kustom Tech brake lever/master cylinder
Kat-Dash LED flex board for the gauge cluster
Motogaget micro switches
Handmade shift/brake linkages
Monza fuel cap
Joker Machine USA clutch lever
Domino throttle
Biltwell Thruster Grips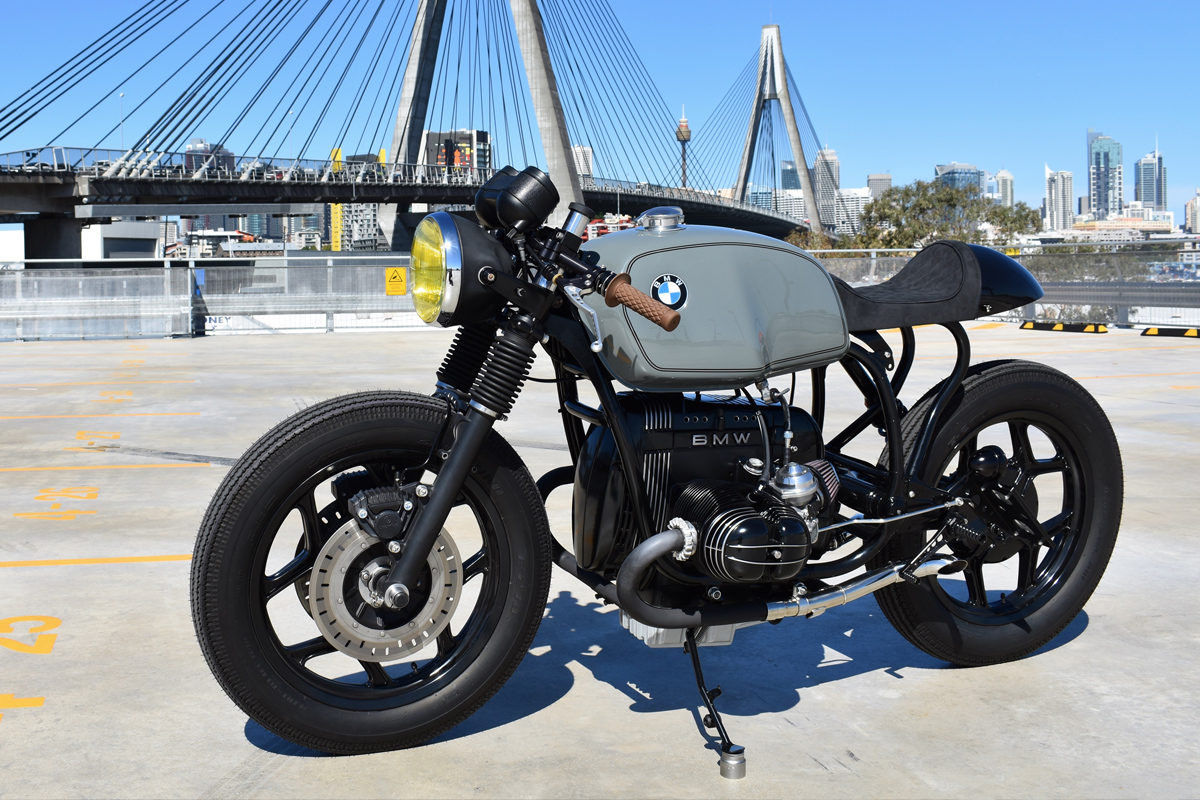 When he's not working on superyachts Sydney based engineer Brock gets his kicks tinkering with motorcycles. His latest bike is a BMW R100RT which he built after hours in the engine room of a 40 million dollar superyacht (that's definitely a first for this website!). After purchasing the bike in Byron Bay it was shipped to Sydney where Brock quickly tore it down to begin building what he calls his 'cut snake' café racer.