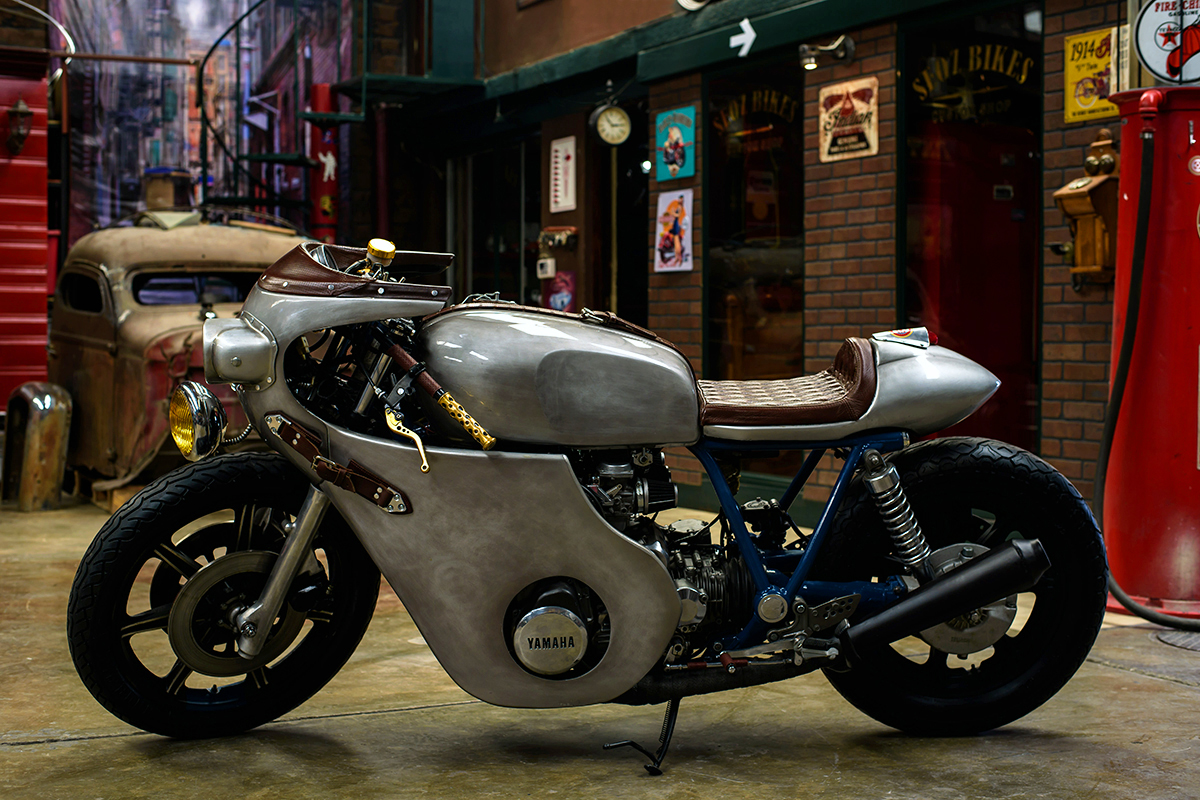 There was always a motorcycle in our house when I was growing up, but my father's real passion was collectible cars. We restored a couple of dozen and collected until he died 3 years ago. It was then that I decided to reinvent our car restoration business by manufacturing custom motorcycles under the name 'Seoz Bikes'.
So I sold the cars, bought a couple of bikes and started work changing them. I studied industrial design so I applied everything I'd learned into my work and the business grew quickly. Today, after three years, we rebuild a motorcycle every 2 weeks on average. We have put together more than 50 motorcycles over that time and we have around 30 bikes underway at any one time in the workshop.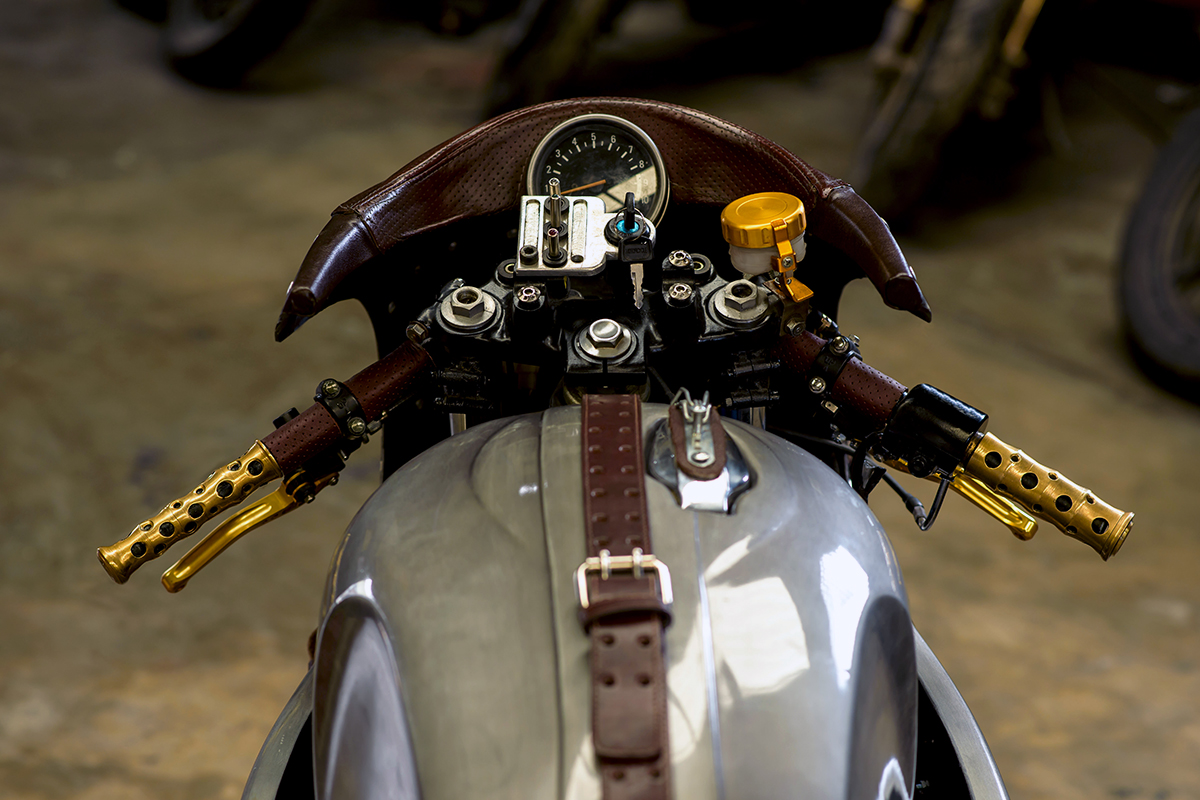 This bike is a Yamaha XS1100 1979 better known as "eleven". It took approximately 3 months to build because of the level of fabrication that went into it. It is a personal project that I bought because someone was selling it cheap. To be honest I'm not really a fan of these big Japanese 4-cylinder engines. I don't find the aesthetics of these bikes interesting,, especially the engines, so I decided this would be a build that was more about achieving a new look for this vanilla looking bike.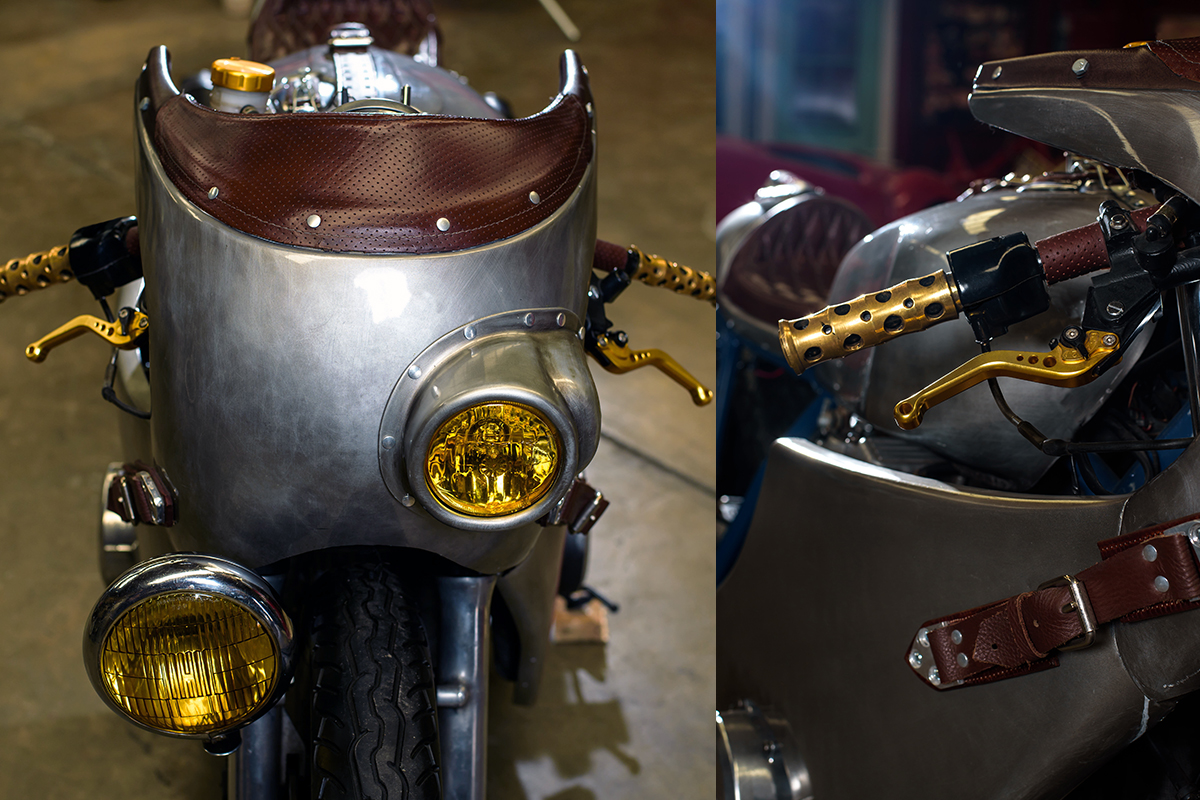 Unlike most jobs which are done in my workshop, this motorcycle was done mainly by myself with my own hands. The basic concept was to conceal the engine, so I thought first of the GP race bikes from the 60's with vibrant colors and racing livery. However, after some more thought, I decided a metallic finish with some post-apocalyptic touches would be better. Maybe Mad Max left a lasting impression on me when I was young!
The Yamaha's engine and suspension were not thoroughly cleaned to retain the bikes classic patina and retro look. I only lowered the front suspension and rebuilt the engine's internals and overhauled the brakes.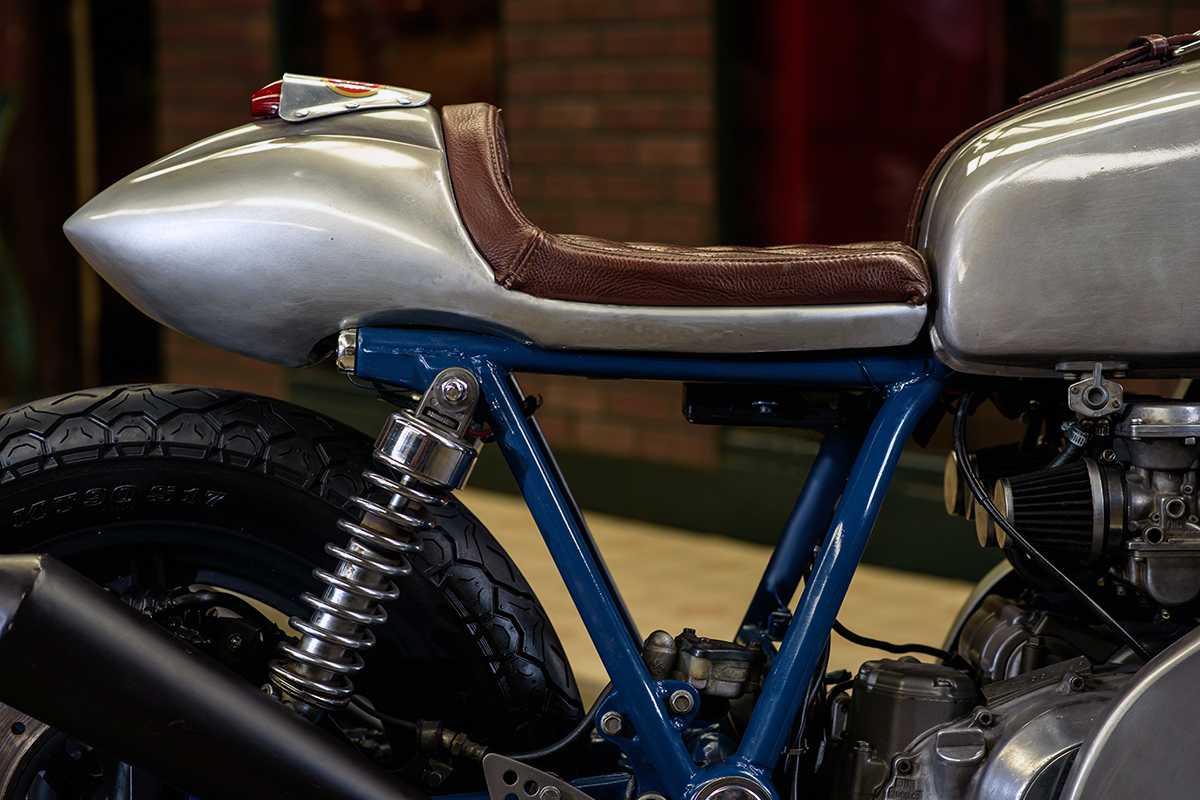 The gas tank, front fairing, side covers, and cowl were made using my own designs and measurements. The front fairing doesn't have a headlamp hole to retain the essence of a thoroughbred racer and its sides are connected by leather belt straps. With the lowered suspension the front wheel tucks up into the fairing creating an optical illusion that makes the front wheel appear huge, but it is the stock unit.
We used a modified gas tank from a Yamaha Triplex the rear cowl has the silhouette of a bullet and it's flanked by tiny led lamps that are mounted into the frame tubing. The tail light and headlamp units are held in place by riveted aluminium plate to add a touch of aeronautic style and to the right of the headlamp is a vintage fog lamp from the 40's which has been mounted using the piston rod from small block car.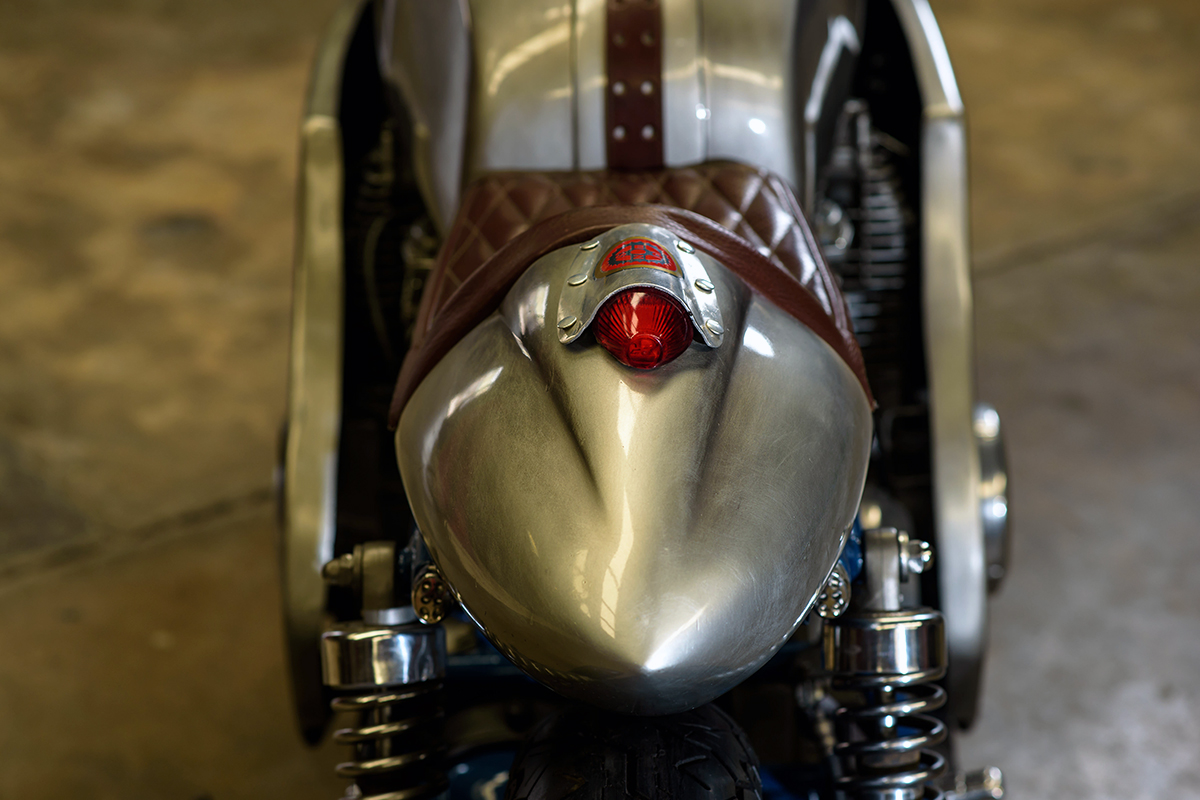 The exhaust system we made is a 4-into-2 setup with megaphone-style mufflers that we built ourselves and it all fits neatly inside the belly of the fairing. I used more leather to cover the dash rather than adding a perspex screen and custom made the seat and tank strap using matching brown leather. The instrument cluster features only a tachometer, the ignition switch and warning lights in pure style of racing.
I'm very proud of the complete bike. It is unique and there's something cool to be seen from every angle you look at it. – Luis Noe Arredondo, Seoz Bikes, Mexico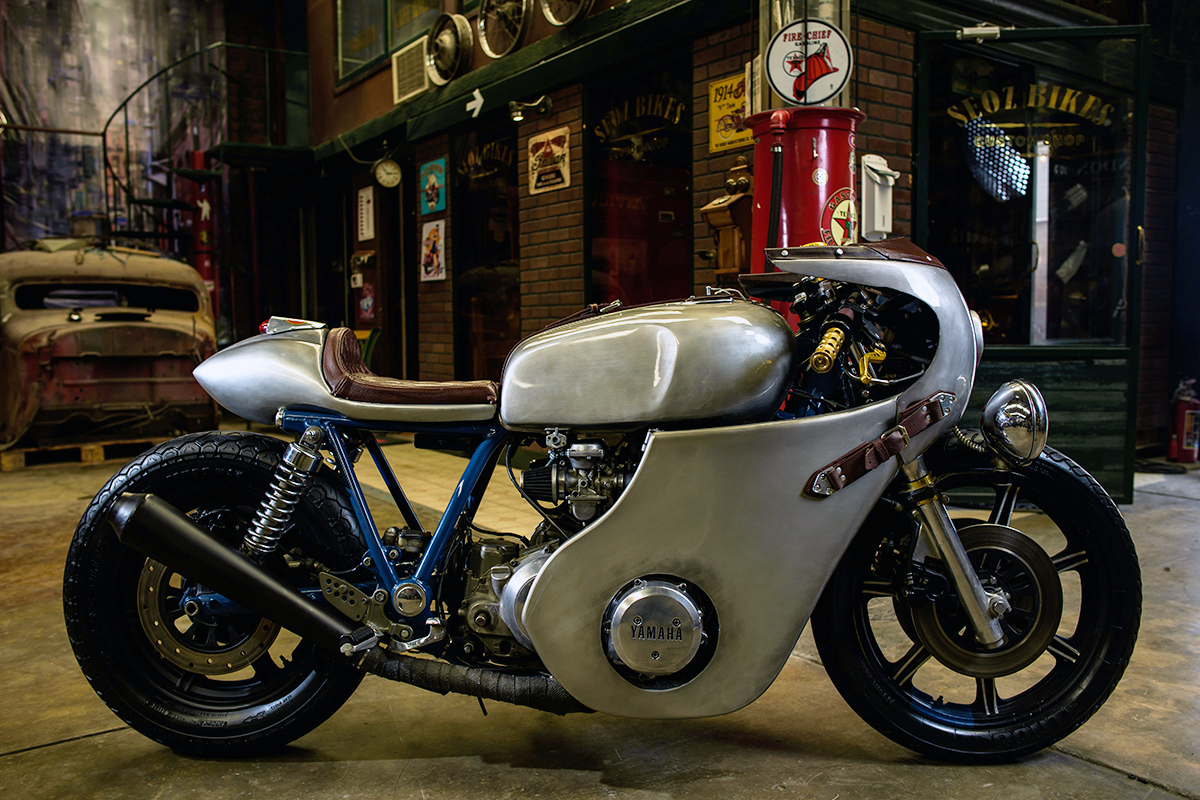 My experience with motorcycles goes back to my childhood. I got my first motorcycle when I was 7 years old. It was a gift that my Dad gave me. One day he came home and asked me what I would prefer between on a video game console or a motorcycle. I told him a motorcycle and he said to me "I already bought you one". The problem was however that the bike was in pieces. So I started to build motorcycles at a very early age. I owned that bike for 10 years during which time I customized it several times over.