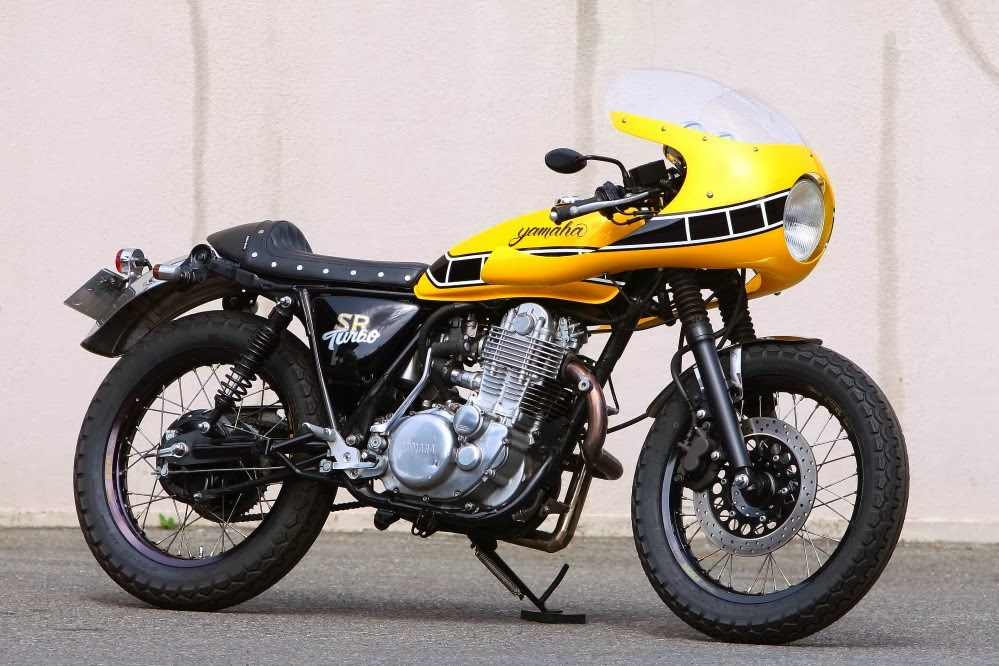 Is it just me or does this look like insanely good fun? There's no denying that Yamaha's legendary SR400 is a hoot to ride but what do you do if it's 32 horses ain't giving you the thrills you crave? You slap a Daihatsu turbo on it of course! This sexy little number hails from the crazy kids at Performance Cycle Shaft in Japan and it's 2 parts insanity mixed with 1 part of engineering brilliance.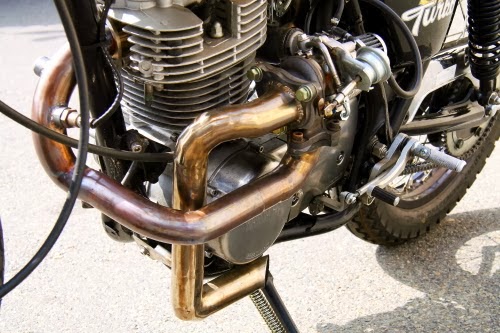 As I said this little rocket of an SR runs a turbo from a Daihatsu Tanto the taller, even boxier cousin of the 'Move'. Fuel delivery comes via a custom fit EFI injection system rather than the stock carb and it's all plumbed together using a custom exhaust system.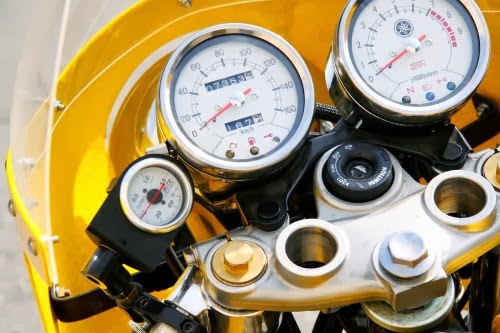 Since the bike was going to be moving faster than Yamaha had ever envisaged the Cycle Shaft team constructed a custom made 
"rocket cowl" for improved aerodynamics under. Beneath the fairings clear acrylic windscreen they mounted the speedo, tacho and boost meter and installed new controls on a set of fork mounted clip-on bars. The stock wheels were also swapped out for lightweight Excel rims which were laced to the original SR hubs and wrapped in classic Dunlop TT100GP tyres.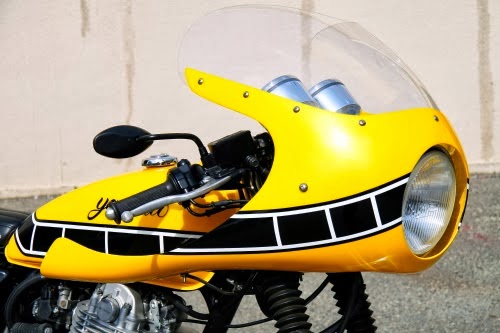 Inspiration for the paint scheme comes from Yamaha's racing colours of the 1960's, made famous by Kenny Roberts when he took out the World Championship in 1968. To finish off the styling a cheeky SR Turbo graphic has been hand laid in variegated gold leaf on the side covers, to let those who are gazing at the right side of the bike know that there's something special about this bike lurking just out of view.
How does it run? Well as Performance Cycle Shaft put it, the addition of the turbo has "a big impact" which I wouldn't doubt for a second.