Review Summary:
The 2022 Yamaha XSR900 Retro Triple is a much meaner and more powerful bike than its sibling, the XSR700.
With a gorgeous retro design and an engine sound that will get your blood pumping, this bike is a ton of fun before you even start riding it.
Corners are where the XSR900 truly shines—it's absolutely excellent in the twisties.
The area where the seat meets the tank means the rider will often be in contact with the paintwork, and the display feels a little too modern for such a retro-looking bike—but all things considered, these are minor issues. Recommended.
I like to think of myself as a fairly level-headed person. I have a wife and three kids. A white Toyota SUV. An average house in the suburbs. I'm also an "all the gear all the time" kind of rider who doesn't take unnecessary risks and who knows that while fast motorcycles aren't without their dangers, most of the risks lay with the riders of these bikes and not the bikes themselves. It's all just common sense, yeah?
So picture me as I size up the new Ducati Streetfighter stopped at the lights next to my 2022 XSR900 press bike. Please note that I'd been on the bike for a grand total of about 15 minutes at this point. Most of that time had been spent with me giggling inside my helmet at just how light, nimble and powerful this new XSR was. I had been there to watch others ride it. I had seen their wide eyes and heard their "phwoar" sounds after they'd dismounted. But now I was experiencing it for myself.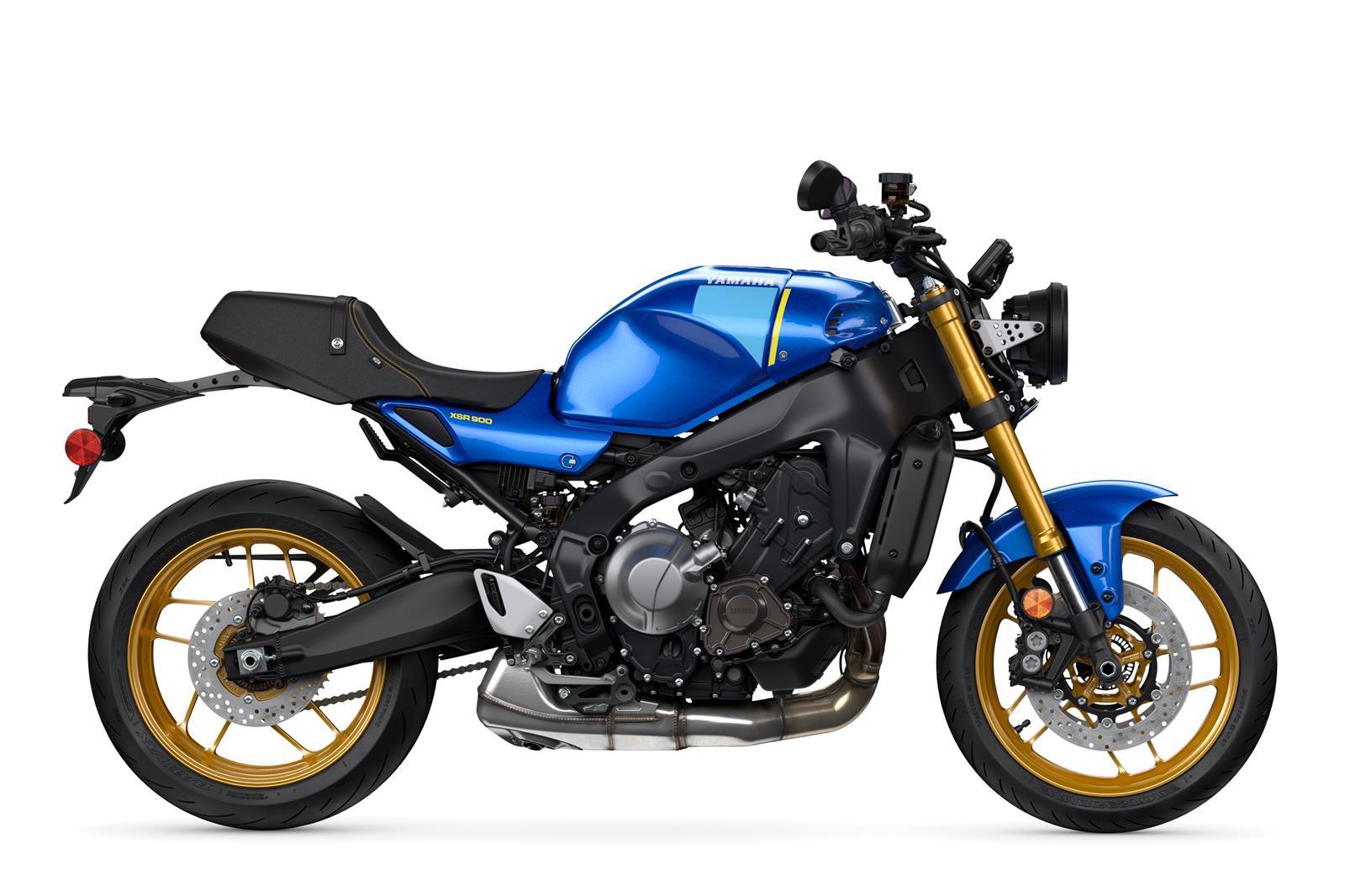 Somehow in the quarter of an hour between me riding out of my driveway and reaching this red light, I had changed. At first, I was just revving the engine to see how the new XSR sounded. Then I gave it a blast or two. And then, like some Red Bull-fuelled teenager, I was doing things that no grown-ass adult should ever really do on a public road. Especially not if they want to keep their licences.
Now to be fair, I never had a chance in hell with the Streetfighter. Be it a V2 or V4 model, unless the rider was grossly incompetant, just bluffing, or a cop that was baiting me, they would surely win any race here. Either of Ducati's possible V-engine platforms put out more than the XSR900, and both are also lighter than the Yammie.
But I'm ashamed to say that this deficit (or my supposed maturity and commitment to being a responsible adult) did not stop me from dumping the clutch, pinning the throttle and lifting the front wheel in order to give this overpriced rosso razzo a good run for their lira. Guilty as charged.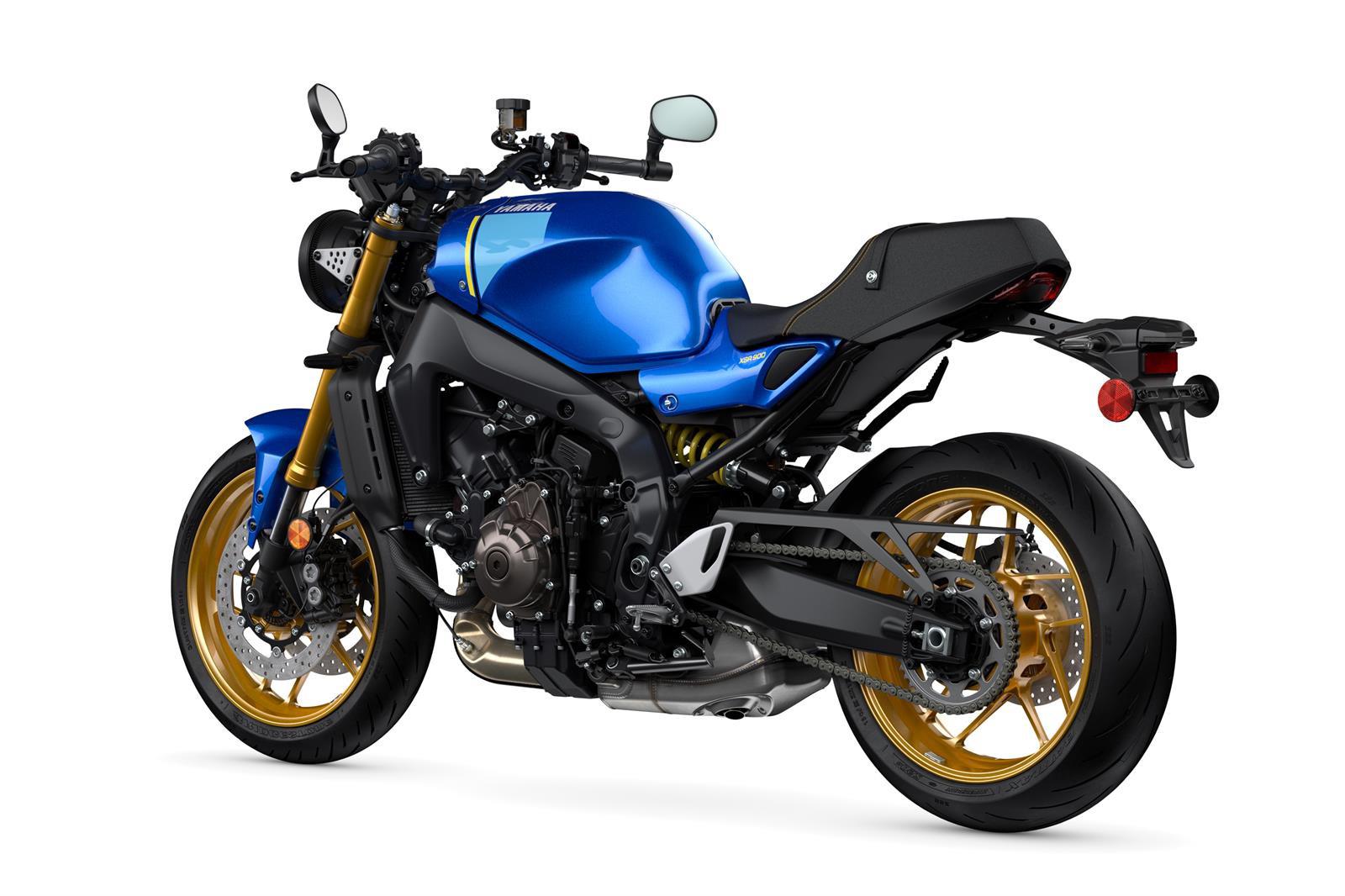 Such is the effect of the XSR 900. At least, this was the effect that it had on me. Banish any thoughts of this bike somehow being related to its 700 sibling. The difference between the two could not be more stark. Forget chalk and cheese; this was like chalk and a remarkably un-crumbly, very soft and not at all dusty Gorgonzola. Or something.
If the 700 was designed for beginner motorcyclists, this bike was surely intended to take old, jaded riders like me and to light a pretty damn big firework under their complacent, flabby buttcheeks.
See Also: The 2022 Yamaha XSR700
Specifications for the 2022 Yamaha XSR900
But before I get ahead of myself, let's talk brass tacks—or gold forks as the case may be. New for 2022, the second incarnation of Yamaha's more retro, less sports bike-y MT-09 triple, the XSR900 seems to have moved further away from both the MT and the XSR700 and more into its own patch.
Yamaha says it was designed with '80s French GP-winner Christian Sarron in mind. Specifically, they connect his bike's Deltabox chassis with the 900's. Ummm… yeah, maybe? But for me, it's all about the paint and the bodywork.
And while that sounds more superficial and less sexy than structural or engineering similarities, I was smitten the moment I saw it in the flesh. Scrub any mental images you may have of the previous bike. Thanks to the new tank and seat, this one looks noticeably different and much sexier.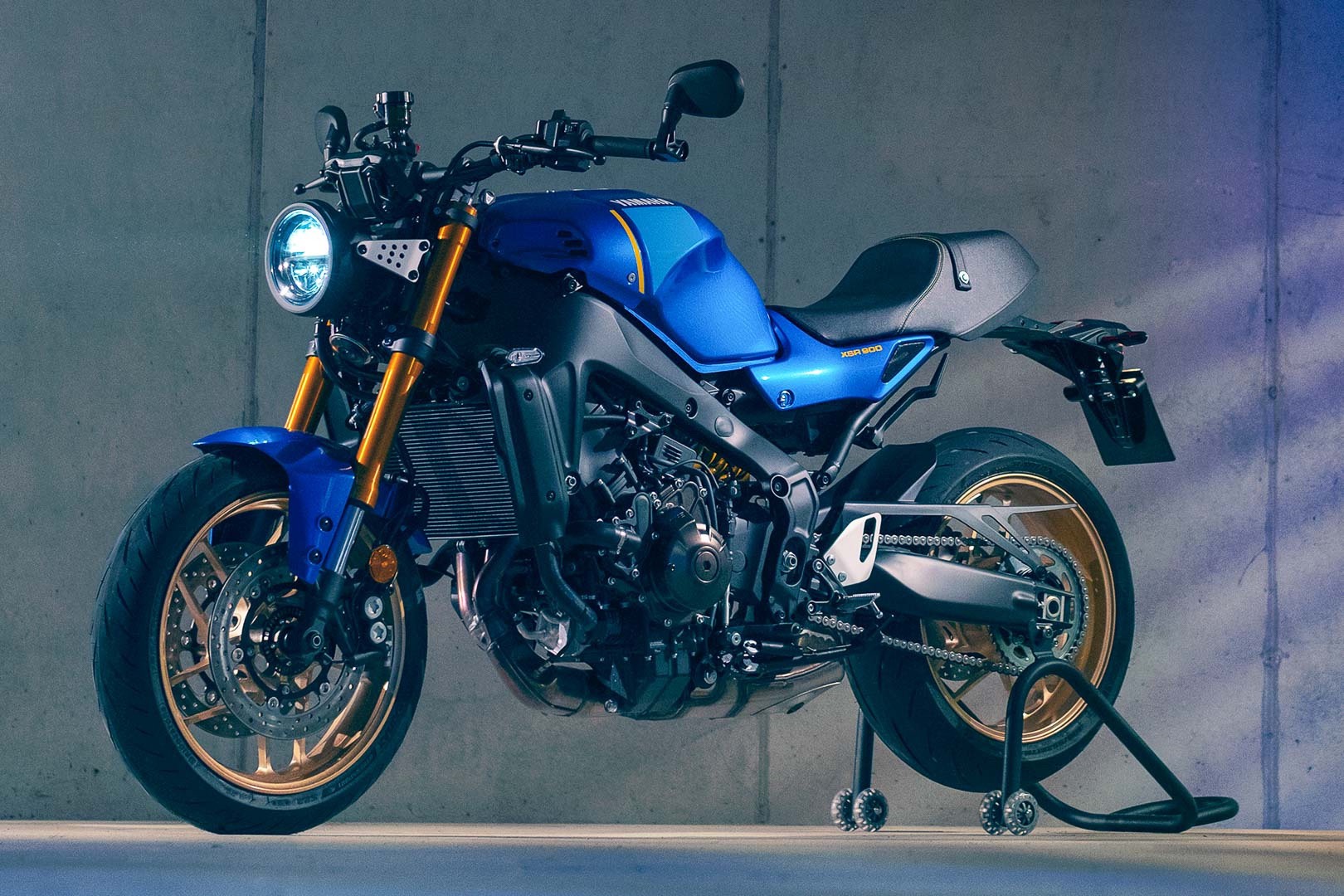 Other updates on the 90% new 2022 model are a heap more electronic toys, including:
Wheelie control
Lean-sensitive traction control
A quick shifter
Slide control (for when you want to dangle your leg and corner like Rossi—and no, I didn't try it)
All this is wrapped around a new, more powerful, larger capacity 889cc CP3 engine. It's a corker, too. With heaps of new internal gubbins and a better, flatter torque curve, the thing's very hard to fault. The throttle control is now smoother, too.
Other niceties include a cruise control that worked a treat, new power modes for easy access to common settings, and a bunch of generational nips and tucks to make the thing lighter and better overall. I should also mention the TFT display.
While I still have reservations as to how these screens will look in 20 years' time—think about failing brightness and all those horribly dated '80s car dashboards with green digital displays—I am growing to like them more and more with each TFT bike I ride.
The only thing missing here is some graphic tweaks to the display's design to make it look more retro and less 2022. I'm thinking some kind of digital recreation of a YZR's analogue gauges. That would've really been a nice touch.
Pulling out the trainspotter's guide to the bike, you'll find a 118 horsepower, 92 nm (68.5 lb-ft), 889cc, crossplane-cranked inline-triple. Yamaha claims its wet weight is 193 kg (425.5 lbs) and the bike's seat height is 810 mm (31.8 inches) at the lowest point. It has a 14 ltr (3.7 gal) fuel tank and a six-speed 'box.
Factory rubber is Bridgestone's Battlax Hypersport S22 and the headlight is an LED projector-style unit. The brake light at the rear is also an LED unit, and it's neatly hidden under that sweet seat. But more on that later. Lastly, it has the tick-box Brembo radial master cylinder brakes with fully adjustable inverted KYB forks.
Initial Impressions of the 2022 Yamaha XSR900
Carving through the Sunday morning traffic at the start of my usual test loop from Sydney's inner-western suburbs and down the that famous Royal National Park and back, the bike instantly impressed—and by that, I probably mean my licence was in danger from the get go.
Easy to manoeuvre at standstill on my driveway, this trait followed through to the suburban part of the test with exemplary leanability and a very solid, low, "central ball of weight" vibe that saw it feel instantly at home between my, erm, legs.
In other words, I fanged the thing. Not to any point where the police would have gotten involved, mind you. It was just in a kind of, "let's see how this bike handles… whoops, I'm now a little bit too excited" fashion.
Just before the anti-social behaviour with the Ducati I previously mentioned, I was saying to myself, "OK. That's enough youthful exuberance, Andrew. You're not 18 anymore. You're a grown-ass man. Calm the damn farm." And then 30 seconds later, I'm on the go-juice scaring my fellow road users. Yes, maybe it was just the mood I was in, but this thing sure knows how to party. And it also knows how to feel a lot lighter than its stated weight.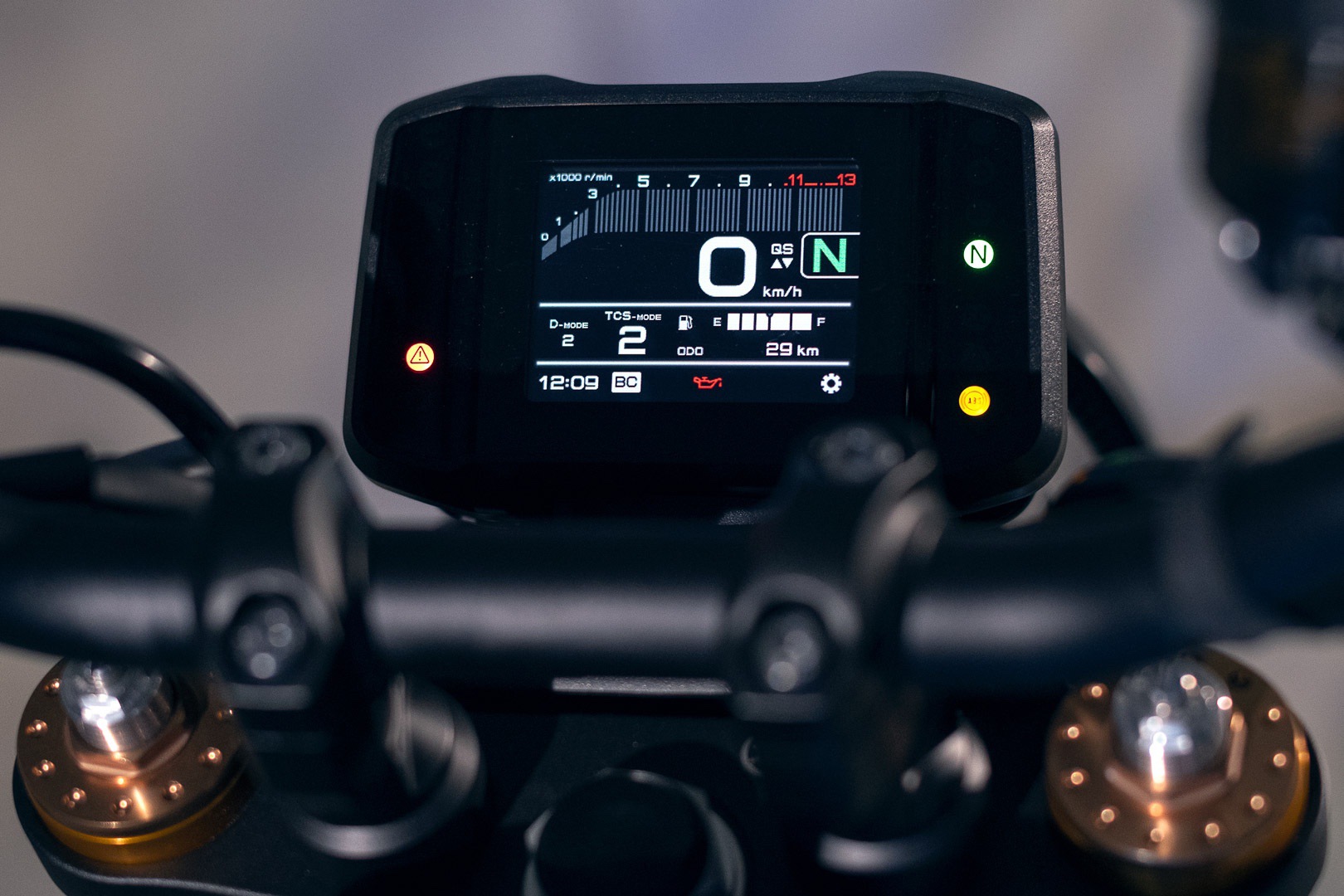 All the bike's bits and bobs are thoughtfully designed and placed; having just ridden the XSR700 the month before, I was kind of down with the "language". An interesting point to note right here is the fact that the bike's underslung exhaust and lack of any kind of pipe means that it looks kind of nude downstairs, if you get my slightly rude gist. You'll be surprised at just how it catches your eye—or doesn't, as the case may be.
And just what happens if you want to upgrade the thing is open for debate; although I'd guess it involves some stubby triple pipes protruding back and up out of an all-new underslung (and hopefully less silenced) silencer. That could work. As could what looks to be a new Akropovic option that adds a full can next to the rear swingarm to make it look much more like its XSR700 and MT-10 siblings.
See Also: The 2022 Yamaha MT-10
The 2022 Yamaha XSR900 in the City
As you've probably now gathered, the XSR900 is a rather exciting mix of size, weight, power and adrenaline that really encourages you to try it out. Resting comfortably in a sweet spot between more friendly, less powerful bikes that a new-ish rider may consider and the proper, big bikes with +150 horsies and the ability to get you thrown in gaol rather than just make your local police upset, its party trick is a great one.
At first, I was a little taken aback by what it was capable of. But wanting to appear all professional and cool about it, I diligently reminded myself that in 2022, a 120hp motorcycle that weighs 190-odd kilos is no avant guard rocket that's left the rest of the pack behind.
But boy, does the bike feel rebellious and lively. Imagine a really average party you've been forced to attend by your partner. Suddenly, in walks someone who just takes the mood and turns it up to the "excellent" setting. Now you're partying and that dull, vanilla earlier part has been forgotten like a kid's school lunch when McDonald's suddenly appears.
In a way, my shenanigans with the Ducati were just an over-eagerness for me and the bike to be out of the damn city and onto the types of roads that would better suit it's riotous abilities.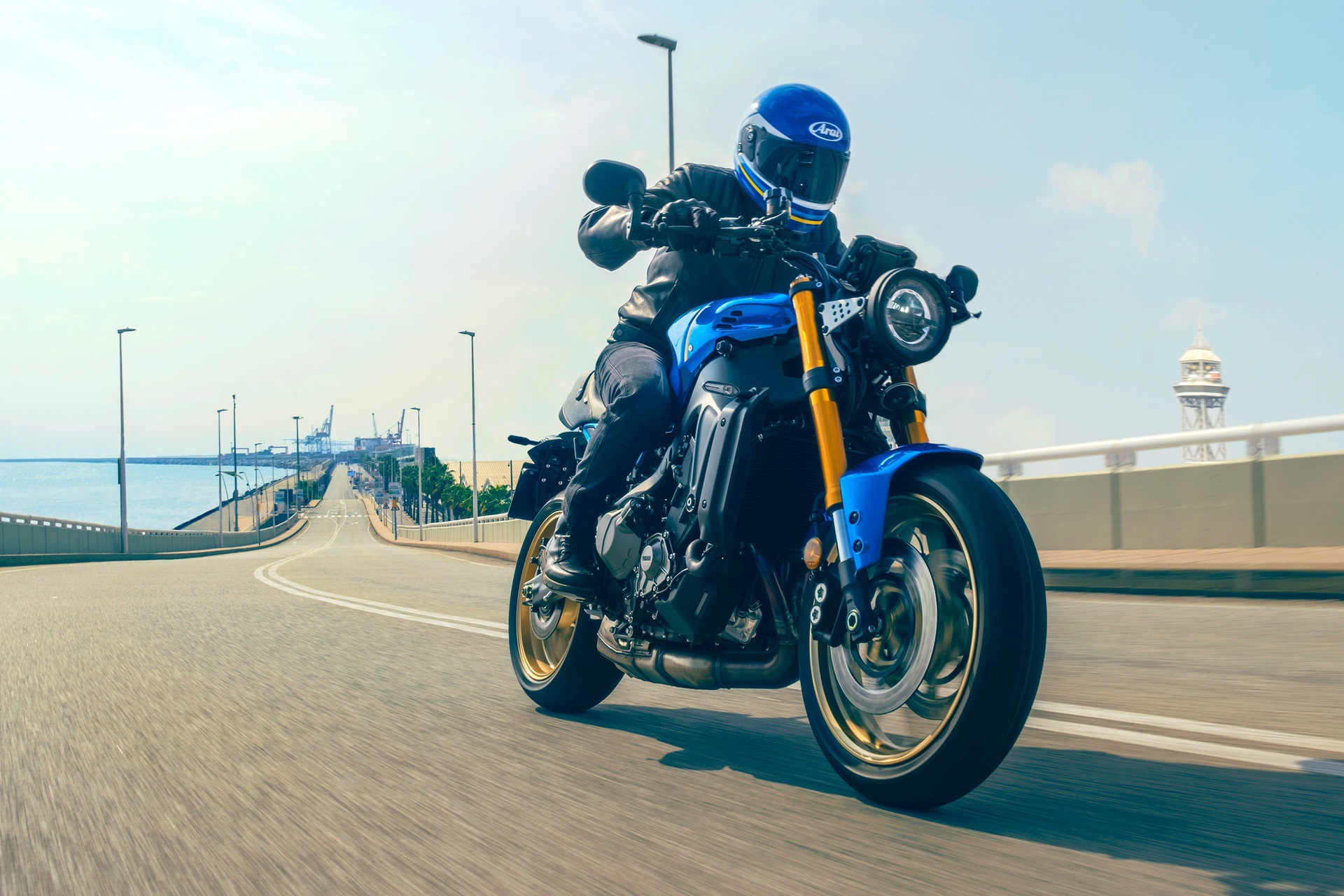 Oh, and the factory mirrors you see in a few of these photos look incredible. They are mountable both above and below the bars, too. Rhizoma should be properly scared. So the award for best factory-fitted accessory for 2022 goes to…
The 2022 Yamaha XSR900 in the Curves
Finally, we get to some curves. Despite the hour-or-so of the suburban roads it took to get here, I'm still comfortable. I wouldn't go quite as far as to say that it was "all day comfy," but I'd bet my whiskey-stained dentures that if you were on a sports bike (remember those?) of a similar capacity, you'd be cursing the riding position right about now.
But not with the XSR. The seat did the trick, as long as you note that changing positions on it in terms of shifting forwards and backwards isn't really possible. Its design and curves mean that you're pretty much in the one spot for the whole ride.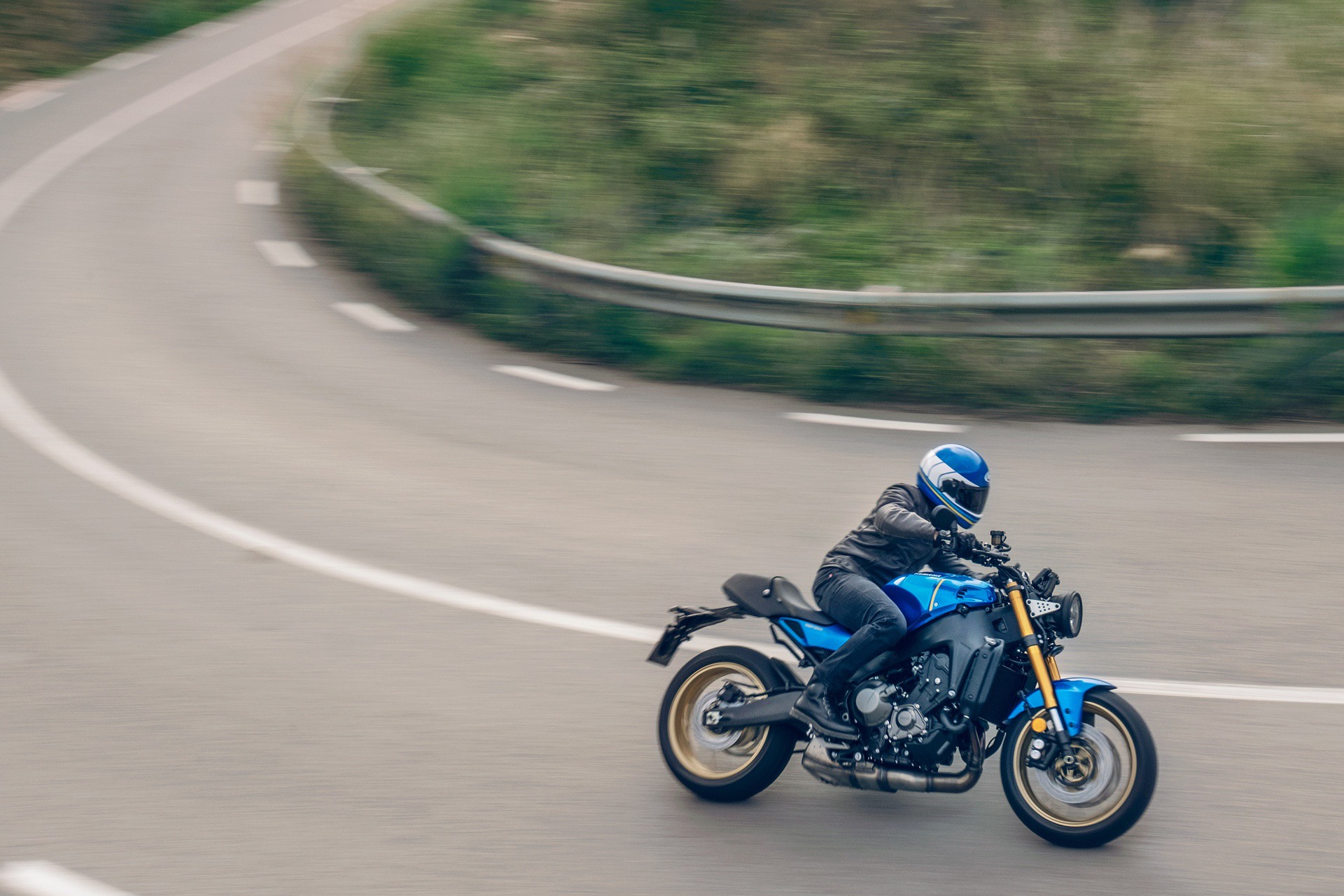 And as the revs come up, so does the internal combustion music emanating from under the bike. While nothing more than a dull roar under 50% throttle, the longer roads and absences of traffic means I can now make it sing a little louder. Most of the hullabaloo seemed to consist of mechanical whur and intake roar rather than what was coming out of the downwards-facing pipes.
Now that I say it out loud, it seems a little obvious but if exhaust notes are your thing, I'd definitely look into aftermarket pipes. Also, this new CP3 triple is an absolute gem of a thing and if you generally like the feel and delivery of a triple, this is bound to please.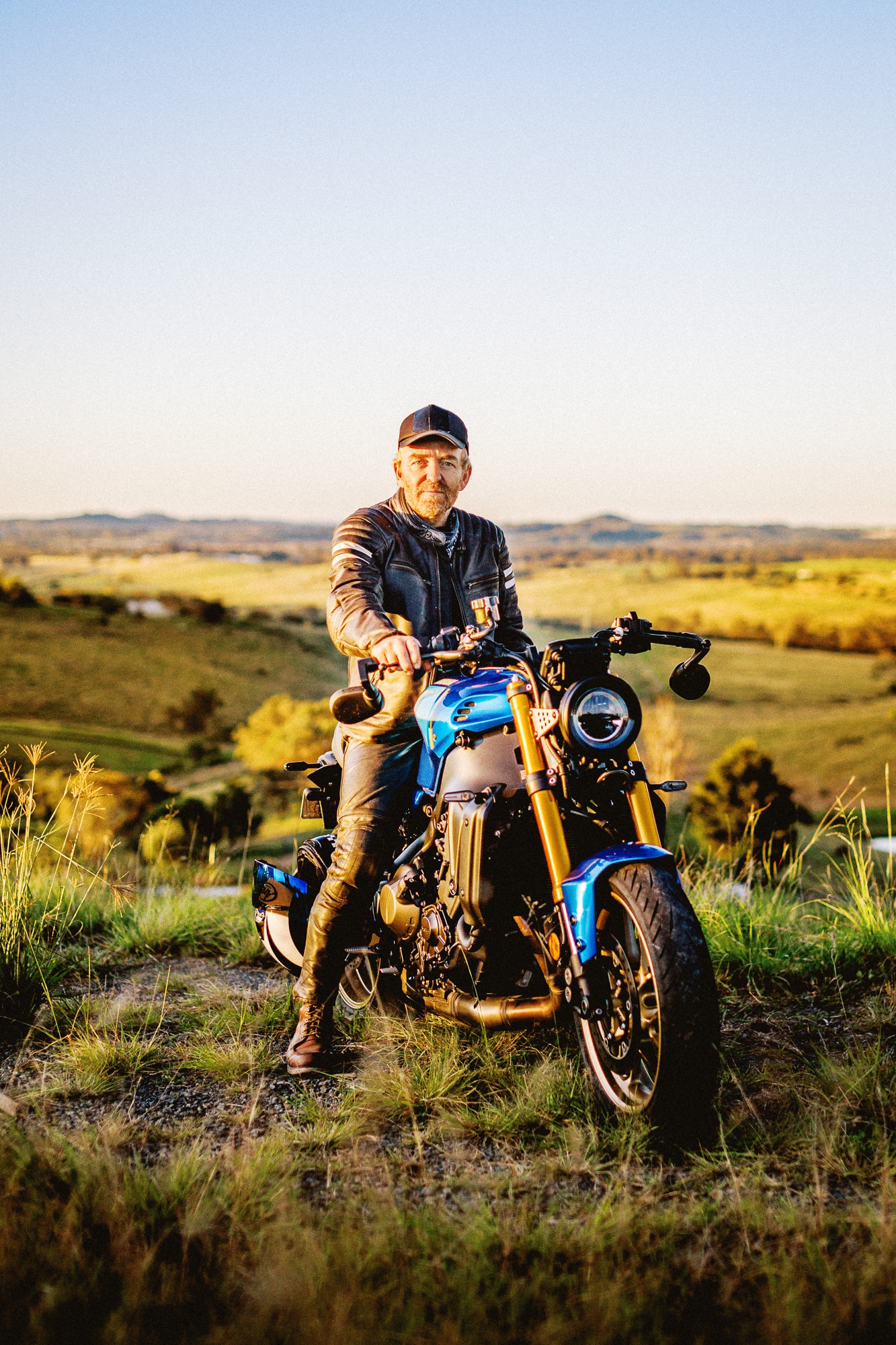 The cruise control is a standard Yamaha set-up, but like heated grips and other such "luxury" accessories, once you ride a bike with them installed, it's not easy to go back. And the relief you'll get after an extended ride by being able to relax your throttle hand for a minute or two is probably worth as much for your peace of mind and safety as it is for the sheer "my bike has a cruise control" bragging rights it affords you.
Yamaha or not, my next bike will definitely have this feature installed before it leaves the showroom floor. I noted the bike sitting at 100 km/h (60 mph) in 6th with 4000 rpm showing on the racing-style arched tach graph, still a full 8000 revs away from the sky high 11,000 rpm redline.
And the bike's incessant pleading to misbehave in the city morphed into an enthusiastic willingness to smash through the corners as if it was born to do it, no doubt helped by the rather lovely KYB upside down forks. Whereas the XSR700 was a safe and capable partner when the going got twisty, the thoroughbred 900 began to feel more like things started locking into place once I began to push it and lean it over.
The suspension that felt on the firm side of comfortable in the traffic was now calling the shots and managing the outcomes of my excited cornering antics masterfully. This is where the bike belongs.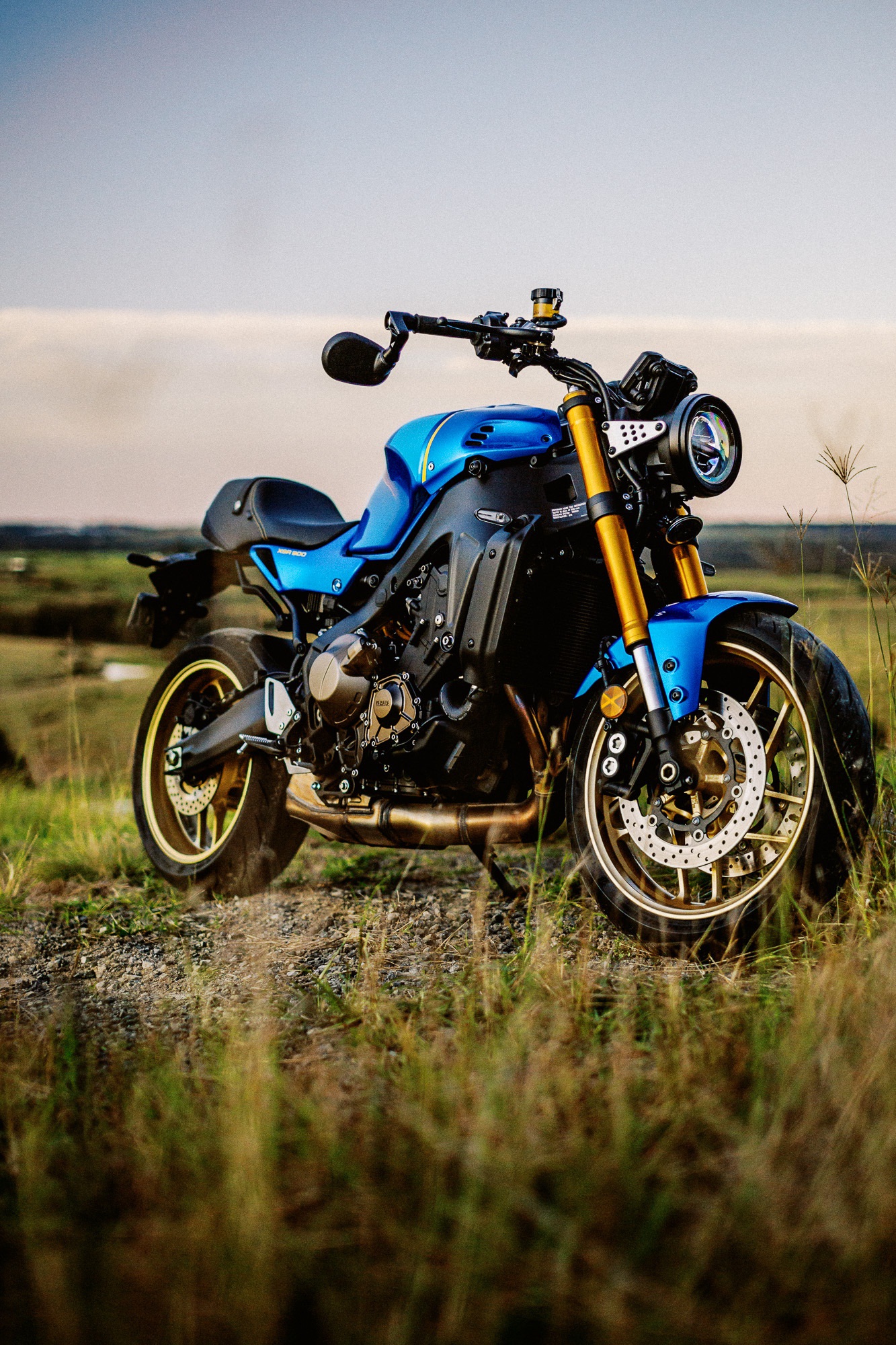 Glances at the speedo saw me taking corners that I'd usually shoot through at 70 km/h or so looking more like 85. That's always a good sign that the bike's working with you to keep you in your comfort zone while making things easier and quicker, too.
And does quick shifting ever get old? Not for me it doesn't; big throttle launches from a stand-still with a bit of front wheel lift and quick shifting thrown in? That's what racer dreams are made of. Yamaha's Quick Shift System is a good 'un, and despite the addition of shift indicator lights on the dash, I quickly found that "allowable" shifts were intuitive and easy to pick.
Rocking up to the cafe car park south of the Nasho to the awaiting moto-hungry eyeballs provided no longing glances or interested riders wanting to chat. But I'll put this one down to coincidences because I'm here to tell you that I'd be up for a chat if I saw it rolling up and parking.
The '80s stylings seem to capture the look of the decade without being overly retro or trying too hard. While drinking my coffee and staring at it from afar, I was really impressed with the seat's shape and how it allows for both a sportier silhouette and the convenience of a second seat. And the very tidy underseat brake light is cool enough to feel more like an aftermarket item than a factory one. Usually it's one or the other, but rarely both. With that said, the seat does look pretty tall, so if two-up is something you plan on doing regularly, I'd test it out first.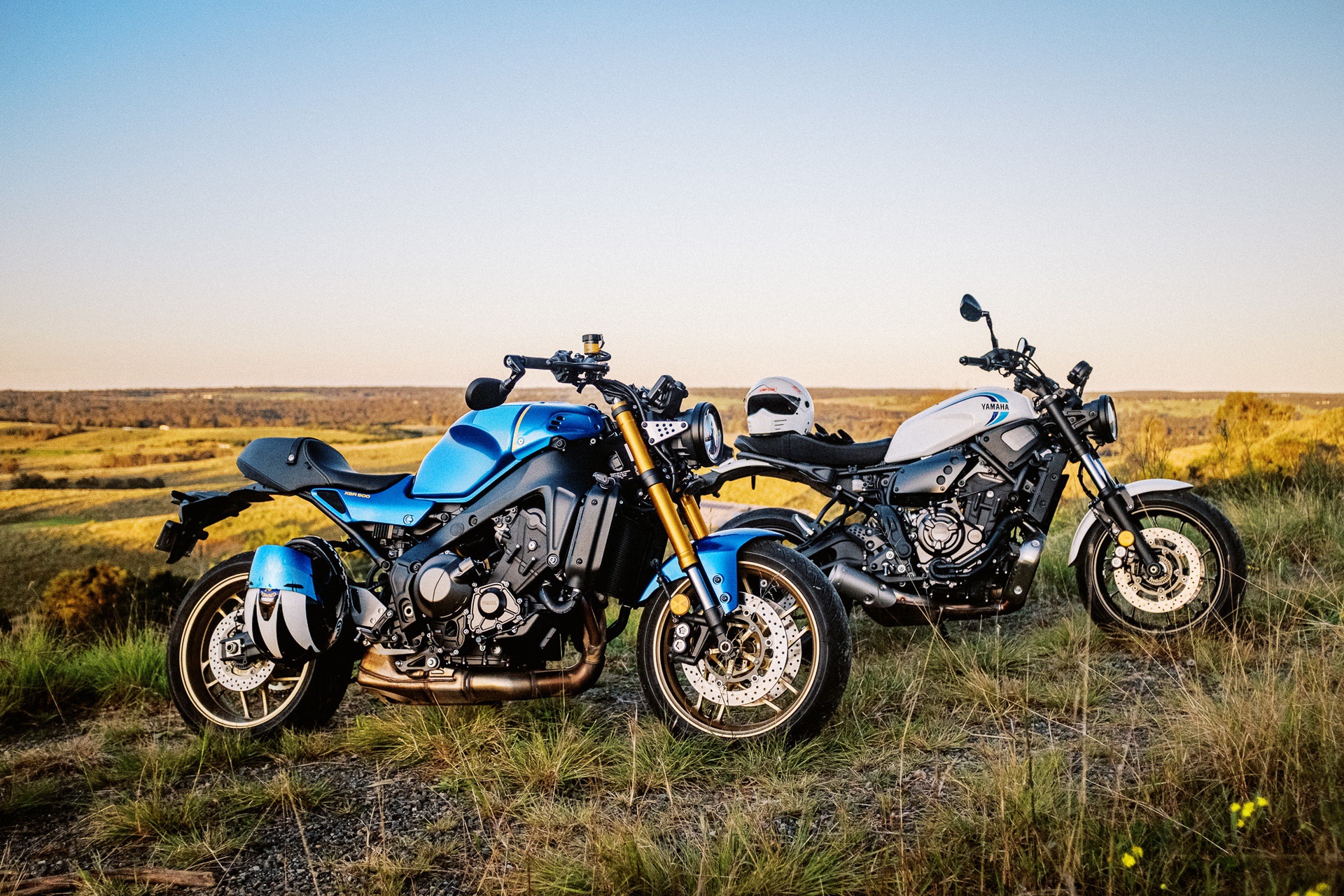 What Could Be Better on the 2022 Yamaha XSR900?
I can't lie here. Picking faults with the bike isn't an easy task. It's pretty damn good right out of the box. And that's coming from a guy that's always been a little too obsessed with the details of almost everything. But (there's always a but) there were a few little gripes.
Firstly—and this isn't so much a fault as an omission—a more retro-looking display would have really kicked butt on this bike. As it is, the TFT's layout looks very contemporary, which kind of jars against the rest of the bike's '80s charms. Even a single option to alternate between the MotoGP look it currently has and a more analogue version of the same would have been a killer inclusion.
Yamaha, if you're listening, I'm thinking that this would be an easy software upgrade for service staff to make during schedule inspections, yeah? Then again, what do I know about moto firmware… Still, here's hoping it happens.
The second challenge isn't exclusive to the bike, but more of a bug bear for all manufacturers. That angle on the back of the tank where it meets the seat is way too steep and way too close to the rider's family jewels and, combined with the jaunty kick on the seat, it forces you into contact with the paintwork. Give that a year or two and you'll no doubt be rubbing through it and screwing up that beautiful finish.
It beggars the question: why should this be necessary if all the rider or owner is doing is using the bike as intended? If it's going to rub paint off, then there needs to be something placed there at the factory (like a black plastic guard or some clear plastic wrap) to stop it from happening.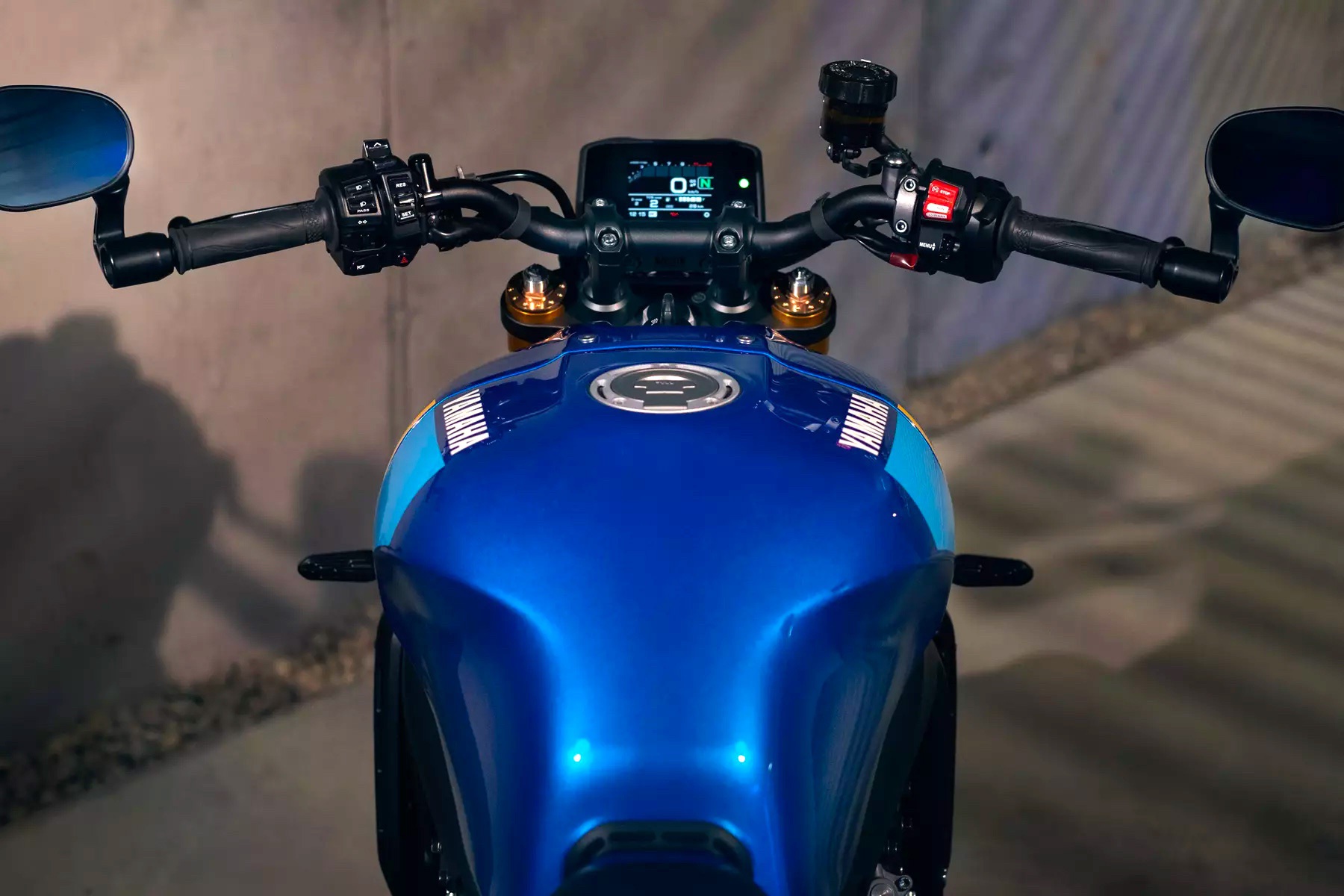 Other than those minor concerns, the only other thing that had me scratching my head was the presence of the Brembo brake master cylinder but not the callipers. In my mind, what riders want is Brembo callipers, not masters. Or both.
Yes, that'd probably raise the price on the bike and no, I didn't find anything lacking in the bike's braking abilities; it just struck me as a funny choice. I'm sure someone at Yamaha could adequately explain it, but if I was weighing up my purchase decision and I noticed the fact that some of Triumph's retro offerings come standard with Brembo callipers, well…
Final Thoughts on the 2022 Yamaha XSR700
You know that old friend of yours that has a reputation for partying just a little too hard? The one that long-term partners raise their eyebrows at when their names are mentioned in conjunction with the phrase "just a quiet drink"? The ones that are never worried about consequences and just want to have a good time and live for the moment? The ones who you last remember seeing ordering shots while dancing on the bar when you wake up the next morning in a strange apartment to find yourself hungover on a lounge chair without your pants? The Yamaha XSR900 is that friend.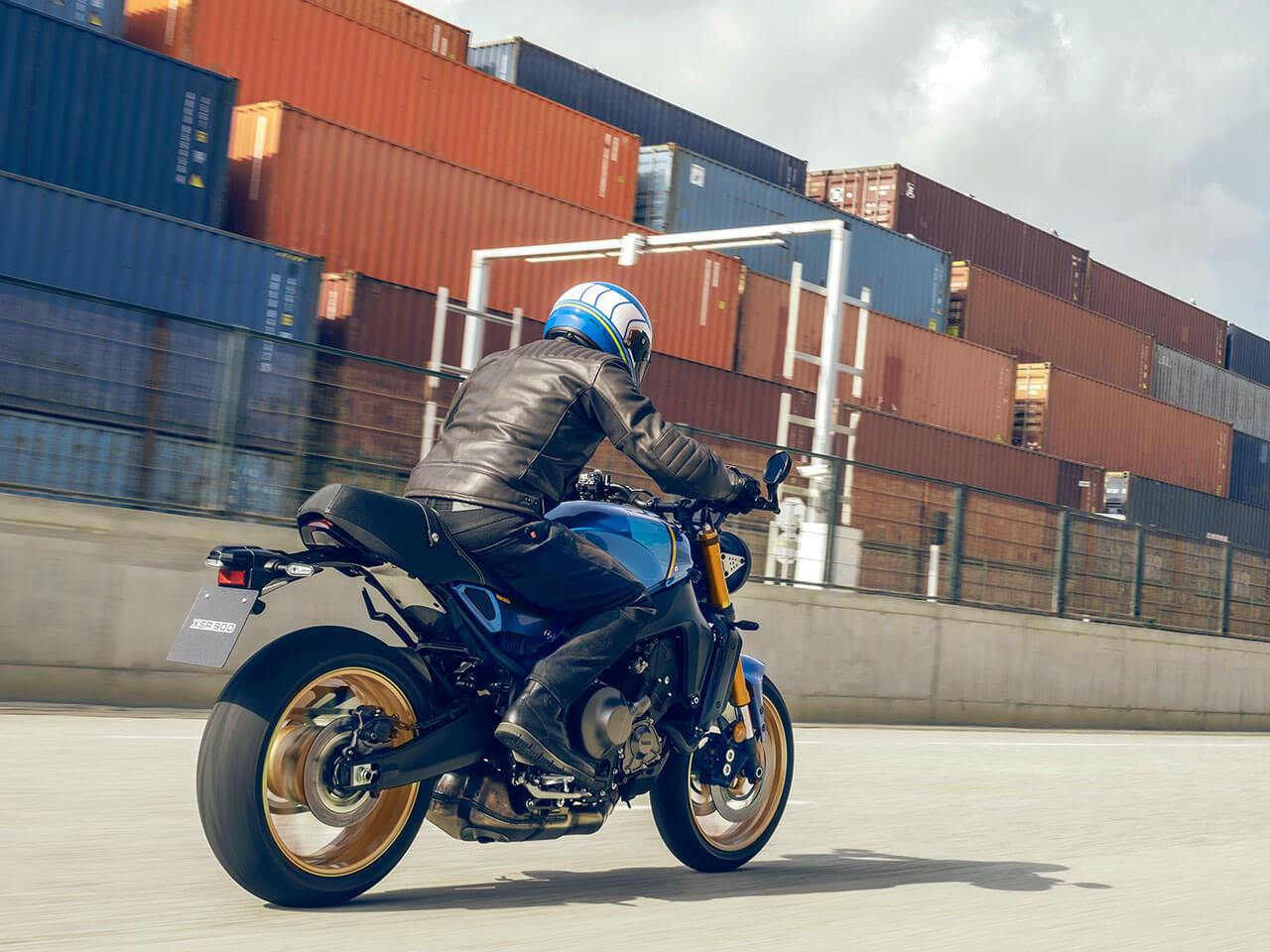 It's also a riotously fun bike that is going to put a smile on your face, a spring in your step and challenge your self control like nobody's business. It's one of those "always on" bikes that is the last thing you should choose if going for a quiet Sunday cruise is your jam. It's the opposite of that. It's not a sheep in wolf's clothing; it's a wolverine in wolf's clothing. 20 years ago, the XSR900 would have been a sports bike, if you get my drift.
Now you can still get the thrills, but without the sore wrists and legs, stratospheric power band, and Power Ranger looks. And as a former sports bike owner and rider, believe me when I say that's a very good thing. sports bikes are great at the track, but what about the other 99% of the time?
That's where the XSR900 comes in. It's almost the perfect machine for the job of on-street thrills. But do you—or anyone for that matter—have the restraint to own one and keep your licence? That's a question only you can answer. But if you think that you're up for the challenge, you'll need to ride this bike, and soon.
2022 Yamaha XSR700 Overview
General Info

Price: $17,299.00 AUD inc. GST ride away
889cc inline triple engine
TFT Display
Quickshifter
Cruise control & slide control

Main Specs

Torque: 92 nm (68 ft-lb)
Wet Weight: 193 kg (425 lbs)
Seat Height: 810 mm (32 inch)
14 ltr tank (3.7 gal)

Competitors

Yamaha MT-09
BMW F900 XR
Triumph Street Triple R 765
Triumph T100 Bonneville