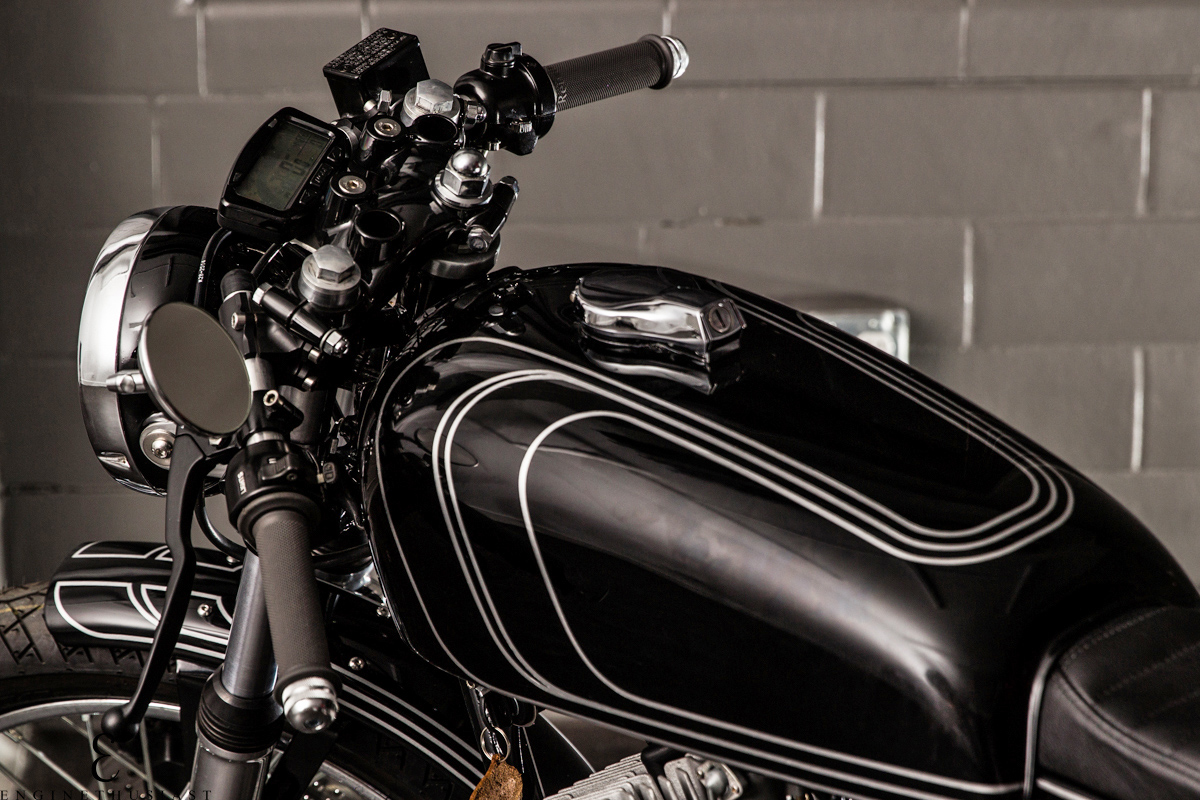 Tower's been messing about on bikes since he was a kid, but in 2008 a chance meeting with Ian Halcott lead to him holding a job in the Twinline workshop and eventually stepping up to run the place when Ian relocated to California. Since then Jeff's taken a more performance-focused approached with their builds.
"The goal with this project was to build something with as much reliable horsepower as I could and to make it look super good." says Jeff. "This bike started life as a '73 Yamaha RD350, I bought as a complete non-running bike. After about a year of sitting in the corner a customer contacted me about a new build. They wanted a bike similar to the "Goldhead" that Twinline built years before."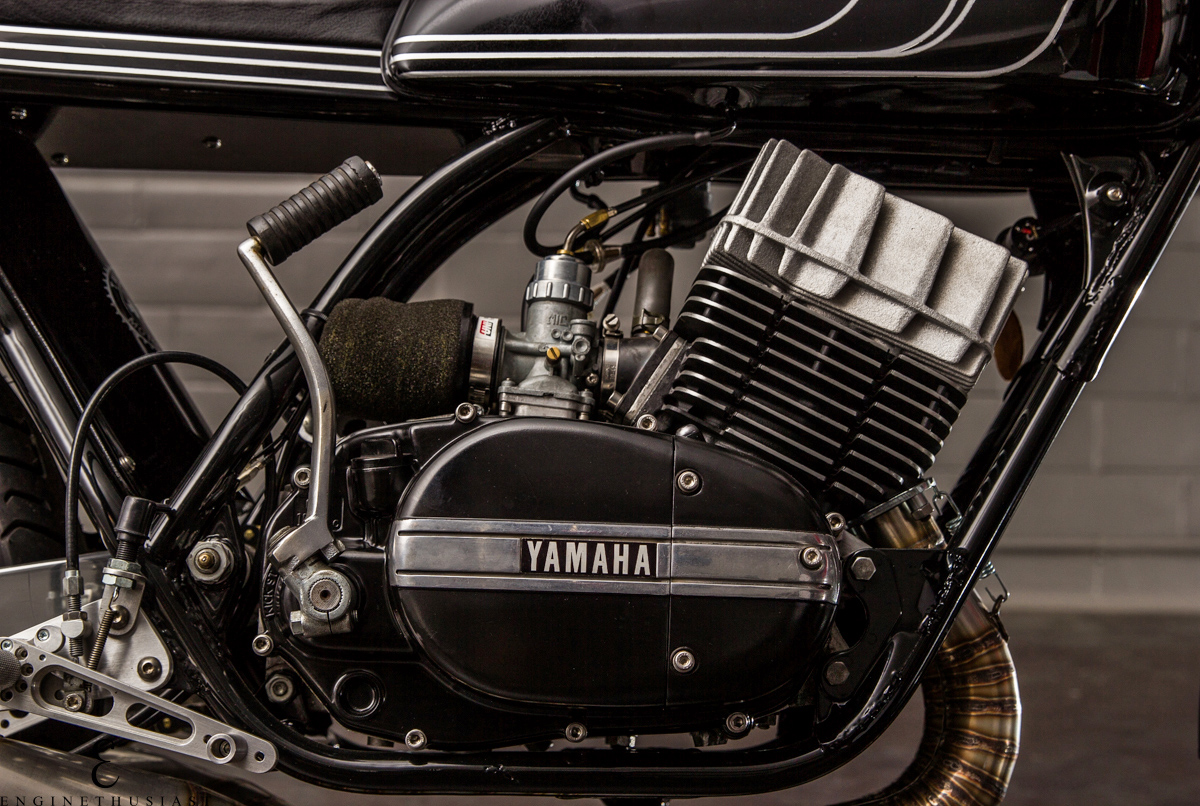 "On this build I wanted everything to be more refined than the Goldhead. I wanted to use all the best parts available and make it better than all my previous builds. Luckily the customer was willing and we started buying parts. The motor was already rebuilt and most of the parts were in awesome shape so we had a great starting point."
The shopping list started with all the items Jeff needed to upgrade the bikes handling. Racetech emulators were installed in the rebuilt forks and Works Performance shocks were bolted to the rear. A polished alloy swingarm from DG was then added to hold the rear wheel, which, like the front uses a Bridgestone BT45 tyre on a DID rim that's been laced to an original hub. The riding position was revised by fitting Woodcraft clip-on bars and a set of custom mounted rear-set footpegs from Motobits.
The front brake has been rebuilt with stainless pistons, braided lines and a cross-drilled disk, and at the rear there's a custom cable controlled set up for the drum. In the interest of performance gains via weight loss the bikes stock airbox and 'Autolube' oil tank were discarded and an antigravity battery has been mounted in the tail.
To get the reliable performance he was after Jeff installed a Power Dynamo/MZB iginition and charging system. The engines cylinders were mildly ported and the stock heads replaced with Super Webco units. He then picked out a top performing, great looking pair of expansion chamber headers and mufflers from Jim Lomas.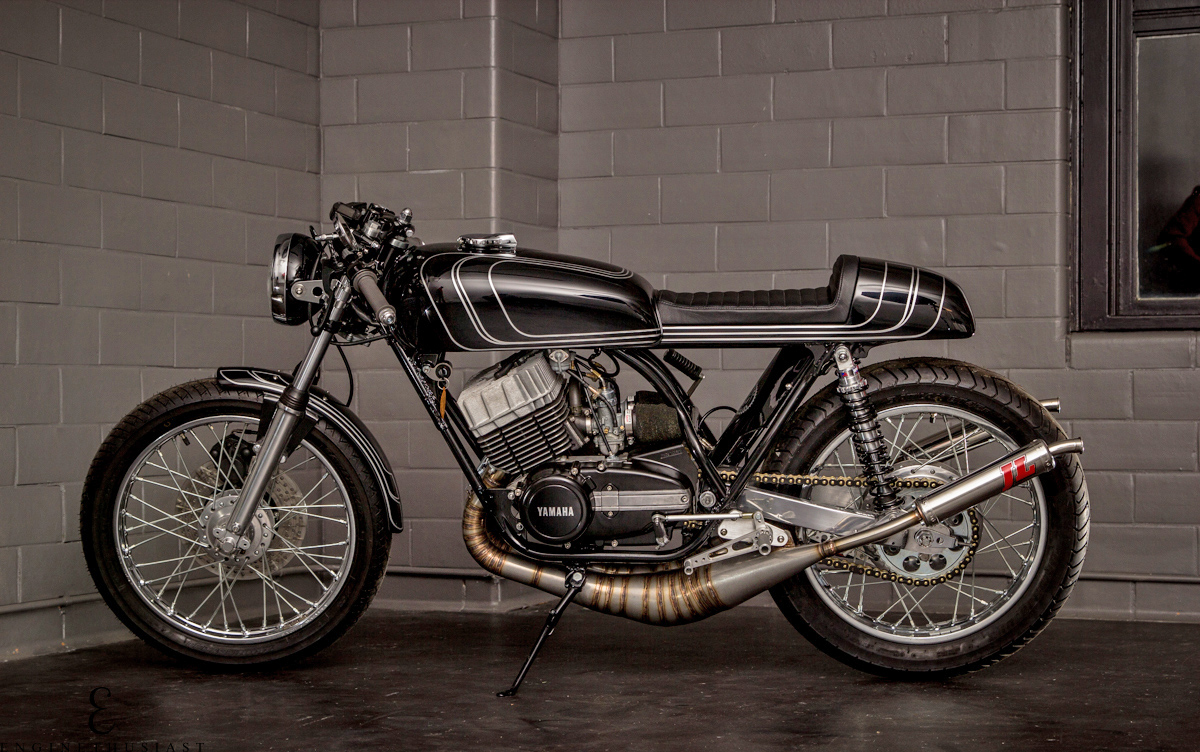 Improving upon the RD's appearance came down to a few tasteful modifications. The seat and rear cowl are all new, with the rear lighting frenched into the tail. A singlemirror and Trailtech Vapor gauge clean up the front end and the forks have been polished to match the new swingarm. The engine was given a thorough clean and repainted in satin black, leaving a well balanced selection of unpainted details. And the bodywork was painted by Mitchell Smith in a classic gloss black and silver pinstripe scheme.
"The bike took about a year to build, but for a few months of that time it sat idle." says Jeff. "In October 2015 I was trying to figure out what bike I would bring to The 2016 One Motorcycle Show when I realised this bike would be perfect. That decision also gave me the pressure and deadline I needed to get it done."
At the One Motorcycle Show the Twinline Yamaha RD was the only two stroke on display and it got its fair share of compliments, but at the time of writing this Jeff was revisiting it's tune. "I don't have a power figure just yet, but the bike rides amazing. It starts easily and screams at full throttle. The suspension is perfect, worth every penny spent and based on the engine mods I'm hoping for between 45-50bhp."
Later this year the Twinline name will find its way back to Ian Halcott. That doesn't mean this is the last we'll be seeing from Jeff though and here's hoping that two-stroke engines remain a big part of his build portfolio.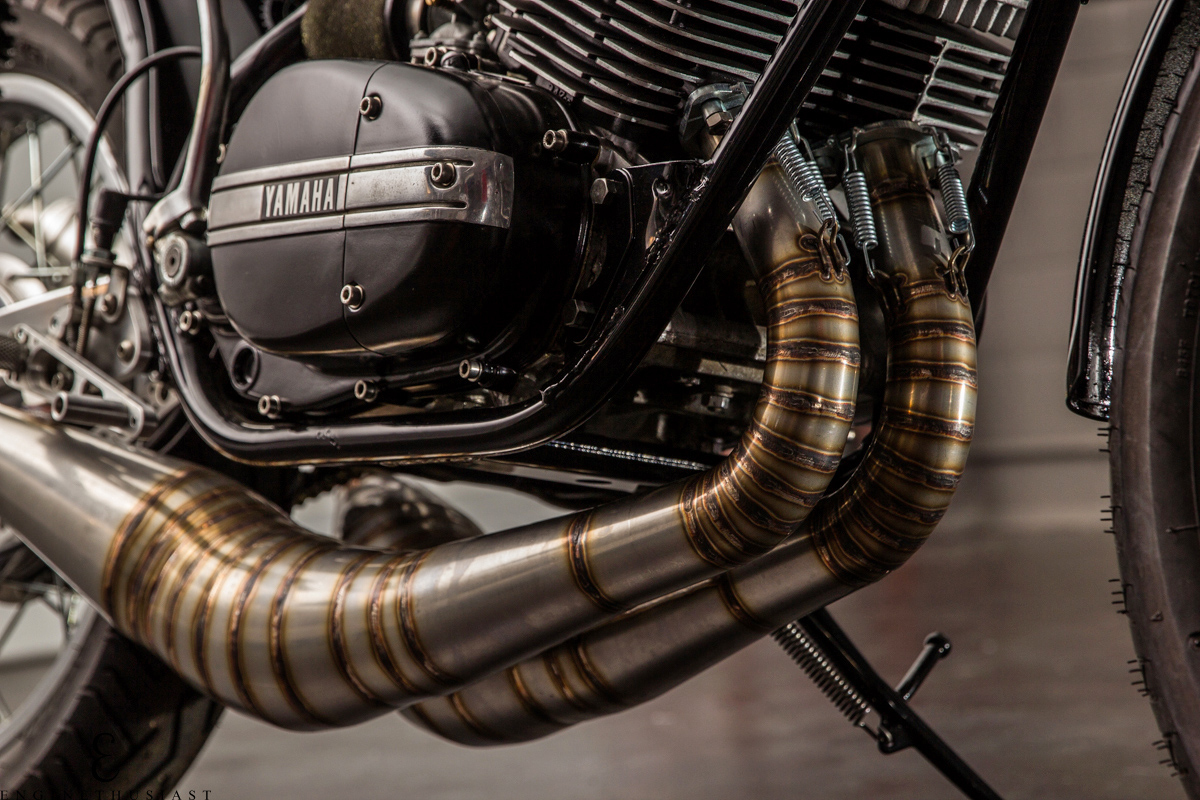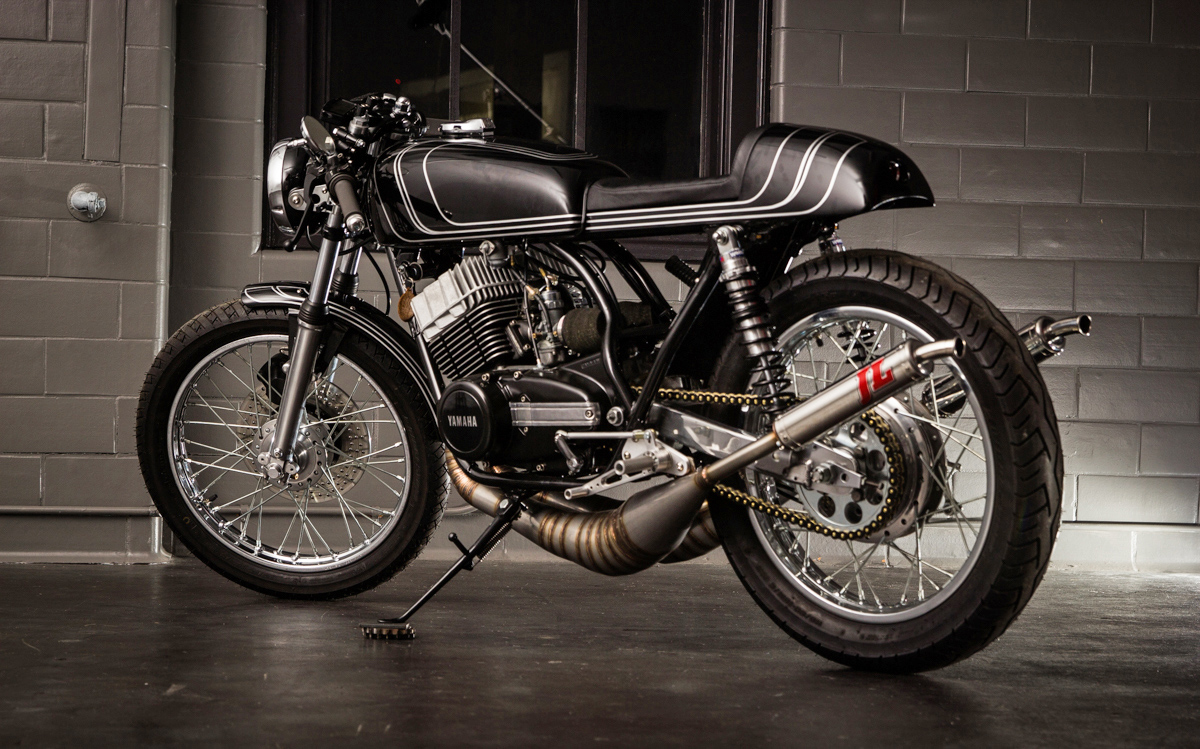 Two Bangers! There's nothing quite like the ring-a-ding-ding of a two-stroke motorcycle. Unfortunately, the days of manufacturers building road-going two strokes have long gone, so if you're in the market for one you'll be trawling the classifieds.
One legendary 'oil burner' to look out for is the <a href="https://www.returnofthecaferacers.com/category/yamaha-motorcycle-cafe-racer/">Yamaha</a> RD350. Classed as a sportsbike when it was first released, the RD is a reliable all-rounder capable of mid 5 second 0-60 times. By today's standards, the RD's running gear is somewhat outdated though, making them a great candidate for modern upgrades. This is exactly the approach Jeff Pochodowicz, aka Tower, at Twinline Motorcycles took with their latest RD based build.