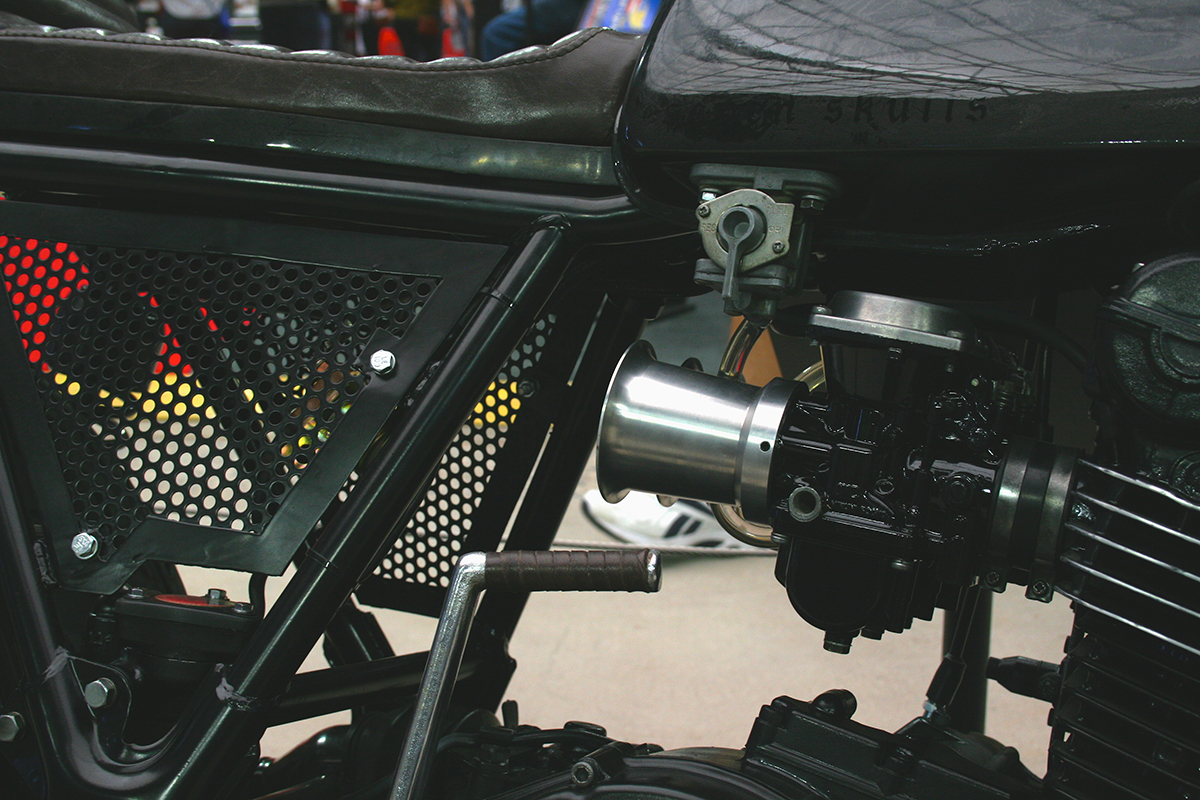 Andrew Starkman and the team at Roast Moto in Phoenix Arizona pride themselves in spotting the potential in an old bike. So when an eager customer rocked up to the shop on his 1977 Yamaha XS750 Triple it wasn't long before they had him looking at his old bike in a whole new light.
"Frankie Lebron came to us to talk about purchasing a new bike for a café racer conversion funded by the sale of his 750." Andrew recalls. "After a conversation with our lead builder Nick Freytag, Frankie saw the potential in the bike he already owned and was all in."
With Frankie happy about the direction the build was heading the Roast Moto team got to work on the bike. After Nick finished fabricating a new tail section Tyler Dungan was given the task of laying the paint and gold leaf on the bodywork. "Frankie remained heavily involved in the design process. He chose the color scheme for the paint, upholstery and the text for the sides of the tank."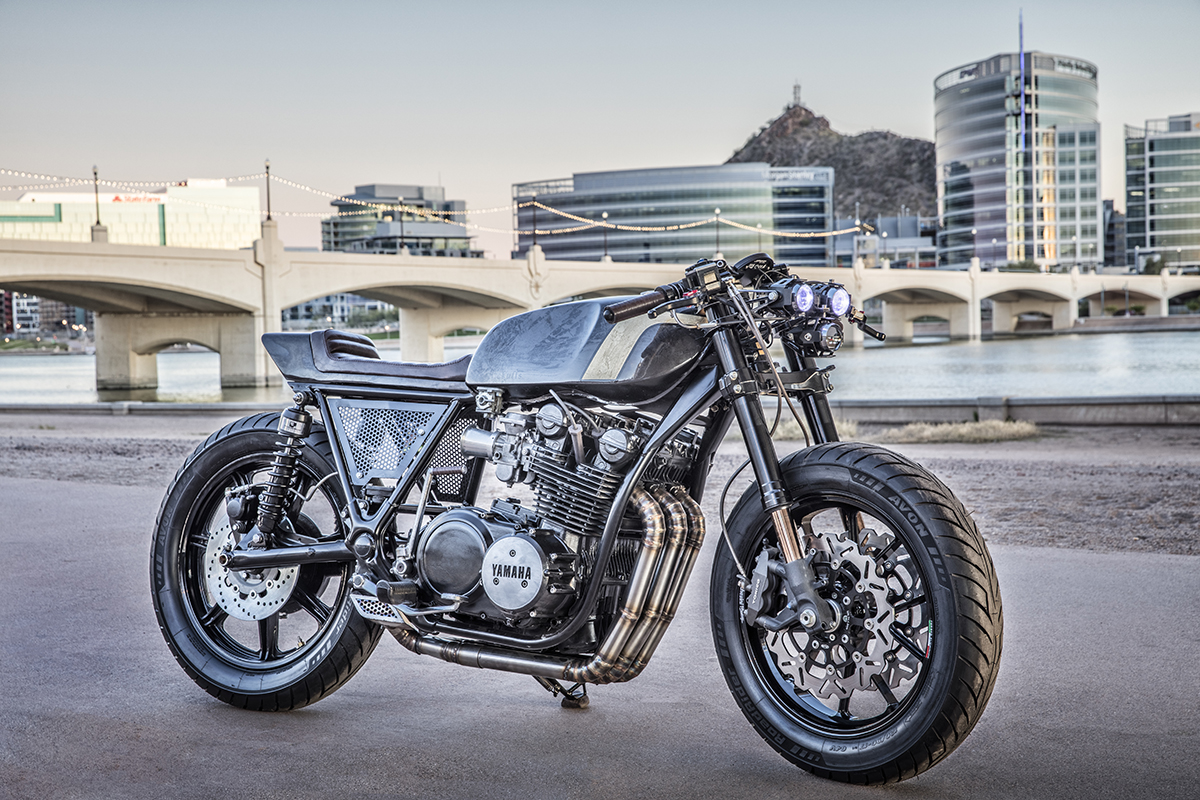 The bikes aging stock suspension wasn't up to modern Cafe Racer standards so a 2006 Suzuki GSXR front end was transplanted into the frame along with its twin leafed brake rotors and Tokico calipers. In the rear a retro-styled pair of Progressive springs were also added and to complete the handling package they wrapped the rims in Avon AM26 rubber.
According to Andrew "Frankie also wanted to open up some negative space between the frame and motor and gave us the go-ahead to use a full host of Motogadget gear." So the electrics now live in a tray beneath the seat along with a MotoGadget M-Unit and 8 cell antigravity battery. The Yamaha dials have also been swapped for Motogadget gear (Motoscope Pro) and Motogadget M-switches and a wireless ignition control the electrics. Then, as a nod to the bikes iconic engine configuration, they put together a unique headlamp configuration using a trio of Cree U5 LED headlamps. With the electrics and airbox gone the frame had opened right up, so to balance things out a set of custom, ventilated side covers were installed.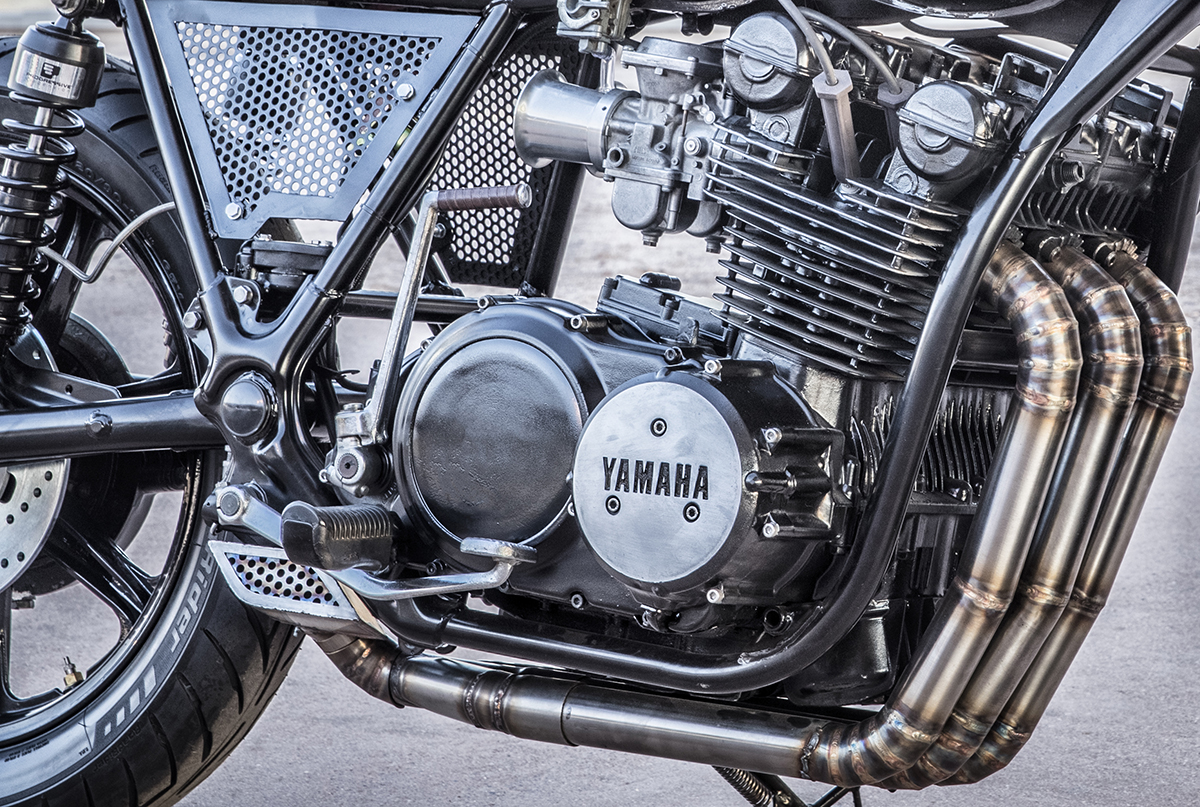 There's nothing quite like the sound of a triple and lead Roast Moto builder Nick knew he had to celebrate it. He started by adding alloy velocity stacks to the rejetted carbs, then at the noisy end he tig welded together a beautiful set of pie cut headers that feed into a single box muffler. At full gas, this is one XS750 triple that's sure to turn heads and shatter windows.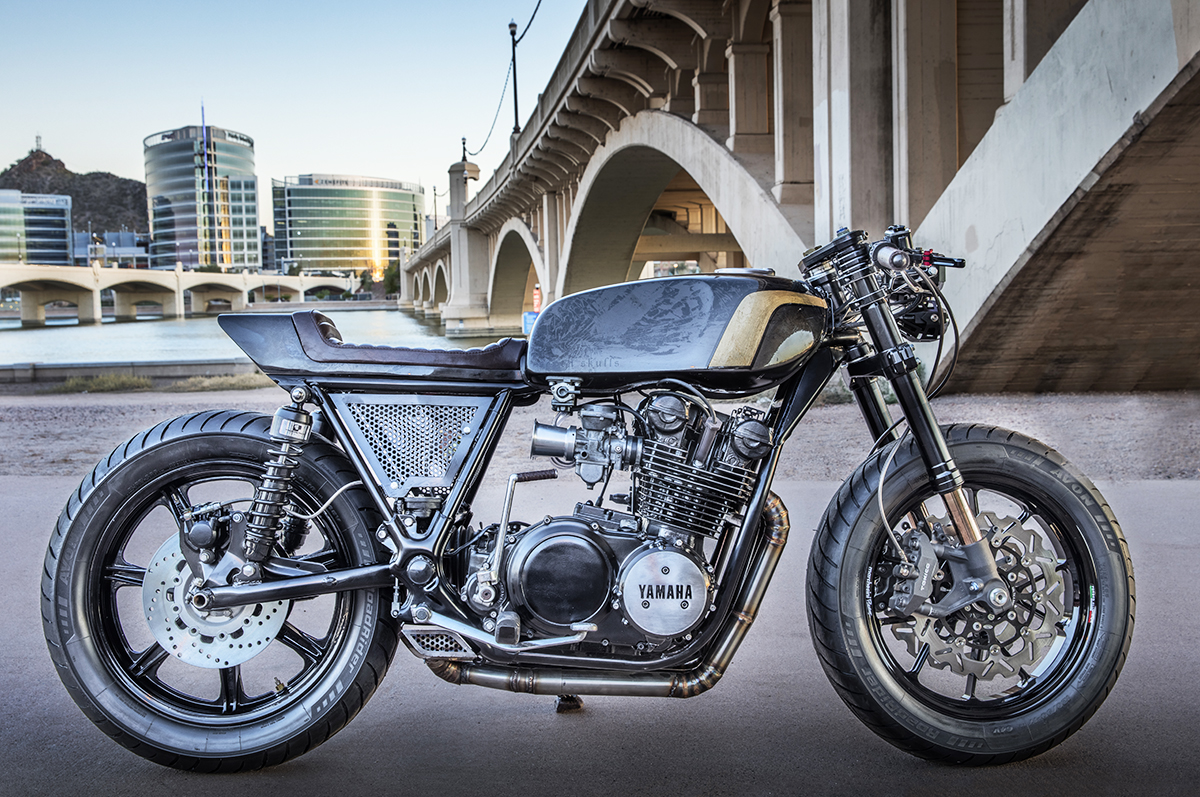 We live in a throw-away society. As soon as the latest version of the hottest gizmo comes out we're ready to drop the old one in the trash. Thankfully in the world of custom motorcycles, the opposite approach is all the rage. Old bikes are being given a new lease on life thanks to talented workshops, but sometimes getting riders to see the potential of their tired old daily ride takes some convincing…