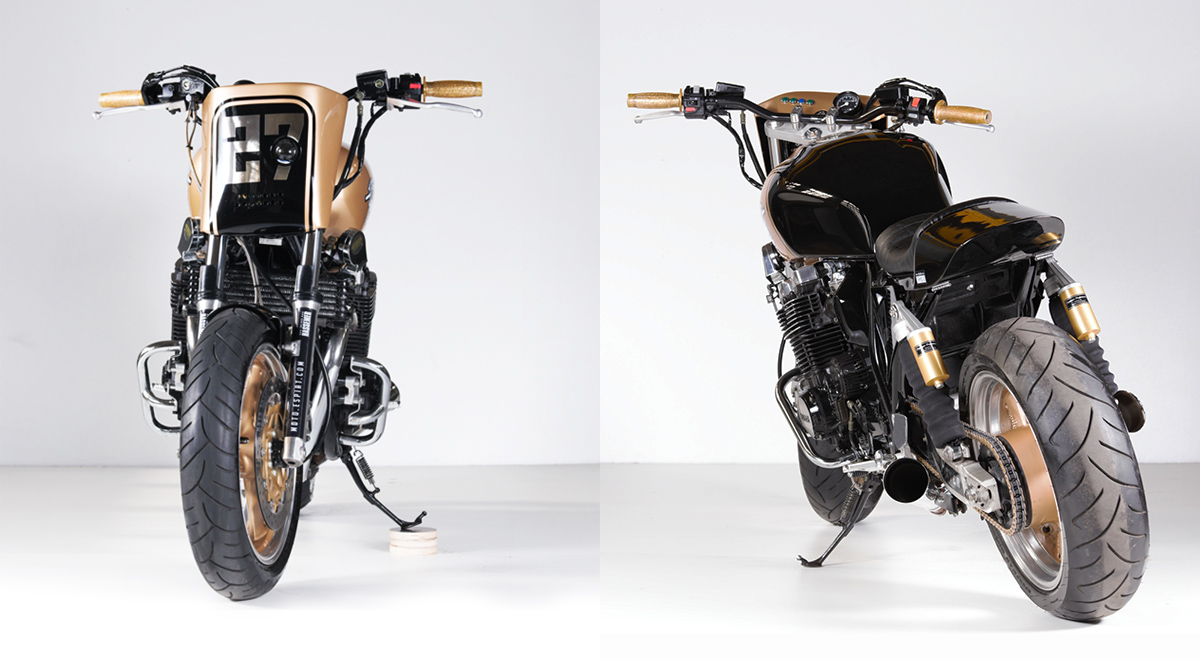 Gold Rush is Daniel's 3rd  XJR1200 based build. As you would expect by now he's become somewhat of an XJR expert and it's evident in this bike. The project came to him as a commissioned build from his friends at local motorcycle dealership Zweirad-Hassemer.
"Once again, one of these unbreakable Yamaha XJR's has found its way into my garage." says Daniel. "Motorcycle dealer Hassemer asked me to design a new custom version of their Yamaha XJR and the only requirement was to not leave the bike completely black. The overall style I was aiming for was that of a little dirty street tracker. Thus the radical rear end had to be designed along with a number plate cowl for the front end and new side covers."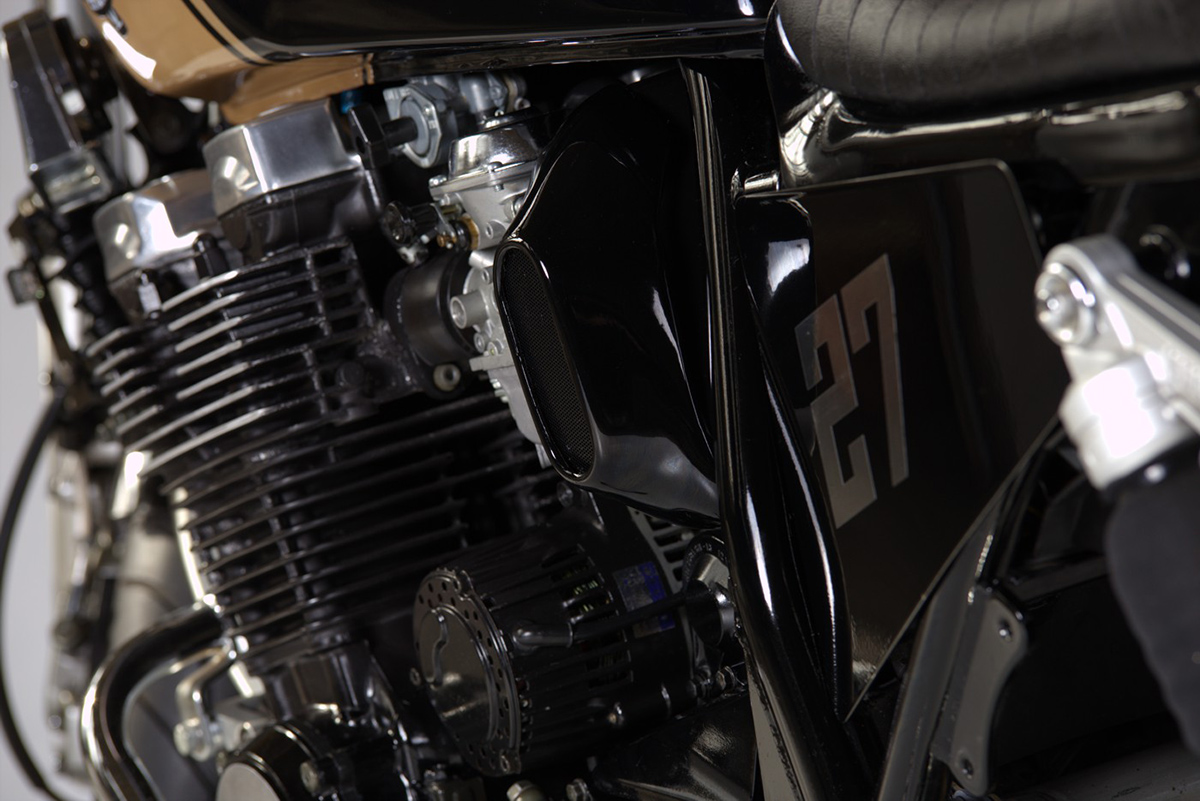 The radical rear end Daniel refers to is made from GFK, a glass fire reinforced plastic which he shaped to fit the shortened subframe he fabricated. To keep the rear end as tidy as possible a pair of tiny custom made LED strips double as the bikes brake and indicators lights. The numberplate style front cowl is another composite creation Daniel fabricated himself from scratch. The cowl encases the fork legs along with the upper and lower triple trees for an uncluttered finish and on its top edge  is a lip that functions as a dashboard for the warning lights and aftermarket speedometer. Since this bikes meant for the road there's also an offset halogen lamp recessed into it.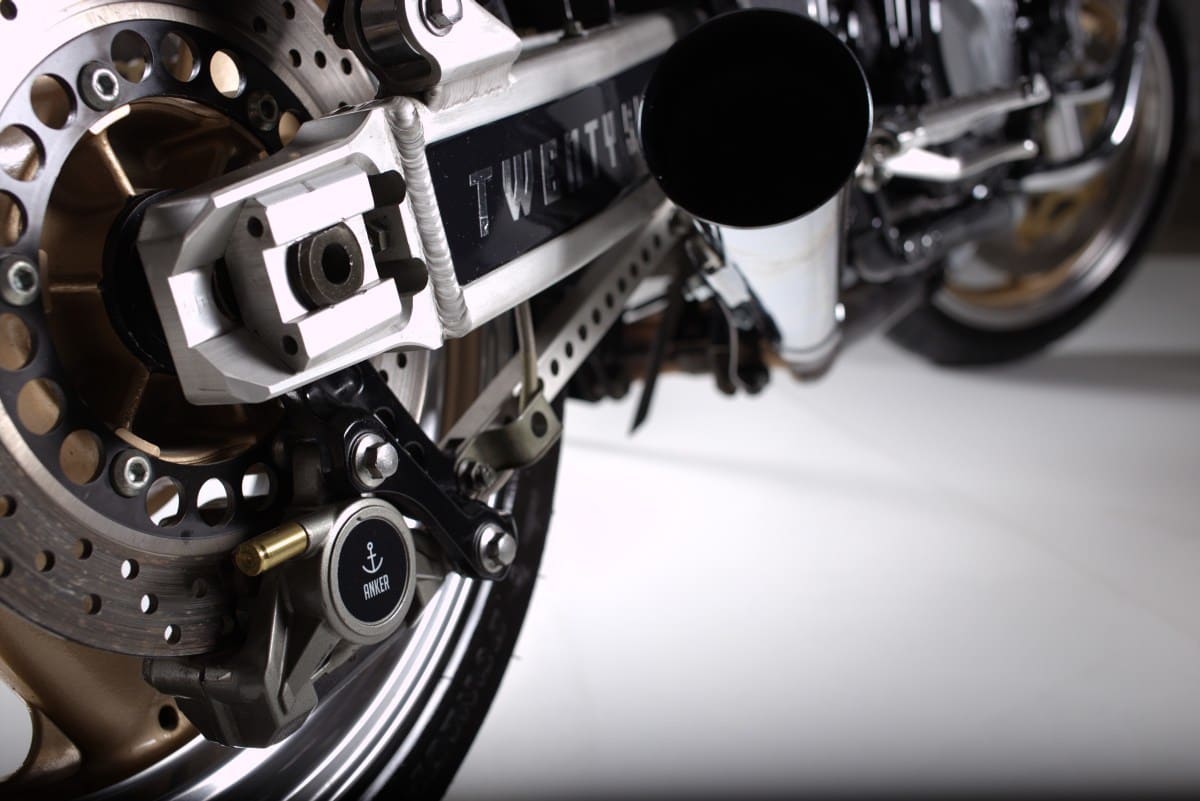 More than happy with how the bikes 1200cc powerhouse was performing modifications were limited to the flow of gases and fueling. To help force-feed more air into the engine Daniel designed scoops that pull air into the bikes airbox. The megaphone mufflers, which he refers to as "sound amplifiers", sit at the end of a chrome plated 4-into-2 system and were designed to have a more classic appearance. Handling upgrades were also modest with Progressive springs installed in the front end and aftermarket nitrogen shocks at the rear.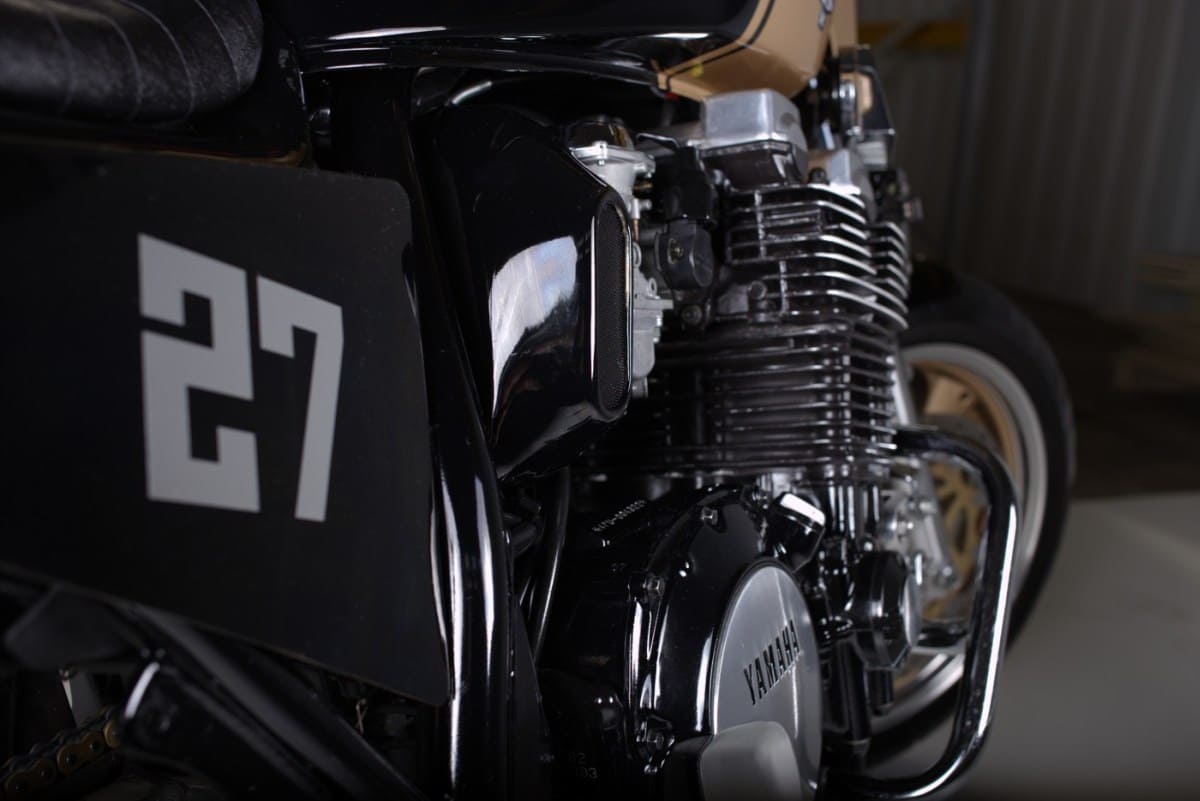 Completing the bikes Street Tracker stance and styling are a set of wide handlebars wearing rather elaborate gold flake grips. Slightly rear set foot pegs place the rider in an upright, elbows out position for grin inducing good times and there's a sensible set of engine crash bars that entice the bikes rider to really give it a good go.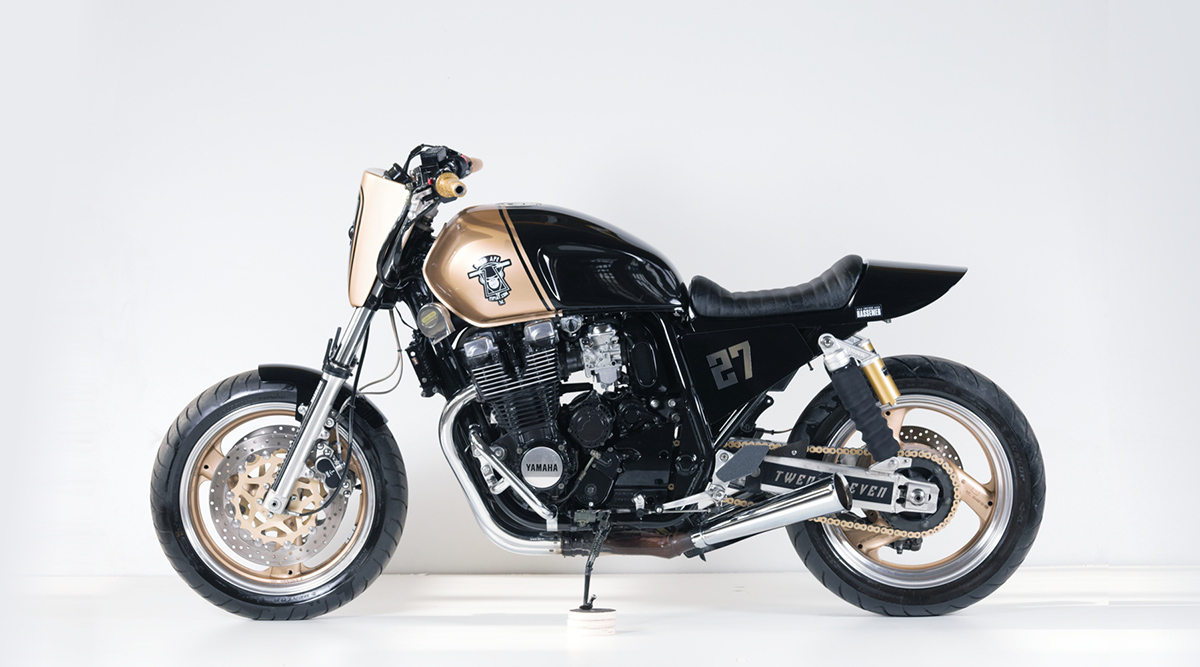 Daniel admits this design took some courage to execute. In a custom climate where chrome and gold are usually shunned he has chosen to embrace shiny surfaces so special attention was paid to maintain a good balance of black amongst all that bling. The results clearly speak for themselves. His Yamaha XJR1200 street tracker would look right at home beside a legendary John Player Special F1 Lotus, or even better, parked in my driveway.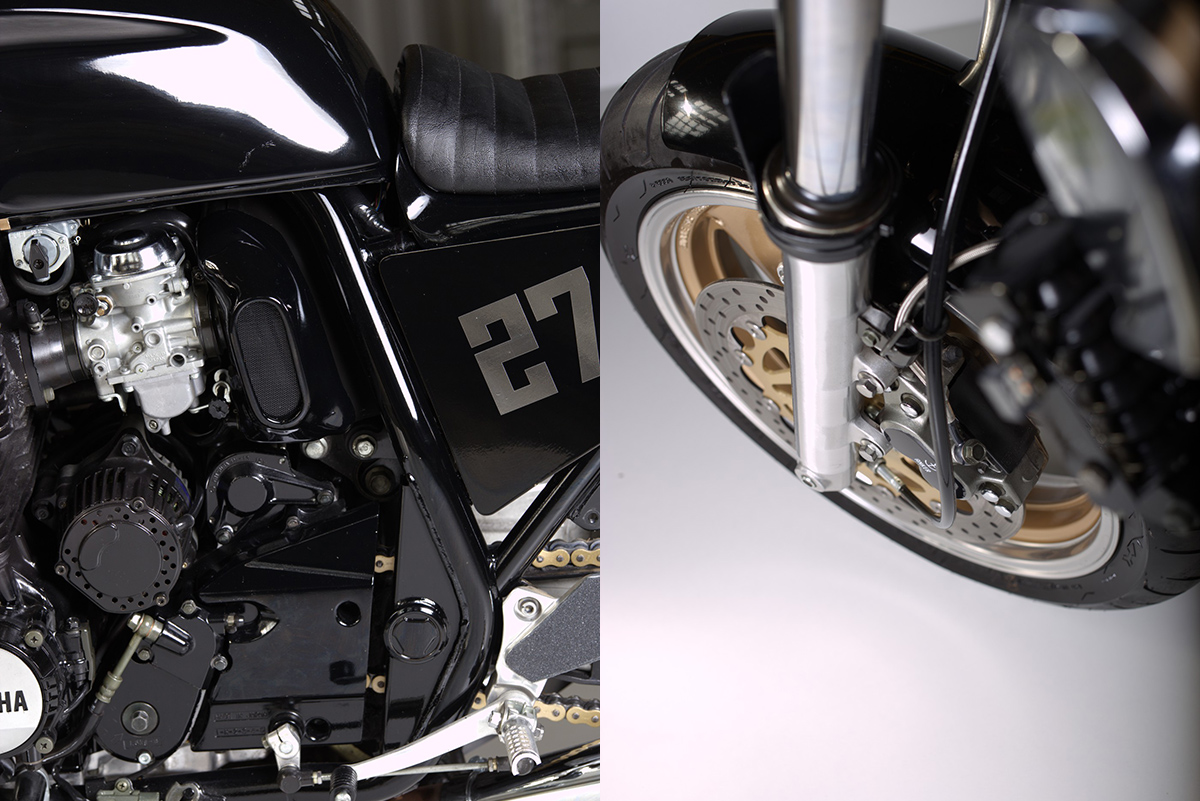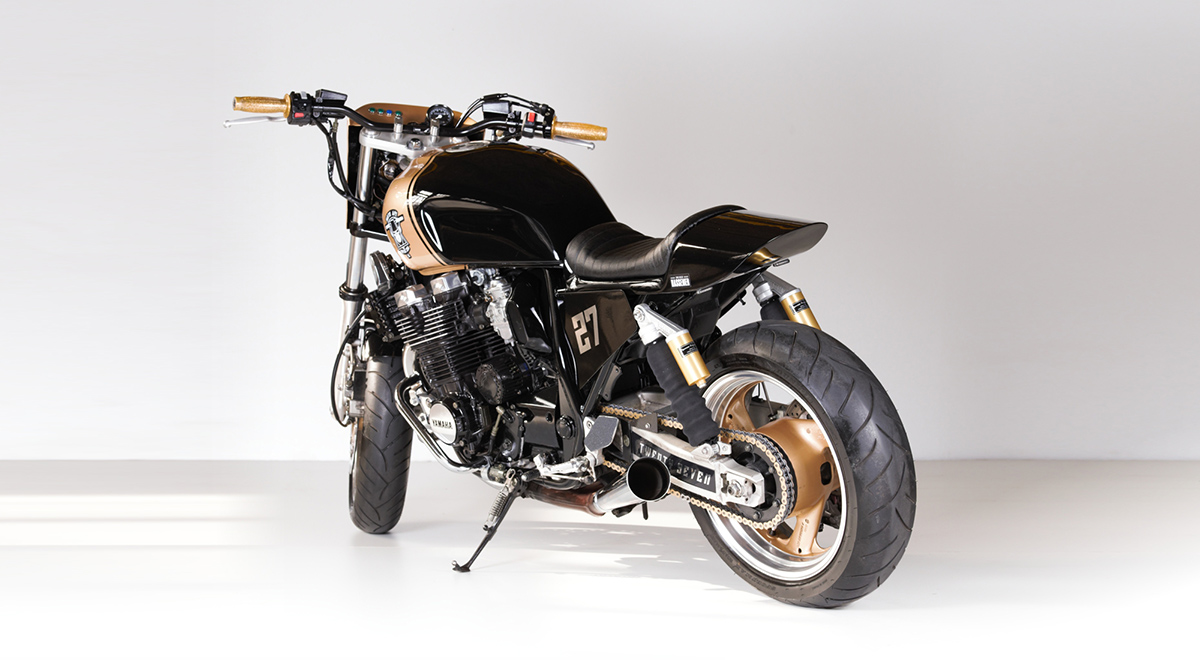 It's not often we deviate from our café racer theme, but every now and then something pops up that warrants a mention. This street tracker styled Yamaha's XJR1200 is the work of "artist, designer, dreamer, doer", Daniel Schuh. From his home in Germany Daniel runs the freelance design company 'Espiat'. When he's not building websites, designing corporate identities or making wood sculptures he tinkers with motorcycles and this XJR1200 named "Gold Rush" is his latest work of art.