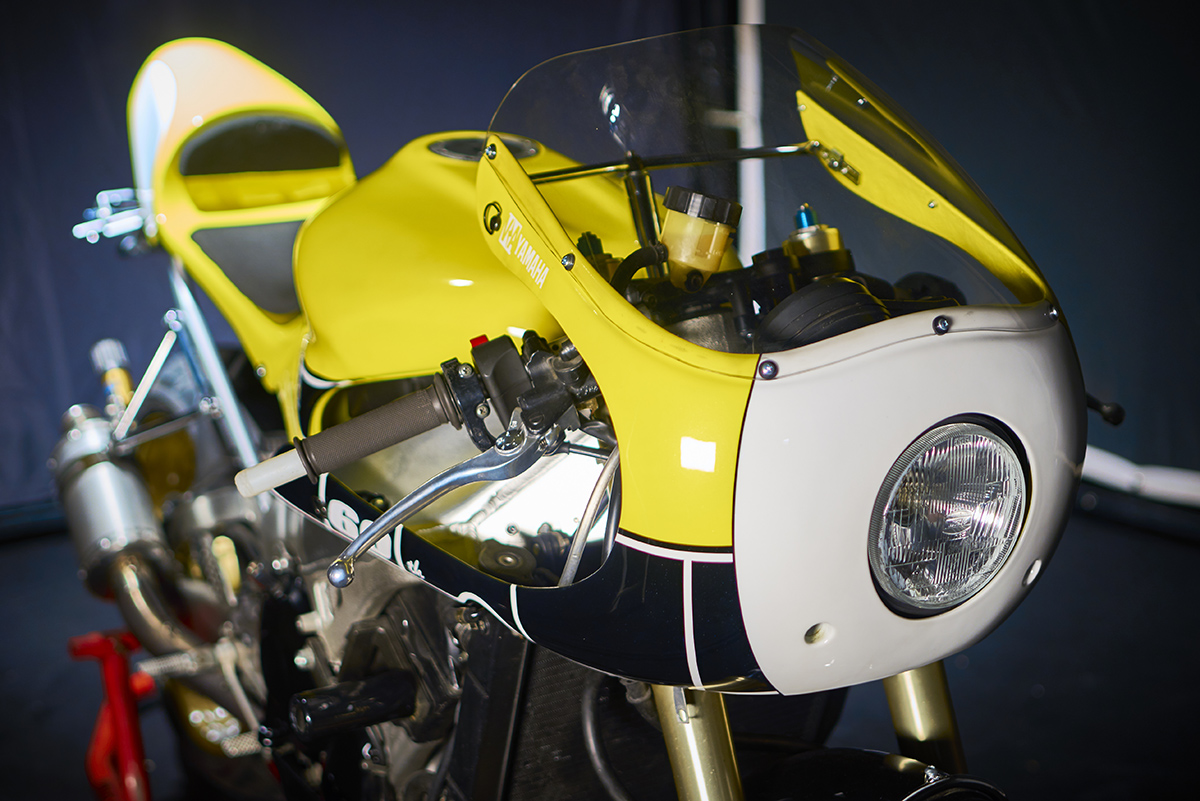 With a name like "Vintage Addiction", it's odd to see the YZF sitting in their build portfolio, but when the opportunity presented itself Carlos Guzman and his crew welcomed it with open arms. "This was an old racing bike" explains Carlos. "A small team of amateur racers ran endurance with it and had won many races and enjoyed good times with it." As the story goes, after the team disbanded, Jordi, a former rider of the bike, purchased it as a keepsake. For years it sat unused in storage at his home until the day he decided to approach Vintage Addiction to give the bike a new lease on life.
Rather than just convert the R1 back to standard road-going guise Jordi was looking for something with a distinctly classic vibe which lead him to the V/A workshop. As the bike was a champion in its own right the V/A crew decided to transform it into a homage to one of Yamaha's greatest racers of all time, the legendary Kenny Roberts aka 'King Kenny'. A sketch was drawn and plans laid out to strip the R1 of it's racing plastics and to create a one of a kind set of fairings influenced directly by the lines of Kenny's 1970's Wold Championship winning bike.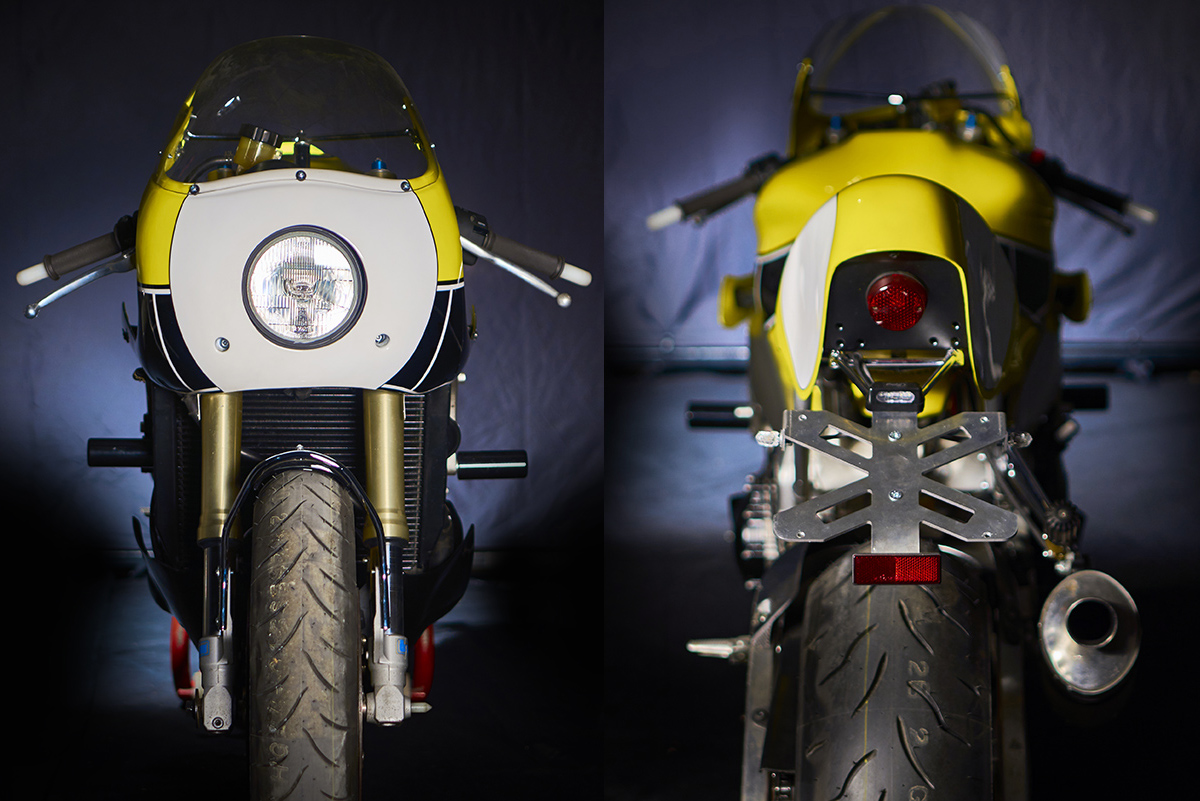 The build began however by first overhauling the carburetted '98 YZF R1 with state-of-the-art running gear. Starting with the bike's suspension they put together a fully adjustable Ohlins front and rear suspension package. The factory brakes were also substituted for a set of late model Brembo callipers paired with Brembo hand controls and reservoirs. To reduce the visual bulk of the stock exhaust system while still creating a period correct appearance the exhaust was modified to accept a debadged and brushed Akropovic slip on muffler. As for the engine itself, the 1000cc powerplant had gained more than enough grunt for Jordi during its racing days so it was simply treated to a full rebuild to ensure longevity and reliability.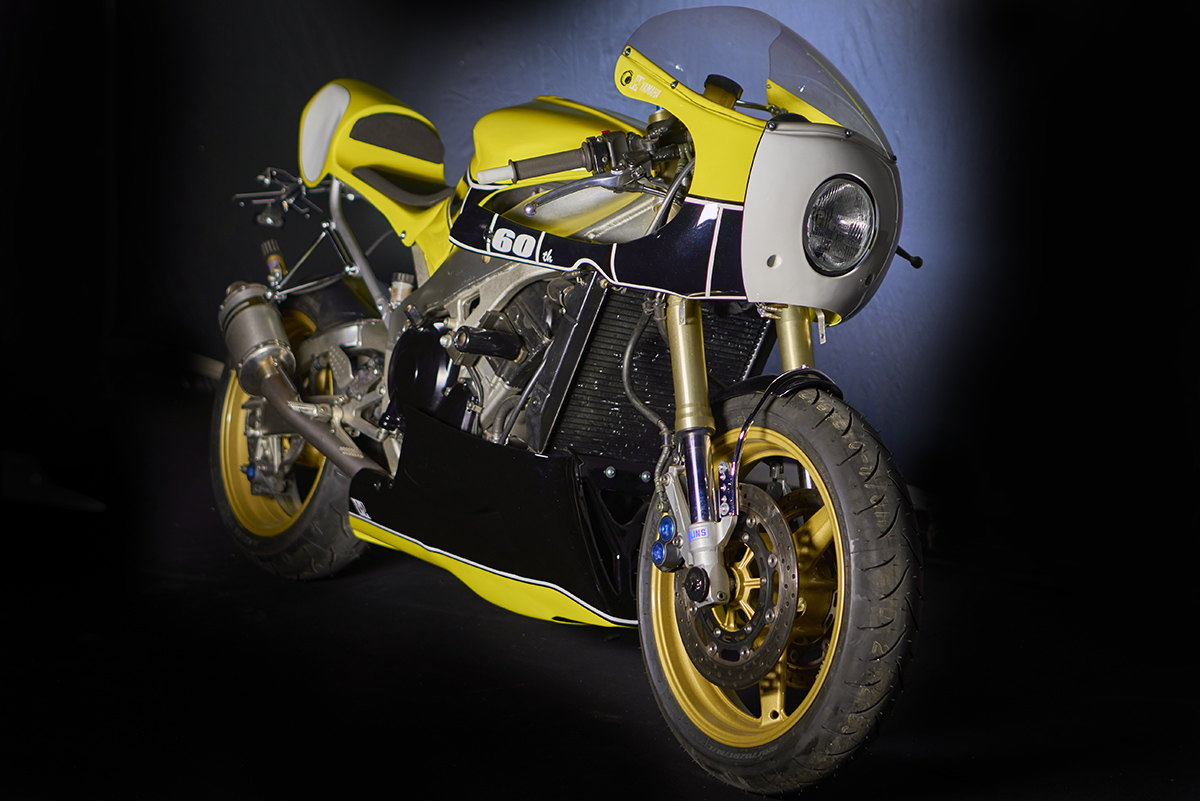 One of the biggest hurdles faced by the V/A crew during the creation of the bike's bodywork was to not detract from its performance characteristics, after all, this was a bike designed to reach speeds of up to 280km/h. To achieve this goal they began by using the R1's original measurements as a guide during the fabrication of the new panels. The original fuel tank was retained, but an entirely new tail end was conceived and fit to the bike by carefully welding a new subframe to the R1's aluminium perimeter frame.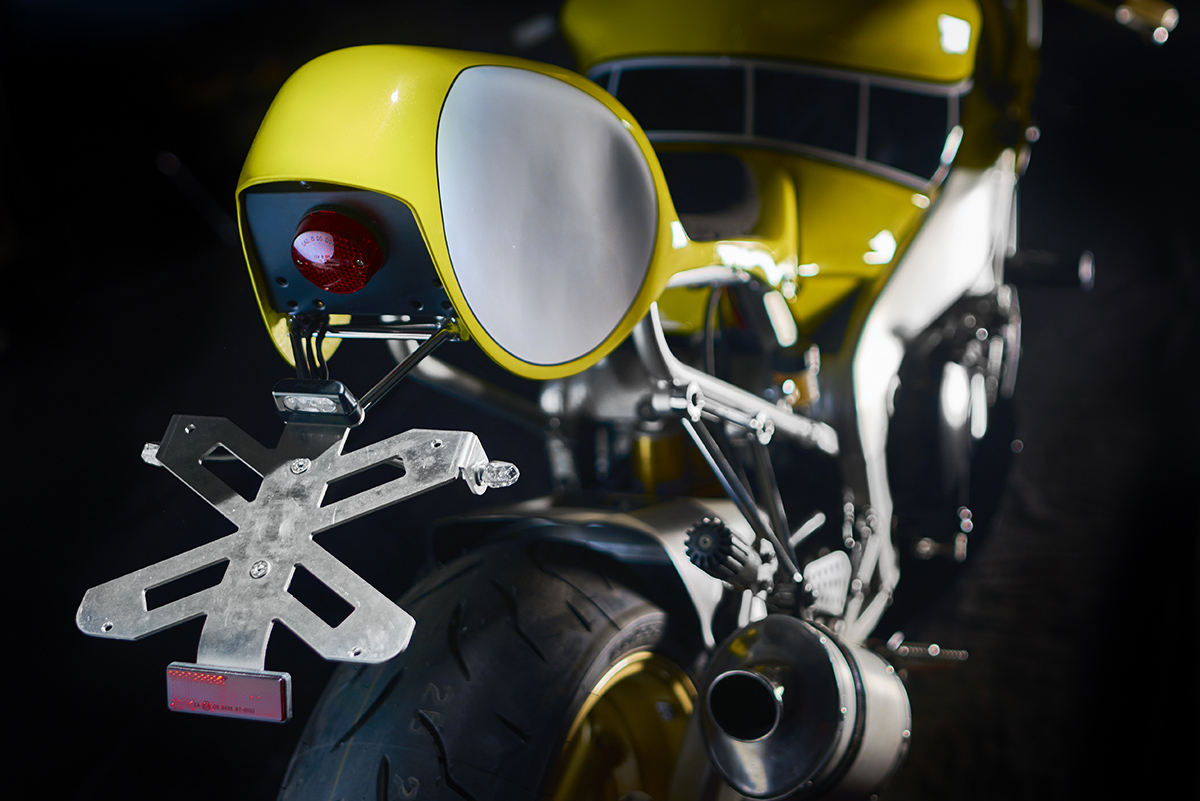 Although Kenny's world championship winning bike wore a full fairing the Vintage Addiction YZF R1 wears a retro styled fairing designed to not impede the bikes steering characteristics. Unlike Yamaha's original design the V/A crew wanted the R1's revolutionary engine to be visible along with its aluminium perimeter frame, which they painstakingly polished to a mirror finish. To do this they created a custom half fairing and a separate belly pan. The headlight in the fairing adds roadworthiness to its design and notches were made to allow it to be mounted close to the frame where the radiator protrudes.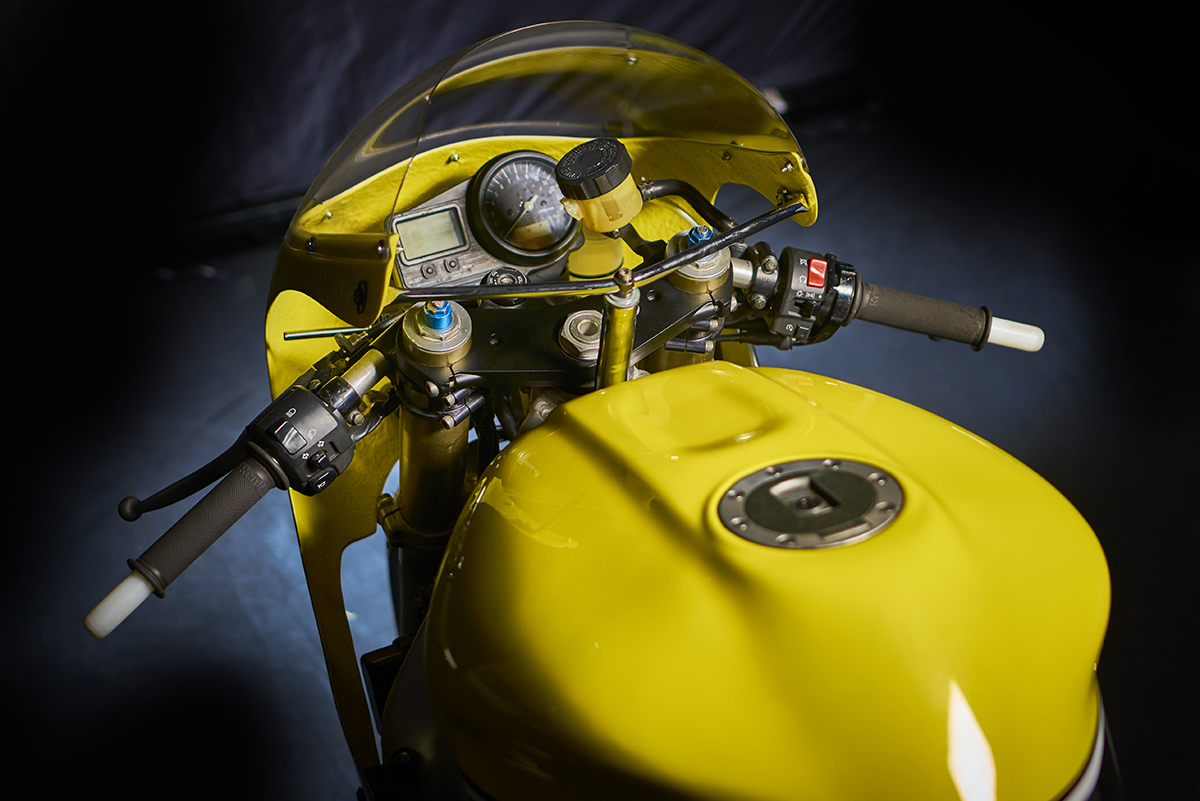 To complete their homage to the King's own steed the Vintage Addiction crew then had the bodywork painted using livery and a colour palette influenced directly by Kenny's own motorcycles. A vibrant yellow base is broken up with black and white striped patterns like those seen on Kenny's flat track and Grand Prix machines while the white racing number style panels attest to this bikes indisputable race bred heritage.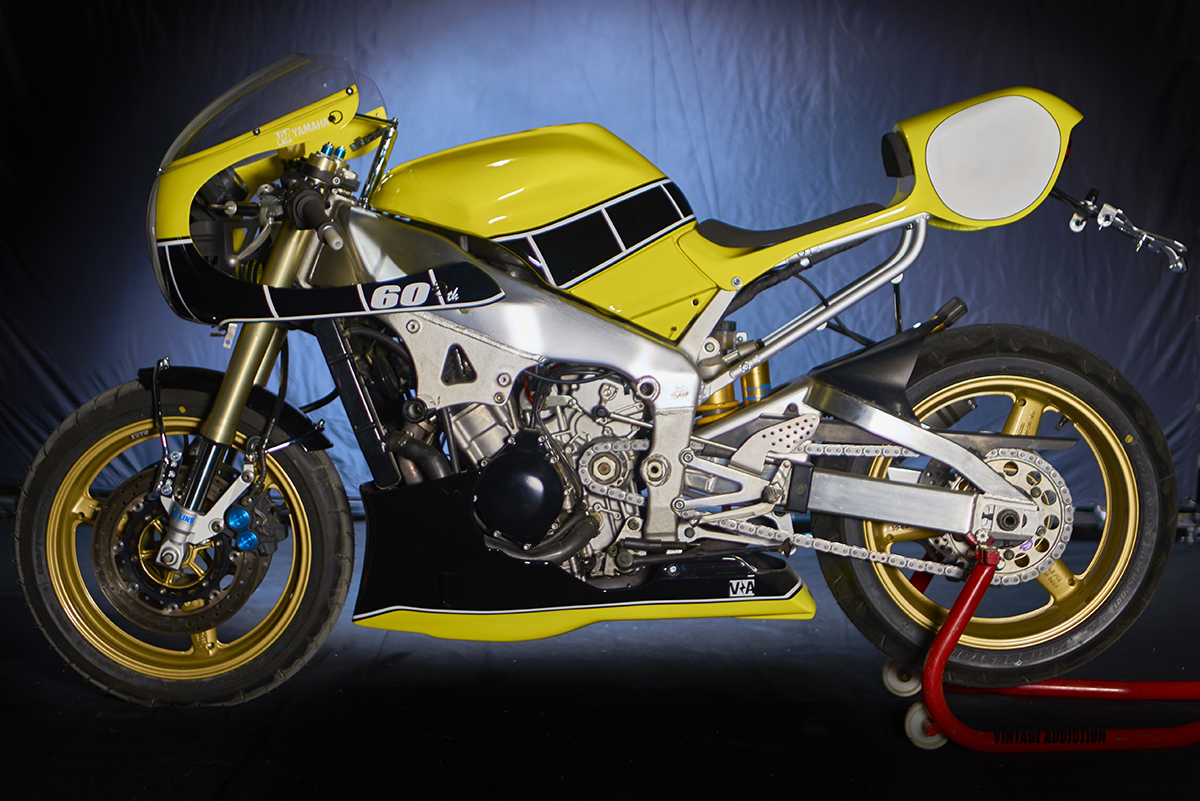 I can clearly recall when
Yamaha
released their R1 back in 1998. Anyone who had a vague interest in motorcycles was talking about the bike and the number of curious tyre kickers walking into Yamaha dealerships increased by 1000%. The YZF R1 revolutionised sports bike engine design and has continued to push the boundaries in both performance and technology ever since. Despite its legendary status, I had never imagined a time when one would make an appearance here on Return of the Cafe Racers, until I stumbled across the 'Vintage Addiction' Kenny Roberts styled R1.