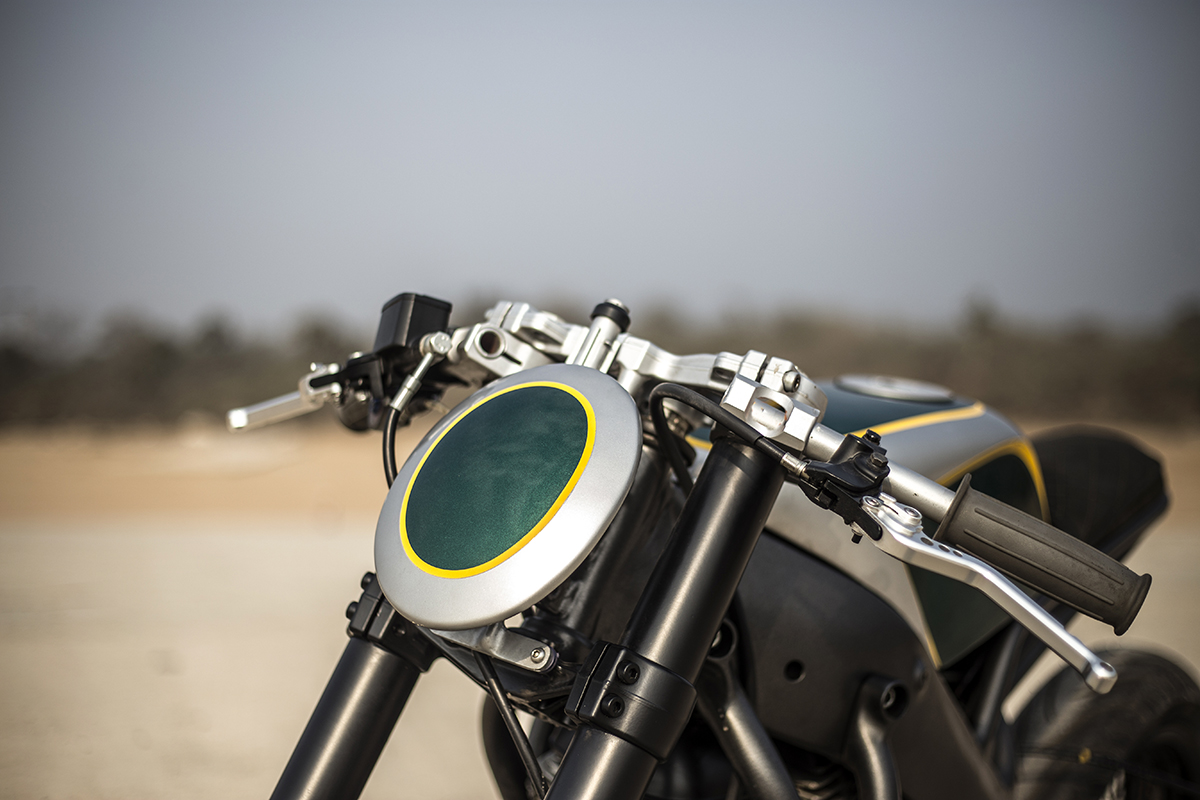 "Building motorcycles is probably the only thing I am good at." professes Aseem. "The FS350, my first custom motorcycle, was a huge hit in the Indian custom motorcycle. It featured a Yamaha RD350 engine shoved inside a KTM Duke chassis. After working on that trellis frame the next logical step for me was doing a delta box framed Royal Enfield.
So I asked my friend Pritam to do a concept sketch of my idea. After seeing the rendering I was convinced that no matter what, I was going to make this bike! The Royal Enfield is a legend in India and it deserved a more modern chassis set-up."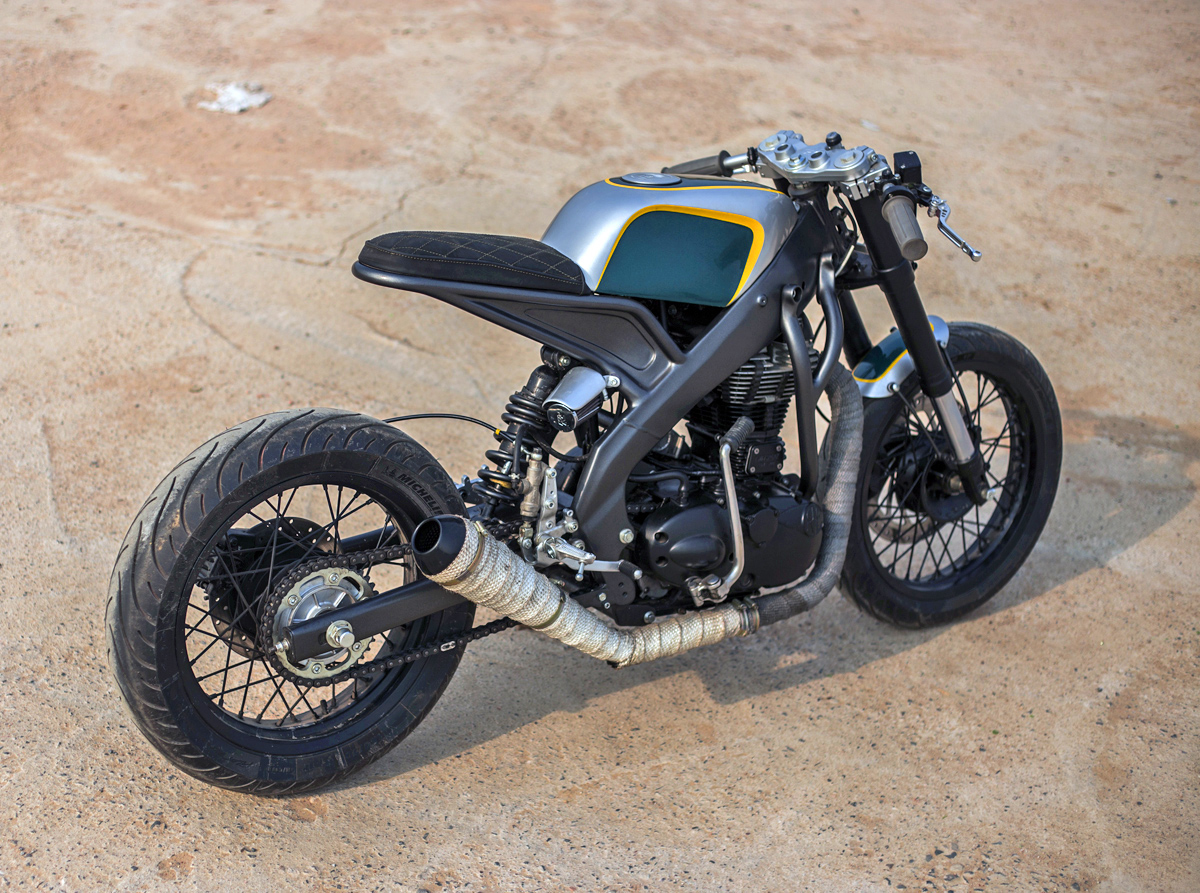 "The 2016 India Bike Week 'Bike Build Off' competition was the perfect motivation for me to get the bike done. It took almost 9 months to finish my the FS350, but I had only 2.5 months to get this one finished. Luck was on my side when I obtained a Yamaha R15 chassis. Unfortunately, finding an engine was a much harder task."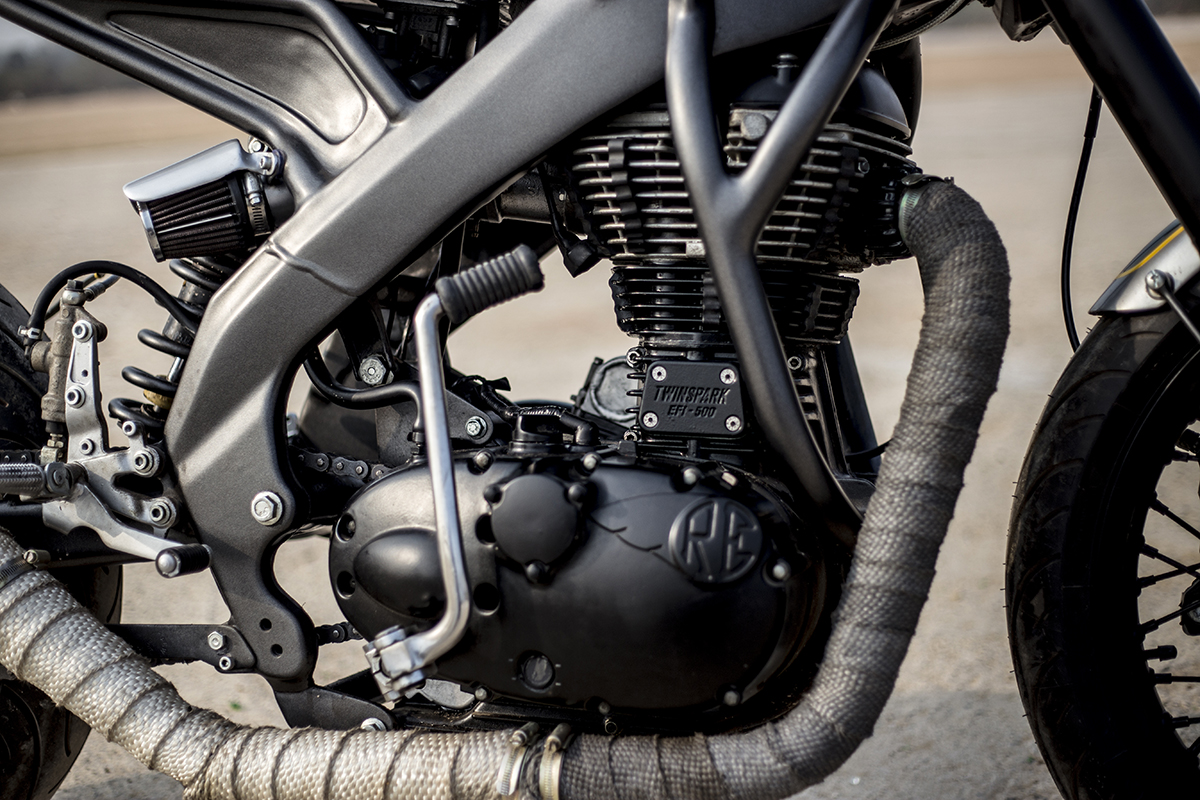 "After wasting 10 days of my tight schedule searching for an engine, I decided I had to begin without it. I went ahead and installed a set of WP forks and WP rear shocks and fit a Thunderbird swing arm. Then my Dad, who always says luck favours the bold, managed to find me the Royal Enfield I'd been chasing! So I packed my bags and shifted to Delhi to stay with my old college room-mates. A friend in Delhi then introduced me to a Royal Motorcycles store in Delhi and they became my spare parts supplier. I then found some a space to work in and spent my time there from 10am until midnight each day.
When it was finally ready I rode the bike, which I'd named 'Tony 535', for full2 days. Tony rode and behaved exactly the way I had envisioned. It was almost as if the Yamaha frame was meant to take the Royal Enfield engine. After a full shake down it was ready for paint and my friend Tejas suggested a British racing green theme."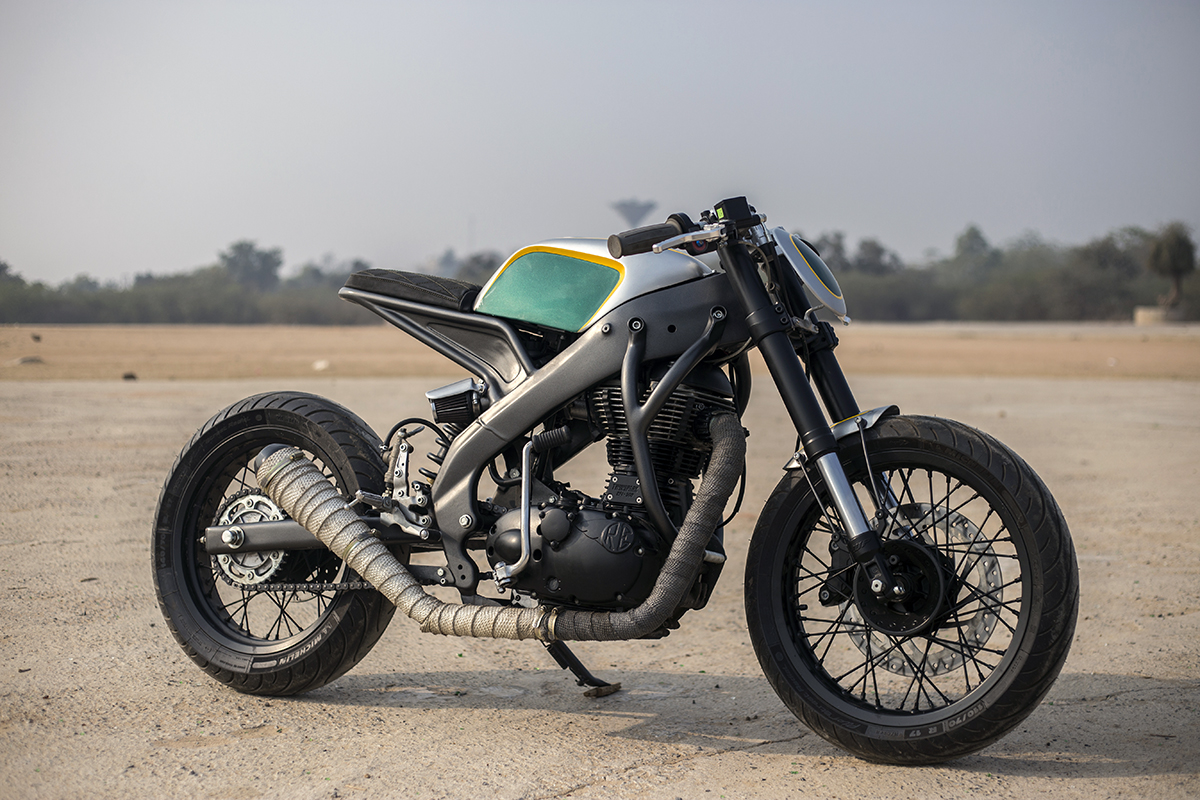 "I wanted to build a high performance bike so I had Rammy Bhai work the engine. There's a forged wossner piston, performance valves, cams, engine bearings, con rod and power commender ECU, all sourced from Hitchcock motorcycles in the UK. Now Tony 535 had the engine performance to match the enhanced chassis dynamics.
Finally it was all done and ready to be shipped to Goa for IBW 2016. After 2 months of agony, blood, sweat and tears I managed to finish my seemingly outrageous project. Thanks to the help of my friends and generosity of my parents, Bitto Bhai for his fabrication skills, Rammy Bhai for his engine skills and all my friends who supported me."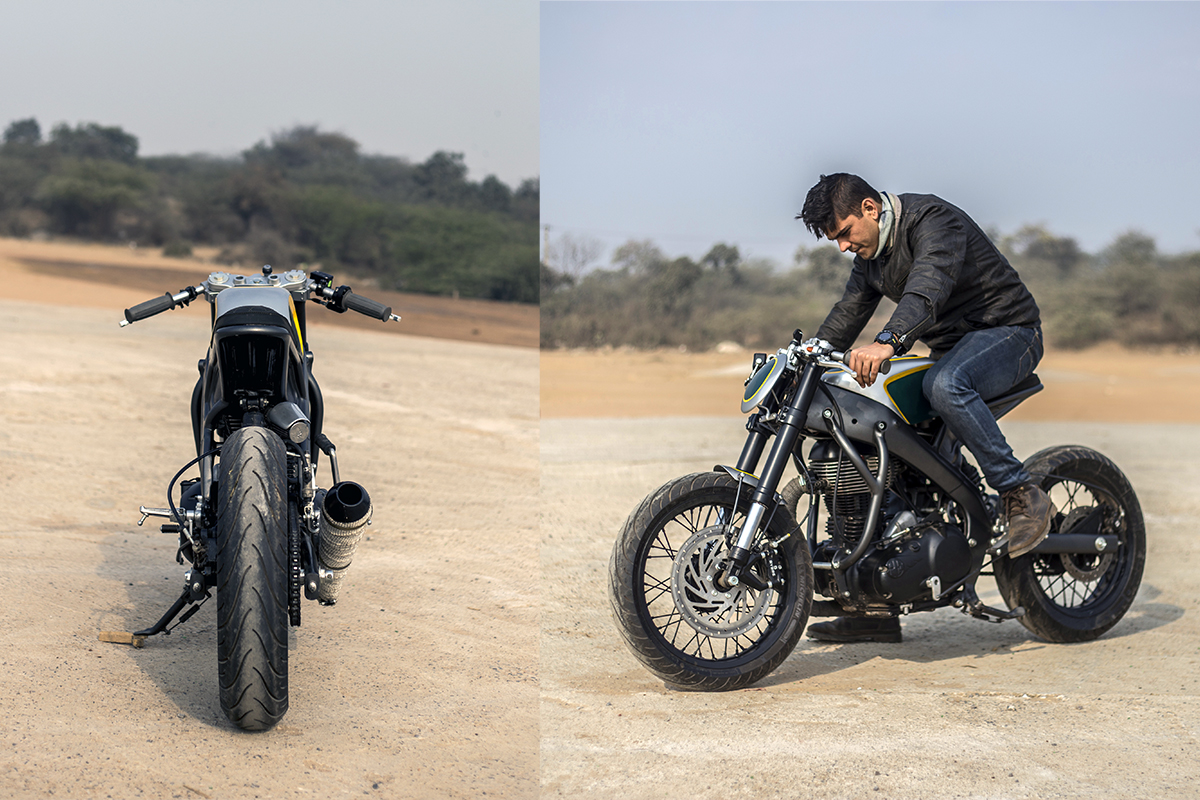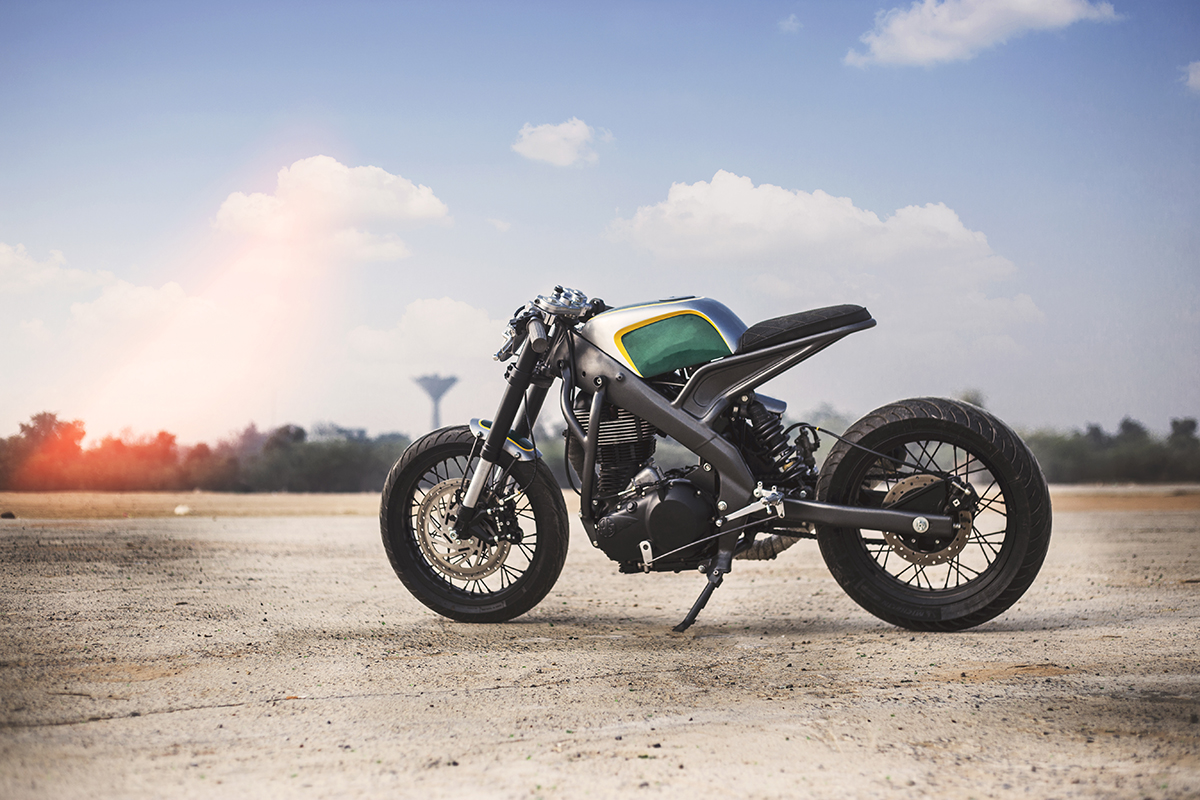 When all this Cafe Racer business started in the fifties, a common practice among builders was to transplant high powered engines into the best handling frames. Back then motorcycle manufacturers had different design strengths so home builders would leverage them by mixing their own cafe racer cocktails. Today things are a bit different. Most motorcycles offer excellent handling and plenty of power, the result of 50+ years of design development. Aseem Singh Pawar of Inline 3 Customs in Chandigarh, Indian, has a deep love for Royal Enfield engineering. So when it came to <a href="https://www.returnofthecaferacers.com/category/building-a-cafe-racer">building a modern Cafe Racer</a> based around a <a href="https://www.returnofthecaferacers.com/category/royal-enfield-cafe-racer/">Royal Enfield</a> engine he took his inspiration from the cafe racer history books.