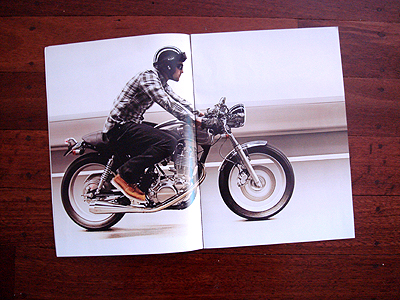 On a recent trip to Sydney I stuck my head in at Deus (as always) and grabbed a copy of their SR400 catalogue. I've snapped a few shots and posted them for you to drool over. Dues do sseveral "custom" set ups which you can order when you purchase your bike or you can of course buy a stock model and modify it yourself (which is always more fun!).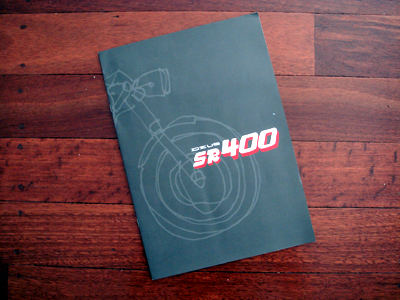 "The SR400, a paragon of simplicity, the perfect balance of power and timeless good looks. One cylinder, two valves and a purity of design that has kept this modern classic true since 1978. Deus Ex Machina…any god, any Machine"
Words of wisdom from Deus.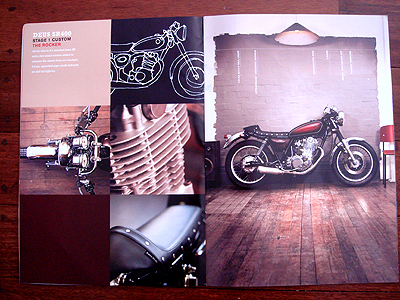 Deus SR400 Stage 1 custom "The Rocker":
Lucas alloy tail light
Nitroheads ducktail saddle
Supersound pipe
Z-Bars
Small indicator kit
Classic mirrors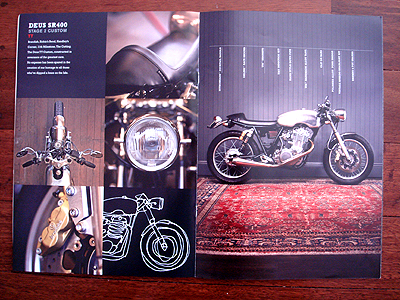 Deus SR400 Stage 2 Custom (TT):
Nitroheads ducktail saddle
Ohlins race shocks
WM rearsets
K&N induction kit
Manx style down pipe
WM handmade alloy tank
Clip on bars
Polished alloy fork bridge
Vintage speedo and headlight
Brembo 4 pot brakes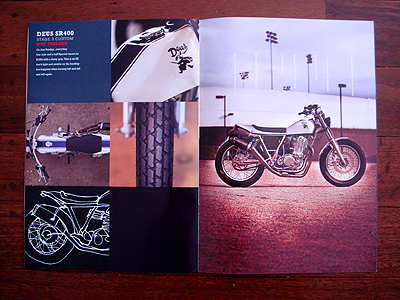 Deus SR400 Stage 3 Custom "Dirt Tracker":
AAA Stainless/Carbom Up Pipe
Flat track seat and tank
K&N filter kit
FCR 37mm flatside carb
Wide tracker bars
Bates small headlight kit
Dunlop K180 Dirt Track tyres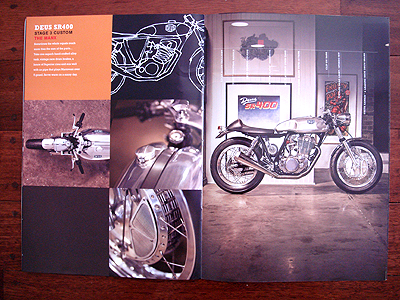 Deus SR400 Stage 3 Custom "The Manx":
Lucas alloy tail light
Stinky ducktail saddle
Deus custom up-pipe
Peyton Place Rear-sets
FCR Flatside 37mm Carb
Stinky hand made alloy type-10 tank
Clip on bars
Vintage headlight/speedo kit
Smith Kanrin 4 leading shoe drum brake
And finally my favorite, the…
Deus SR400 Stage 3 Custom "Grievous Angel":
Firestone vintage tyres
Powdercoated mag rims
Ohlins race shocks
Modified SR400 frame
K&N filter and crankcase filter
WM black underpipe
Alloy tracker tank
WM bikini fairing
braided lines
Brembo 4 pot caliper
Braking disc rotor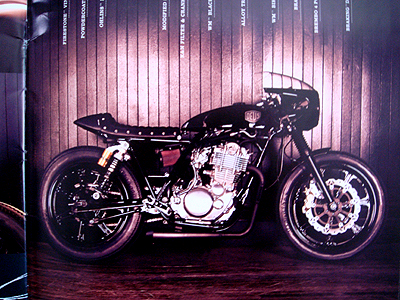 My photos don't do the beautiful shots in this catalogue any justice and to tell you the truth seeing them in the flesh beats any photo. So if you're in Sydney anytime drop in to Deus (98-104 Parramatta Rd, Camperdown, Sydney, NSW) or if you're chasing a price on one of these uber cool SR's give the guys a call on +61 2 9557 6866.
visit deus.com.au