"Creative Director by day, bike builder by night, virtual builder in between." These are the words of Paul Drake, otherwise known as ZiggyMoto by his 130,000+ Instagram followers. From an outsiders view, Paul looks to be living and breathing motorcycles 24/7. But in actual fact, designing and building bikes is not how he makes his living. After spending many a night scrolling through the ZiggyMoto Insta-feed, wondering who was behind all those amazing machines, we connected with Paul. In our latest workshop interview, we discover what ZiggyMoto is all about and Paul's process for turning digital renders into highly desirable custom motorcycles.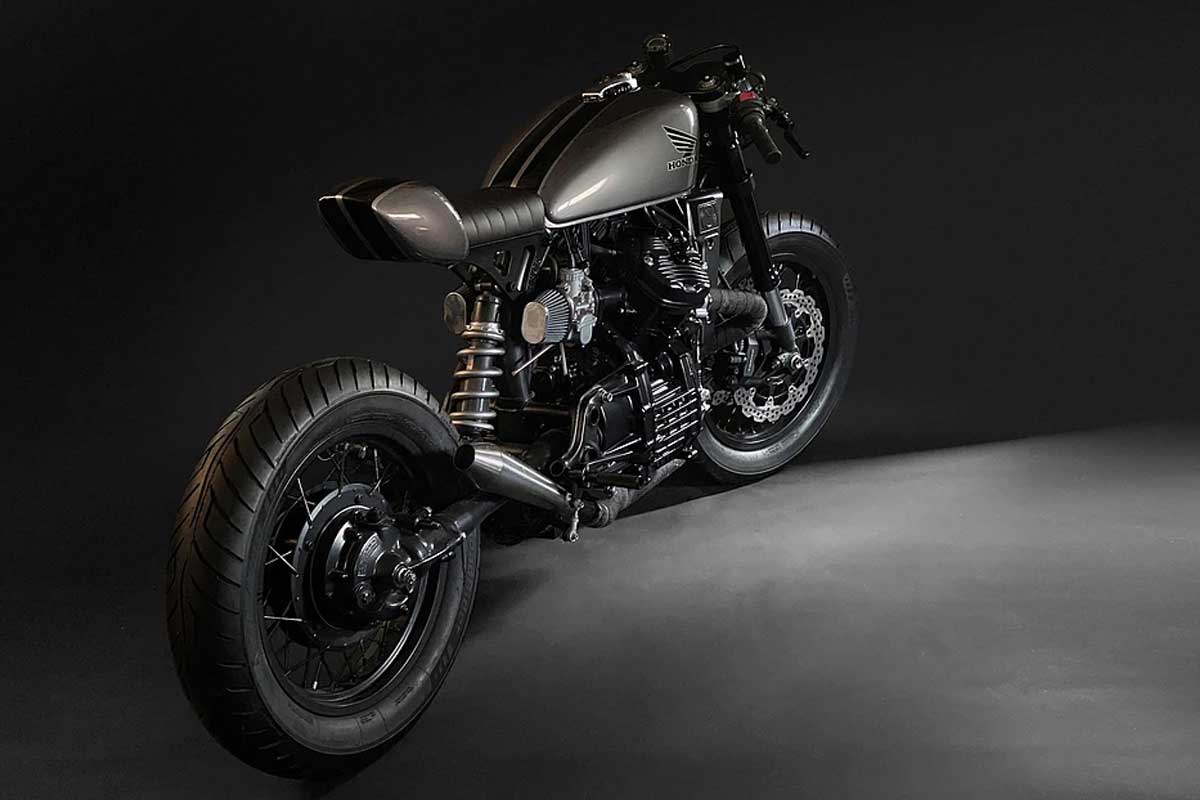 Tell our readers a bit about yourself.
My name's not Ziggy, that was our dog's name, my name's actually Paul Drake. Bike building is purely a passion that got the better of me and became an addiction! I'm actually a product designer by training, that's industrial design if you're an American. Product design is basically solving problems with aesthetically pleasing solutions, but I'm a product designer because of who I am and not the other way around. As a kid, I would draw and draw. I drew because I enjoyed it, but I also drew because I had an overactive imagination and it was a way to print out my thoughts. But a drawing was never going to be enough. I had to find a way to make it real and like so many kids, Lego did the job well! I recently referred to my workshop as my Lego set and just like then, I'm still missing the pieces I need!
I studied industrial design at university but my first job was as a Model Maker for a special effects company working out of Shepparton Studios. It was only for a couple of years but I loved it. From welding to fibreglass and silicone moulds, it taught me so much. I was a practical kid and spent every school lunch hour in the metal shop, but hanging out with pro model makers taught me so much more! It was also insanely fun despite the long hours. We had stuff like mercury and pyrotechnics to play with… I'm amazed we're all still alive! (Watch this space…) I went from model making to a product design job with Lego! (Childhood dream tick) And pretty soon after that moved to a 3D role in a branding agency. Branding is where I made my home and I worked my way through a number of the top global agencies, eventually starting my own about 17 years ago. JDO is about 50 people with studios in Tunbridge Wells, London and New York but I'm still very much hands-on. I'm still a designer and that'll never change.
I love what we do, but design is a vocation and a vocation never really turns off, so your hobbies are never far removed from the day job.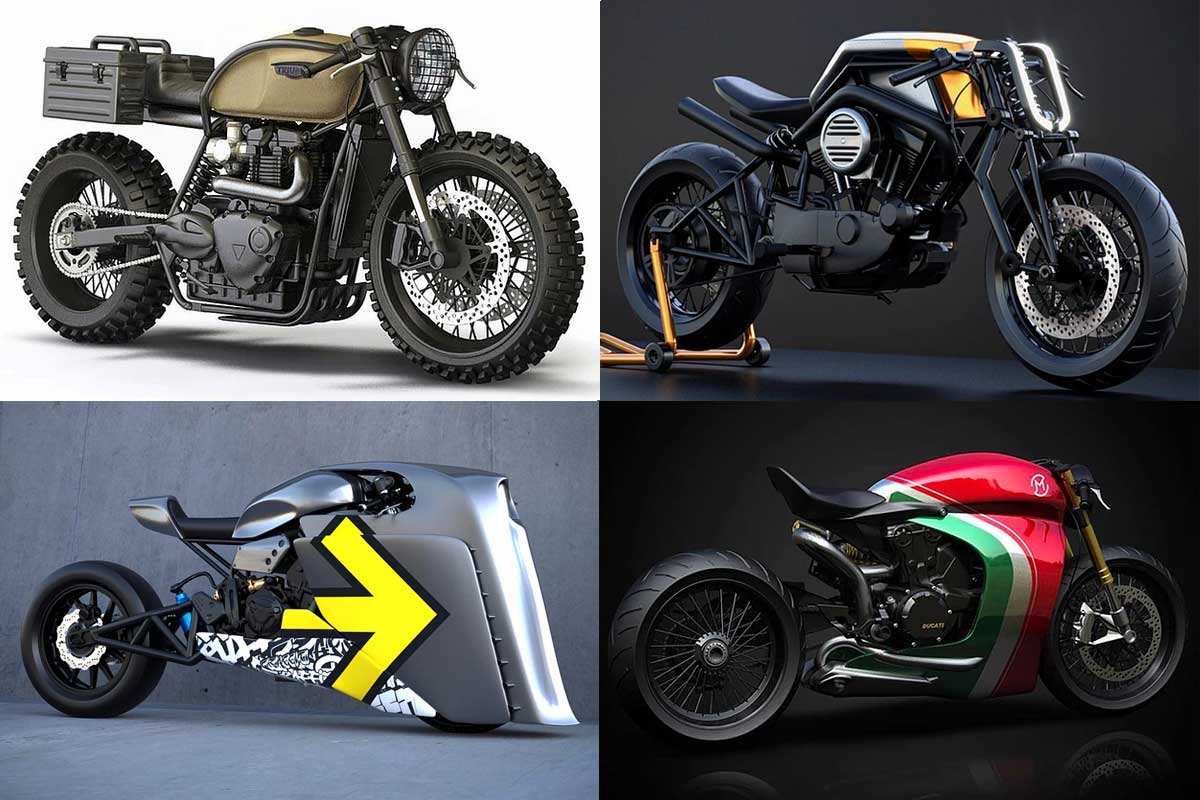 What was your first motorcycle and what bikes have you owned since?
I got into motorcycles late. I was about 25 and I'm probably still alive for that very reason. You think you're invincible when you're young and I wasn't particularly risk-averse so if you put those two attributes on two wheels it wouldn't have gone well.
Having always wanted a bike, I'd honoured my Mums wishes and steered clear until I laid eyes on a particular yellow Ducati Monster. I loved it, it ticked all the boxes. It was simple yet purposeful and I had to have one! So that was that. I took a direct access course, three days of lessons and a test later and I was parting with a handful of cash for my very own M600 Monster in yellow. Since then I've had three monsters of various displacements, a 749, a KTM LC4 and probably the last production bike I bought was an 1199 Panigale.
When did you start ZiggyMoto and what's it all about?
I drew stuff. I liked making stuff and I really loved riding stuff. That's pretty much all the ingredients you need to be a bike builder. Born partly out of the frustration of repetitive client briefs and real-world constraints, I set myself my own brief to build a motorcycle. I found an old BMW R100rs on eBay and that's pretty much how it all started. ZiggyMoto only came about because not soon after I started to strip the R100 we were off on a family holiday. I was away from my shed and my tools and desperately wanted to perpetuate the excitement I'd built up. I uploaded a couple of the CAD designs I'd done for the BMW and my Instagram page needed a name. While we were away I was missing our dog Ziggy. I thought ZiggyMoto had a nice ring to it!
What's your process when designing one of your digital customs?
Designs start in your head. We only really draw them because we can't hold an idea in our heads for long enough or we want to share it with others. There's generally a lack of reality in our mind's eye, so getting it down on paper is crucial. It doesn't have to be paper. It can be folded card, clay, welding rod, whatever works. I draw because it gets me excited and I can refine the drawing and get to a point where it's simply too exciting to leave it on the page. The computer-generated stuff is exactly the same, except I can get to a photo-real execution much quicker and play with metallic paint effects and tyre selections much more rapidly. It's also much more accurate. You can cheat a sketch but if you're being reasonably accurate with CAD you know if it'll really work or not.
I've used CAD in my day job for years, but I use it in a fluid way, I rarely bother drawing anymore. I use CAD like plasticine and can model stuff pretty quickly. It's fun and I can sit in front of the TV and just CAD-doodle… that's where the problem lies! So I CAD-doodle bikes, posting stuff on Instagram as I go and then I'll stumble upon an idea or a shape and realise I have to make it! I was tearing down a custom CX500 and I was planning to discard the custom tank, but I held it up to an old CR250 I had under a blanket at the back of my garage… a few sketches later and a CAD build or two and I had an exciting plan to transform the CR250 into something new! That's pretty much the gig, but I now have too many doodles in the sketchbook… I could never make them all.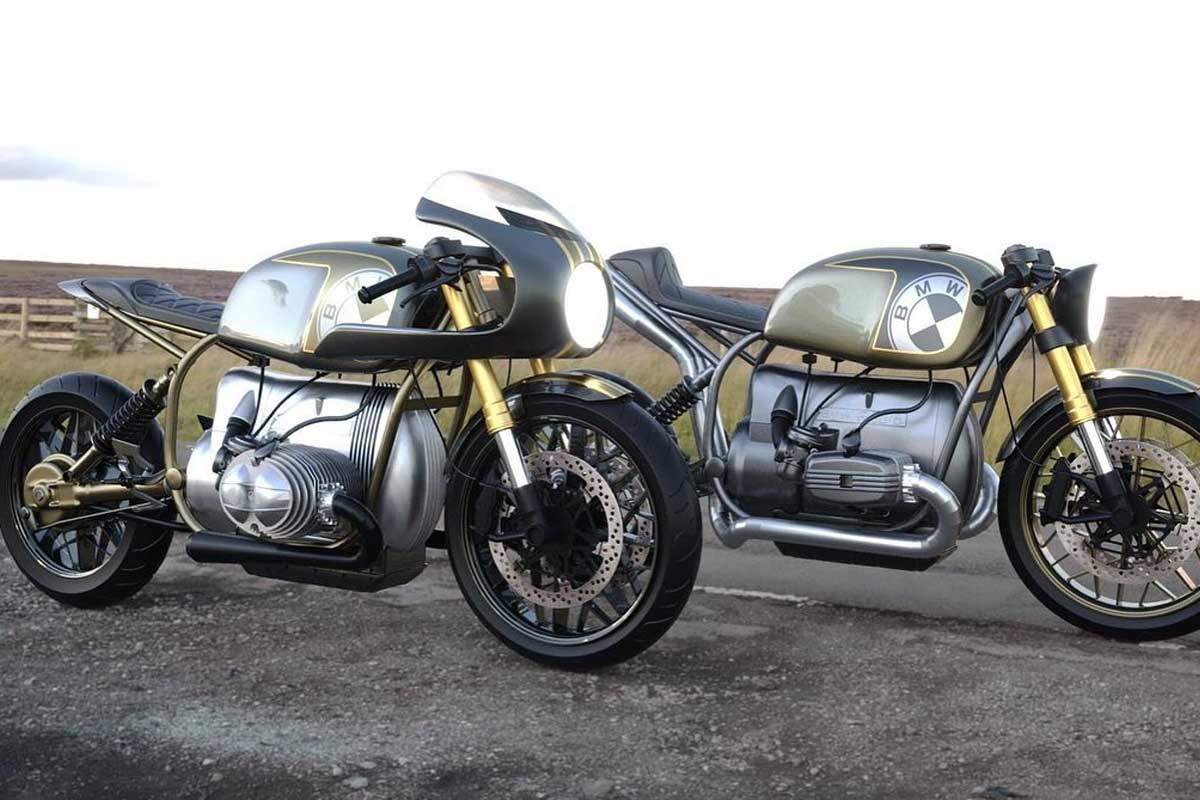 Do you design motorcycles for clients?
There was a moment where I thought I could take on commissions, I actually took a brief from Charles Leclerc for a street scrambler but with a full-time job and a family it was unrealistic. So I quickly suggested he should find a commercial builder. The bike I started for him became the CX500 scrambler I'm currently working on albeit far from his original brief. I think that's an important point. I like building stuff that I like. I found it less motivating when I was given a brief. I also doubt I'd make any money doing it. So nothing, for now. I build stuff I like, sell some, keep some.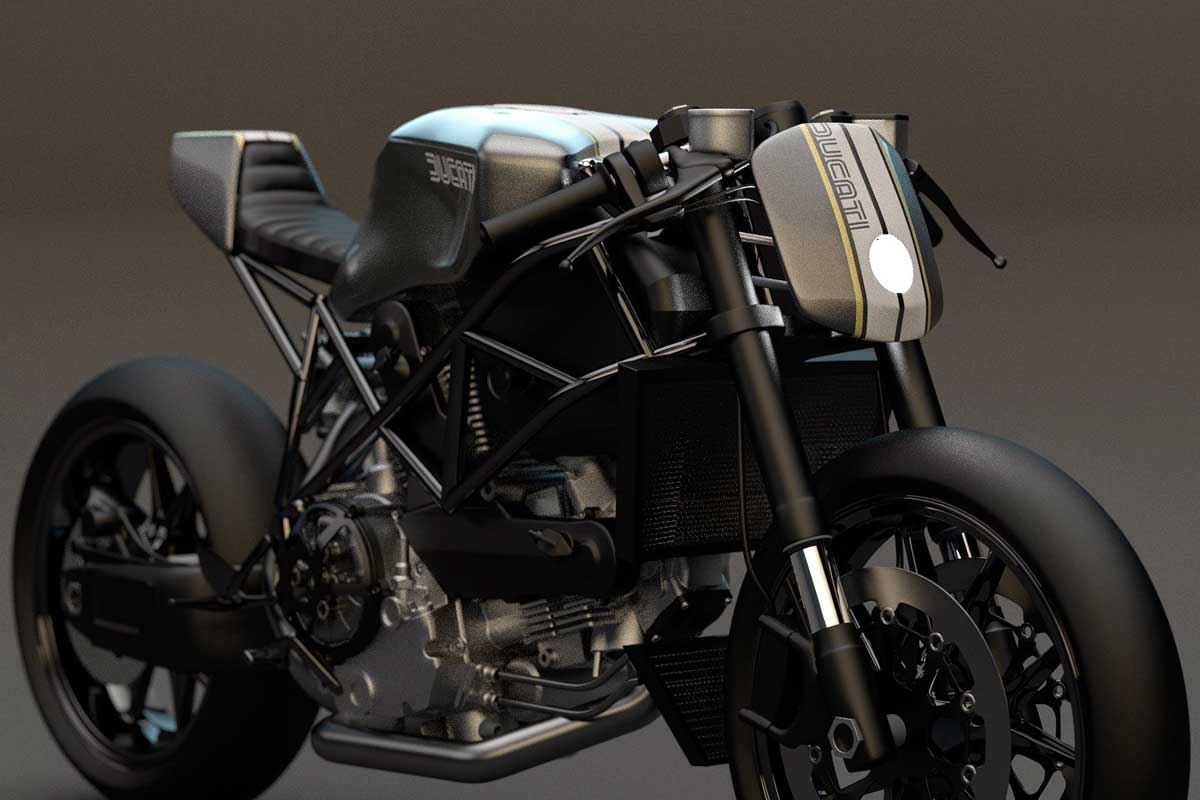 How many of your designs have been built into real-world rides?
I've actually only built a handful of my concepts. The BMW R100, Honda CX500, Ducati 749, Yamaha XV750, Honda CR250, CR500, CB750, Yamaha XR500, Ducati 750SS and the latest Honda CX500 Scrambler.  The CX Scrambler is probably the most ambitious build so far with its monocoque bodywork.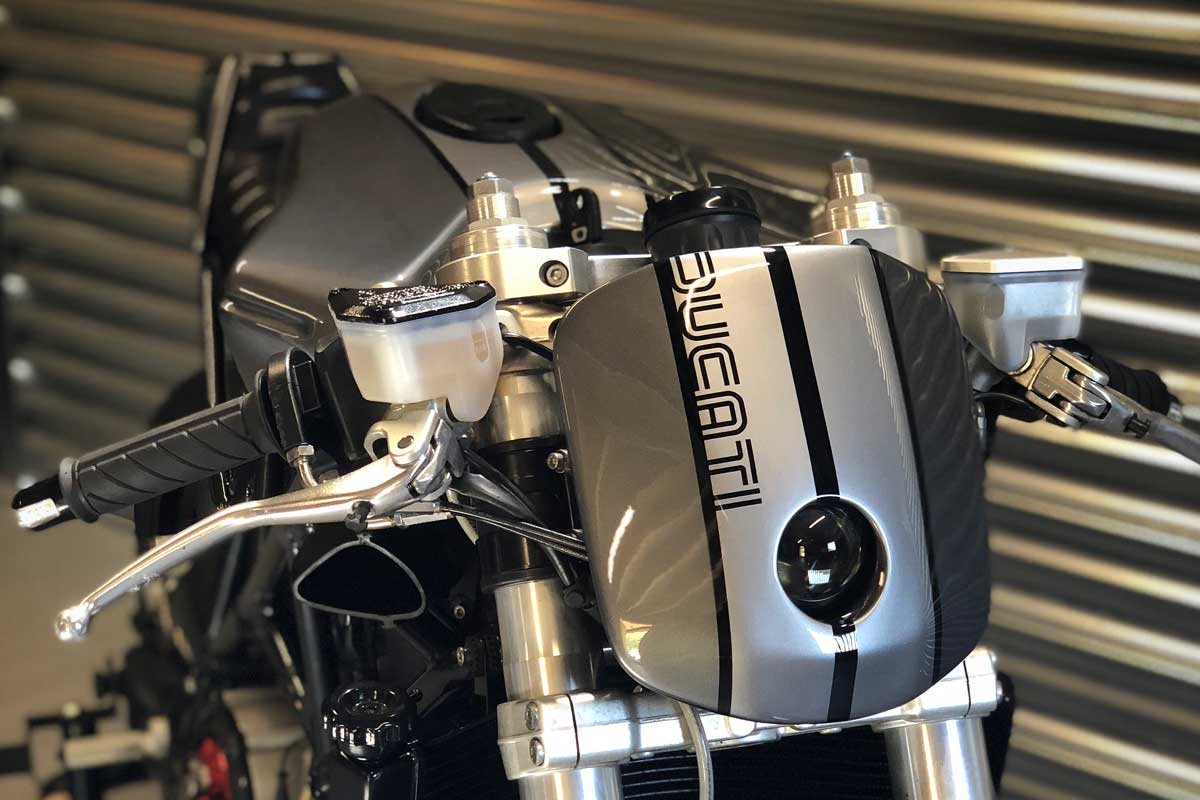 How did the Ducati 749 come about?
Every bike throws up new challenges and I'm self-taught, or should I say I'm self-learning because I still know nothing! There's a learning curve to every motorcycle and doing the same bike twice makes you much more efficient. But where's the fun in that? You also hit slow points in every build where you're waiting for parts. The Ducati 749 project started in one of those flat spots.
The 749 was my first track bike. It was once someone's commuter but it became more and more track-focused as I became more and more addicted to track riding. If you've never done a track day, I highly recommend it. It's where a bike truly comes alive and suddenly makes sense. It also puts fast riding into context and makes you appreciate that riding fast on the roads is just daft. Anyway me and the Ducati had a lovely year or two lapping various circuits until we parted company on Paddock Hill at Brands Hatch. I don't remember much but I came out better than the bike did. After I was discharged from Dartford hospital and picked up the Ducati it sat in the back of my shed under a blanket until one day, during one of those flat spots, I had an idea!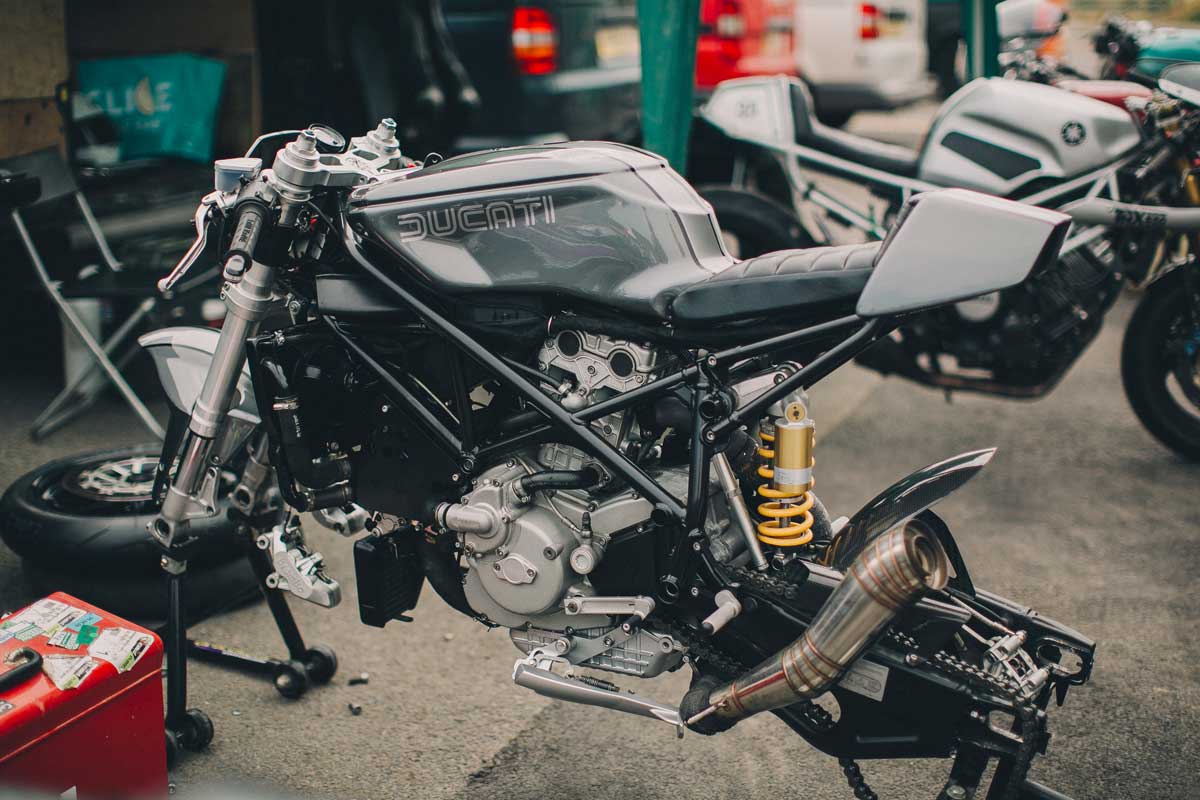 What techniques did you use when building the 749?
It wasn't going to be a nut and bolt rebuild. The bike was mechanically sound, I just wanted to giver her a new lease of life. I'd tried to sell her, but who really wants a damaged track bike? So I stripped off the fairings and ditched the massive muffler from under the seat and once all that stuff was off, I could see the potential. This is going to sound bad, but most bikes look pretty similar once you've removed all the styling. The big problem with faired bikes is that they use the fairings to hide all the ugly stuff like electrics and radiator reservoirs. I'd sketched up a few ideas one evening and I'd already started CAD concepts so I had a pretty good idea of what I'd like to achieve. The biggest challenge was overcoming the CANBUS system. The immobiliser is divided between the standard clocks and the ECU, so if you ditch those massive clocks it's not going to start… ever!
Wiring was a pretty big challenge along with hiding all the ugly stuff. I fabricated my first exhaust and made up a new subframe that created the short grunty look I was after. I'd take side elevation photos and import those into the CAD scene and model the seat and tail cowl with greater accuracy. The CAD concept and the real concept go through a number of revisions as they get closer and reality gets tighter.
There's very little bodywork left. The simple front fairing was meant to feel like a number board, but I also wanted to house one projector light. The original 999 design aesthetic split the Ducati world but I always liked it and I wanted to reference the original lights in my build. The tail went through a couple of revisions. There's a lot going on under that seat and the tail cowl covers a lithium battery. I wanted the overall aesthetic of the tail to feel like it flowed into the original distinctive tank and that it felt like it was penned by the same hand.
That was pretty much it. It was a quick build and made so much nicer by Image Design Customs paint job. I love what they do despite them ridiculing me for my overuse of grey.
How do you feel about the completed bike?
What I like most about the 749 is that it's retained all of the readability of the original bike and that's really been tested most recently at The Bike Shed Track Days. It's still a fantastic bike to ride, sounds great and now feels so nimble. It was always a great handling bike but weirdly, without all the plastic, it feels much more dynamic.
Whenever you customise a bike you create issues, they might not always be apparent but they'll slowly reveal themselves to you. I can now say that the 749 in its new guise has been ridden hard and I'm getting better lap times now than before.
What plans do you have for the future of ZiggyMoto?
There's no grand plan for ZiggyMoto. In fact, there's never really been a plan. I just like thinking stuff up, bringing those thoughts to life and loving every minute of it. I get a real kick out of firing up a bike that was once only in my imagination and riding off into the sunset.