The world of Cafe racers is primarily a playground for adults, but South African Johann de Wet is out to change that. After stepping away from motorcycles while raising his 2 daughters Johann resorted to building a bike in his home workshop. But rather than piecing together a cafe racer for himself, he created something both he and his kids could enjoy. The result was a cafe racer balance bike based on custom motorcycles he'd seen online. He named his workshop, Lawless Bikes. One thing lead to another and soon build requests from around the world started rolling in.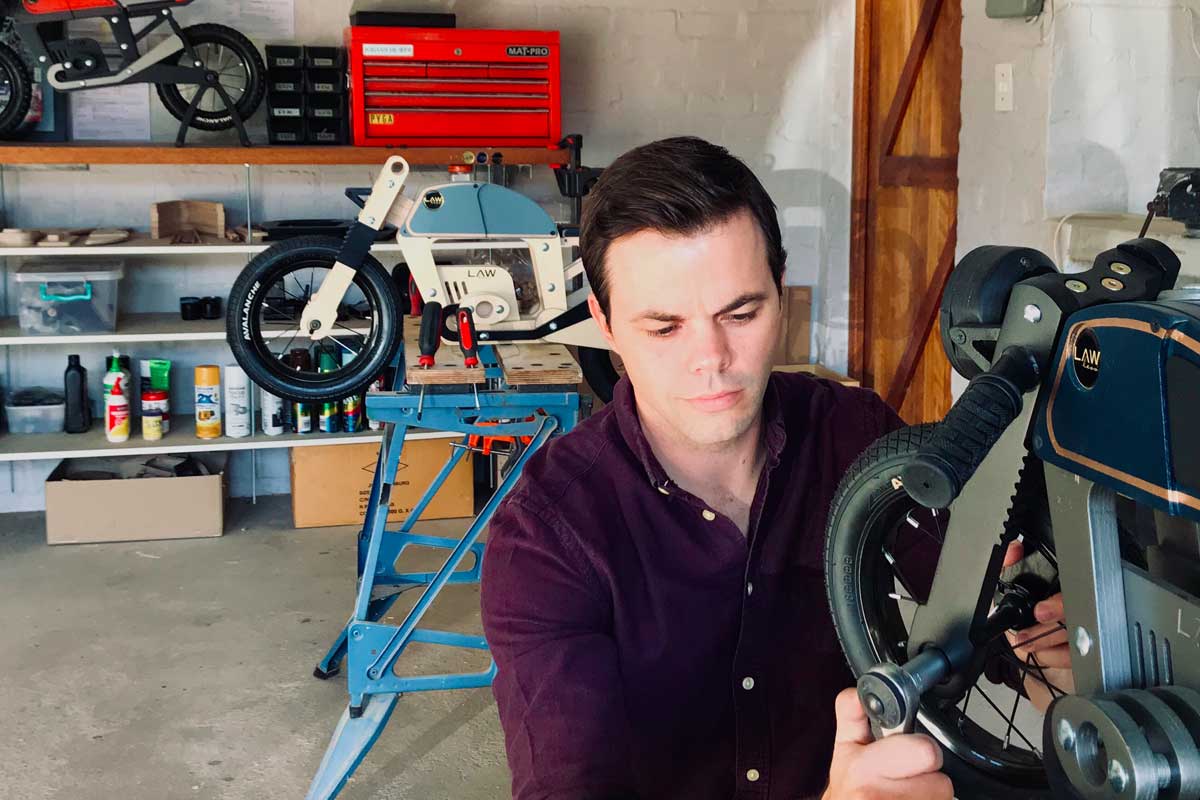 Who are you and what is your profession?
My name is Johann de Wet. I live with my wife Ilze and two daughters in Paarl which is in the Winelands district of the Western Cape in South Africa. My day job is that of a data engineering consultant.
What motorcycle/s do you own?
Currently, the only motorcycles I own are made of wood. I've had motocross bikes in the past and once the kids are a bit older definitely plan to own, or ideally build, my own cafe racer as I'm very passionate about this genre of motorcycles, hence the creation of Lawless Bikes.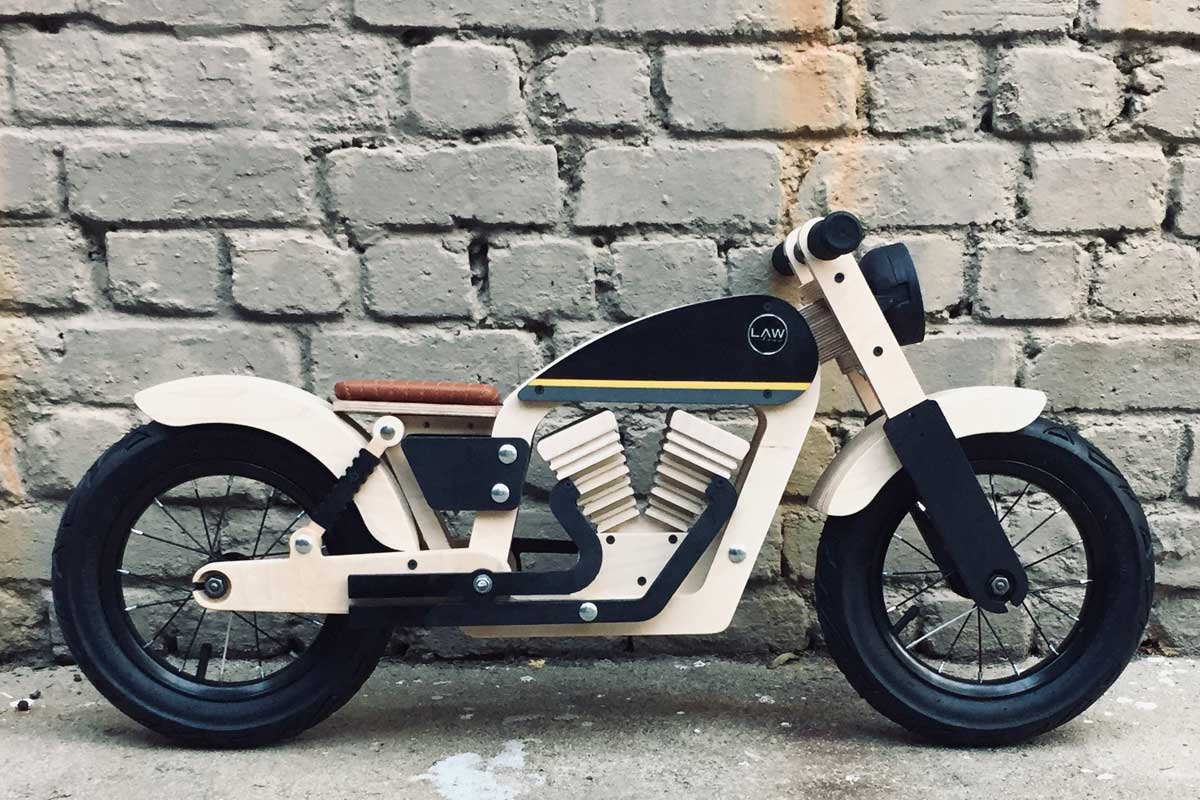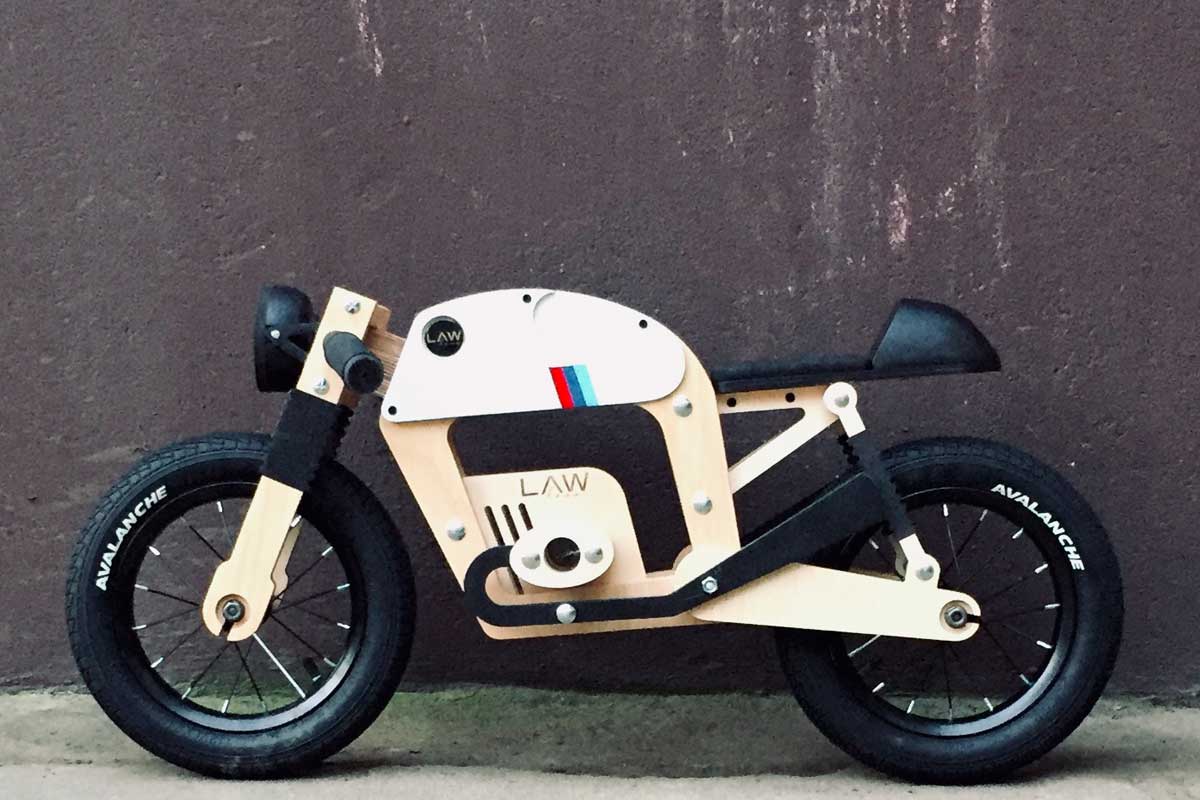 When did you come up with the idea for Lawless Bikes?
During our December vacation of 2016, I had some wood leftover from another project and felt like using the time and materials to build something creative. I wanted a unique balance bike for my daughters and have seen some nice wooden bikes on the internet but nothing that was available locally. Having followed the cafe racer scene for many years I decided to marry these two worlds to build something fairly unique. Some of my favourite cafe racers at the time were the 1970's R series BMW's so I used those as inspiration when designing the very first Lawless Bike.
What techniques do you use when creating a Lawless Balance Bike?
The first few bikes were cut and built completely by hand, but this process was too time consuming and yielded inconsistent results. So I captured the design in a CAD (Computer Aided Design) program and was then able to get the parts cut by an automated CNC machine which addressed both of these issues. We offer both a DIY and a pre-built version of our bikes. With the latter, I am still the sole builder as I want to be intricately involved in each bike to ensure quality and maintain the boutique element of our creations.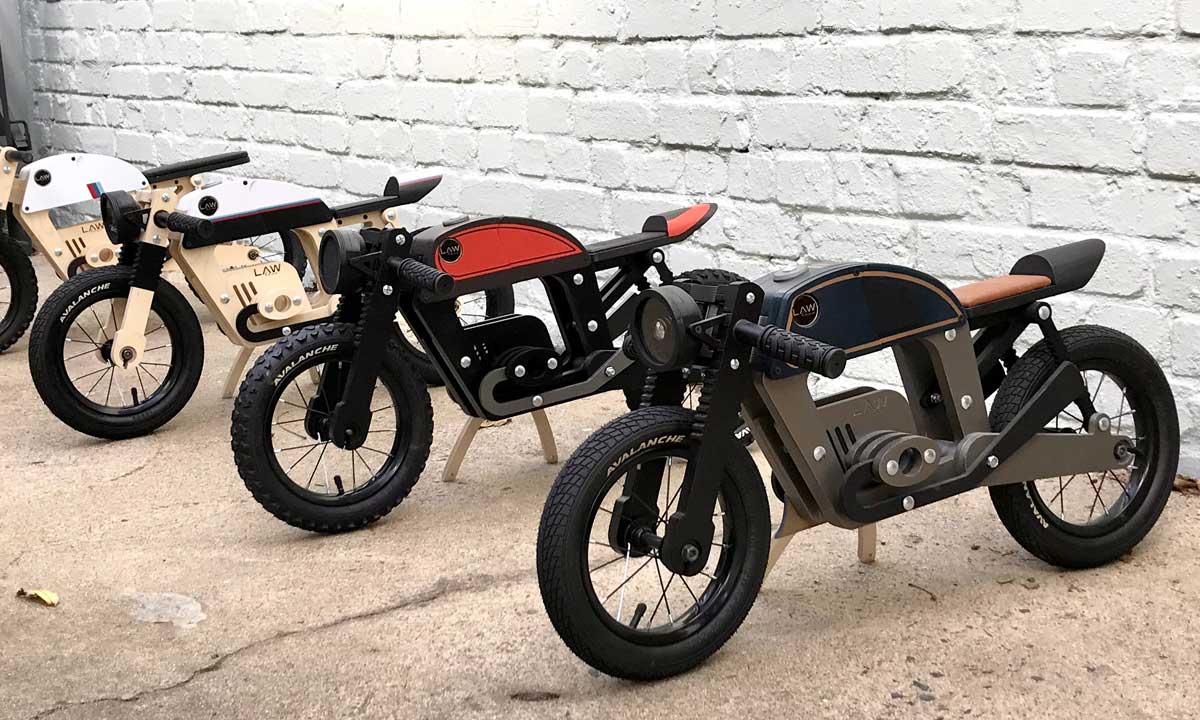 What are some of the key features of a Lawless Bike?
We believe our bikes offer something truly distinctive and characterful that cannot be obtained from a retail store. Their use is versatile as they appeal not only to kids but make for exceptional display pieces. Whether it be in a restaurant, bar, man cave, shop, kid's room or someone's lounge. We foresee many of these bikes being used by kids to go up against their wall once they've outgrown them to be further adored.
Where do you find inspiration for each build?
When building a bike for a client their own motorcycle or their inputs normally act as the main source of inspiration. For my own designs, I'm inspired by what I've seen in the industry and try to combine different elements that I like into one bike. Other times there are completely unrelated and unexpected sources of inspiration like the colour scheme of a tractor in a museum or a painting.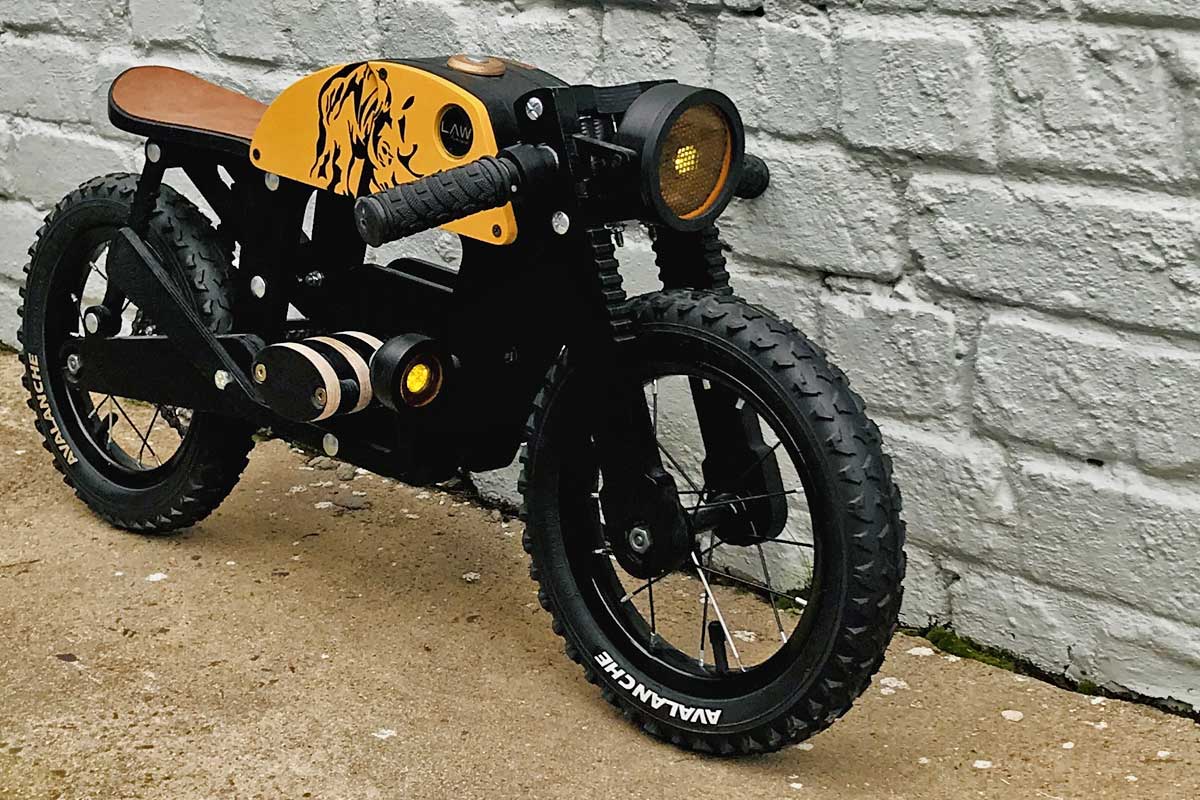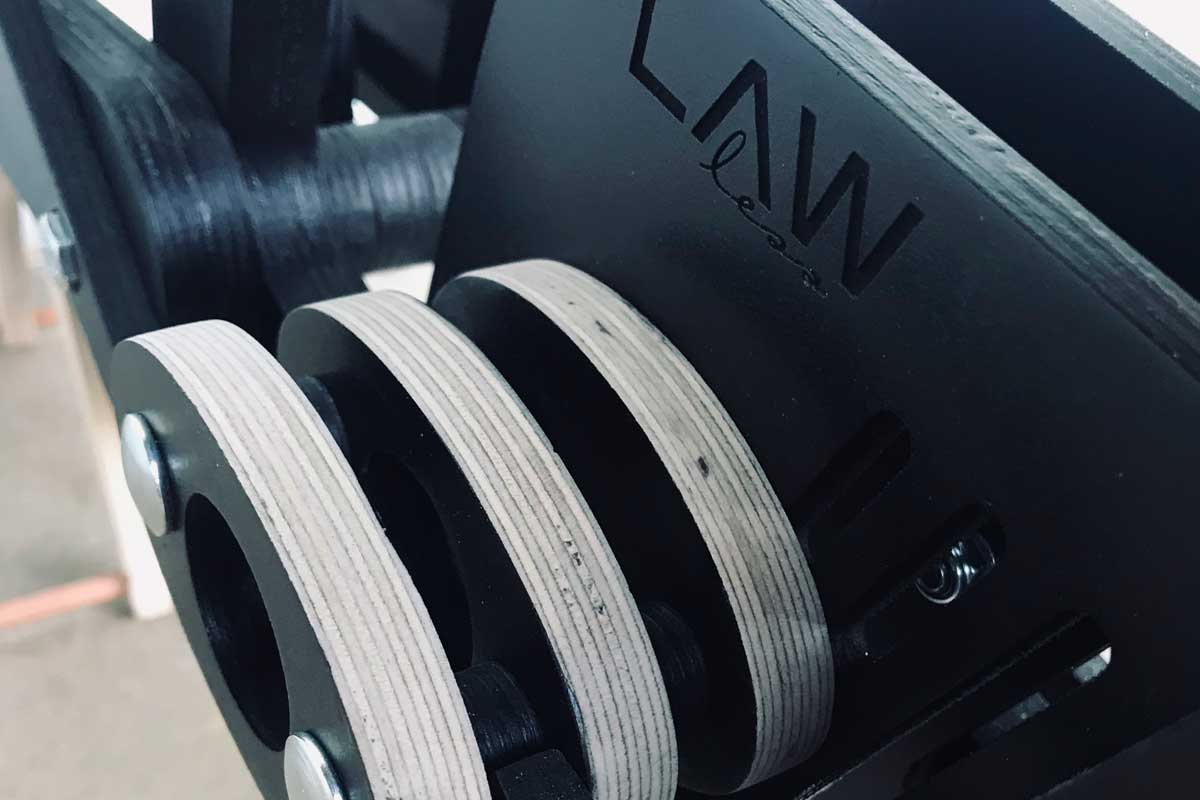 Do you offer bespoke Balance Bike requests?
Lawless Bike customers can choose from a variety of base models and then also from a list of different build options e.g. straight or dropped handlebars, headlight lens colours (with or without a mesh cover), leather-covered seat (including the colour of the leather), flat seat of seat bump (with or without a tail light), road or off-road tires etc. They can also have a name engraved on the bike and dictate the paint job. We also offer the DIY kit which, apart from costing less, allows the customer to use their own creativity when finishing the bike.
How many Lawless Balance Bikes have you built?
We've produced around 50 of these bikes with the vast majority of them exported to other countries all over the world. Most of our clients, however, come from France, Netherlands, Germany, England and USA. There are some local opportunities that we will be exploring in the near future but we believe that most of our customers will remain outside of South Africa.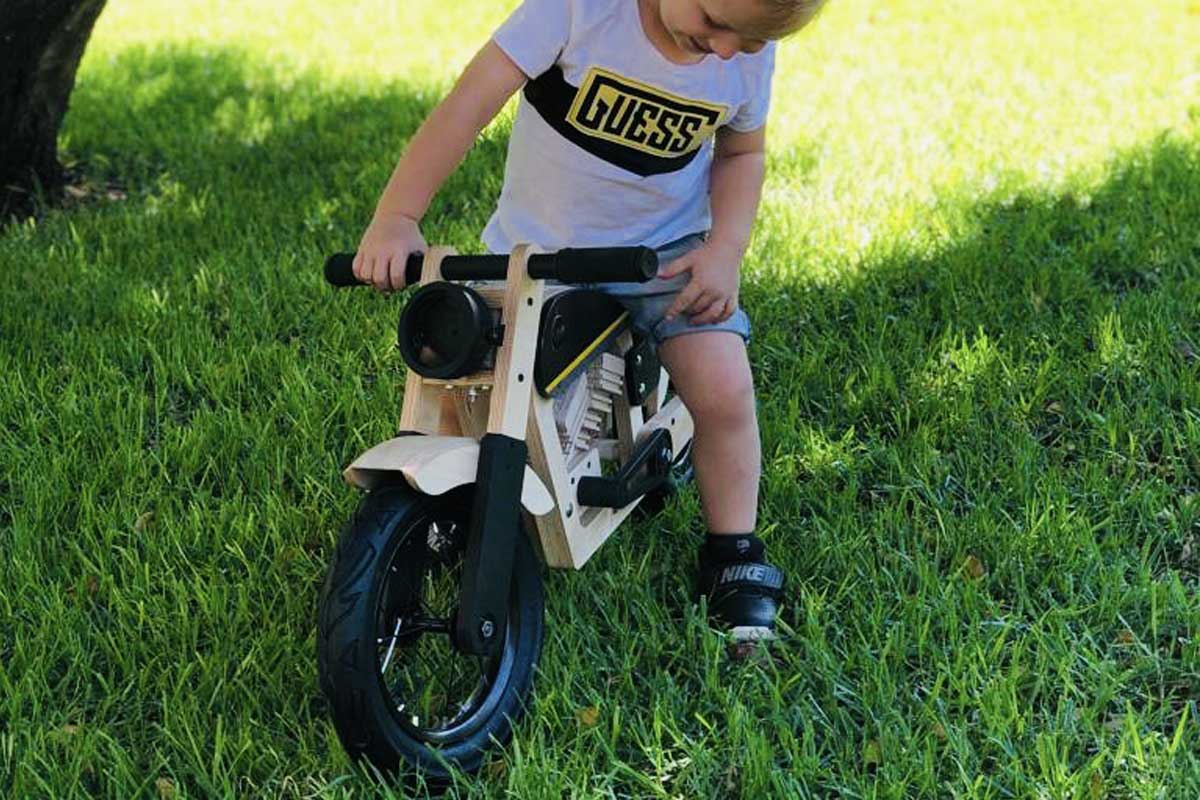 Lawless Bikes are priced from $250-USD for a DIY kit or $350-USD for a completed balance bike. If you'd like to order your own Lawless Balance Bike you can contact Johann for more details about the available options, the order process and approximate waiting times.