After the dust from the sheet settled Andy went on to tell Ryan stories of his escapades on the bike. How the Triumph was his first love affair with a motorcycle and how he experienced his first real sense of freedom as a young man astride the old girl. Ryan knew this pile of old parts once meant the world to his dad and promised himself that one day he would put it back together to repay him for his life of hard work.
As the years went by, the bike continued to collect dust and life became busy. Ryan made some feeble attempts to fix the bike on the occasional weekend, but his lack of mechanical skills became the butt of jokes at family dinners. At one point Ryan even took the crates of parts to a local mechanic to see if they could help. Unfortunately, along with an over inflated quote, Ryan could tell the mechanics heart wasn't into it so the parts found their way back into Andy's garage again.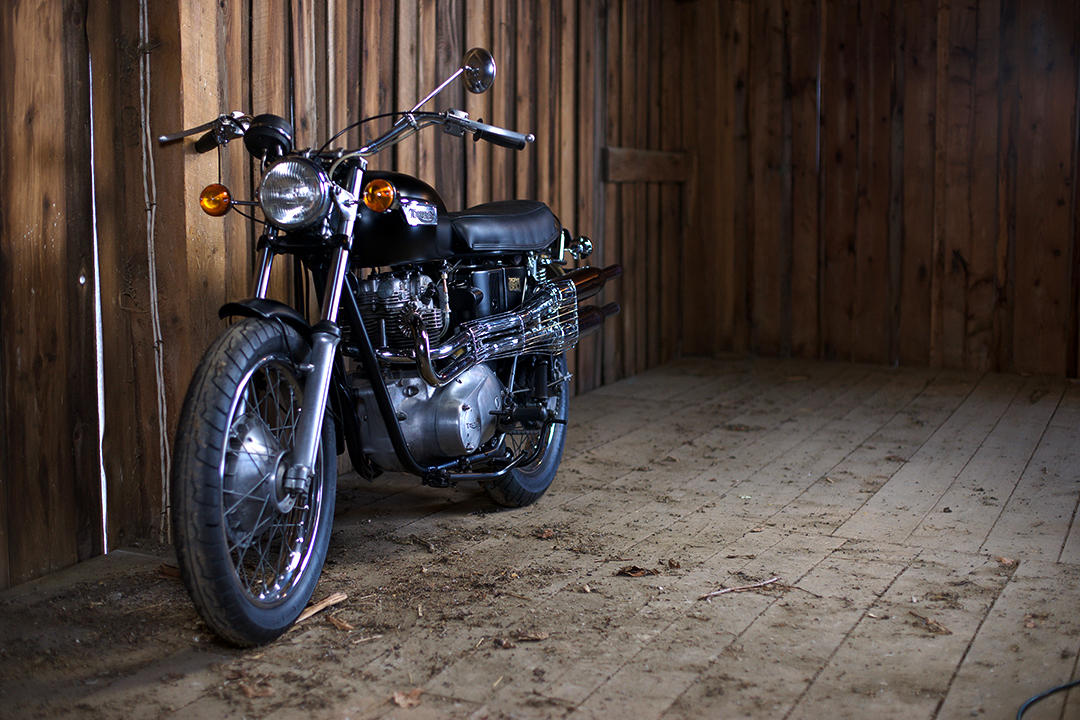 In 2016, while enjoying beers with a friend who shared a mutual love for motorcycles, the 'Vintage Steele' workshop came up in conversation. His friend described a small vintage motorcycle shop in Brattleboro, Vermont, that "had a real passion for old two-wheelers" and Ryan's interest was piqued. He checked out the builds they posted online and was thoroughly impressed by their workmanship and their rates. Most importantly, they seemed genuinely interested in restoring motorcycles to their former glory, leaving no detail untouched. After contacting Vintage Steele Ryan built a strong relationship with workshop owners Josh and Chris. As work began restoring Andy's old Triumph he remained involved during every step of the restoration ensuring everything was done to suit his Dad's vision for the bike.
During the few months that the bike was at Vintage Steele it was rebuilt with upgraded electronics, adding a PodTronics rectifier, a Wassel Stator and Rotor, and a Pazon electronic ignition for modern day reliability. The motor and transmission were reassembled with new or rebuilt parts the guys already had sitting around the workshop. As the original system was beyond repair a new set of exhaust pipes were shipped in from an English distributor and Vintage Steele team member Pat DeSalvo painted the bodywork matte black just like Ryan's dad had always dreamt it should be. The frame was also powder coated semi-gloss black, a very close relation to the factory color, using the very best in materials to ensure it would last a second lifetime. New Michelin Pilot Active tires, fork seals, fluids, and chain and sprockets also went on to ensure that the bike was ready to be ridden.
Unlike many of the builds we feature here, the goal of with this bike was to restore the beautiful TR6C as close to original as possible, with a few personal touches to match Andy's dreams.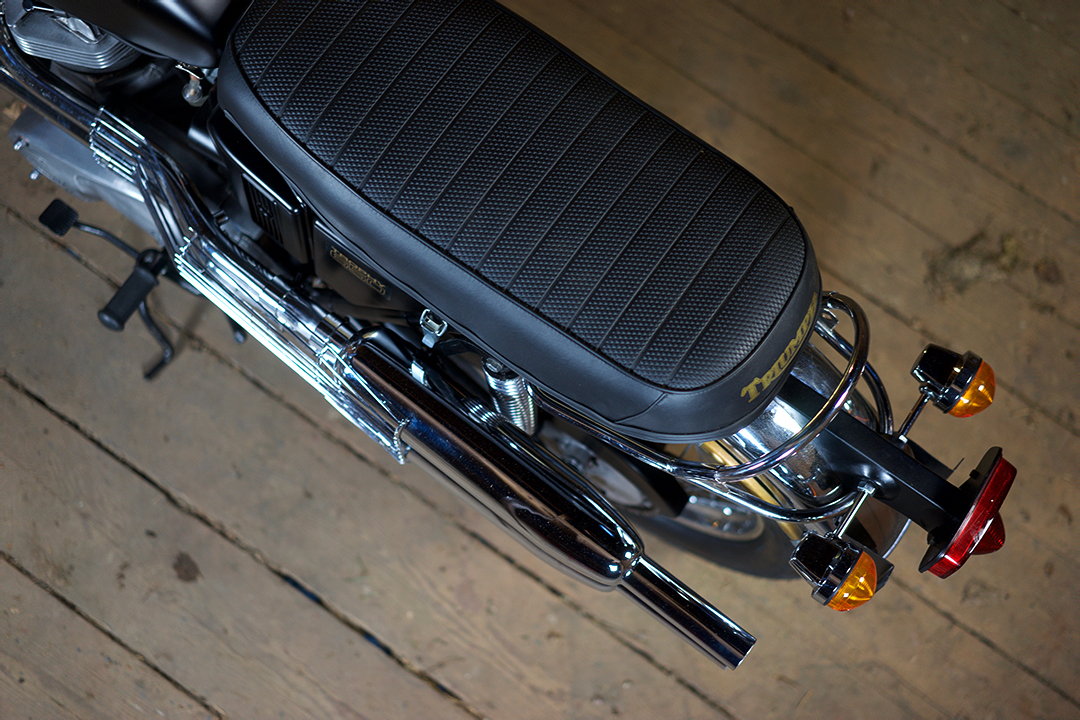 Vintage Steele are set to deliver the rebuilt Triumph TR6C to Ryan's family home the day before Christmas (Shh! Andy has no idea). As a 16-year-old Ryan's father surprised him with his first motorcycle wrapped in a big pink ribbon and he's looking forward to wrapping the TR6C up in just the same way as Andy saw fit all those years ago. With the bike looking as good as the day it rolled out of the Triumph factory in 1972 and running like new you can bet it'll be one hell of a surprise.
Andy is the hardest working man his son Ryan knows. He's been up at 5 am every day since Ryan can remember, to run his own construction company in Connecticut. He's a tough man to deal with and has high standards, always pushing Ryan to do his best. Andy's also always had a huge garage, his man cave per se. Every weekend Ryan would spend hours in the garage with him "cleaning it up", which actually meant just moving things around in an attempt to make more room. One day while cleaning the garage with his dad, Ryan pulled a large bed sheet off a pile of old parts. Andy yelled out to Ryan "and that's where it all began son." Amidst all the old bits and pieces was Andy's very first bike, a 1972 Triumph TR6C.