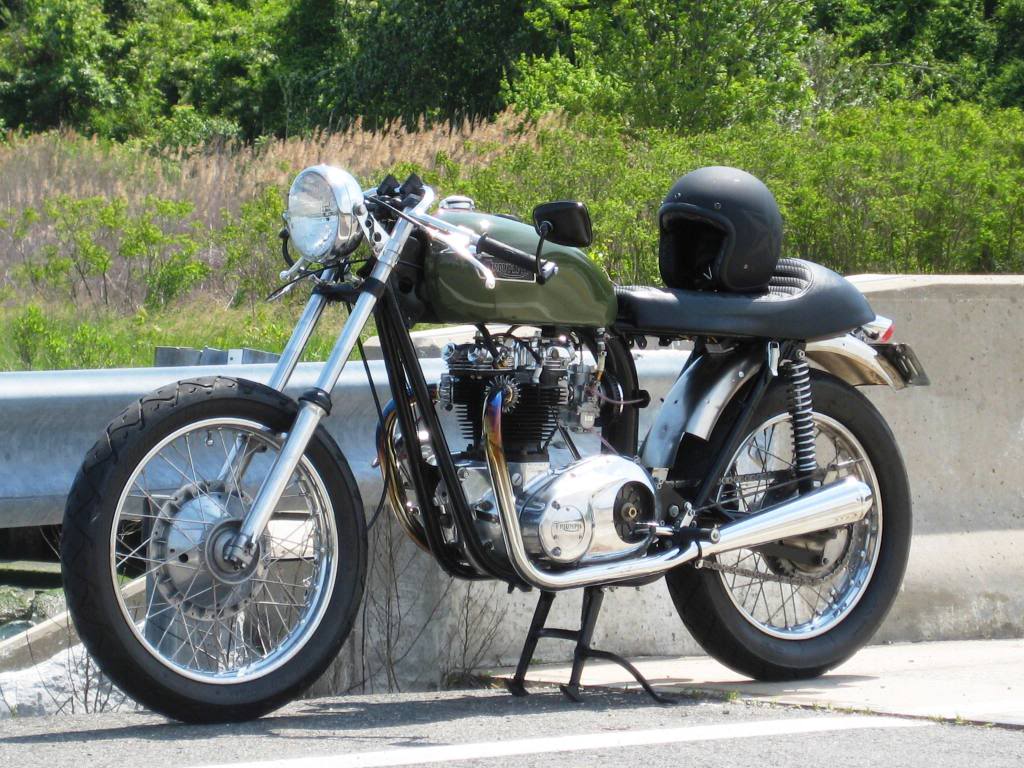 An 8 hour round trip doesn't sound like all that much if you're on your way to buy your dream motorcycle…even if it is a "piece of crap". Chuck wanted a Triumph and a Triumph he got but it was going to take some hard work and a seriously steep learning curve to get it realise the dream.

This is the story of Chuck's Soho Cafe project that started out as a basket case '72 Tiger and ended up a tightly tuned, ton up Triumph.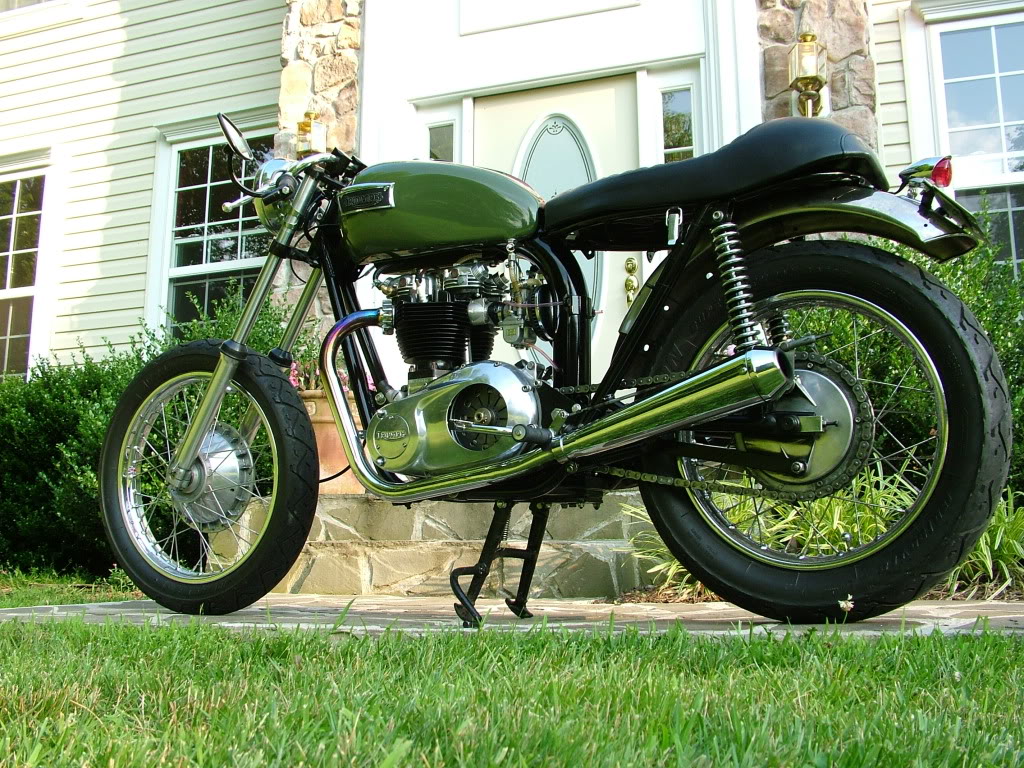 About 5 years ago a friend of mine, Mark, a.k.a Lummox, and I drove an F350, on a four hour trip into the small, narrow side streets of SoHo New York. We were on a mission to pick up a piece of crap, almost stock, '72 Triumph Tiger found on Craigslist. The previous owner was a punk rock guitarist in an up and coming band called "Leftover Crack". He was reluctantly selling the bike to accrue some cash for his band's next west coast tour. We met him outside of an abandoned building to make the exchange.

The bike looked like someone just pulled it from the polluted waters of the Hudson River. Covered in oil, and leaking fluids from every hose and joint. Repair welds looked like they were applied by a drunken three fingered monkey. But I wanted a Triumph…and this is what I could afford, so I lugged it back to the salty air of Maryland.

Excited, I did some much needed work to it that weekend. I applied a new rattle can paint job, rode it for a few months as is, bent bars and all. Then one spring morning while prepping it for the new east coast riding season ahead, I found the signs of shiny metal in the oil. Worried I would mangle the old motor, I finally broke down and submitted to give this poor bike the attention I had originally intended on giving it.
I started by pulling the motor, cleaning the soiled frame and seeing what I had beneath all the years of abuse. It turned out the "decorative plate" on the down tubes was actually a reinforcement to support bent tubing underneath. This led me on a search for another OIF frame (Oil In Frame), to replace the less then safe and awkwardly bent metal that presently encased the soul of the bike. Craigslist again became my informant and sent me on a trip to Lancaster PA, to meet a larger than life man named "Smokey". Smokey explained the frame was abandoned when he removed all the shining bits, to explore other employment opportunities for the motor. I offered cash and an XSSpeed chopper's T-shirt as barter, and I was on my way with my new, old frame.

Seeing what I had, I figured I would make this my first full motor rebuild, top to bottom. Online, I researched and purchased the wonderfully descript Wes White Triumph rebuild DVD. I watched the DVD like an addict, salivating over every scene and chapter. I tore into the motor like a fat man at a buffet. Labeling bag after bag of bolts and parts, falling off the oily, gasket covered mess. It all came to a climatic peak when I cracked the cases to reveal the heavy gut of the motor.

Rebuilding brought about a flood of questions and more research. I cleaned the sludge trap and replaced the cover with a more convenient cap. I put the beautifully polished cases back together with all new shimmering bearings and seals. The head was returned from Four Aces after reconditioning, and the black diamond valves installed. I proceeded, working most weekends polishing and applying trick parts. I finished the engine with a fresh coat of ceramic paint on the head and barrels.

The frame and chassis in the meantime, saw its own version of a boob job. I sent the frame for a glistening black powder coat. The ride was thoroughly softened by the addition of new rear suspension, and rebuilt front suspension and tubes. Her new shoes were built on British chrome wheels (laced by Johnny Eastside of Baltimore), with shining polished drum brake covers that made her look like she was ready for prom night. The addition of clubman bars, gave her the look of fast just standing there.

In keeping with the British café racer mystic, everything and anything that wasn't needed was scraped. The five year old battery and Lucus electronics were replaced by an old school cool magneto and minimalistic wiring. The side stand was removed and only the center stand remained, because she looks better standing tall. The tank had its rattle can shell removed and internally freshened up. The accumulation of a new paint job and a flip up Monza gas cap, completed most of the metal work. Reverse megaphone exhaust, freeing the front wheel of its fender, and the stainless rear fender cut shorter all reflected the cafe racer look I wanted.

After the "Brittown" movie, I decided to give the QPD belt drive a shot, in order to drop some pounds (thanks to Bob Oswald). This brought me to the realization that my stock cover needed the same treatment as the rest of the bike. A large hole was carefully cut in the primary cover on an old Bridgeport mill by my machinist and friend Les. With the skill of a surgeon, Les centered the hole over the clutch basket for me. We machined small, shiny stainless steel spacers, to bring the cover out from the new dry belt drive about a quarter inch.

As she sits right now, she has done "The Ton" on more than one occasion, and so was commemorated by the Maryland license plate. She gets looks everywhere she goes. It's like being that 60 year old dude, with a 24 year old girl friend when showing up at bike nights. I get lots of questions, and most of the older gentlemen reminiscing about what it was like when they had one back in the day.
Chucks a modest guy and as such wants to extend some thanks for the help he got with his build. So thanks Wes from Four Aces, Les and Mark "Lummox"and all the friends who pitched in to help complete Chucks first custom build, the Soho Cafe Project.