Like most of the motorcycle community I was left a little confused after the recent release of Belstaff's 'Outlaws' short film. Starring David Beckham, Liv Tyler, Harvey Keitel and most importantly some Triumph motorcycles, Belstaff spared no expense producing the artsy farsty "fashion film". When I finally got over the initial "there goes 17 minutes and 28 seconds of my life that I'll never get back" feeling, I took a closer look at the film to uncover a bit more about Beckham's two wheeled co-stars.

Before we get started I thought you'd probably want to watch the movie first. Since I know it's the motorcycles you'll want to see the most I've taken the liberty of editing a new version of the film. I Hope you'll agree that my 1 minute 7 second version is a tad less confusing and a lot more engaging…
If you'd like to see the full, un-cut version of Belstaff 'Outlaws' you can
watch it here.
The first and most important motorcycle that we see in Britain's biggest football star riding is none other than a new member of the Triumph Classics family. Sporting a classic silver paint scheme the bike is the all new 2016 Triumph Bonneville. Set to be unveiled later this year the new Bonneville will boast an 1100cc engine and will be the largest capacity bike in the Classics range.
The increase in capacity isn't the only upgrade on the new Bonnie though. Suspension has been upgraded using modern upside down forks finished in gold and matching piggyback style shocks in the rear which is likely to be an Ohlins set up. The bikes braking system has been upgraded thanks to a twin disc Brembo brake set up and one of the most interesting changes on the new Bonnie is the move to water cooling. Thankfully Triumph looks to have done a stellar job of keeping the radiator relatively unoffencive by tucking it neatly into the front of the frame.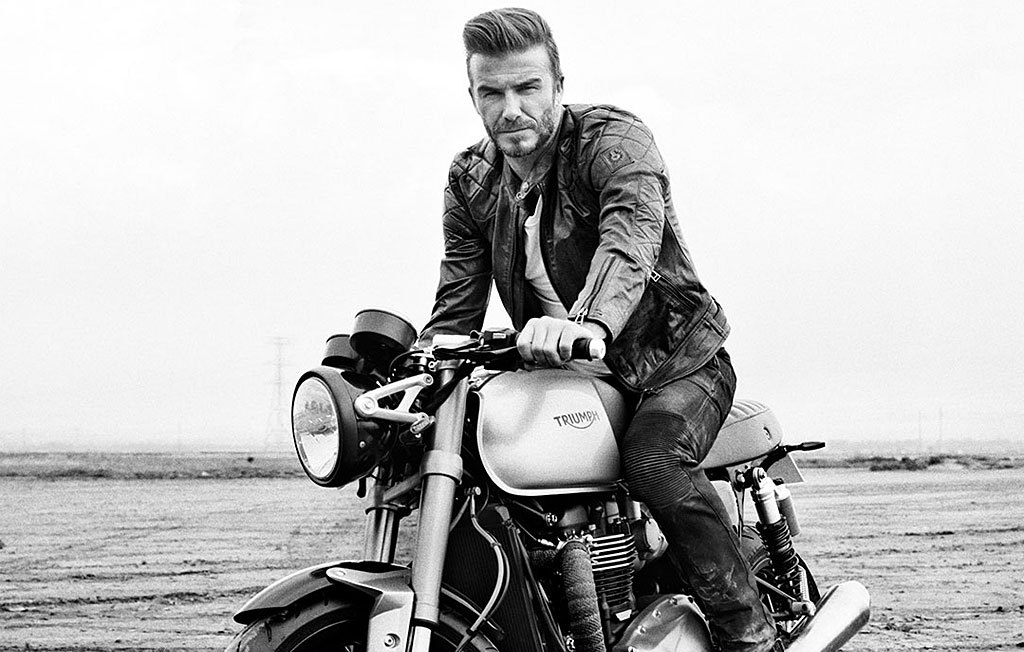 Design improvements on the Bonneville seen in the movie that I'm hoping we'll also see carried across to the production model include, a shallow instrument cluster, clip on style handlebars, low profile indicators and a super clean rear end that looks to be almost completely fenderless. After only a very small glimpse of the new Bonnie Beckham moves to a lightly modified Scrambler, which he eventually uses to jump a canyon before riding away with Liv Tyler. Something I'm sure many a Scrambler owner has dreamt of doing. Alas the Scrambler is not a new version, but sources have told me there will in fact be an all new Scrambler in the 2016 Triumph Classics lineup. Hopefully I will be able to shed more light on this for you soon.