Russia's not just the home of borscht, vodka and Oscarworthy dashcam footage. In recent years there's been some stellar motorcycle builds coming out of the motherland. And one of our favourites has been by Moscow's TCD – this low-slung, jet-inspired Triumph Thruxton 900 that makes our hearts soar.
TCD, which stands for Timokhin Custom Design, has been spending the last few years turning out trackers and bobbers with aggressive styling and plenty of hand-beaten bodywork. Hell, they've even made a maxi scooter look good. But our favourites are, of course, their cafe racers.
And in this case, it's their latest build, an EFI Triumph Thruxton 900, brought to them by a client who works in aviation and is partial to some weekend racing. He wanted something that takes a knowing nod at his career and something that can tear up the track as well. So with a theme and a goal in mind, the team at TCD pulled out miles of aluminium sheeting and went to work.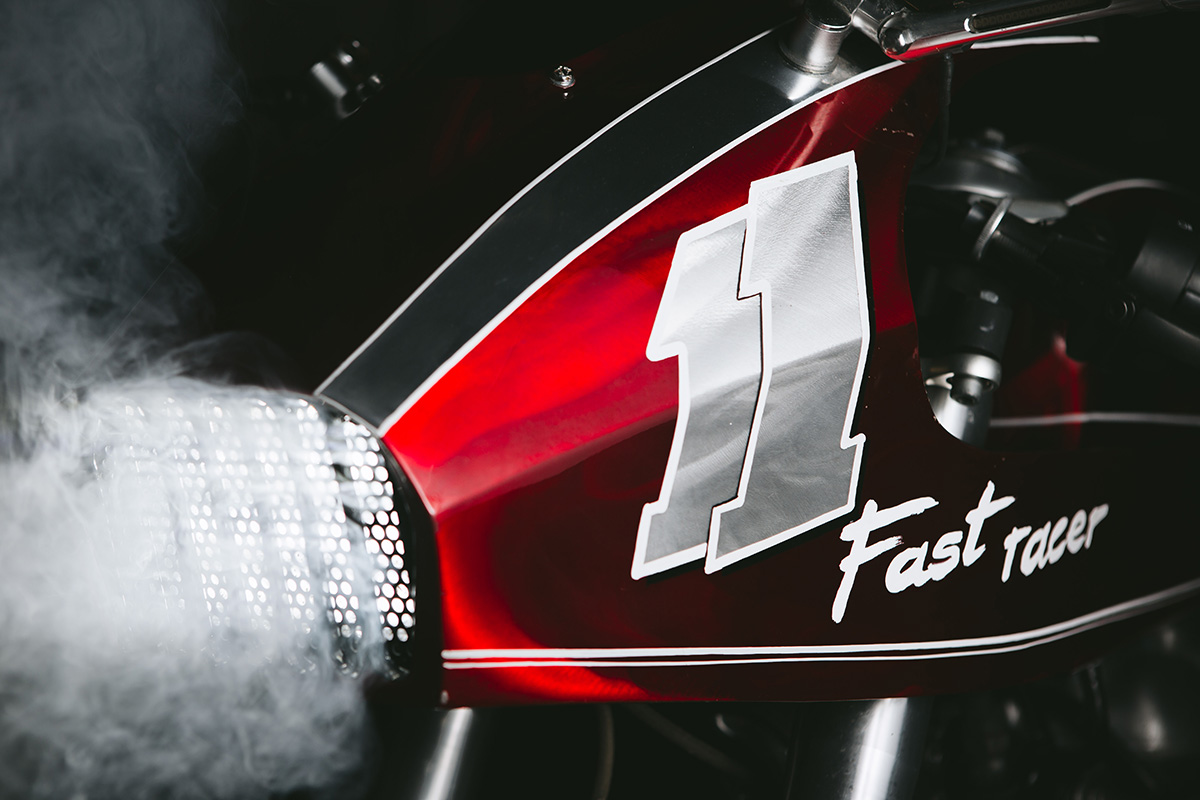 The first step was to reduce the chunky lines of the Brit classic. A new elongated, slimline tank was belted into shape and the fuel pump refitted underneath. Behind that, a thin seat pan was constructed and mounted on a chopped rear subframe. That's a hell of a lot of visual and literal weight lost from the standard bike.
But the highlight of the bodywork is the nosecone and fairing assembly. Designed to look like something from the early days of jet power, the intake, er, headlight is a carefully hidden LED assembly. In the stalks of the rearview mirrors, you'll also find some LED indicators.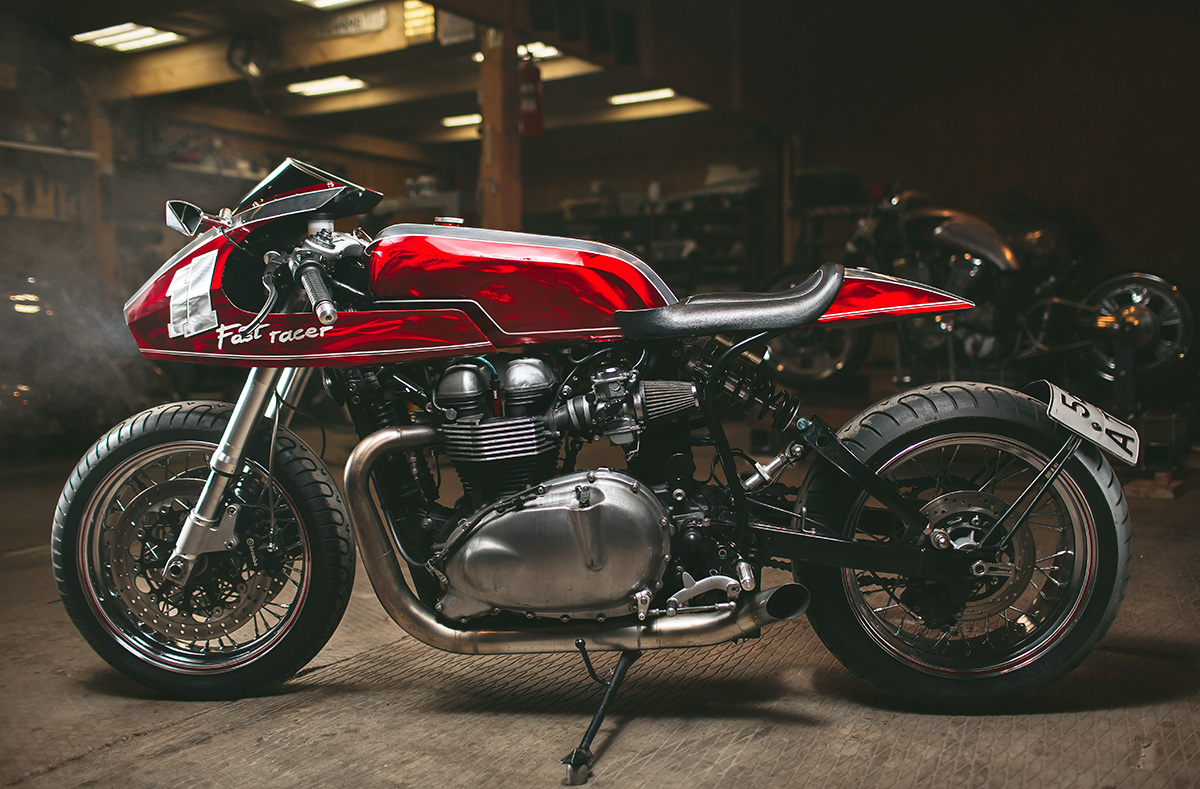 So it's looking good – but the Fast Racer is supposed to be exactly that. And anyone who's spent some time astride the air-cooled Bonneville range will know that their Achilles heel is their suspension. Made from what one Triumph rep told me was 'the cheapest steel known to man' the suspension set up means it's harsh, undersprung and over-dampened. The Fast Racer needed more.
Not being fans of doing things the easy way, TCD manufactured a completely new rear swingarm, a single shock cantilever assembly that offers a great deal more adjustment than the standard setup. At the front, the standard spindly forks have been replaced by vastly more capable Marzocchi USD units with Andreani cartridges.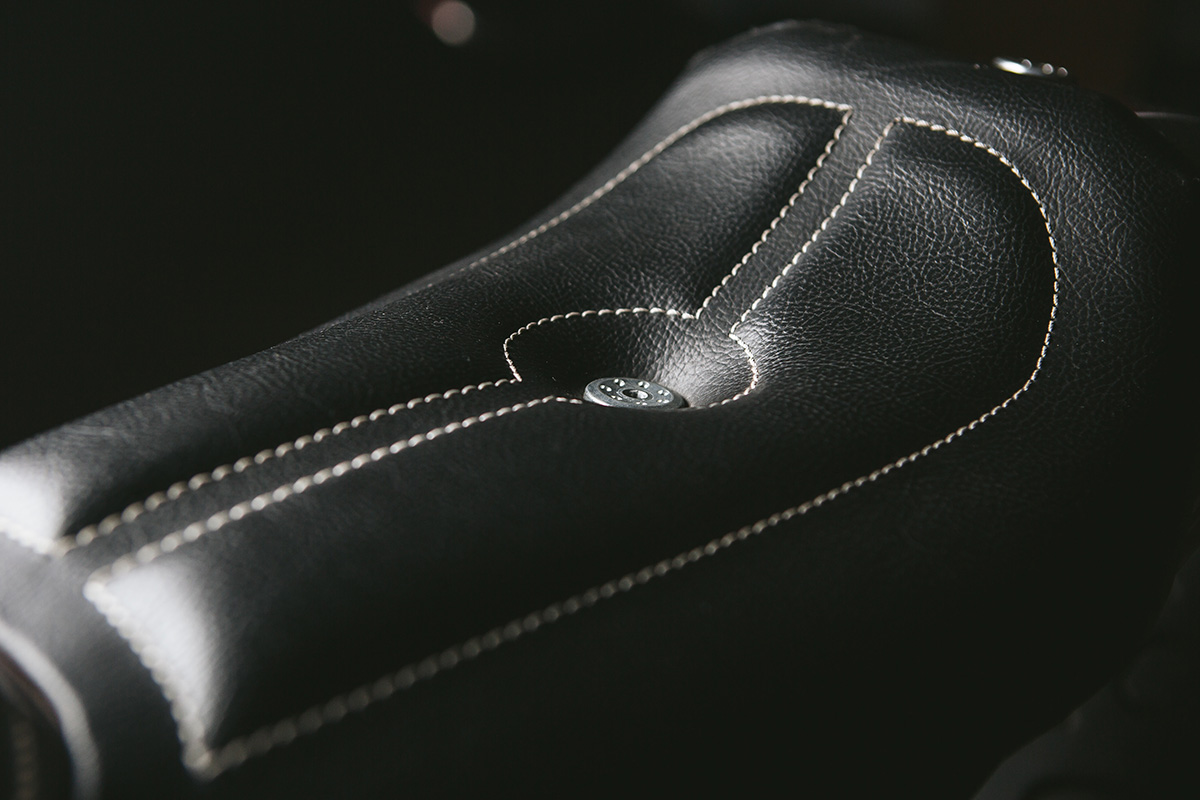 Pulling the Triumph Fast Racer to a halt are twin front 320mm discs and Brembo brake callipers mated to a 17" front rim. And that upgraded front is required because the Fast Racer benefits from a new power commander tune, a damn loud exhaust and some K&N filters. The dyno puts it at more than 70 horses at the rear wheel and more than 70Nm of torque. That's nothing to sneeze at.
TCD has proven again that they're a workshop to watch. The Fast Racer Thruxton 900 manages to be our favourite kind of build – it's shed a lot of weight, it looks damn good and it'll handle beautifully. If you're in the area, keep an eye out for a low-flying aircraft on the tracks around Moscow.
Story by Marlon Slack