What better way to kick off a new year of cafe racers than with a classic? This Triton cafe racer is the work of seasoned British bike expert and design engineer, Jim Hodges. It seems serendipitous that Jim's workshop, Team R&D Motorcycles, is located in the birthplace of cafe racer culture, the United Kingdom. But what is even more idyllic is his approach to building cafe racers. Jim and his colleagues have steadfast beliefs when it comes to how a cafe racer should look, perform and the parts it should use. What better way to demonstrate this than with their own featherbed framed, Triumph Trident powered, Triton cafe racer. Here, in Jim's own words, is the story of how this wonderful bike came to be…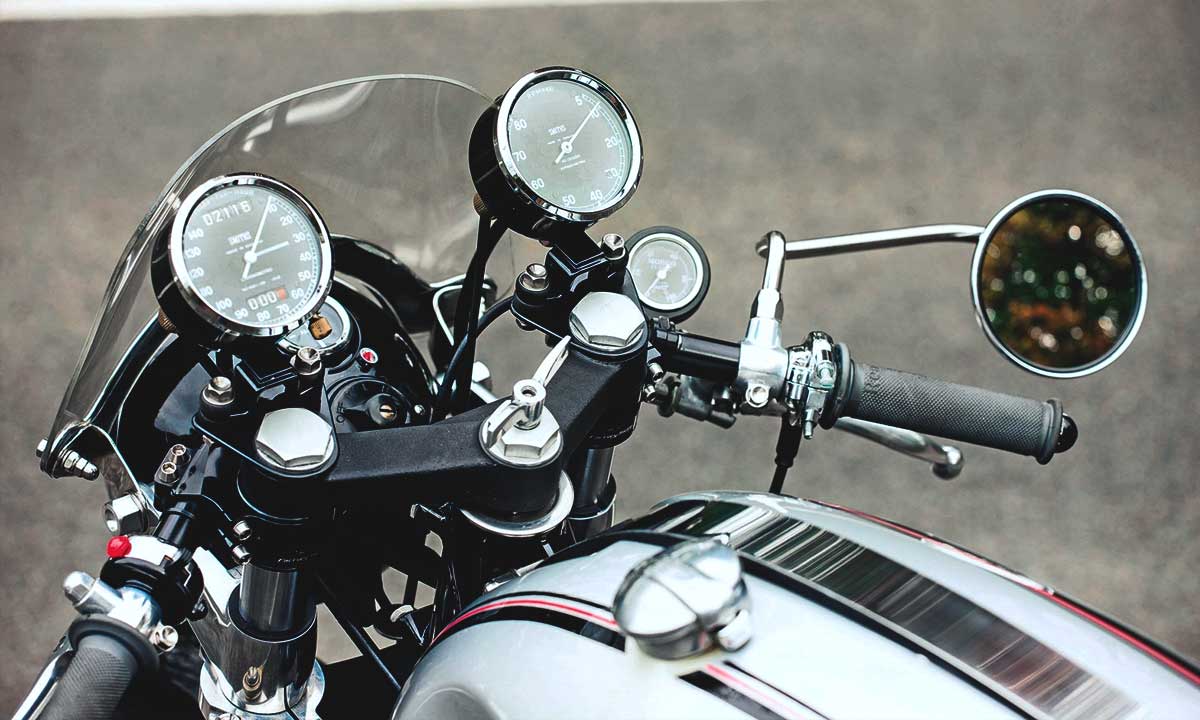 "There are three of us here in the workshop, and between us, there isn't much we cannot do on a bike." says Jim. "Geoff has specialized auto electrical skills second to none. I would pit him against anyone on this subject. He is also a fist rate mechanic. Bob has been in the industry for nearly 60 years and as you have guessed he is an old bastard. My background is in design engineering. I have been building bikes for 35 years. If I can't make something I normally design it and have it made, but this is rare.
Our bikes all have one thing in common which I believe sets us apart from our competition. All our bikes are thoroughly tested and ridden before the customer gets them back. They all work as they should, they start, do not leak oil and would pass any legitimate MOT. We strive to build them with the best materials and the latest technology on offer. I can, and do make bespoke parts as well as sourcing standard parts for restorations."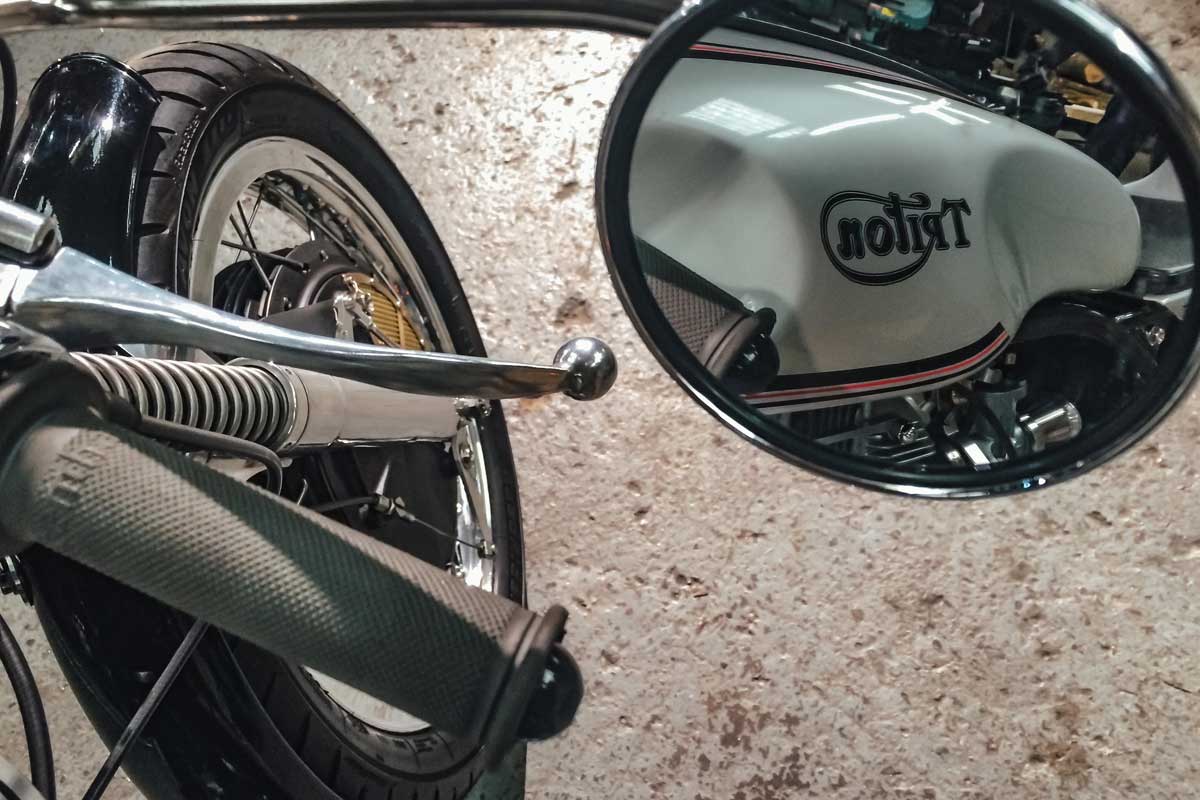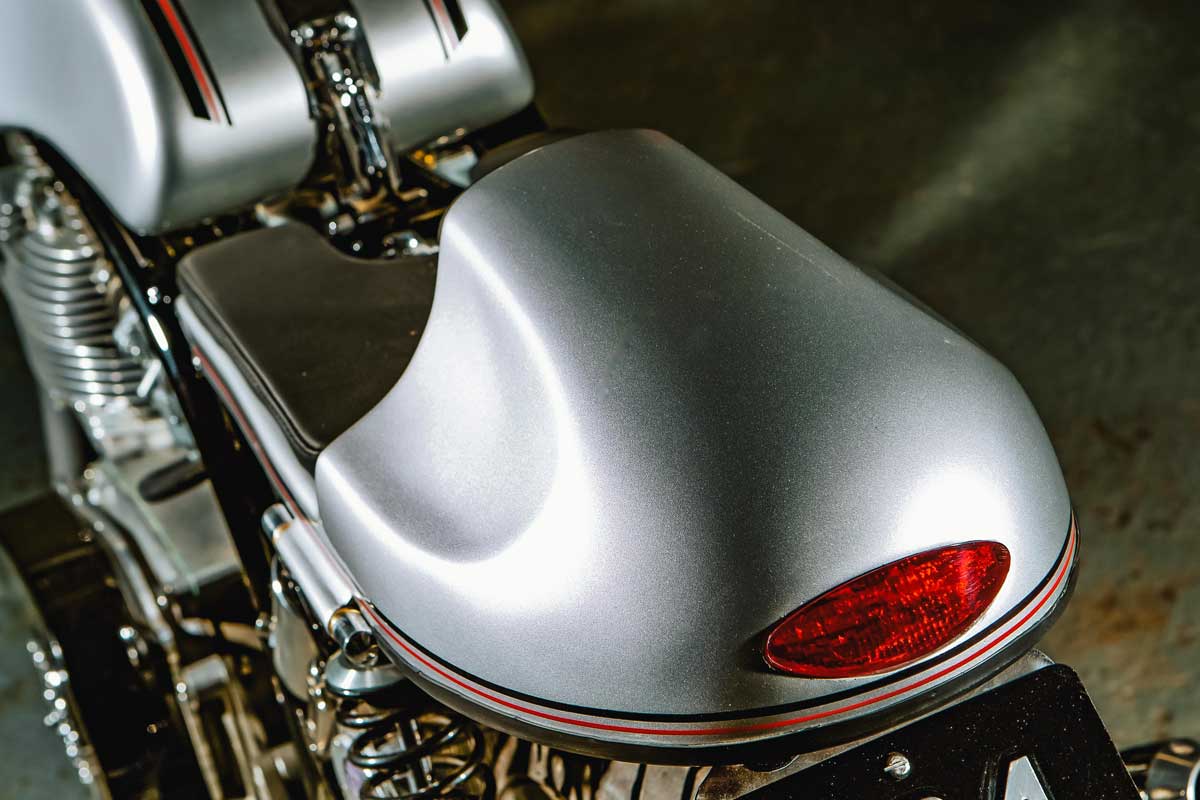 "I have built many Tritons and cafe racers for my customers. I've also repaired and made safe many cafe racers built by other people. I have always wanted one of my own and we as a team often discuss what a proper Triton cafe racer should have on it while completing customers projects. So I decided it was time to build my own.
The plan was simple. It was going to be a traditional Triton cafe racer with a slight twist. The slight twist was which engine I chose. A traditional Triton should really have a pre-unit Triumph engine. I happened to have a spare Triumph Trident T150 triple lying around and ended up using its crankcases and cylinder heads in this project".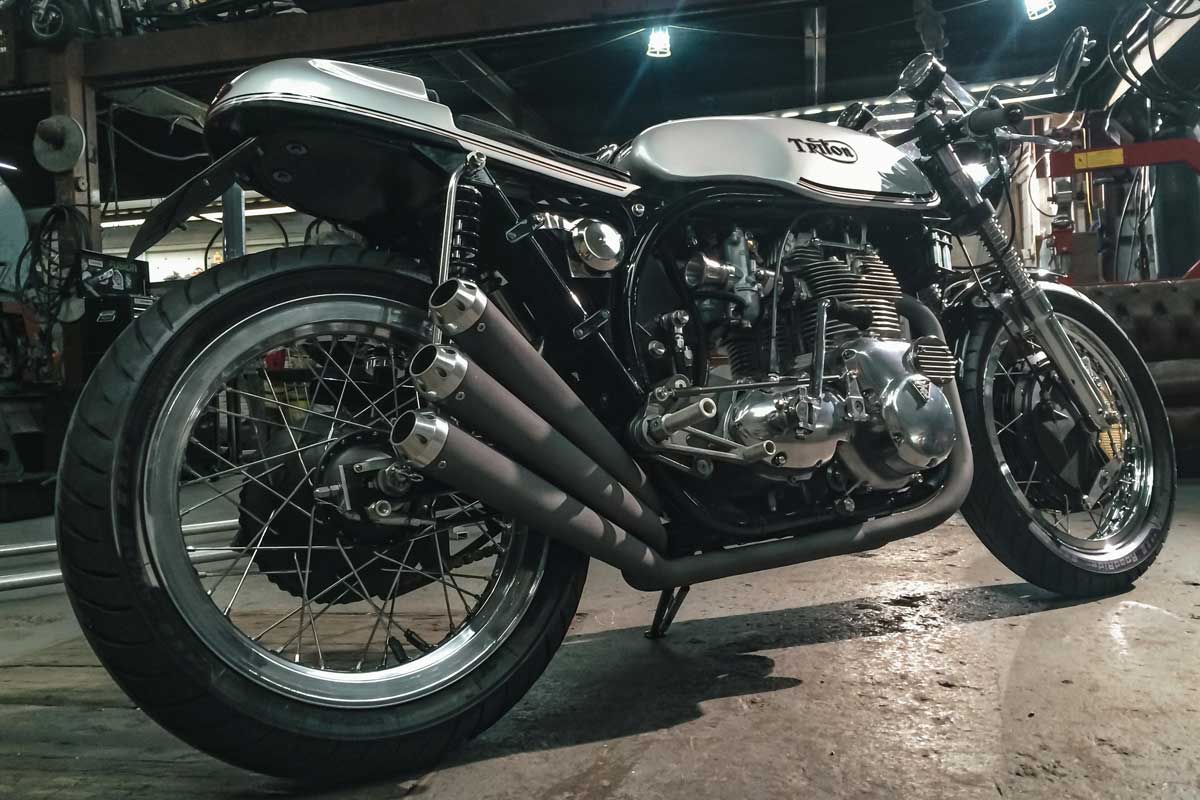 "To us, a Triton should have a Norton featherbed frame, a Triumph engine (hence the name) and it should run drum brakes and not disc brakes. This is for two reasons. Firstly disc brakes were not around in the '50s and '60s and visually they look totally wrong on a traditional Triton. Secondly, a disc brake set up on a 1950s frame would be in my opinion dangerous. Modern disk brakes will put undue stress on the featherbed's headstock which is very flimsy compared to headstock arrangement on a modern bike.
My Triton had to be quick and light, and it had to be safe, reliable, handle well and be good looking. In practical terms, lightness costs less than increasing horsepower. So I set about reducing weight on the engine by getting rid of the heavy clutch and chain drive system which weighed over 10Kg. The frame itself is a lightweight Manx Norton featherbed. The front and rear hubs are Magnesium alloy as are the yokes. The tanks and tail units are traditionally styled handmade aluminum items. The tail was shaped by the guys at Made in Metal using my own design."
"The motor itself is mildly tuned with Megacycle cams, 10:1 compression Omega pistons, Carrillo rods lightweight crank, uprated oil pump, dry clutch, and a belt drive. For the electrics, we went with central spark plugs head and a Pazon ignition. Gearing is handled by a Quaife 5 speed gearbox and three 30mm carbs feed the cylinders. All that and a set of billet alloy 850cc barrels resulted in a dyno figure of 80bhp at the wheel.
My Triton cafe racer sits on Maxton suspension and the front end is kept in check by an Ohlins steering damper. Virtually every single nut, bolt, and stud on this bike is bespoke. As was the black Zirotec coated 3-into-3 exhaust by the guys at Metal Malarkey. Other one-offs include the engine mounting plates, head steady, swing arm, and chain guard. Most of the wiring was routed internally with a lightweight Lithium battery powering it all. The speedo and taco are original Chronometric types and although they were a pain to get working they look period correct."
"All up the Triton took around eight months to complete in between other projects we had in the workshop. We built it from scratch and, as you'd expect, a few things changed along the way (I tried three different petrol tanks!). The shakedown period took around 250 miles to complete. This allowed us to sort out the many faults and foibles custom bikes like these always have fresh off the bench. Since then I've done around 3000, trouble-free miles on my Triton cafe racer. It has done the Isle of Man TT course umpteen times and taken part in a couple of track days as well. It's not a show bike, it is a serious piece of kit that does everything a good cafe racer is supposed to do."
Special thanks to Jim Hodges for sharing the story.
Photo credit for images 2 & 9 – MCN.