Yuri Shif, builder of the 2010 AMD World Championship winning bike "The Machine" has been rolling beautiful custom motorcycles out of his Shif Customs workshop since way back in 2006. Although the bulk of the custom motorcycles they piece together are Choppers this Triumph based Cafe Racer has got us excited.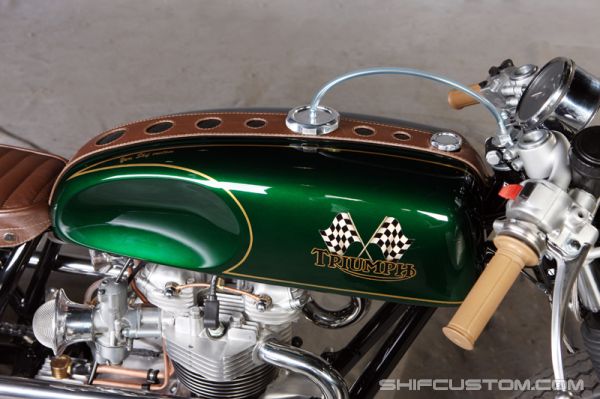 If the definition of a Cafe Racer could be summed up as "simplified" then Shif has hit the nail on the head withthis build. Everything on the Triumph Cafe Racer that could be done away with has been. The Triumphs spotless engine now sits unobstructed in the open frame, balanced between the polished "moon disc" style rims. All cables and wiring have been tucked away out of sight or cut down to the bare minimum lengths.
Rubber hoses have been replaced by copper piping and brass fixtures that create the sort of show winning finish you would expect from a builder like Yuri. Finally the tank and seat are finished in a metallic British Racing Green as a salute to the bikes origins with gold pin striping and tan leather to tie in with the copper and brass components.
Those muffler-less exhausts must sound outstanding when that lovely Triumph twin roars to life and although it's not what purists or perhaps the heavily performance focused builders would create, it's certainly a good looking Cafe Racer that would easily hold it's own out on the streets.