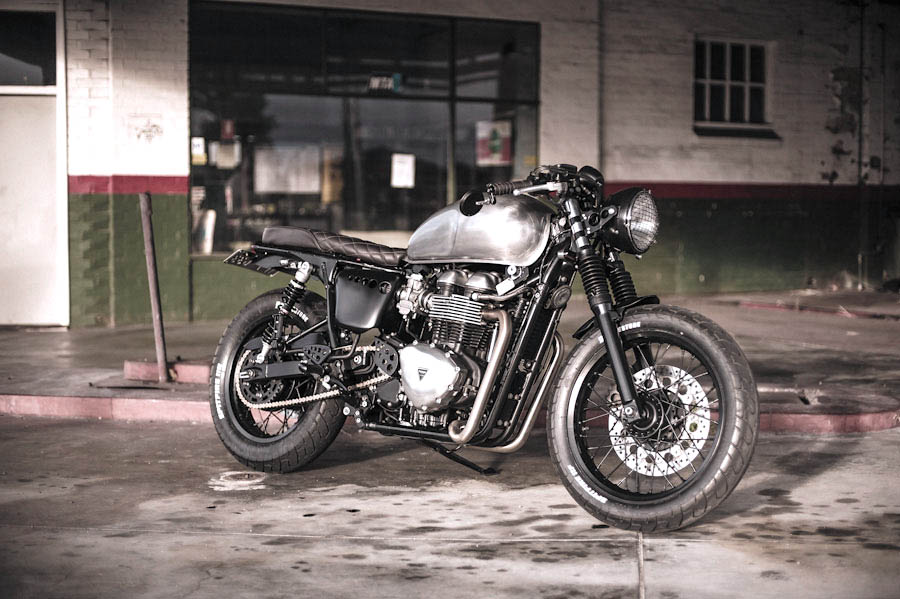 This week I headed back to my home town of Perth to celebrate my Gran's (or should Super Gran's) 100th birthday. It's always a bit of a shock coming back to Perth after living in the cramped confines of inner city Melbourne. At around 1.3 million Western Australia has one of the smallest populations of any Australian state, but ironically they also happen to have the most land. When I started writing about the Cafe Racer scene back in 2006 seeing a custom build out on the streets of Perth was a rare treat, but thankfully these days this isn't the case. This lovely custom Thruxton for instance is the latest work from Garage Project Motorcycles who teamed up with its owner Lee Draman, to create their "All killer, no filler" Cafe Racer.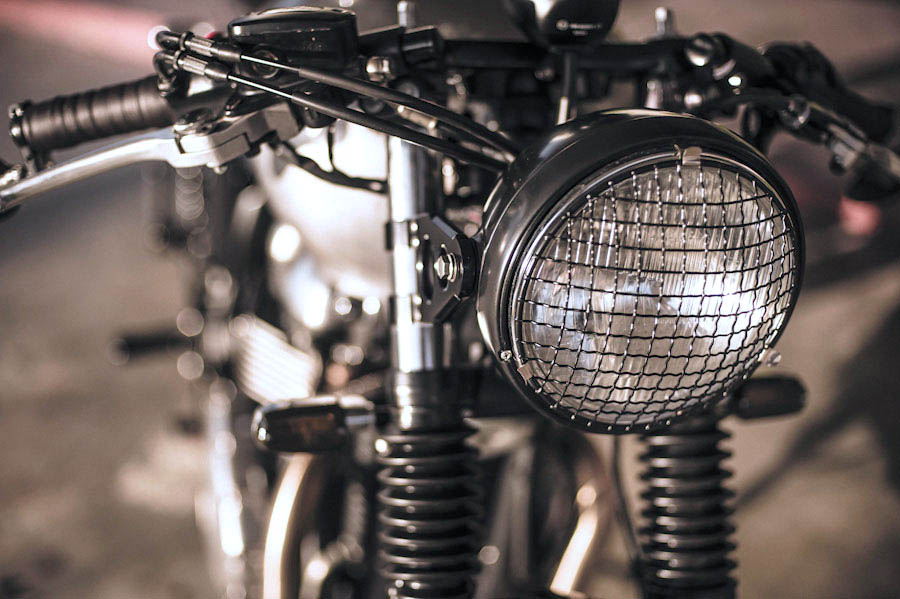 I had a chat with Lee and he was kind enough to answer a few questions about his bike to unveil the tasks undertaken to get it looking this good…
"I live in the inner northern suburbs of Perth quite close to the popular Leederville cafe strip. I'm 30 in August, I've been a fireman for the last 5 years and really enjoy the thrills that the job brings. I guess that's why I enjoy motorbikes and other thrill seeking activities. I started riding motorcycles about 4 years ago after finally freeing some time and money to get my licence. I've always been interested in motorcycles and one of my earliest memories is sitting on the back of my Dad's old Suzuki GS in the 80's. When I got my licence I knew I wasn't interested in the full faired super sport bikes most 20 something year olds are. I rode a Triumph Street Triple for about a year to get the hooligan out of my system, but always had my eye on the internet looking for a good custom build opportunity.When this low km, well priced Triumph Thruxton came up I jumped at it. I have a photo of my dad when he was about 21 living on Christmas Island sitting on an old Triumph and I thought it would be cool to do one up in my own style."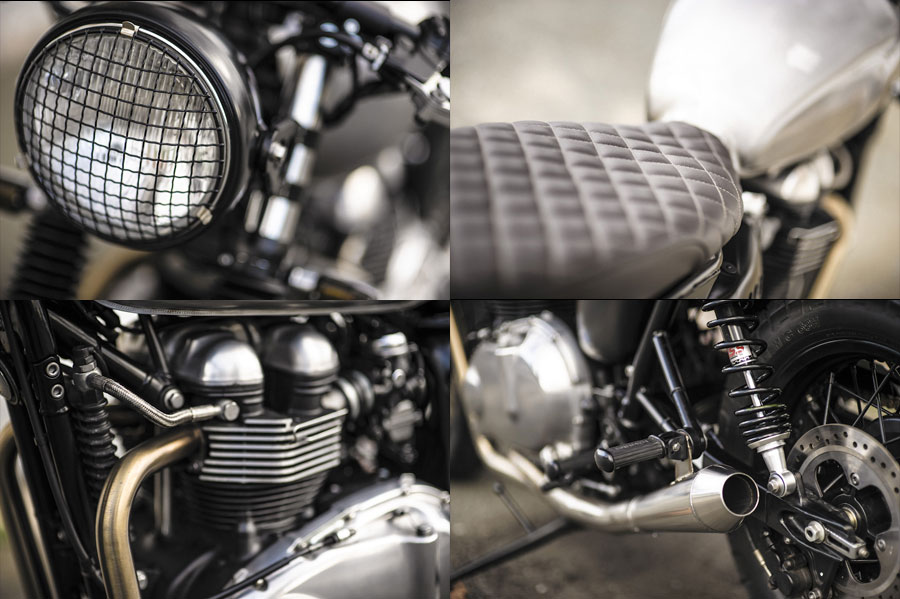 "I'm not very good on the tools. Anything I try to modify, adapt, fix or replace ends up worse than it started and I'm usually in a fiery rage. That's why i got onto Garage Project Motorcycles to take care of the build. I was impressed with their Kawasaki W650 "Shaken Fist" and the Honda CB350 "The Brat" and felt they would be able to convert my ideas into reality.
Inspiration for the build came mainly from my love of raw materials. I love the look and feel of steel and leather and they work really well together. I was looking at many custom Cafe Racer builds but couldn't help think I would be too big and heavy on those stripped down, sometimes petite bikes. So being 6'2 and well built I wanted something that looked strong and muscular and had an angry edge to it."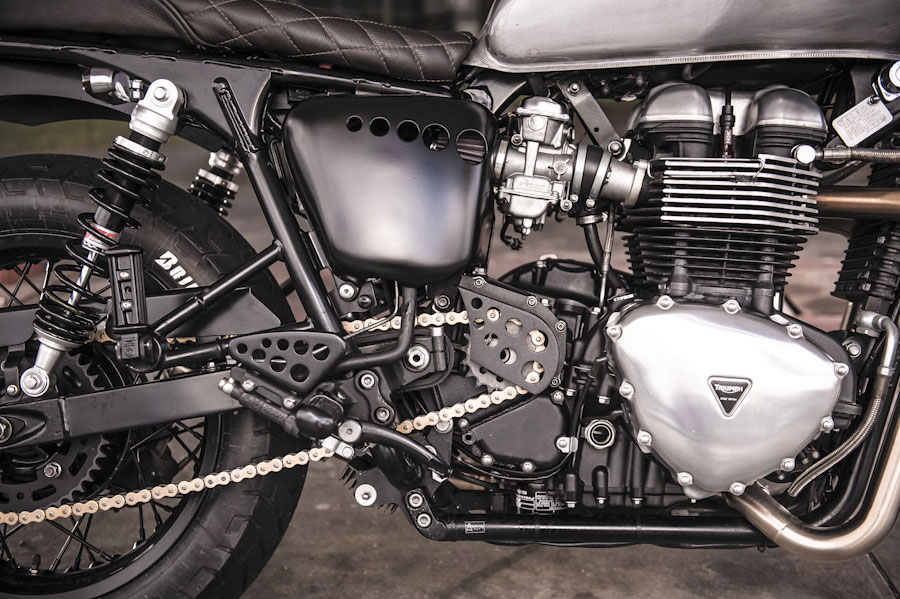 "The build itself went pretty smooth. I had a strong vision of what I wanted the main components to look like so it was actually the smaller bits and pieces that I worked on with Brad from GPM to get the right look. Originally I wanted to re-lace of the wheels and an open frame look but the price of the work and customisation was just a bit out of my budget. It turns out the powder coated rims look better than i expected and i wouldn't change them for anything now. The tank i wanted in raw steel so i bought an old Yamaha RD350 tank and had it stripped back and scallops cut into it. I loved the result but it just didn't look or sit right on the Triumph frame. So that got ditched and the original tank was stripped back to the steel and brushed, leaving some grinder buzz marks on it to give it a tougher, less refined look. I went to a local furniture supplier and spent an hour looking through their off-cuts to find exactly the right colour and grain of leather for the seat."
"The long twin exhausts had to go as they were too heavy and too elegant looking. Now I have a sawn-off shotgun for an exhaust and the header pipes have turned an awesome shade of gold! The bullet style brake light was used instead of the slim led unit I had to avoid "taking the piss" in Brad's words when it came to the rear fender. I wanted the K&N filters to be seen so Brad came up with the idea of the consecutive drill holes to match the sprocket cover, rear sets and  headlight ears."
"I couldn't justify the cost of a Motogadget unit I liked so I went with the Acewell gauge. It's massively functional and helps clean up the top of the bike. Brad had to modify the triple tree to seat the gauge and to clean up the holes where the risers went for the old "M bars". The suspension is still at standard height to give the aggressive angle over the woodcraft clip ons."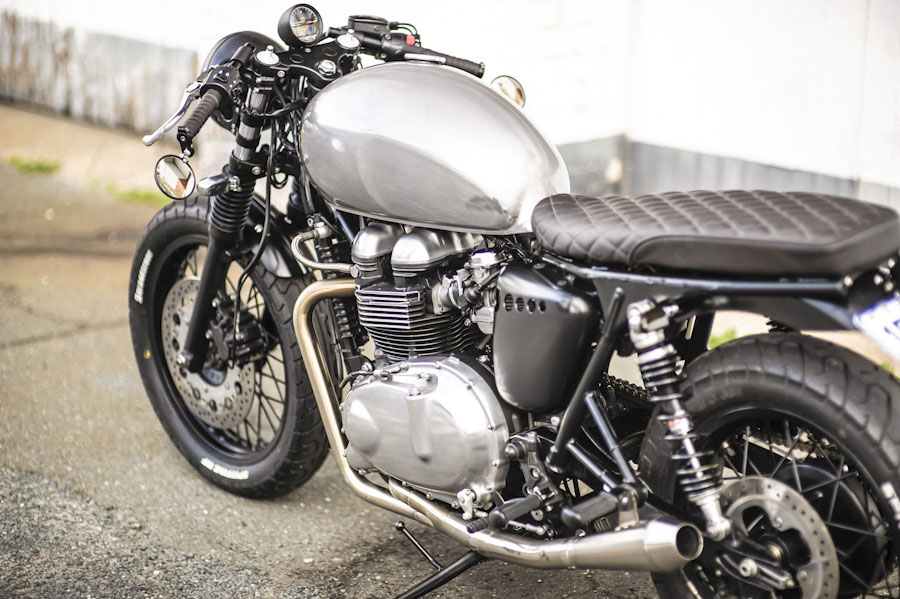 "The name came about as i think the character of John McClane matches the bike perfectly. There's an air of enforcement about it. He's strong, rough around the edges, a bit obnoxious and stubborn – a real man's man. a true action hero unlike the tarted up James Bond. I like to think of John McClanes character as "All killer, no filler" just like this bike."