"So, Kevin Dunworth of LGC and I ran into each other for the first time at Thor Drake's The One Motorcycle Show up in Portland back in February. After I checked into the hotel, I oriented myself and figured out how to walk to the space where the show was setting up and poked around. There wasn't shit going on, so disappointed I headed back to the hotel where I ran into my buddy Scott Toepfer. We made plans to meet up at the Doug Fir for a cold one, and best as I can recall that's where Kev and I met for the first time. He was super-friendly, and easy to talk to, and made me feel good about my decision to come out West. Kev and I ended up hanging out most of the weekend, which was cool with me. The guy is a walking encyclopedia on bikes, and I dug it. I had a great time with Kev, and learned a lot about bike builds, and felt like I had a pretty solid friend in him. I remember us throwing some ideas around about collaborating on a bike build together (after a few beers, I might add…), but at that point, it was just talking. Knowing how goddam busy I am right now, and the fact that I suck at keeping in touch, it could've easily all fallen apart once I got back home. So, I decided to buck-up for once, and see if we couldn't do this. Kev is a super cool guy and the idea of collaborating with him, and how easily the whole thing came together, felt like a gift from above."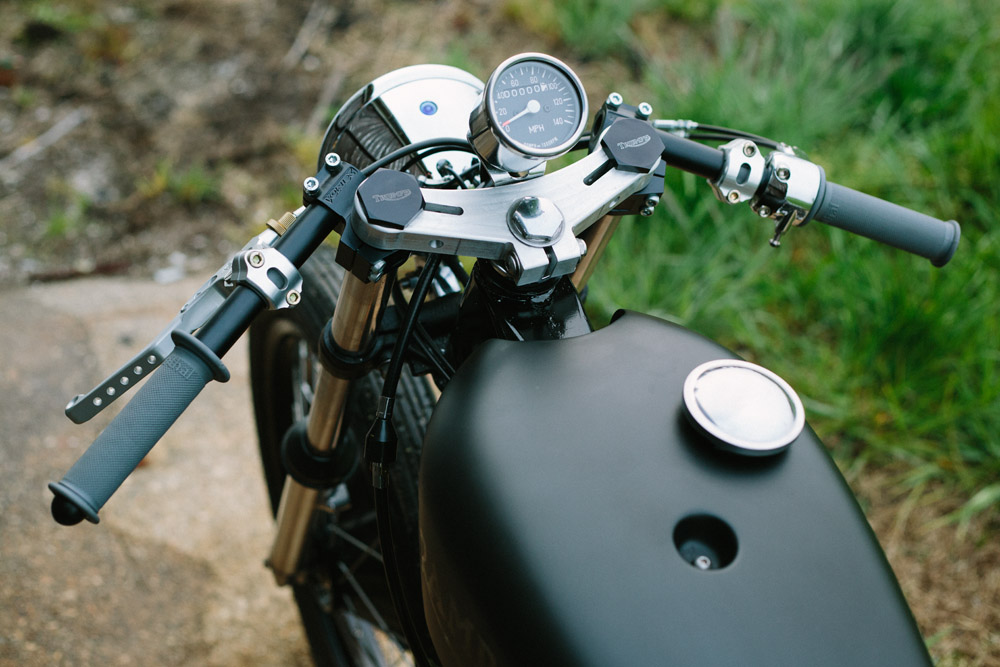 "Not long after I'd gotten back home from the show, I saw a pic on Instagram that Kev posted, and I had this gut feeling that the build was really going to happen. He was piecing together a black OIF Triumph with parts from around the shop, and damn if it didn't speak to me instantly. This would be my bike. It was not much more than the frame, seat, bottom end, and wheels at that point, but the vision definitely was there. I'd be lying if I didn't say that I became obsessed with her right away— looking at those tiny Instagram pics over and over. I posted a couple of comments on the pics—"I like it!" quickly became something like, "This bike is KILLIN' me." We began a little running dialogue going back and forth on Instagram and email, and Kev reached out to me for some black selvedge denim for a little tool bag he wanted to make for the bike. I knew I could make that happen for him, and while we were on the phone talking about the denim, I jumped in with, "So the bike, how much would something like that cost?" Once the words left my mouth there was no turning back. Kev and I both knew the deal, and agreed to finish the final design of the bike together, and do what we had talked about back in Portland."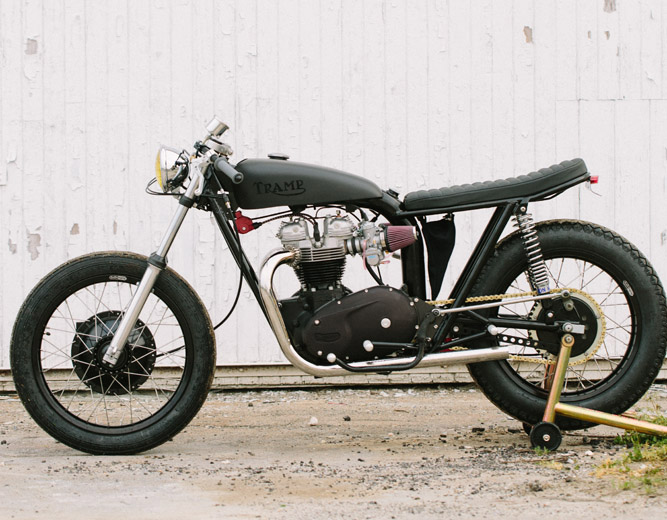 "The old 1950's Triumph Blackbirds hold a special place in my heart, and this bike felt like a modern manifestation that I'd had in my head for so long. I loved that it was a mix of old and new. The old OIF frame, the skinny Trackmaster tank, the 5-speed racing bottom end with the '69 head, the black anodised Sun wheels with Avon rubber, the long drag pipes, it was fucking beautiful. This was my Blackbird finally coming to life. It was a tough lil' street tracker, and a true tramp at heart, in the best Charlie Chaplin sense. So, I officially christened her the "Tramp" and we worked with Kev's striper, Jason Wharton, on the lettering design. Flat black tank with gloss black lettering was the direction so that it would have a cool contrast while being sleek and sexy. Having Jason's hand-painted strokes in the "Tramp" lettering was an old school detail we knew we wanted. Kev and I also knew that an old Bonnie tank (this one painted gloss black) would be needed as well if I wanted to go further than barhopping around town. I spent a couple of days at Kev's shop so that other details like pegs, covers, headlight, etc. could come together quickly, and it did because a good 90% + of the design was already there. The headlight was the final detail. I wanted to keep it all chrome, instead of blacking out the cover. I saw it as a shiny piece of jewellery amongst all the black, and in the end, we all love how it stands out."
"This "Tramp", that was born between Kev and me, will be by my side for the rest of my life. I'm still scratching my head at how one drunk-ass night in Portland led to the perfect bike. It was just too unreal how in-sync we were on the design details, and I couldn't be happier, or prouder for that matter, of our lil' "Tramp". I thank my brother Kev, and my friend Scotty Toepfer, for flying down on the redeye to photograph her. It's seriously like a Goddamn dream come true that I never saw coming."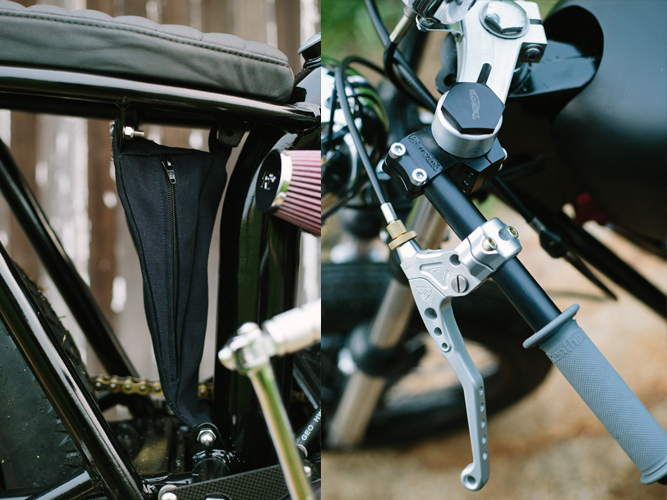 JP and Kev unveiled the Tramp to an approving crowd at the issue 9 release of Iron & Air magazine last month in NYC. The bike has also made an appearance on the pages of I&A issue 9 with more great images by photographer Scott Topher. To wrap up the story of the Tramp I've included a full list of the work done on the bike below (thanks Kev!). Be sure to head over to both the Selvedge Yard and Loaded Gun Customs websites to treat your eyes to more cool content and awesome custom bike builds.
'TRAMP' TECH SPECS
Year/Make/Model: '73 Triumph Bonneville
Build time: 3 Months by Loaded Gun Customs
Engine: Triumph T120V with Twin Mikuni and a JRC Engineering Side Drags Chrome exhaust
Transmission: Hand Sanded Stock 5 Speed
Frame: OIF Triumph with Triumph forks and Hagon HD shocks
Wheels: Front 19″/rear 18″ Conical laced Sun Rim With Stainless Spokes both wrapped in Avon rubber
Brakes: Front and rear drum with hand made levers one inch longer than stock a drilled ventilation
Fuel Tank: Track Master replica
Handlebars: Vortex Aluminum Clip-ons
Lighting: Bates Chrome headlight and LED Cat Eye taillight
Hand Controls: Aluminum Joker Machine with Renthal Moto GP grips
Electrical: Custom Harness by LGC with Pazon Ignition and Andrews Coil
Painter: Kevin Dunworth with graphics by Jason Wharton
Upholstery: Lances Top
Selvedge Denim Bag Fabrication: Nancy Dunworth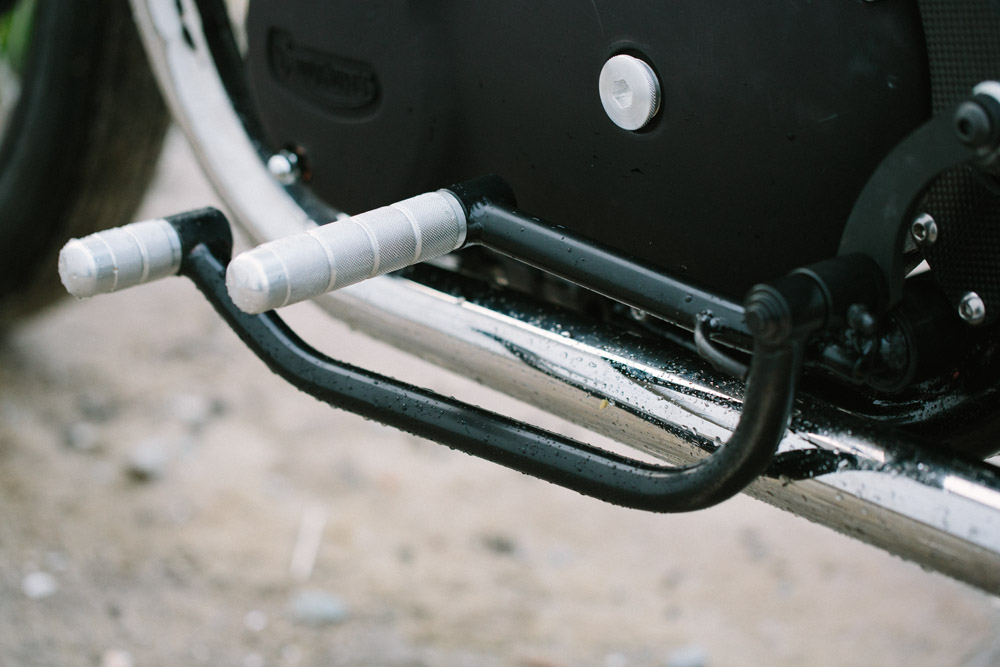 The Selvedge Yard     Loaded Gun Customs
Images by Scott Toepher
Special thanks from Kevin: Thanks to my Wife Erin for understanding all the time I spend on the road and in the Shop, My father Dave for his tool handling skills, Phil Miller (M&J Racing) for final tuning our bikes, Donwan Harrell at PRPS for providing the Selvedge Denim, all my friends and fans for always supporting me. And Brett and JP for giving the opportunity to be part of this amazing experience….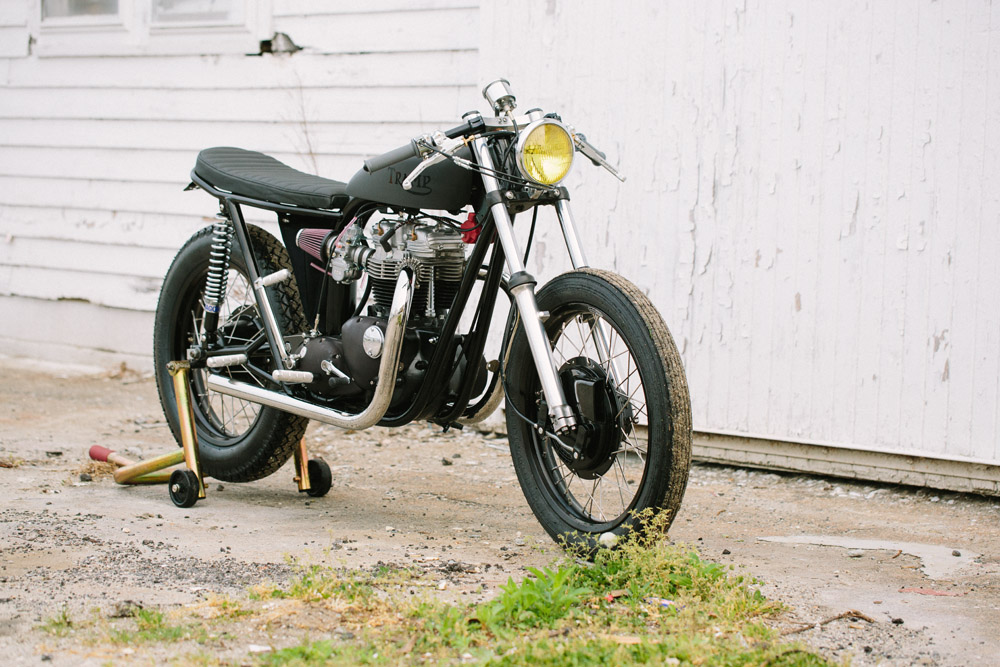 Great things happen when talented people cross paths and beers get drunk. In this particular instance I'm referring to Jon Patrick, the man behind The Selvedge Yard and Kevin Dunworth owner of one of my favourite custom workshops, Loaded Gun Customs. Together the two have combined their ideas to create the Blackbird "Tramp", a heavily modified '73 OIF Triumph Bonneville which I have been given the honour of revealing here on the blog. Rather than giving you the usual technical build breakdown I asked JP to fill us in on how the bike came together to which he replied…