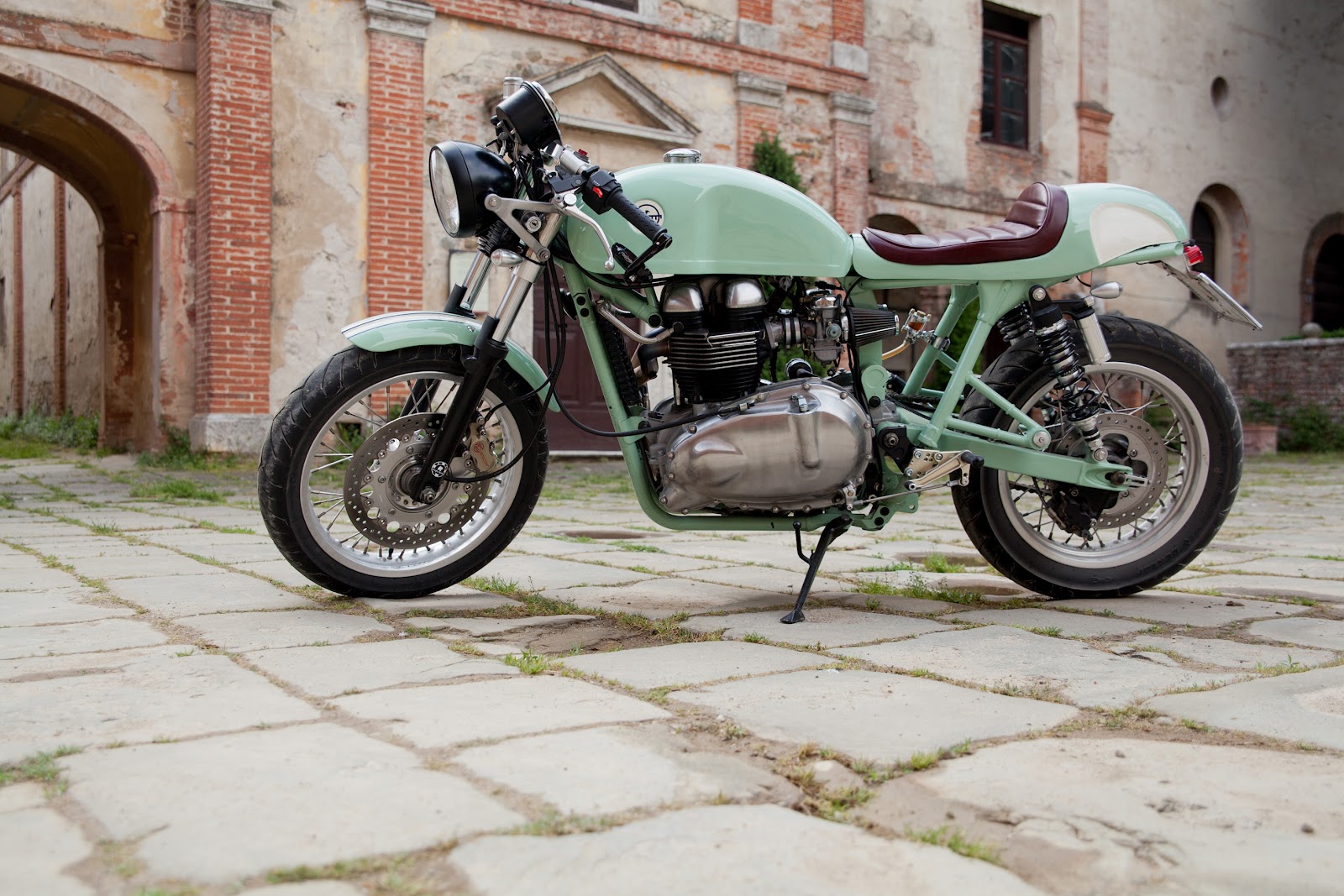 On the back of the release of Cafe Twins short film "
Milonga
" I've got an exclusive look at the star of the film, their custom Hinckley Triumph Bonneville. Cafe Twin team member Enrica is the lovely red haired rider seen in the film and she sent me these great photos of the bike and details of its build. The Cafe Racer was customised in house by Cafe Twin using parts available through their website and some custom work completed by their skilled team.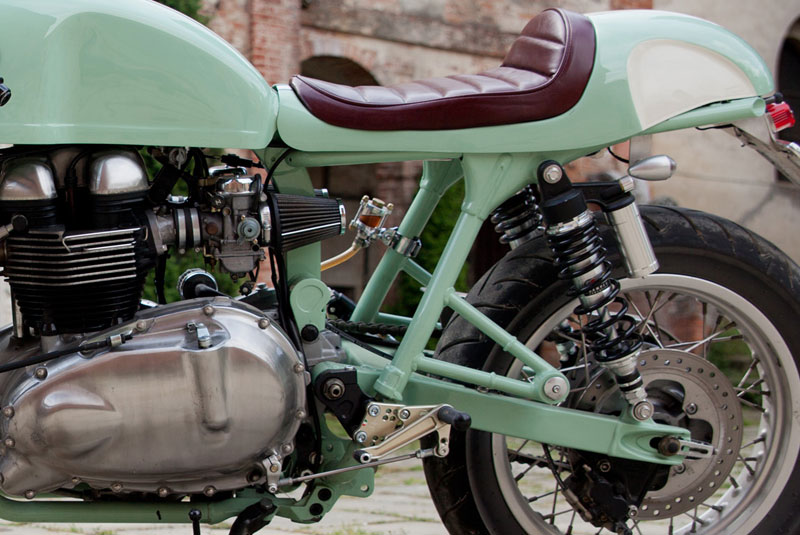 The Milonga Bonneville uses a custom tank and seat combination developed exclusively by Cafe Twin. The tank which is originally from a Benelli Mohave 360, has been reengineered to allow it to be used as a bolt on modification. The rear loop of the frame required some cutting to better suit the shortened rear cowl and the saddle, finished in beautiful dark brown leather was covered in house.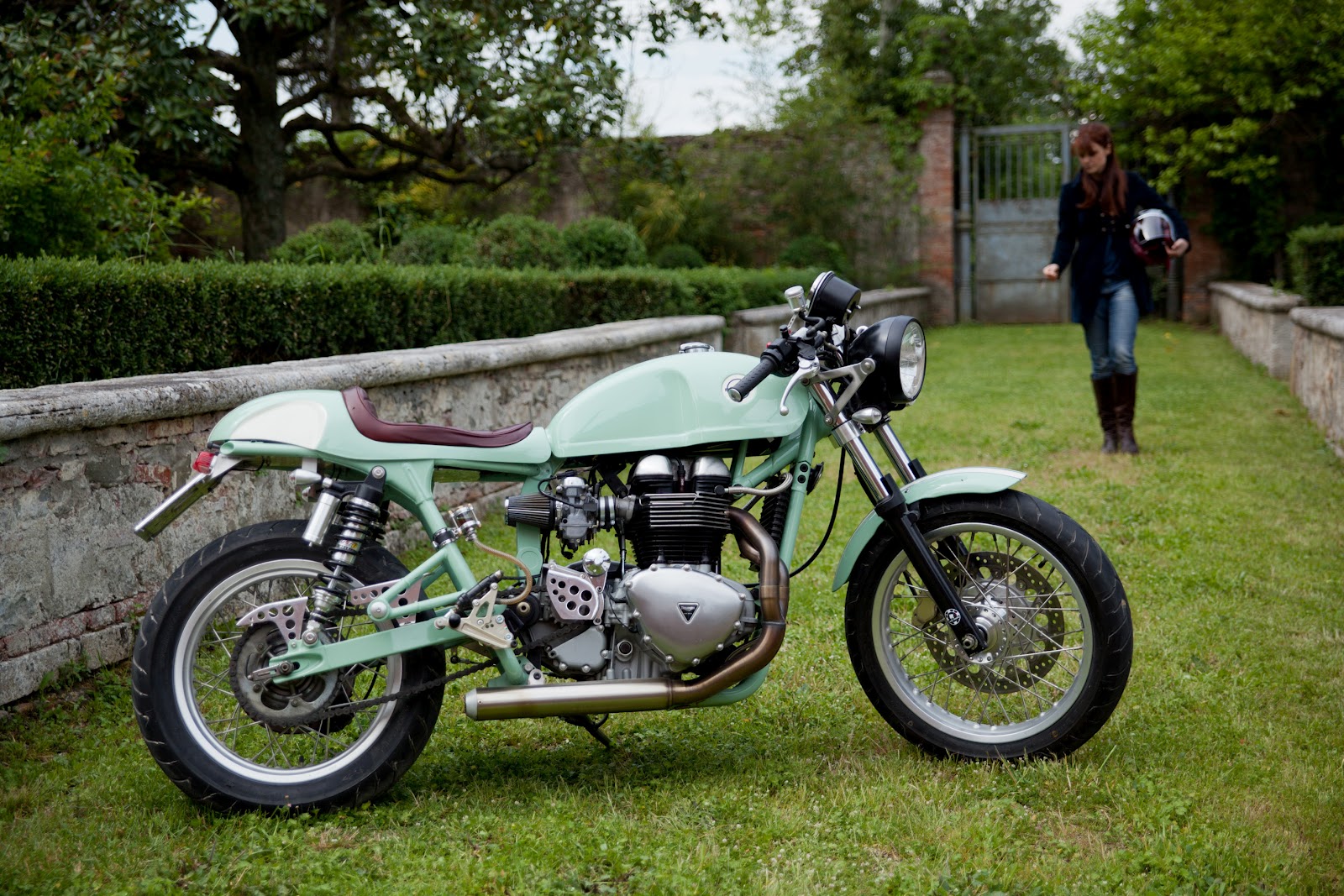 All of the Triumphs electrics have been relocated to beneath the seat helping to open up the frame and expose the carbs for increased air flow. The bikes handling was upgraded using adjustable Bitubo cartridge fork springs with custom made triple clamps and a set of Gazi Suspension Hyper X, nitrogen charged shocks on the rear. Stopping power has also received an upgrade with a set of Discacciata brakes on the rear with a very cool LC Fabrication vintage look brake reservoir.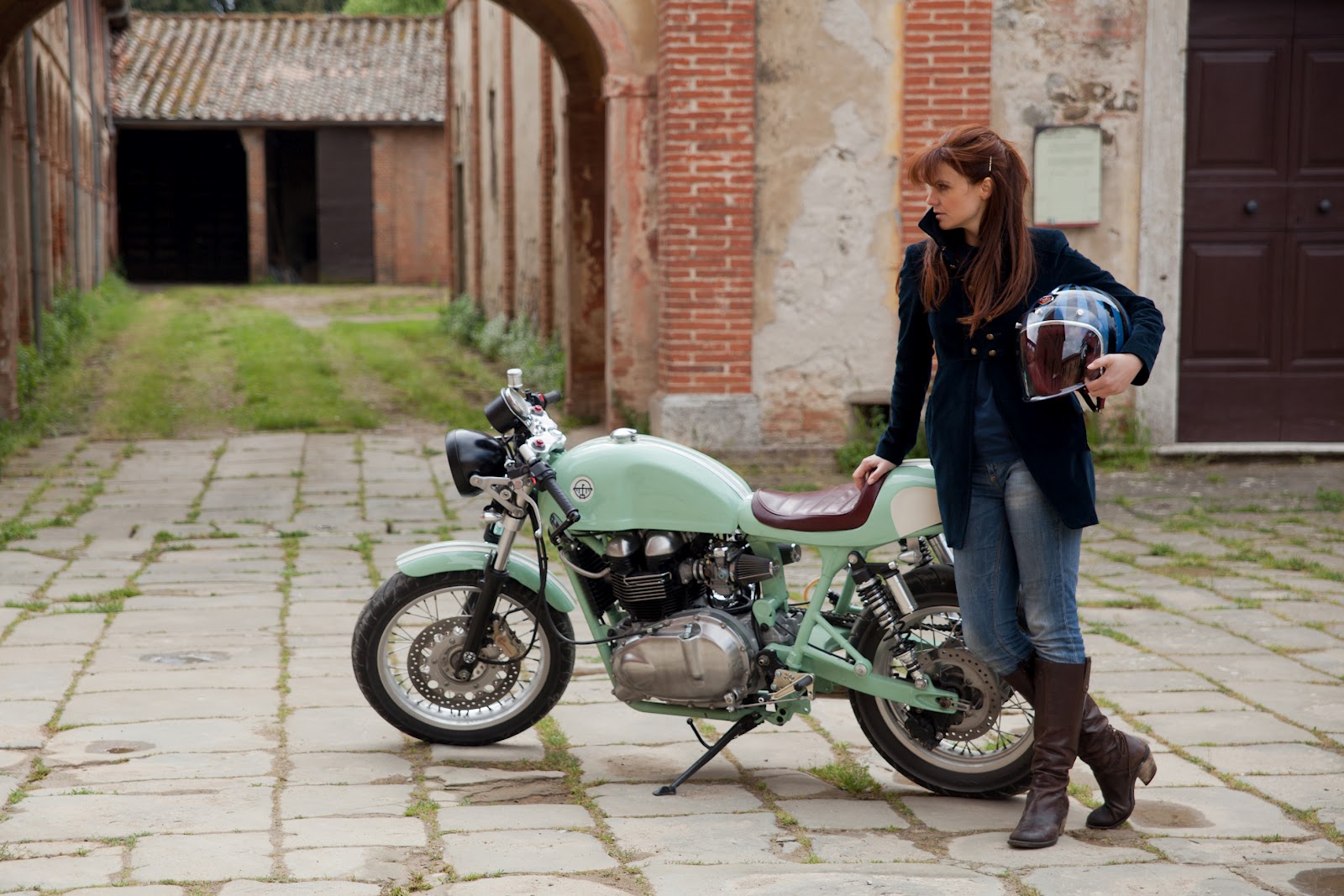 The full list of modifications for the Milonga Triumph Bonneville is extensive to say the least but some of the stand out parts include: a Zard 2-into-1 hi flow exhaust system, Discacciata rear sets, full custom lighting and mounting hardware, shortened front and rear aluminium fenders and the MAS engineering drilled chain guard.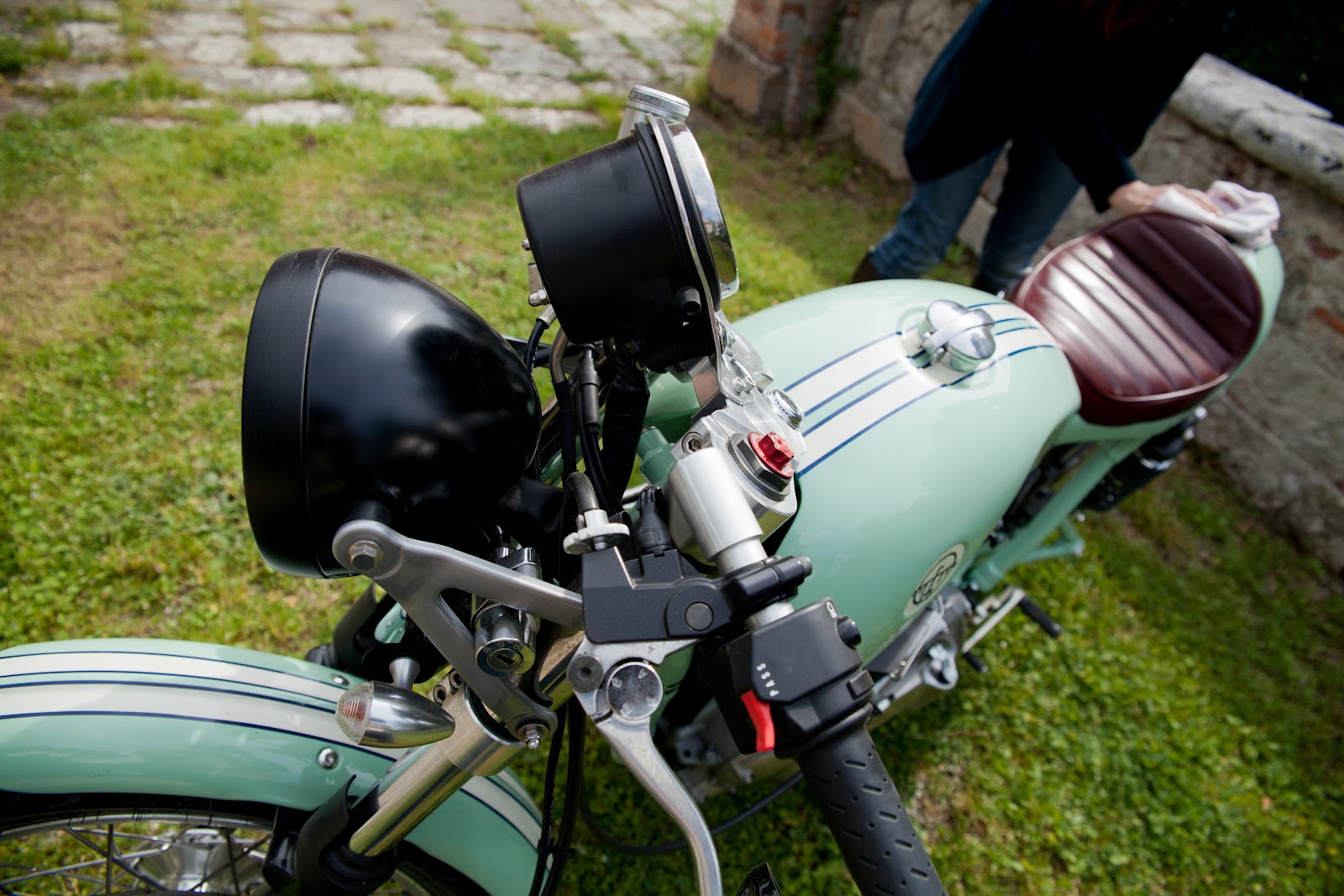 It would be impossible to feature this bike without commenting on it'spaintwork. The pale green is a Piaggio colour that you'd find on the 3 wheeled Piaggio Ape of the sixties. The twin, white racing stripes run the full length of the bodywork and an American Indian Thunderbird emblem requested by the bikes owner completes the look. It's a paint scheme that's going to raise a few eyebrows amongst Triumph lovers but I'm sure there will be plenty of riders who approve of it.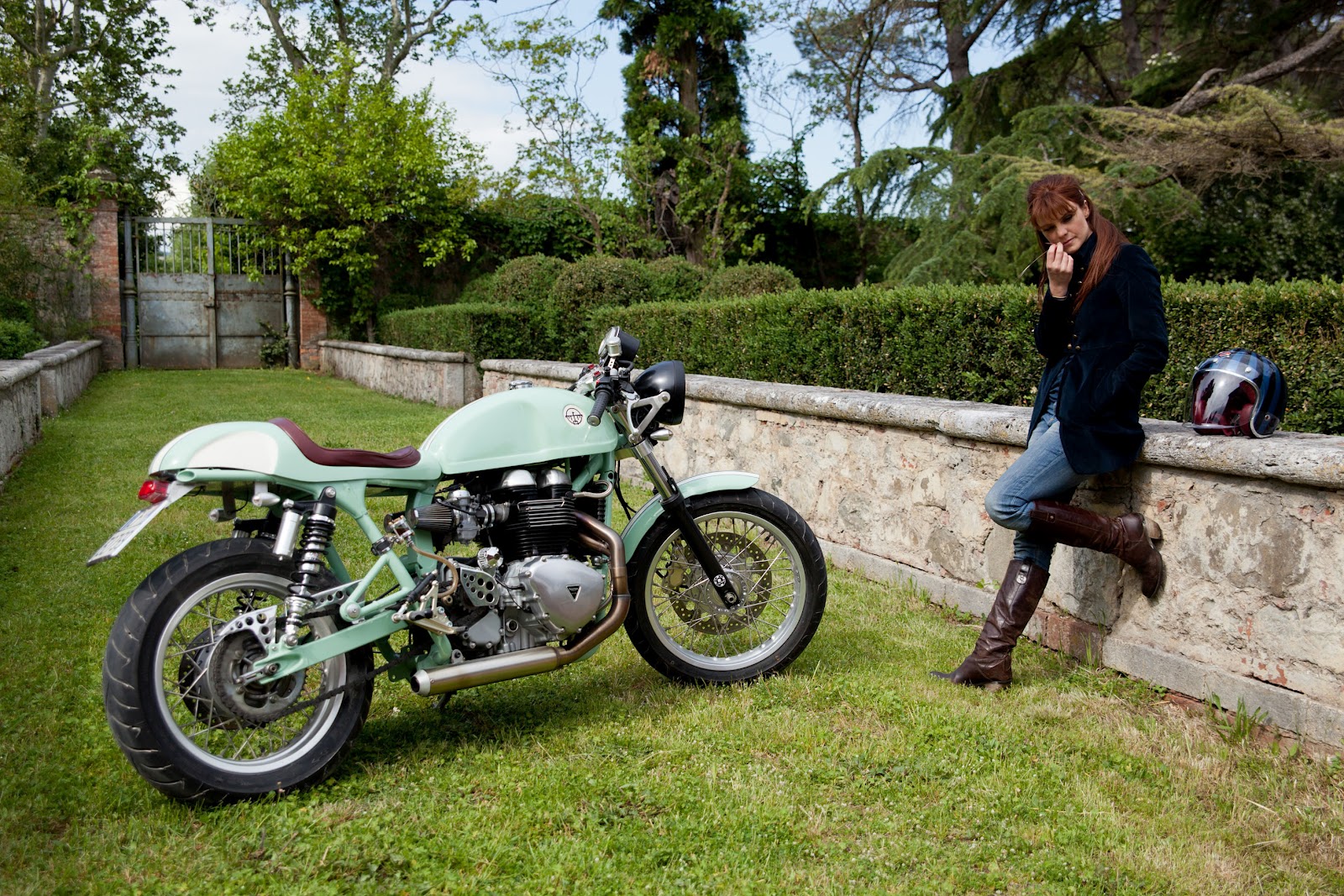 Cafe Twin specialise in custom parts and conversions for the modern Triumph Bonnevilles, Thruxtons, and Scamblers but also stock a range of parts for all types of classic bikes. All of the parts on the Milonga Cafe Racer can be purchase through the Cafe Twin website or ordered direct.
A big thanks to Enrica for sharing the story and these great photos.