Jesse Bassett has been operating 'The GasBox' workshop in Cleveland, Ohio since early 2009. As a seasoned workshop mechanic of over 20 years he's got all the skills it takes to piece together a reliable classic ride, however, it's Jesses' eye for detail and his personal aesthetic that's really impressive. Clean, simple and beautifully executed builds are what you'll find in his custom portfolio and this incredible 1959 Triton Cafe Racer is one of his latest. Hand-formed bodywork and a perfectly smoothed Norton featherbed frame wrapped around a beautifully restored '59 Triumph Bonneville motor. It's one of the best Tritons to grace the pages of this website.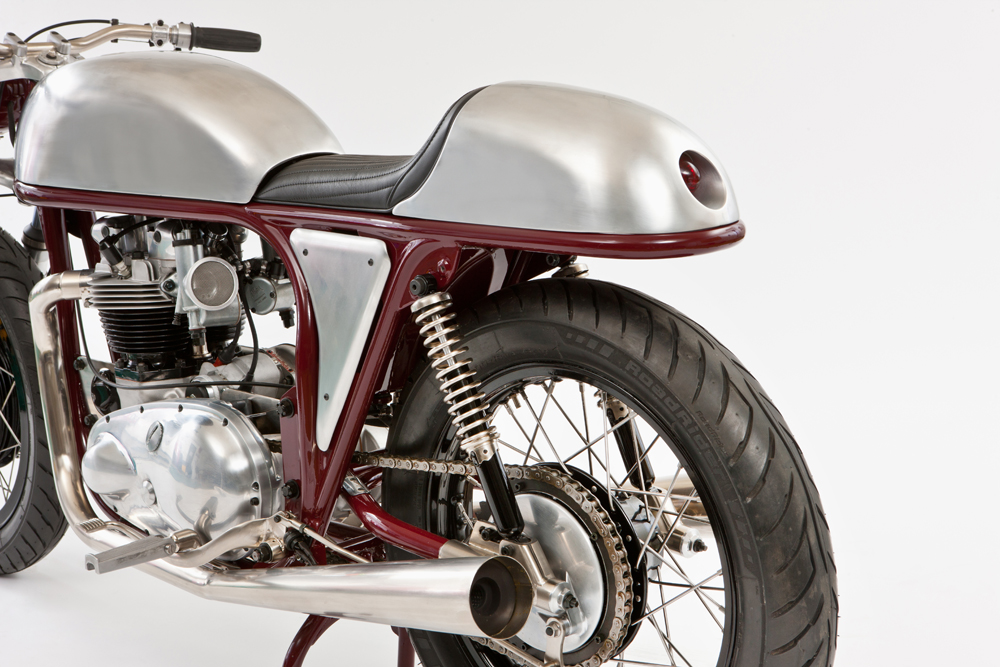 Along with his 2 employees Tim and Gorb they completed the Triton in February of this year just in time for Thor Drake's' One Motorcycle Show' in Portland. Commissioned by a GasBox customer the Triton was made to be a "period correct" Cafe Racer. The engine and frame had already been decided upon and the only request from the owner was that the bike wasn't to be a "cookie cutter" Triton. With this in mind Jesse set about creating his own vision of a late 50's Cafe Racer using original vintage parts and his own hand-fabricated bodywork.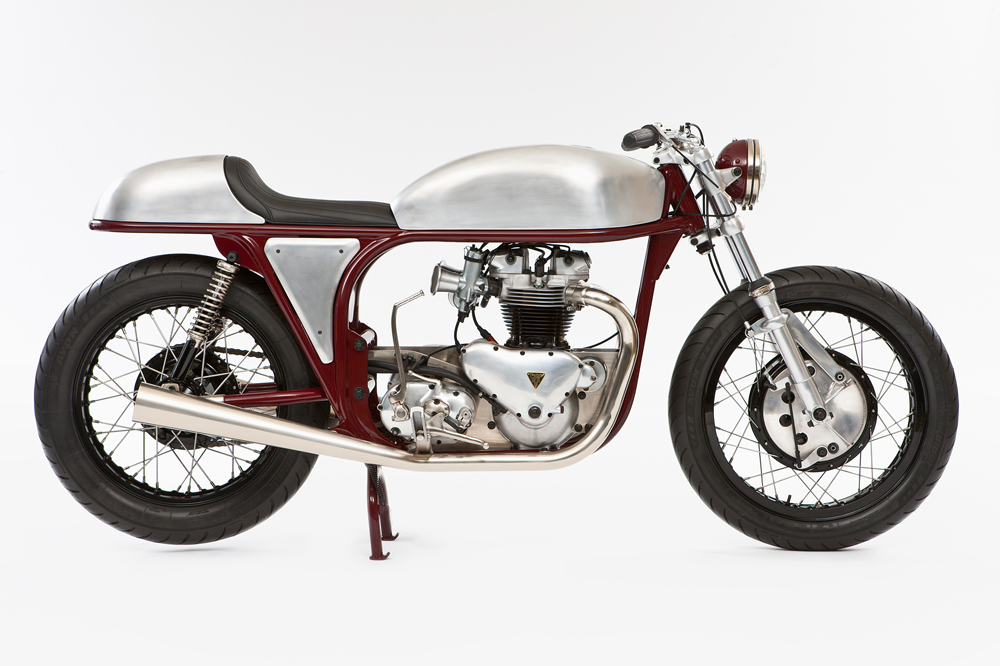 The engine itself is the first of the Bonneville motors. A 650cc pre-unit number that was rebuilt and restored to look and run like new. Next the slimline Norton featherbed underwent some minor modifications. In the rear it was chopped and stretched a few inches and all of the welds were smoothed prior to repainting it red to ensure it stood out as a key feature of the build. A custom made oil tank was then constructed and mounted beneath the seat, hidden behind hand-formed aluminium side panels shaped to match the curves of the frame perfectly.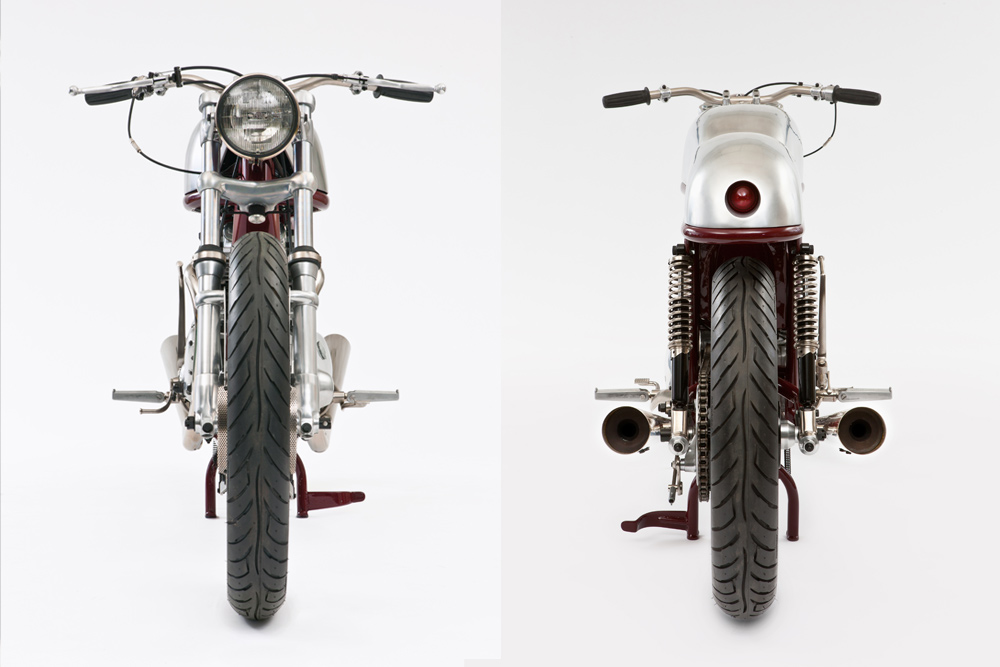 A new swing arm was put together using an early Ducati design they modified and fabricated to match the featherbeds dimensions. For suspension a set of refurbished, Italian made forks from Ceriani were added along with a pair of matching shocks for the rear. A Ceriani 4 leading shoe, magnesium drum brake was also sourced and laced to the front rim. For the exhaust Jesses and his team wanted clean lines so constructed 2 single piece pipes incorporating mufflers and headers and smoothing all of their welds out.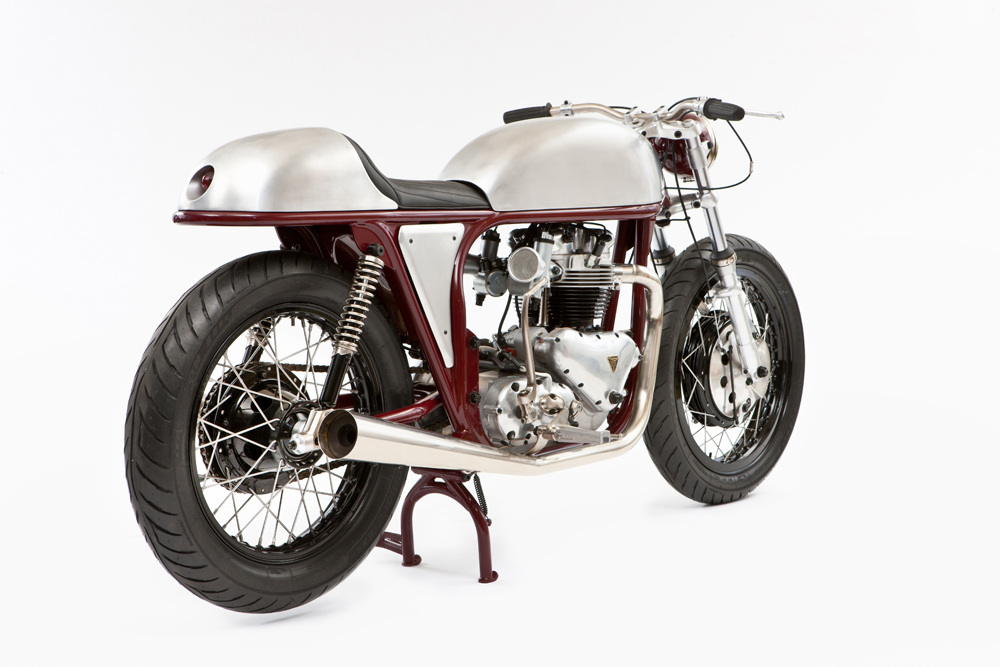 The tank and tail sections were constructed by hand forming more aluminium sheet. Every angle and line is designed to compliment the lines of the featherbed frame and finished with a light brushing. In the rear a single taillight has been set into the cowl and the minimal wiring loom and electrical components are hidden away inside. While the handlebars may not be the clip-ons most would expect to see on a Cafe Racer they have the right look for the era and provide a more forgiving riding position for the bike's proud owner. The finishing touch came from Jesse's good friends and hot rod building extraordinaire 'Union Speed and Style' who upholstered the beautifully shaped and mounted black leather seat.