En route to the tropical paradise that is Bali, the average Joe would be looking forward to lazing on the beach, drinking cheap cocktails and buying bargain-priced fashion rip-offs. For yours truly though the best that Bali has to offer is its awesome custom motorcycle workshops. Sure you could just make a b-line for the Deus Ex Machina 'Temple of Enthusiasm' (off Canguu beach) and rub shoulders with Bali's in crowd, but there's another, more grass roots workshop that never fails to disappoint. Nicko Eigert's 'Smoked Garage' may not offer the live music or cocktail selection you'll find at Deus, but what you will find is a warm welcome, plenty of Indo style coffee, and some of the best motorcycle eye candy on the island. For their latest project Nicko and his team transformed a modern Triumph Daytona into a carbon covered, cafe inspired road racer, and in typical Smoked style they've pulled out all the stops.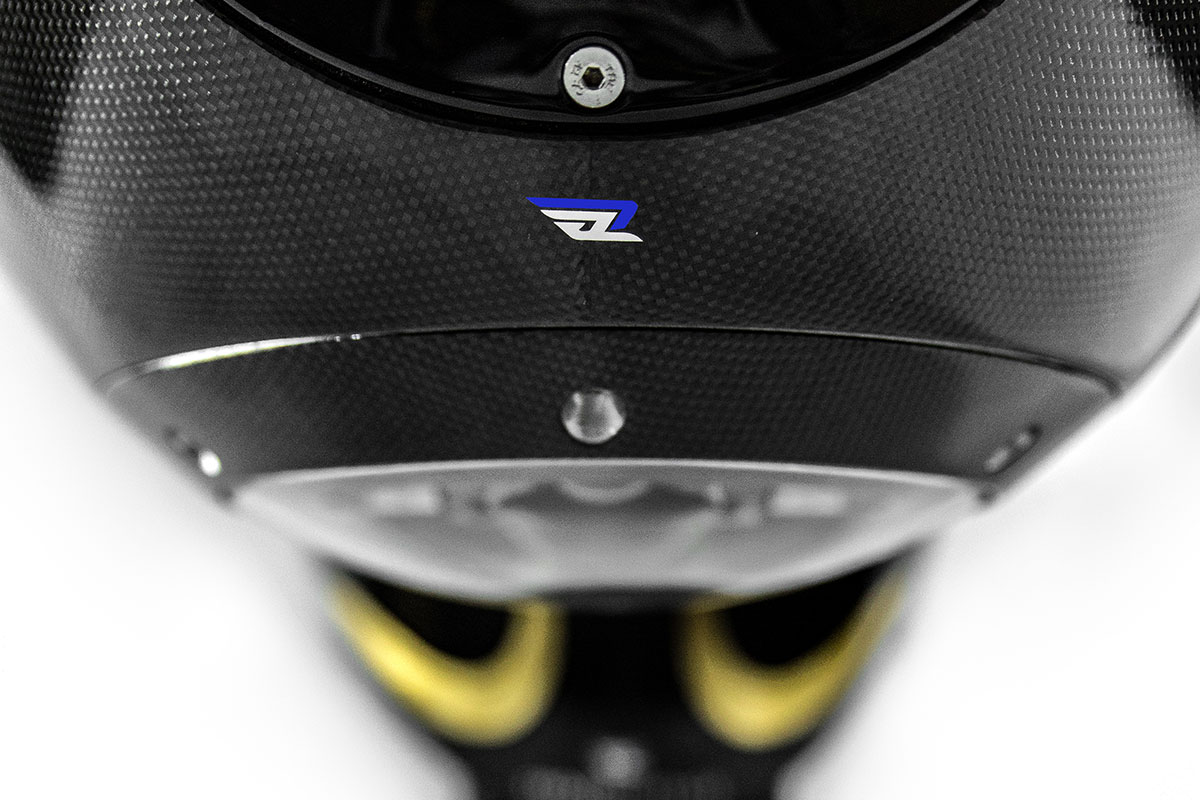 "It all started when my good friend Maruli Tampubolon came to the workshop and asked us to build his dream bike." says Nicko. "He always wanted a sports bike but hated the futuristic look of the modern bikes on offer." With a 2014 Triumph Daytona 675 R ready to go Nicko suggested they give the bike a classic racer overhaul with a twist.
The idea was to play with the bike's proportions to give the impression of having an extended swingarm without making any changes that would affect handling. So, to kick things off the Smoked team stripped away the Daytona's factory bodywork and trimmed the subframe down. The modified subframe was then wrapped in a carbon fiber shell to house the Daytona's electrics and a small battery. Since Maruli didn't require any passenger room the new seat only has room one, leaving the rear wheel fully exposed to create their extended rear look.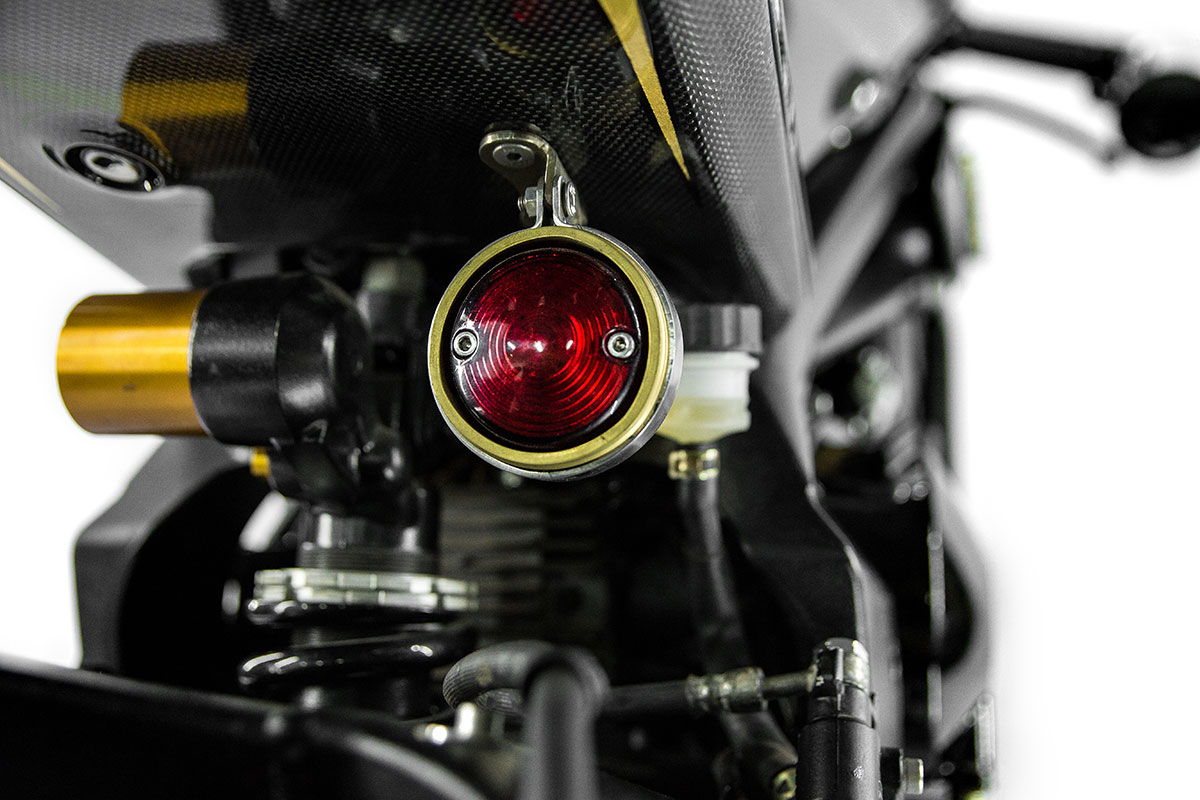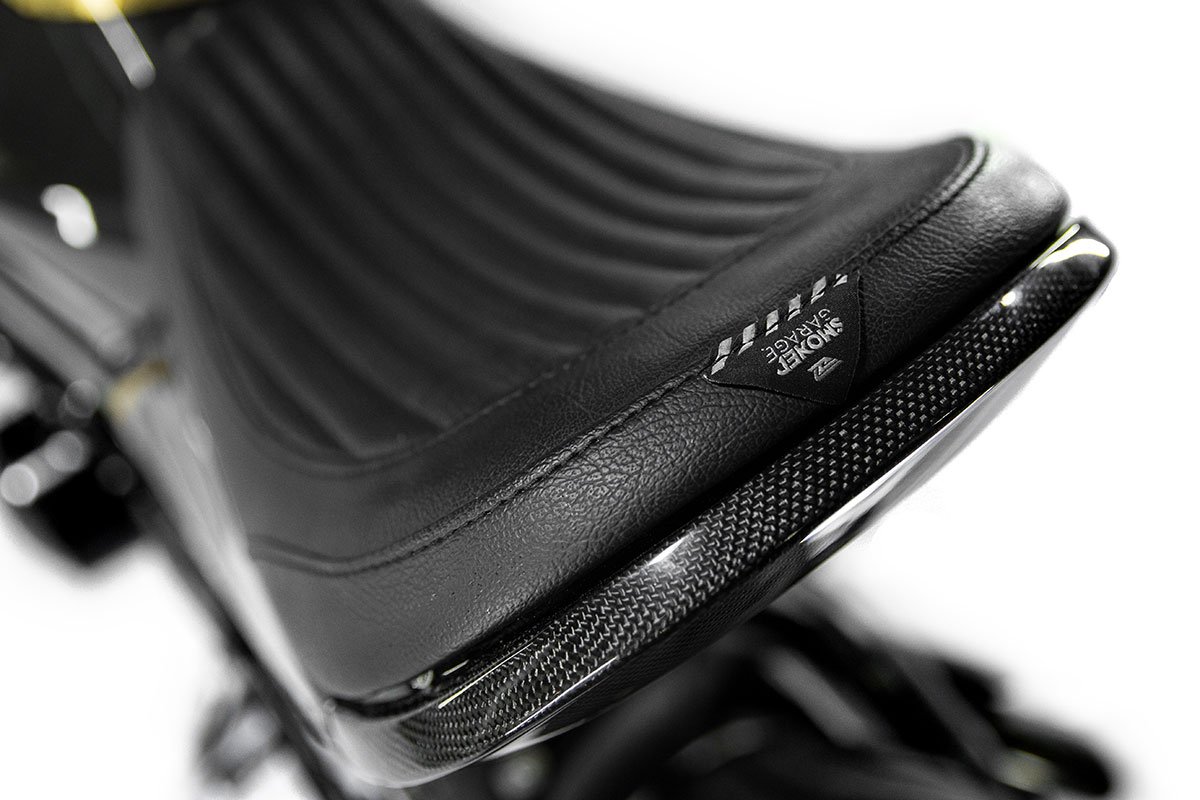 With the rear sorted attention was turned to the front end where they installed a retro carbon fiber half fairing. The choice to go with carbon was both functional and aesthetic since weight reduction was a top priority and Maruli had requested a black colour scheme. The use of carbon fiber continued with the fabrication of a new front fender and a shroud to cover the sides of the bike's radiator. When it came to the fuel tank making an entirely new version from carbon wasn't an option so instead, they used the factory tank as a buck to create a carbon fiber cover.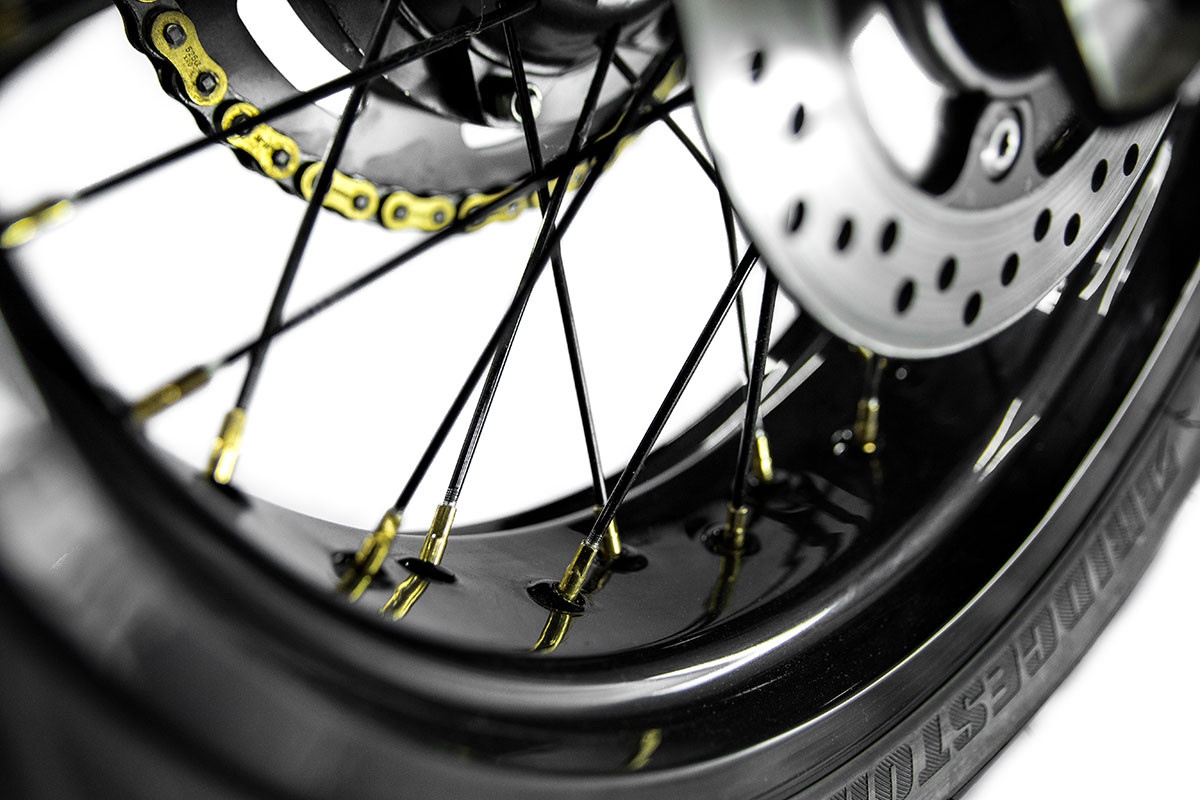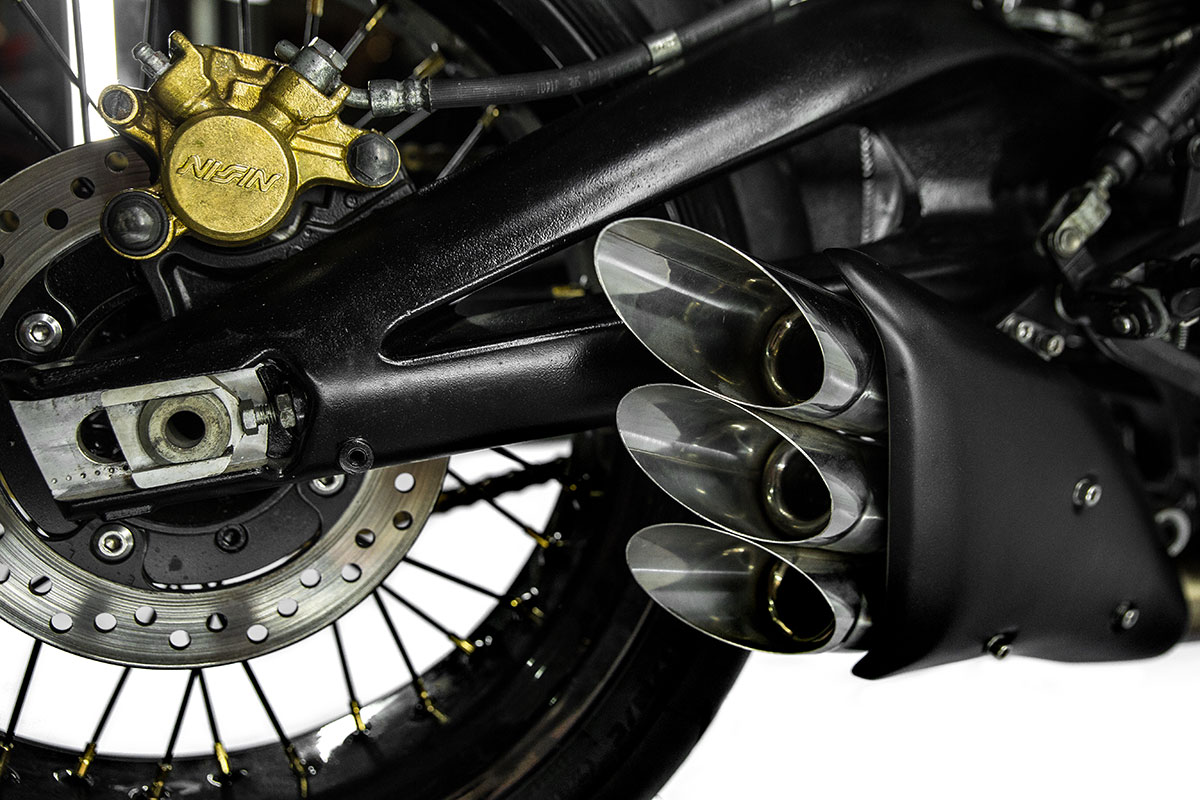 Since no one really uses their indicators in Bali, the Daytona wears only bar end units from Motogadget. The tail light is an aftermarket vintage style part that's mounted off-center beneath the tail to avoid road grime. The headlight, however, is a distinctly modern halogen set up that'll sufficiently illuminate Bali's poorly lit roads. Motogadget was also called upon to supply the bike's grips, switches and speedometer.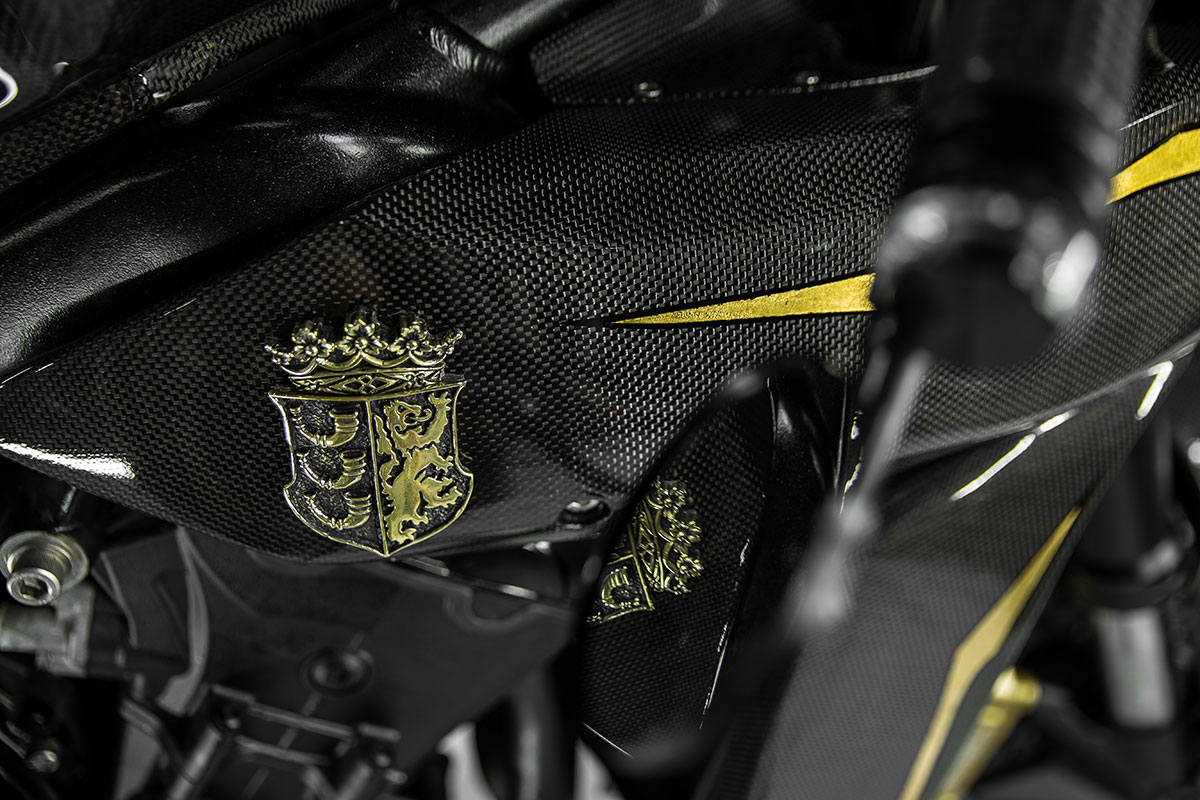 While we've seen plenty of classically styled customs wearing cast wheels, Nicko opted to go the extra mile by swapping them out on this Triumph build. The bike now rolls on a pair of 16 inch spoked rims that lower the ride height and complete his retro theme. With everything mounted the finishing touch came in the form of gold leaf pinstriping and bespoke shield badges that represent Maruli's family heritage.