This wildly customized Bonneville is the handiwork of Triumph aficionados, South Garage Moto Co. It was created to celebrate the 70th anniversary of the iconic Citroën 2CV. The French automobile manufacturer tasked South Garage with building the bike at their workshop in Milan. Nicknamed 'Charleston', after one of the most iconic iterations of the 2CV, the Bonneville's connection to the car is most evident in its 'Rouge Delage' art deco paint scheme. However, the similarities go well beyond the paintwork alone.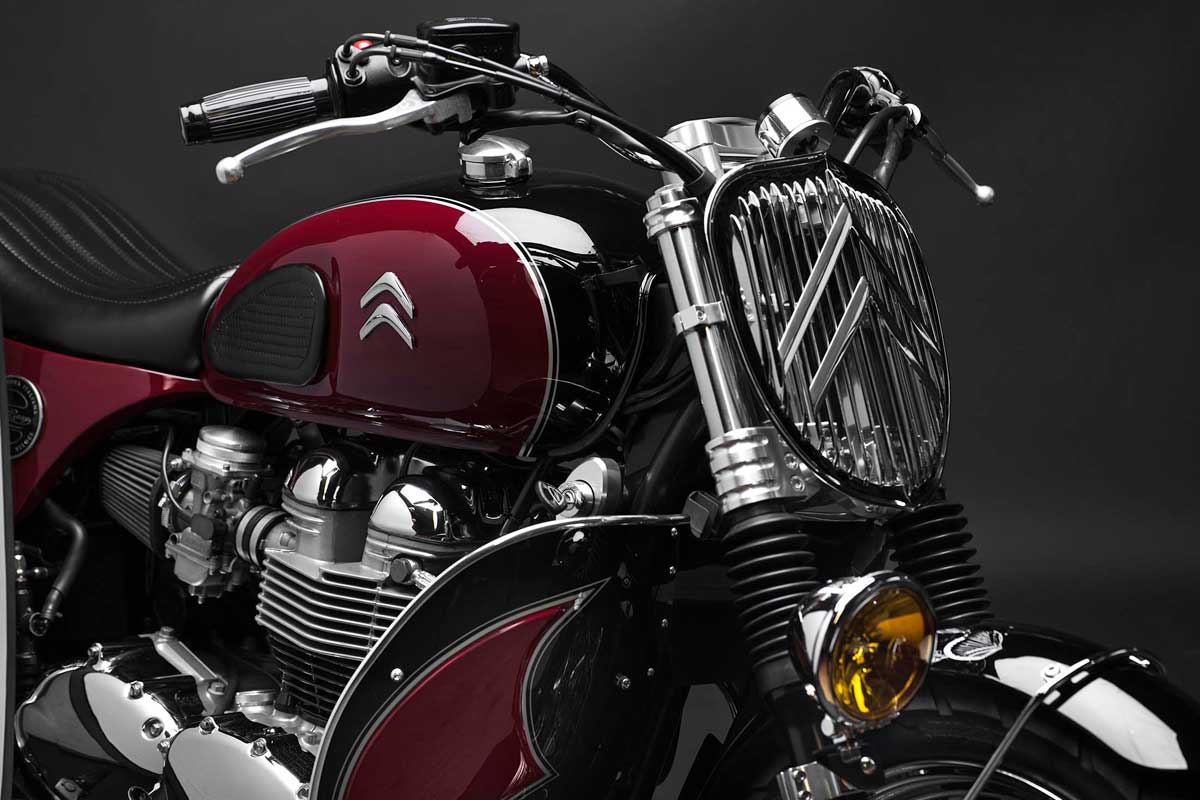 The 2CV was the brainchild of Citroën Vice President Pierre Boulanger. Boulanger wanted to create a vehicle that would replace the horse and carts being used by people living in rural areas. Originally released in 1948 the 2CV was a hit and stayed in production right up until 1990. This makes it one of the most successful models the company has ever produced. Celebrating the 2CV's existence was well worth any effort. However, why Citroën decided to do it by creating a 2CV themed motorcycle is a mystery to us. One thing is for sure though, we're definitely glad they did.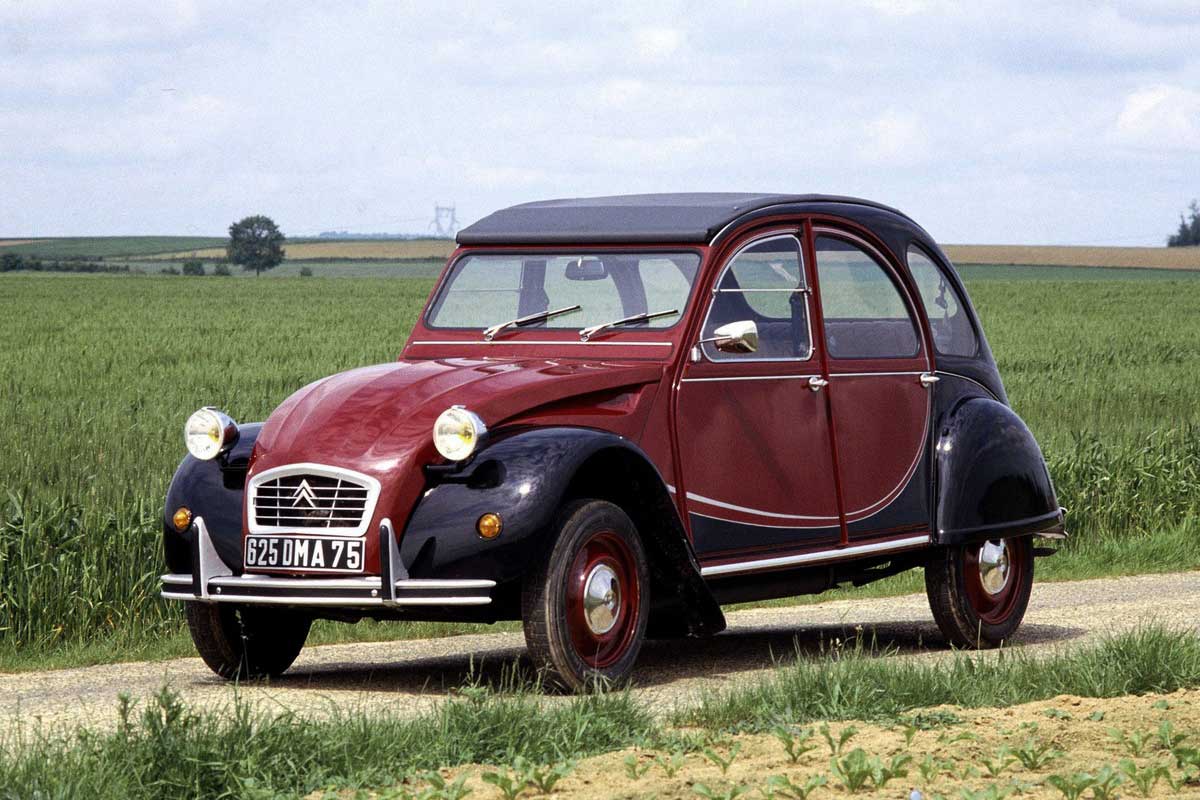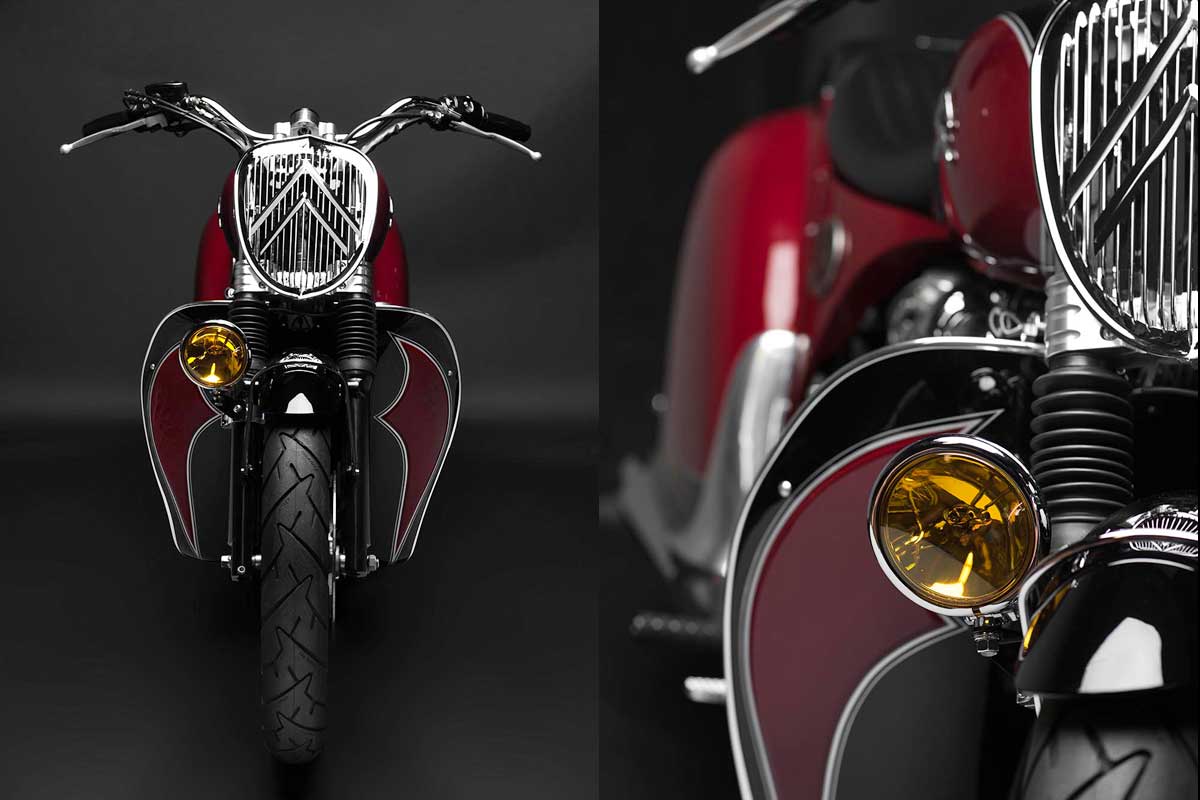 Despite the lack of two additional wheels the South Garage Charleston manages to be a faithful reproduction of the Citroën. The rear wheel cover is an accurate recreation of the 2CV's own rear wheel arches, right down the aluminum stone guards. Constructed from 3 separate pieces it mounts to the Triumph using an internal frame that bolts directly to the original subframe. Sitting on the back is a luggage rack like those found on the 2CV. The rack was bent from round bar and shaped to mimic Citroën's double chevron emblem. Even the bike's Charleston badges were created using a typeface based on a classic Citroën script.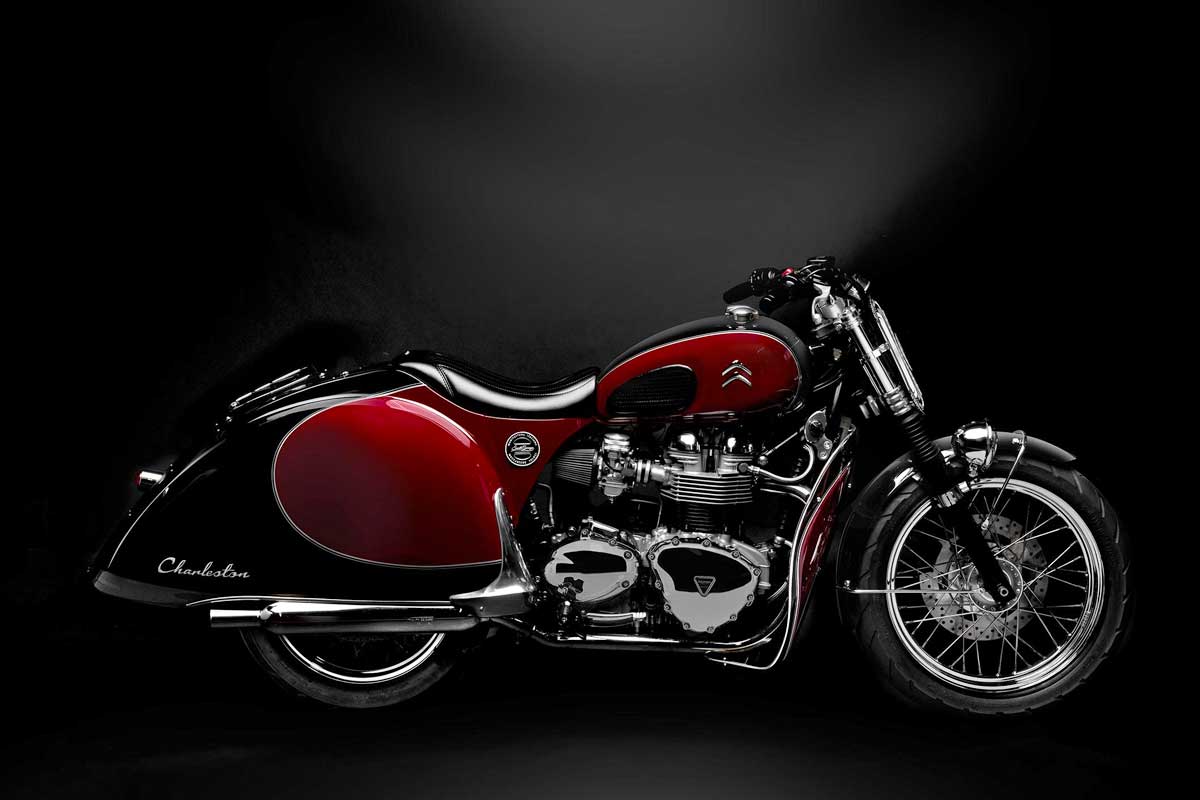 Flanking the front wheel is more bespoke bodywork wearing the Charleston's Rouge Delage art deco paintwork. The chrome trim and silver pinstripes again mimic those found on the car that influenced this build. Interestingly the fuel tank is the original Bonneville unit. South Garage has made it look right at home amongst the custom bodywork by molding the tail and seat to the rear of the tank. The fuel tank also features matching paint, leather knee dents that complement the seat upholstery, Citroën badges, and a Monza style filler cap.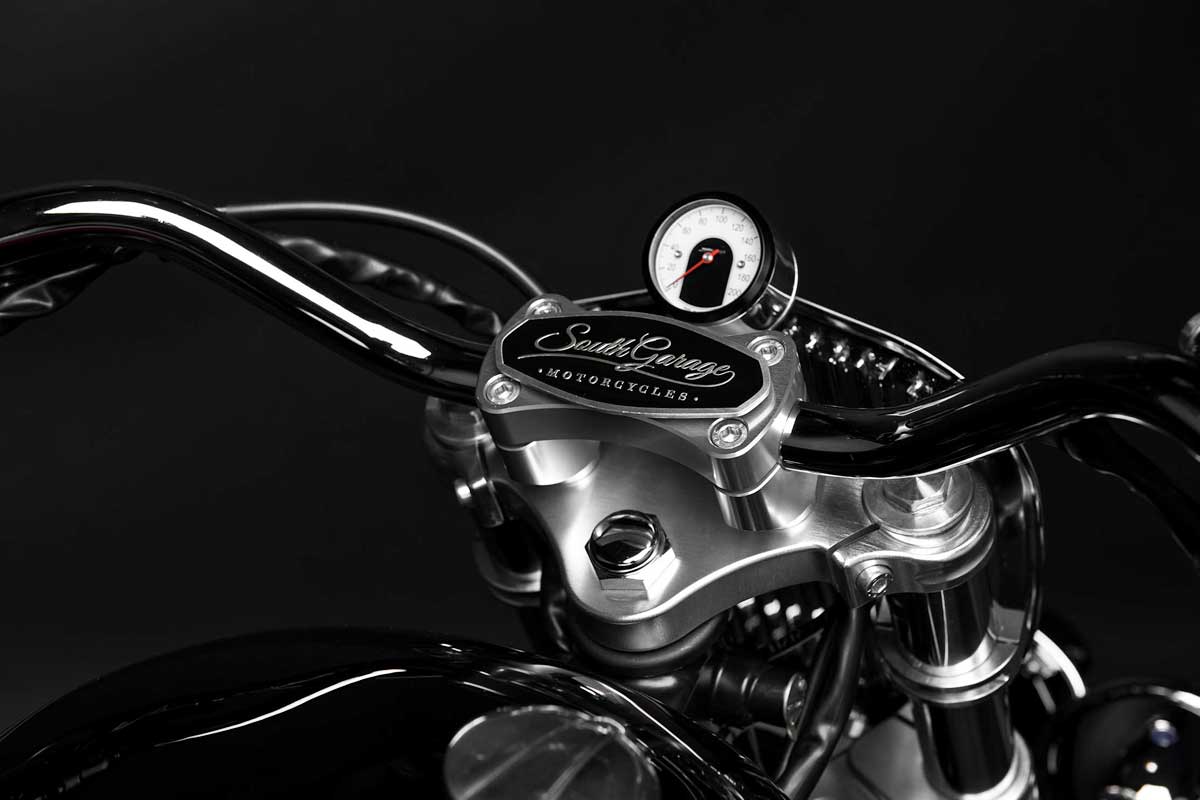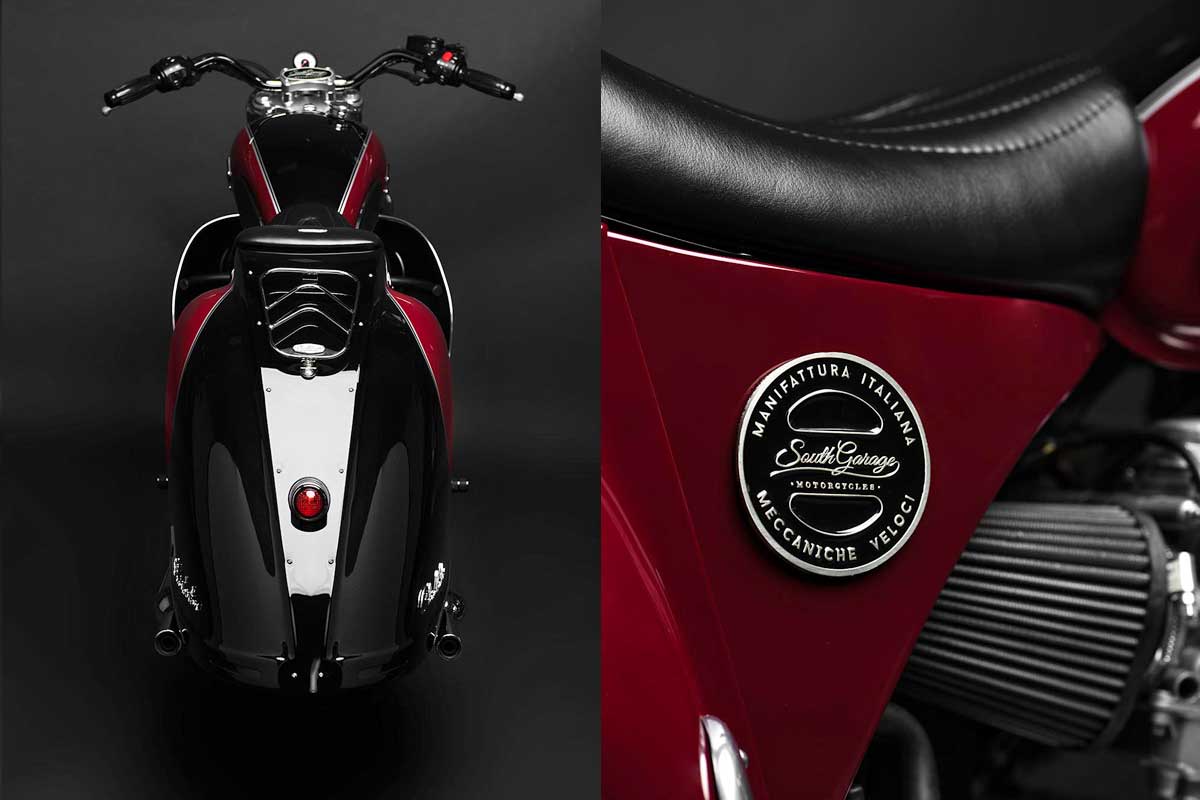 Touches of 2CV can also be found on the Triumph's front end. The forks, which are mounted using custom machined triple clamps, wear a one-off Citroën grille where the headlight once sat. A set of vintage styled handlebars are held in place by a machined clamp that incorporates a Motogadget Motoscope Tiny speedometer into its design. To finish things off a single, side-mounted headlight, tinted yellow like the original 2CV lights, sits off the fender.
Bien joué South Garage…or should we say "molto bene"? This is one themed build we're definitely fond of.