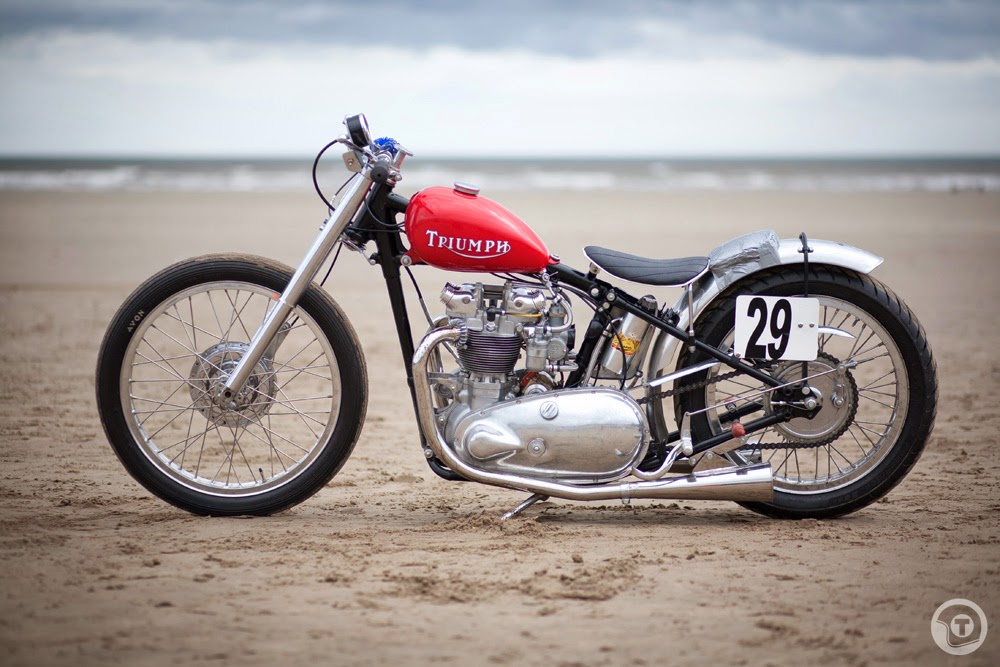 On the southern coast
of Wales, stretching out for 7 miles along the edge of Carmarthen Bay, is a
long flat stretch of beach named Pendine Sands. While the beach lacks the key
ingredients for being the ultimate coastal holiday retreat (i.e. sunshine,
waves or warm water) it was once coined as "the finest natural speedway
imaginable", making it exactly the kind of place we'd love to visit. Pendine's
unique daily tidal cycle means that with each new morning the beach sits
perfectly smoothed and packed more precisely than most man made raceways.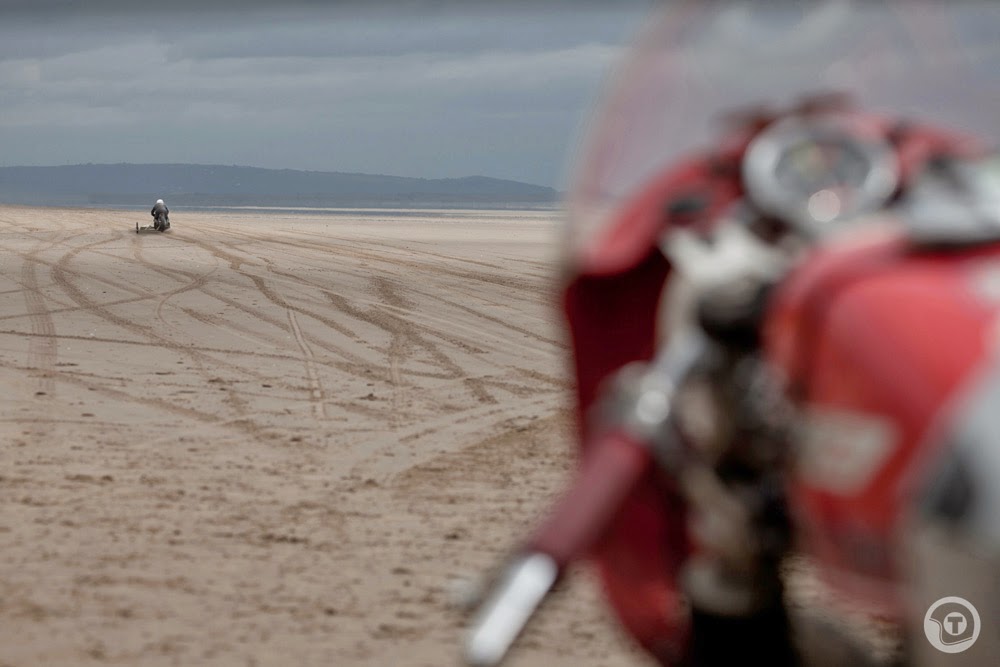 During World War 2 the
shores of Pendine Sands were commandeered by the military for use as a firing
range and have remained under the control of the Ministry of defence ever
since. Vehicles were banned from accessing the beach due to the risk of
detonating unexploded munitions, but in 2010 someone decided "it must be safe
by now?" and the shores were open again for special events.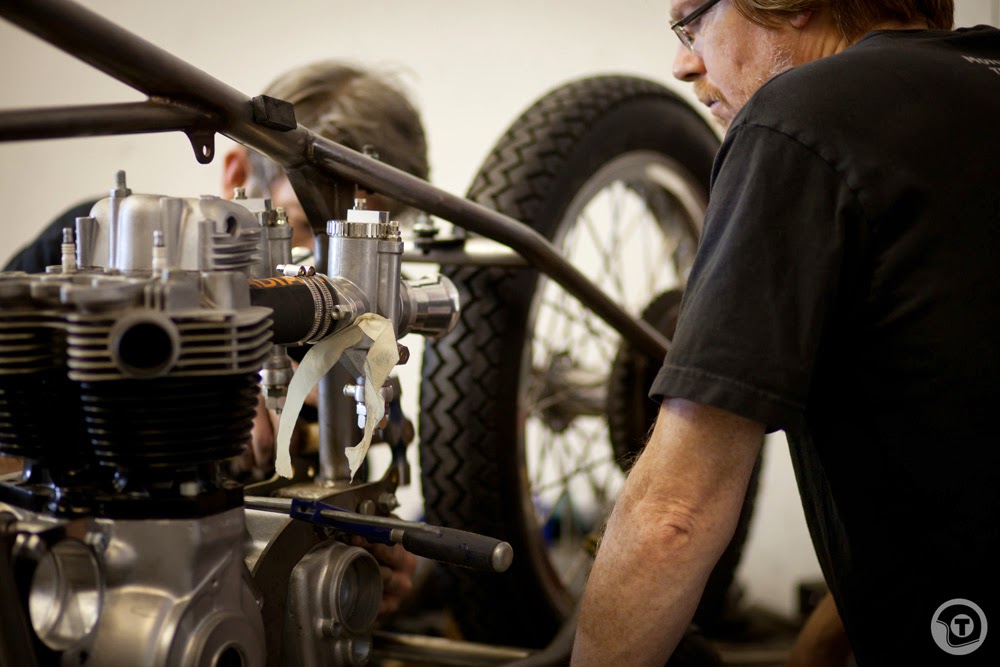 In early 2013 Gary
Mergerum and Dick Smith of South London based Baron's Speed Shop, had just
completed their Triumph T100 based rigid sprint bike. Boasting a balanced
crankshaft, 9-1 pistons, racing oil pump, 3 inch megaphones, five plate clutch
and twin Amal monoblocs, the vintage drag bike was a force to be reckoned with.
An M&H Racemaster 18" x 4" slick added the final touch for awesome asphalt
traction and the guys were getting busy making plans for it's first race event.
It was around this time that the Hertsfordshire Landspeed Racing Club announced
its relocation to Pendine along with the dates for a speed trial event out on
the historic sand. Knowing that the event was too good to be missed the guys
quickly got to work revising the bike for the event. I spoke to Gary in late
2013 and he shared their experience of the event and passed on these shots of
their T100 in landspeed dress out on the shores of Pendine.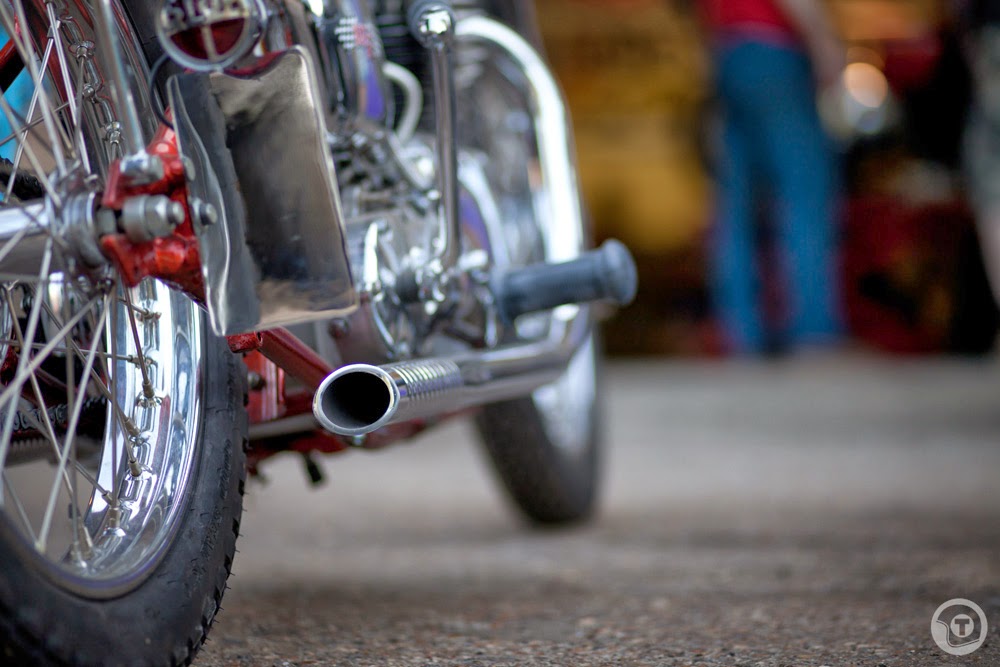 "The original plan
was, and still is, to race the bike at various vintage sprints around the UK,
but we decided to focus on Pendine as it was an event so steeped in British
land speed racing history that we couldn't ignore it. We were already busy
preparing my 1960 Triumph Thunderbird for Bonneville, but found time to make
the small changes needed to turn it from sprint bike to land speed racer."
"First change was to
have a new rear wheel built and fit it with modern Avon racing rubber. This would
replace the current 18"x 4" M&H Racemaster slick we would use on tarmac.
Next was to add a small 'pussy pad' to the rear mudguard to allow me to get as
low as possible and also to fit the various cut-outs needed to conform to the
SCTA regulations that the event was running under. The engine was tuned by Dick
to a moderate level of power. You could consider calling it a hot motor, but
reliable enough for multiple passes. We fit it with a close ratio cluster, and
the frame was stretched by 2" for clearance and to add a bit to the wheelbase. So
we were all set to go."