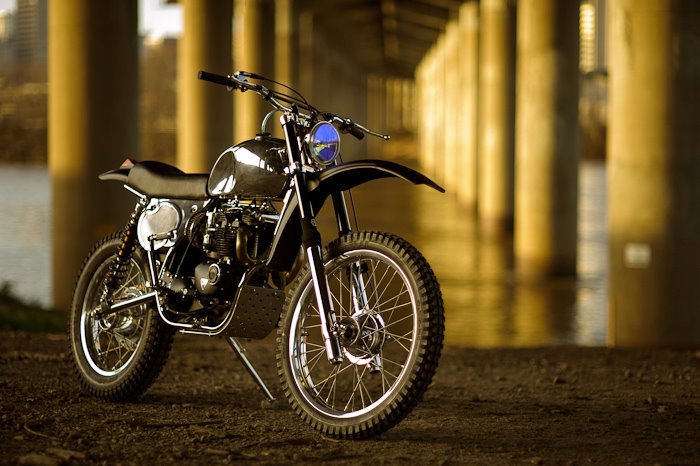 From eBay: "
You are bidding on
(You should have bid on)
a ground up custom 1974 Triumph Bonneville dual sport. This bike, named the RVA Overland was constructed as a personal build by Clay Rathburn of Atom Bomb Motorcycles. The goal was to create a useable Triumph powered dual sport that looked like it could have been built in 1974 and performed like a bike of that era with modern suspension upgrades. This bike took roughly 800 hours to complete, and that's probably a bit conservative. The intention was to keep this bike forever but as it usually happens, it's going to have to go to make way for the next build.
" …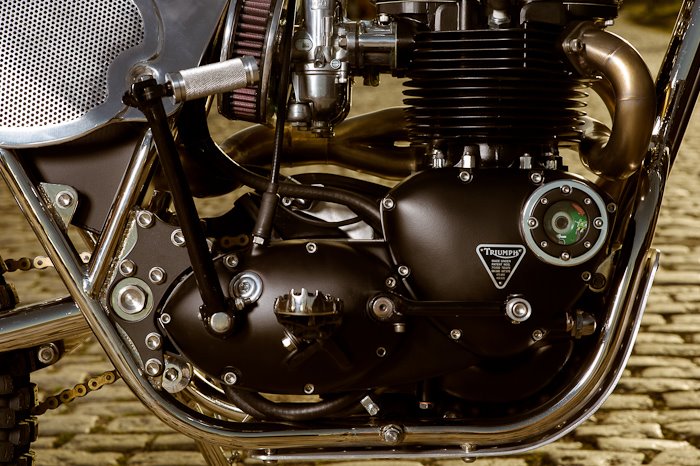 You read it right. Atom Bomb Customs owner Clay Rathburn is selling his widely acclaimed '74 Triumph RVA Overland. The bike which has graced the pages of BikeEXIF, Silodrome, MotArt, and countless other blogs went up for sale recently on eBay and unbelievably didn't get a single bid. With a starting price of $15,000USD, almost double the price of a stock 2013 Bonneville it may seem a bit steep, but for a bike that's had this much high quality work go into it I'd say it's a bargain priced collectors item.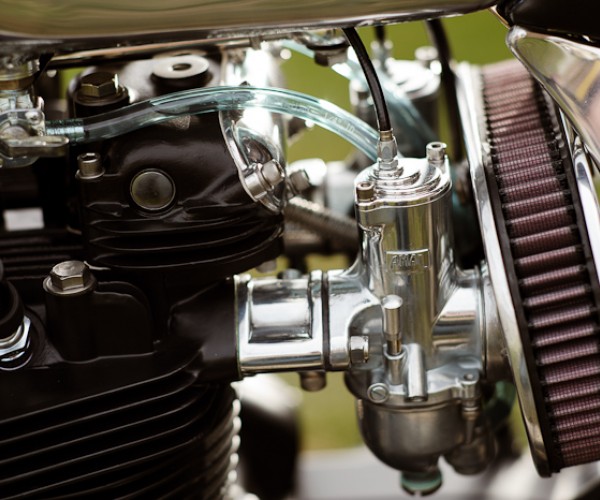 Some of the custom work on the RVA Overland includes:
Custom made nickel plated frame, swingarm and kickstand by Atom Bomb. Shorten engine (3″ front to rear) by removing mounting tabs from casings. Hand fabricated aluminium fuel tank, oil tank and side panels. Hand made stainless steel exhaust by Atom Bomb with muffler by Burns Stainless. RaceTech rear shocks, engineered and custom built specifically for the bike. Hard carbon coated 43mm KYB front forks with custom valving and springs from RaceTech. Yamaha twin leading shoe front hub/brake and Pirelli MT43 tires front and rear. DC Plastics custom moulded fenders and a wet weight is a shade under 300 lbs (136kg).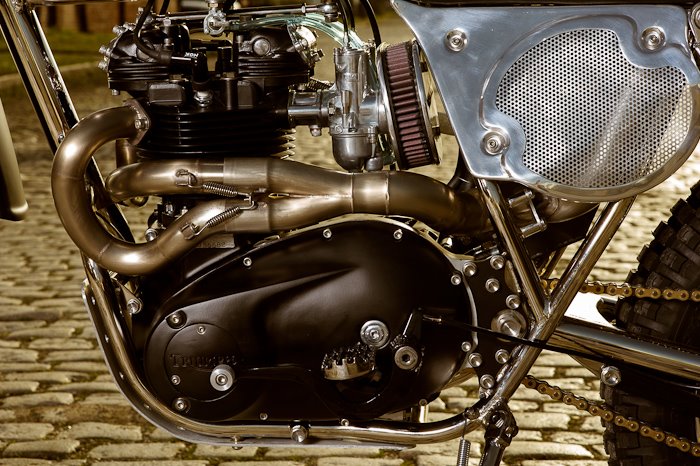 Reliability won't be an issue with this old girl thanks to the extensive list of engine work:
A 1974 Triumph 750 powerplant, fully rebuilt with oversize valves. The intake ports have been relocated on head to move the carbs inward for better legroom. The internals of the engine remain mostly stock for reliability but the bearings, pistons, rings, clutch discs and basket and primary chain are all brand new. Electrics are managed by a Pazon electronic ignition with dual output coil and a Sparx voltage regulator with built in capacitor. It will start and run without battery, but has a small battery to make it a one kick bike instead of a two kick bike. Last but not least the flow of fuel to the engine is managed by a pair of brand new Amal 930 carbs.
It's not often you'll see an off-road bike that's clean enough to eat off. All of the Overland's shiny parts are either polished aluminium or nickel plated and all the black parts on the bike have been professionally powdercoated. To maximise the longevity of this bikes good looks Atom Bomb also replaced every single fastener on the motorcycle with a stainless steel one.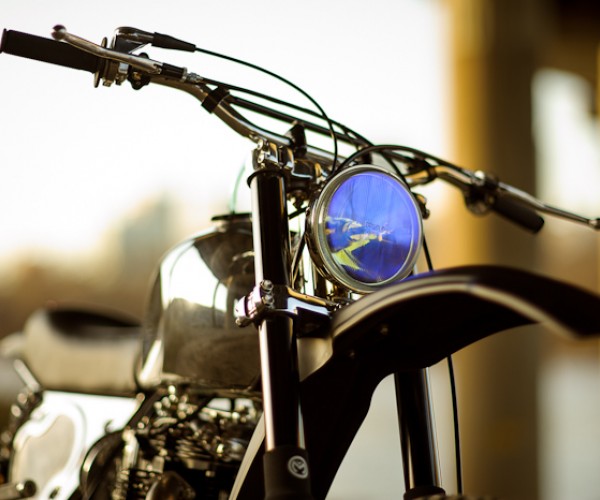 "The bike runs and rides really well. With all of the attention paid to the suspension, it works just like a big light dual sport bike should. Plenty of travel, fairly soft but not mushy. If the rear tire hooks in first or second gear, it'll wheelie all day. With the 50 tooth rear sprocket and 750 torque it's ultra quick around town. I'd say extended highway rides might be a bit tiresome because of the gearing, but it's really not for that."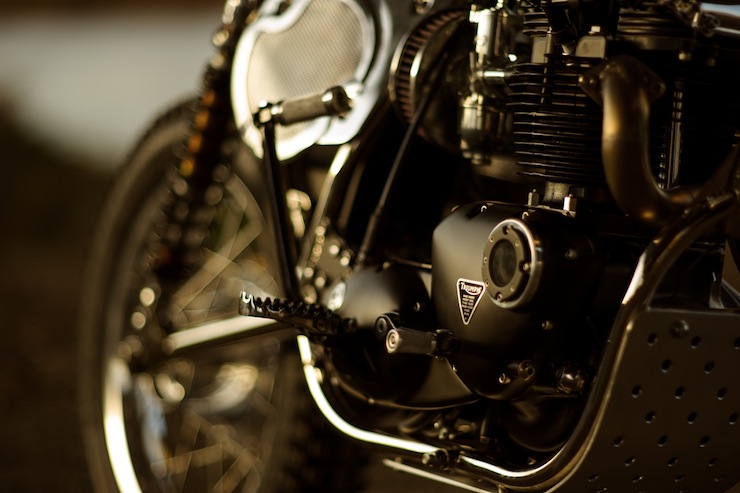 Since The RVA Overland didn't sell on eBay you can get in touch with Clay at Atom Bomb Customs if you'd be interested in owning it. I hope though that you are the sort of person whose not afraid to get it covered in mud from time to time. It'd be a real shame to leave it in a garage collection accumulating dust.
Atom Bomb Customs | Photos by Tony Hall