Psychologists have a theory that goes something like this: your brain's synapses are set in your teen years and they largely define your tastes, likes and dislikes for the rest of your life. That rush of endorphins you get when 'that song you liked when you were a kid' comes on the radio? Synapses. And surprise surprise, it happens with motorcycles, too.
For Sydney's Simon Leake, his poster-on-the-bedroom-wall bike was the Triumph Bonneville. Up there amongst the hastily thumbtacked David Bowie and Farrah Fawcett prints was a British Twin not too dissimilar to the classic piece of machinery you see here.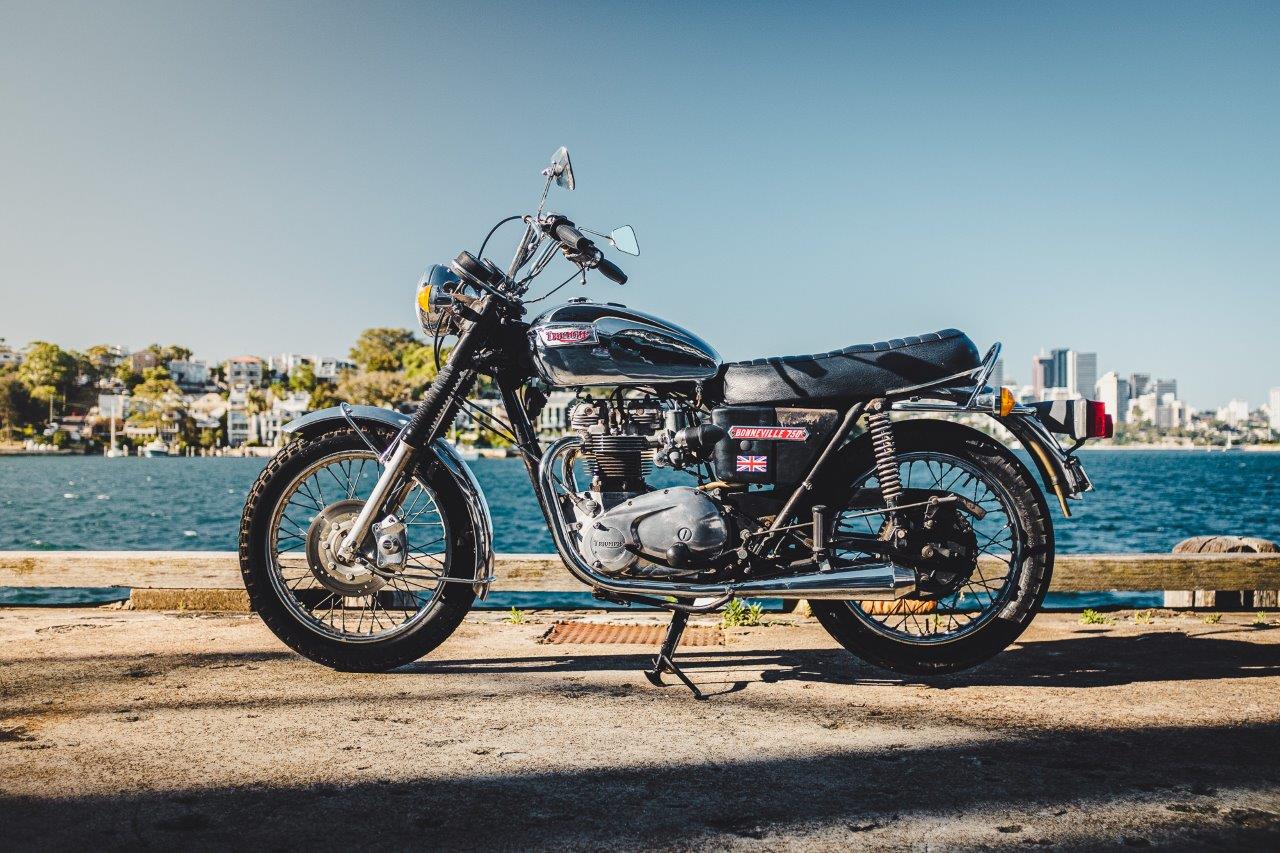 Kids Those Days
As Simon finally came of age, he took the plunge in '82 after spying an almost-new Meriden Bonnie with only 1500 clicks on the clock. The used bike salesman pointed out that it had been purchased by a young kid a few months before, only to be returned shortly thereafter thanks to a beginner's lowside and a serious case of brown trousers.
"Whether it was good luck or good management I can't say, but I just happened to walk in the store the very next day and bought it for $1800," recalls a smiling Simon.
Gone in Four Months
The bike was sold 'as is' after the accident. Tank smashed. Front fender all helter-skelter. Various other bumps and bruises, including a bent rear shock that only revealed itself after a loose filling and a sore kidney or two.
"Having bugger-all money as a student, I repaired the tank with filler and a chrome spray can," he continues. "It looked pretty good. So good, in fact, that it was stolen from the Uni car park four months later." With Simon being a student there was no insurance on it, so like tears in rain, it was gone.
Now his butt was forced onto a meek and mild Yamaha 175 and he immediately realised just how much he was missing the Trumpet.
With a sparkle in his eye, Simon describes how the Bonneville managed to handle even the most ridiculous cornering whoopsies with some very British grace. "More lean angle was never an issue; you'd just push down harder and the thing would take it like a champ."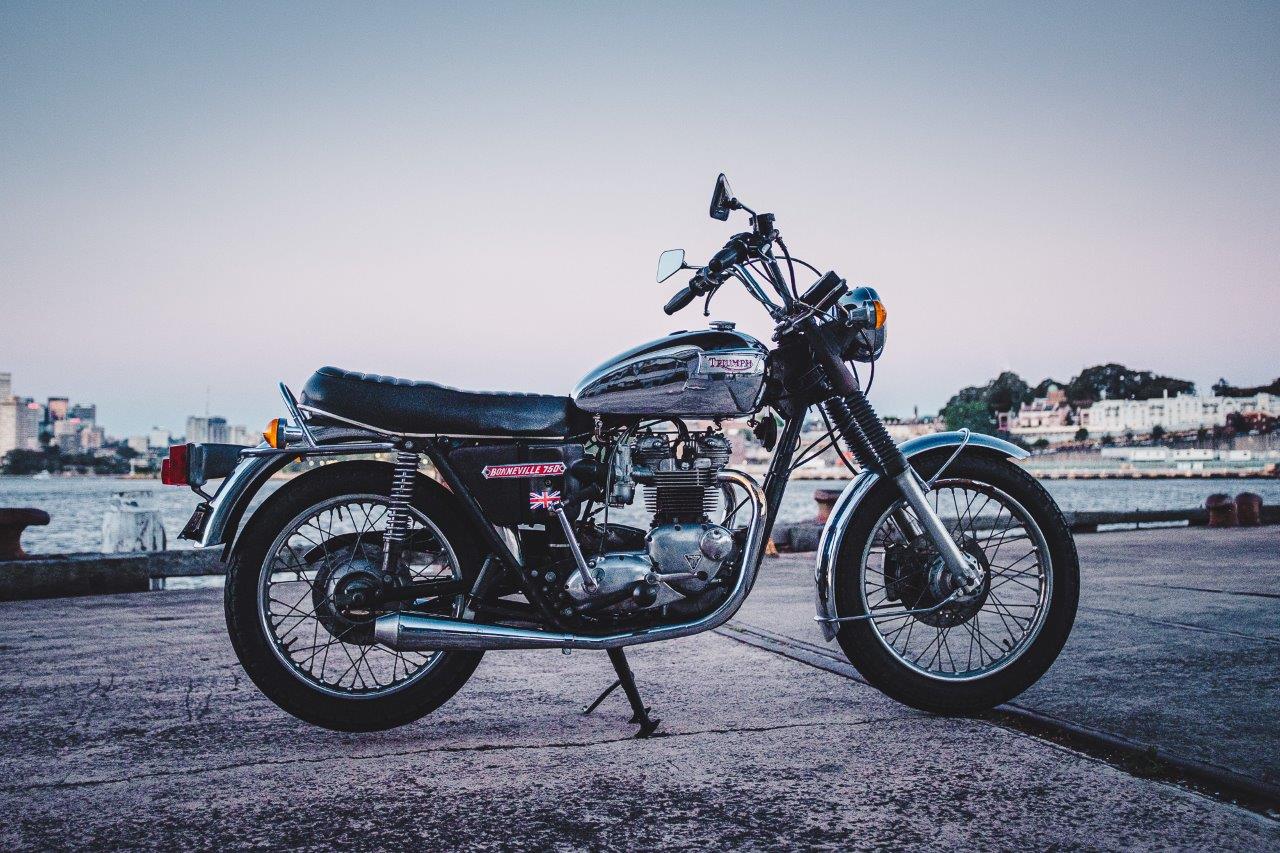 A few years later, and Simon's Triumph longings were still there in spades.
Borrowing a mate's Bonnie for the ride from Sydney to a chilly Canberra in winter, the cold mornings meant some unhappy start-ups for the bike, but the comfy 4-hour cruises gave Simon's mind enough time to wander and dream. Maybe he did need another Bonnie after all?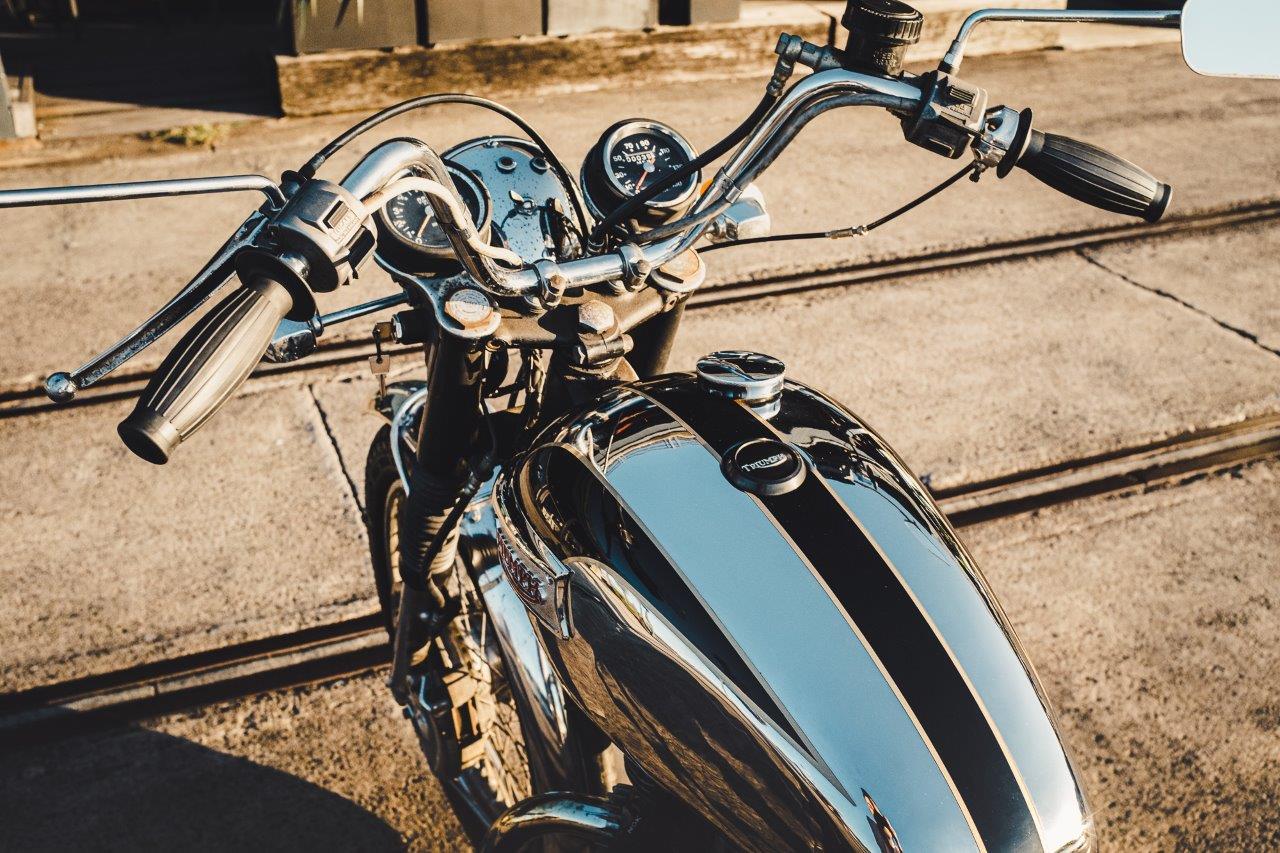 Meanwhile, in Queensland
Fast forward to right now and Simon's kids have flown the nest, along with their pesky ability to spend his hard-earned. With those moto thoughts still bouncing around in a wiser, more mature skull, he took a few 'harmless' looks at the local moto classifieds.
"So what should come up but an original '73, second year of production, 750cc Triumph Bonneville with only 5,500 miles on the clock. I spoke to the Queensland owner, and he assured me it was original." Simon says he'd bought it off the first owner as a resto project and had never got round to finishing it.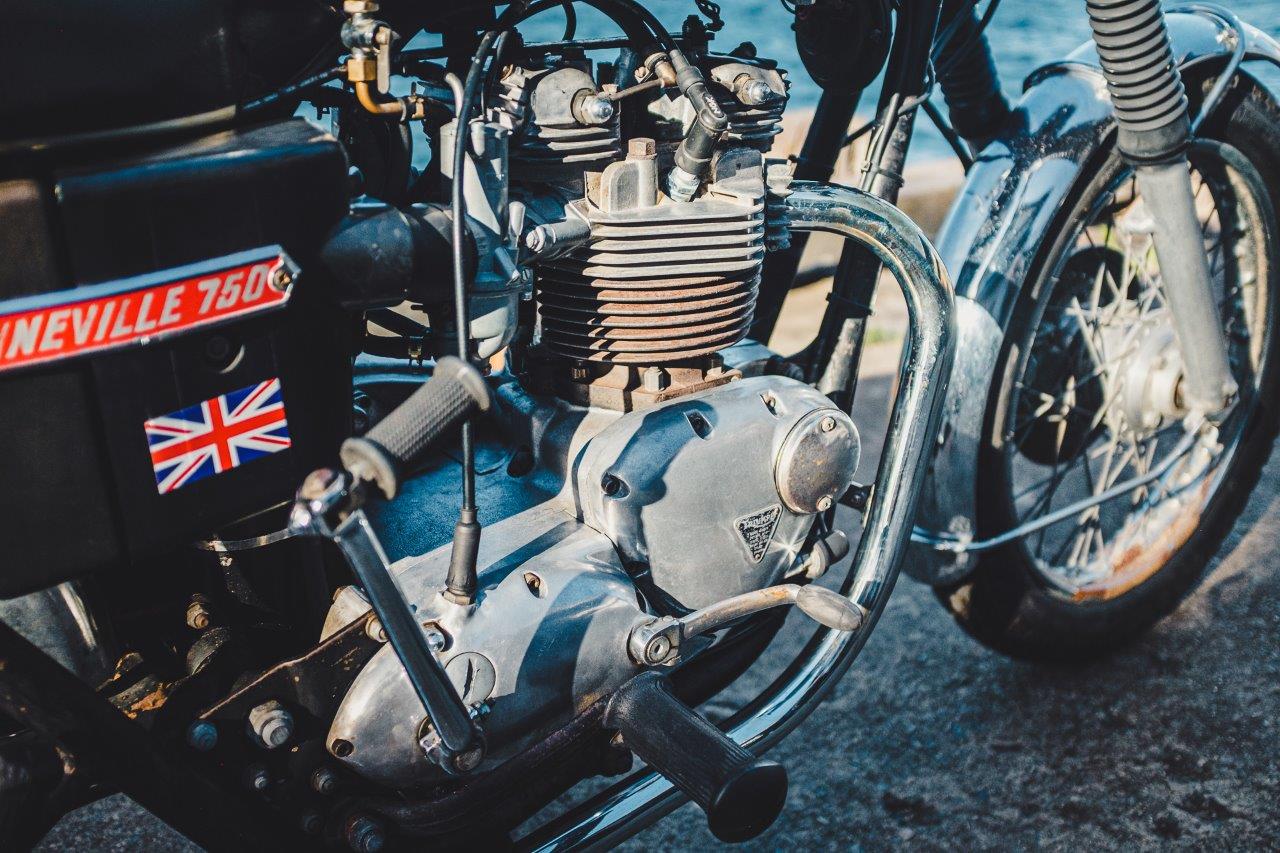 Trip of a Lifetime
So down it came to Sydney, very tired-looking and very, very dirty.
Simon's first move was to wrestle the bike's original rust-brown and rubber-padded tank off in favour of something non-stock but much cooler. While trainspotters might moan, who in their right mind would want a poop-brown lump on their bucket list bike in preference to something chromed up to the nines with a black blaze and gold pinstriping?
"I checked out the old oil filter; it was full of red Queensand mud," notes Simon. It's great for growing bananas, but not so good for British twins. "It took three full oil changes for the black stuff to run clear. Next I took the carbs off for a deep clean and installed new gasket kits, petcocks, throttle cables, tyres, cone mufflers, a battery, points, plugs and I greased pretty much everything."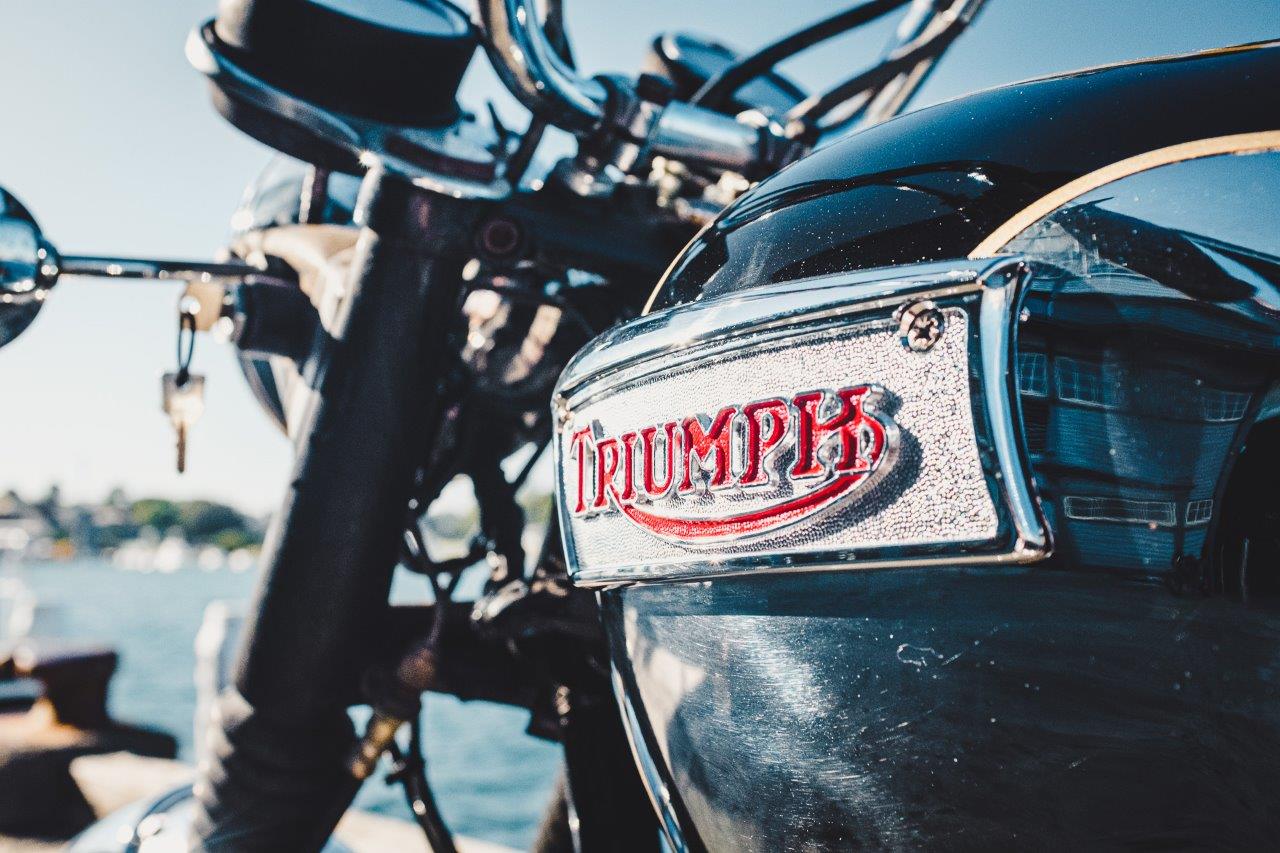 Works Every Time
All systems were go, so with an imaginary drum roll in his head Simon tickled the petcocks, checked for spark and stood on the thing like he was going for Olympic gold. Nothing. "It turns out you have to turn the bloody ignition on!" he chuckles. "So I feel and kick it again. Boom! It starts first time."
"Bugger," he thought, "It can't be a real Triumph if it starts the first time, can it?"
And this wasn't the last time a spanner was twisted here. Simon swapped out the factory sparkers for some modern electronic ignition and eventually upgraded the carbs to new Amal Mark 1s. Then there was a complete set of new engine and 'box gaskets that were expertly installed by Simon's new-found Triumph whisperer.
"This guy now reckons it's the only Bonnie in Australia that doesn't leak oil," says Simon, with a healthy dose of Aussie humour.
The upshot once all the red dust and burnt fuel settled is what you see here; a solid example of the last right-hand gear change Bonnie with a virginal engine, pristine gearbox, and only 5,500 miles from brand new.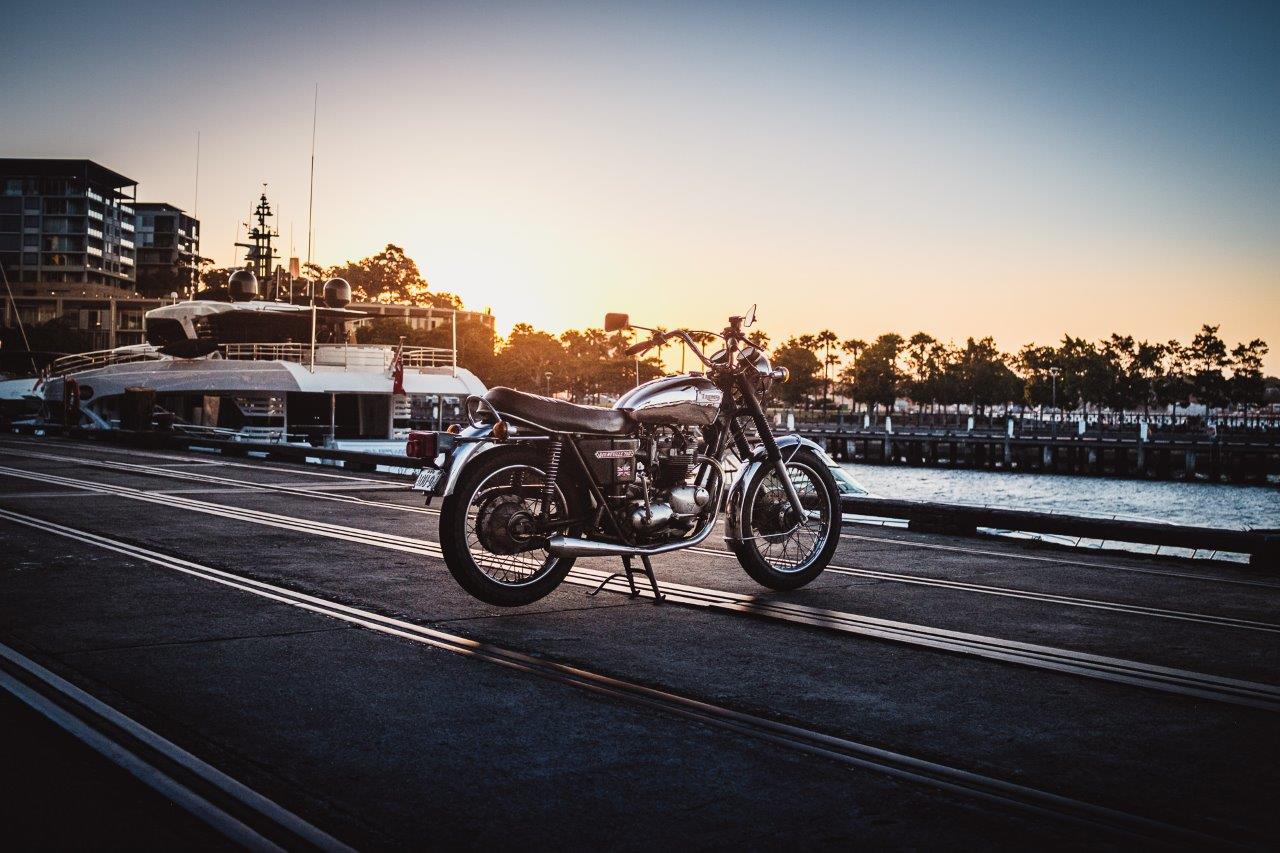 And while twin-o-philes will be quick to point out that by the early '70s, the Bonneville was an anachronism, it all seems a little 'meh' when you think about one very lucky Aussie bloke pushing the thing down through a smooth, country left-hander on a warm spring day. It's the stuff that dreams – and synapses – are made of.
Photos by Machines That Dream
1973 Triumph Bonneville T140V Photo Gallery