Custom bikes often opt for a shock and awe approach to make an impact in this modern, social media-saturated world. There's an assumption that if the bike doesn't instantly blind you with diamond-like polished surfaces and deafen you with fourteen trillion turbo-charged horses, it's a non-starter. But I'm here to tell you that when it comes down to rideable daily use, it's the bikes that laugh at the limelight and just get on with the job that'll be the ones we're still riding in the years to come.
Similarly, movie star bike building partnerships come and go, but family is for life. Take the father and son team of Allen & Michael Posenauer from Offenbach, Germany. Working on evenings and weekends, they started out creating bikes just for themselves but the responses they've received for their functional, down-to-earth builds has meant a growing client base and an upcoming shift to building bikes full time.
'Allen & Michael Posenauer is what AMP stands for,' notes Allen, the younger of the two deft wrenchers. 'More and more people liked what we did for ourselves, so we started doing custom builds for clients, too.' And this BMW R65 from 1983 is the latest to emerge from their workshop just a few kilometres to the east and across the Main River from Frankfurt's historical centre.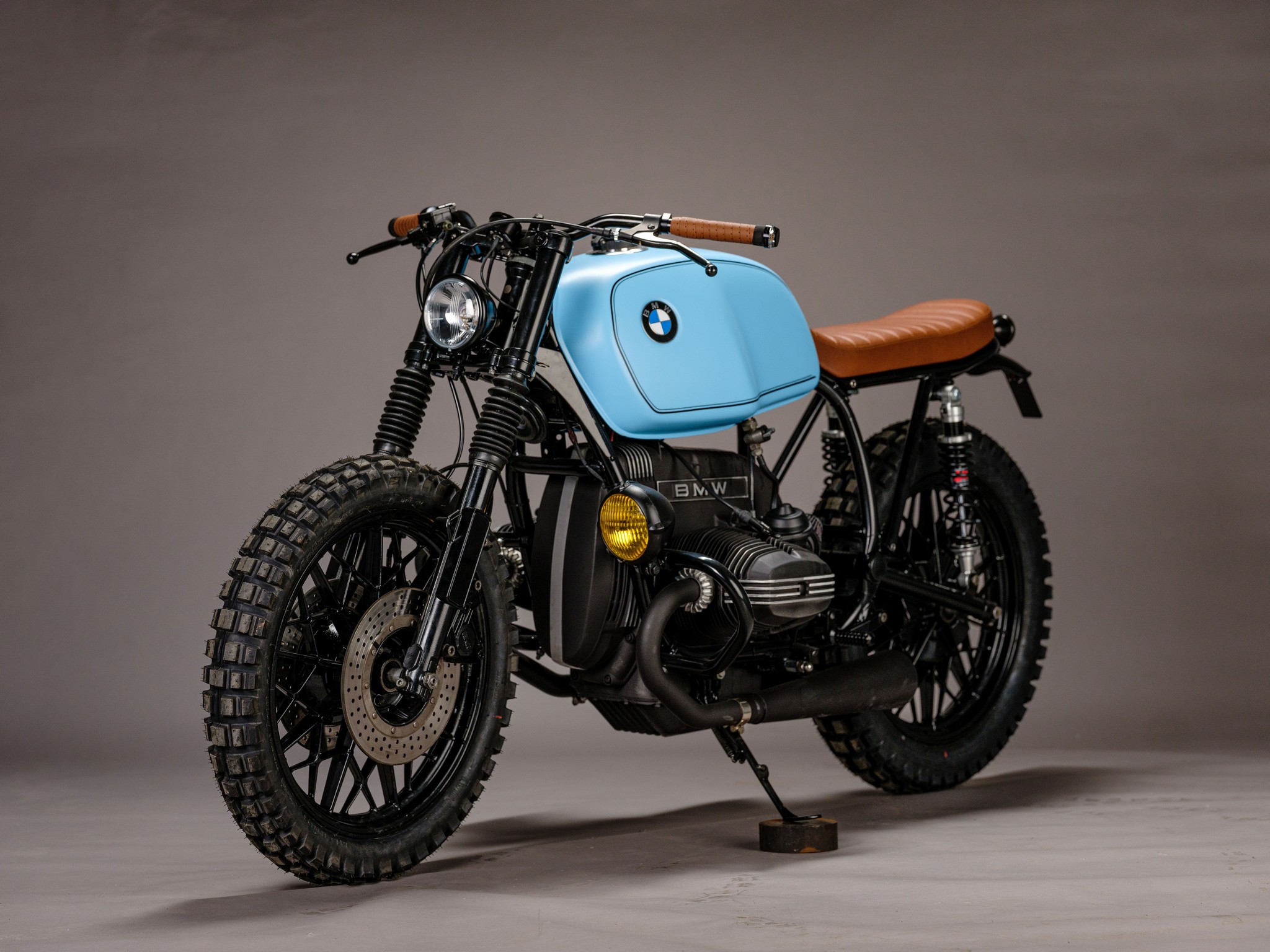 The customer – referred to them via mutual friend and the bike's photographer Marc Holstein – wanted a 'scrambler-style' build. 'He has a modern R nineT and wanted a classic BMW to complement the new bike in his garage,' continues Allen. 'So he sourced this old R65 that had been sitting around for about 20 years. Needless to say, it wasn't running.'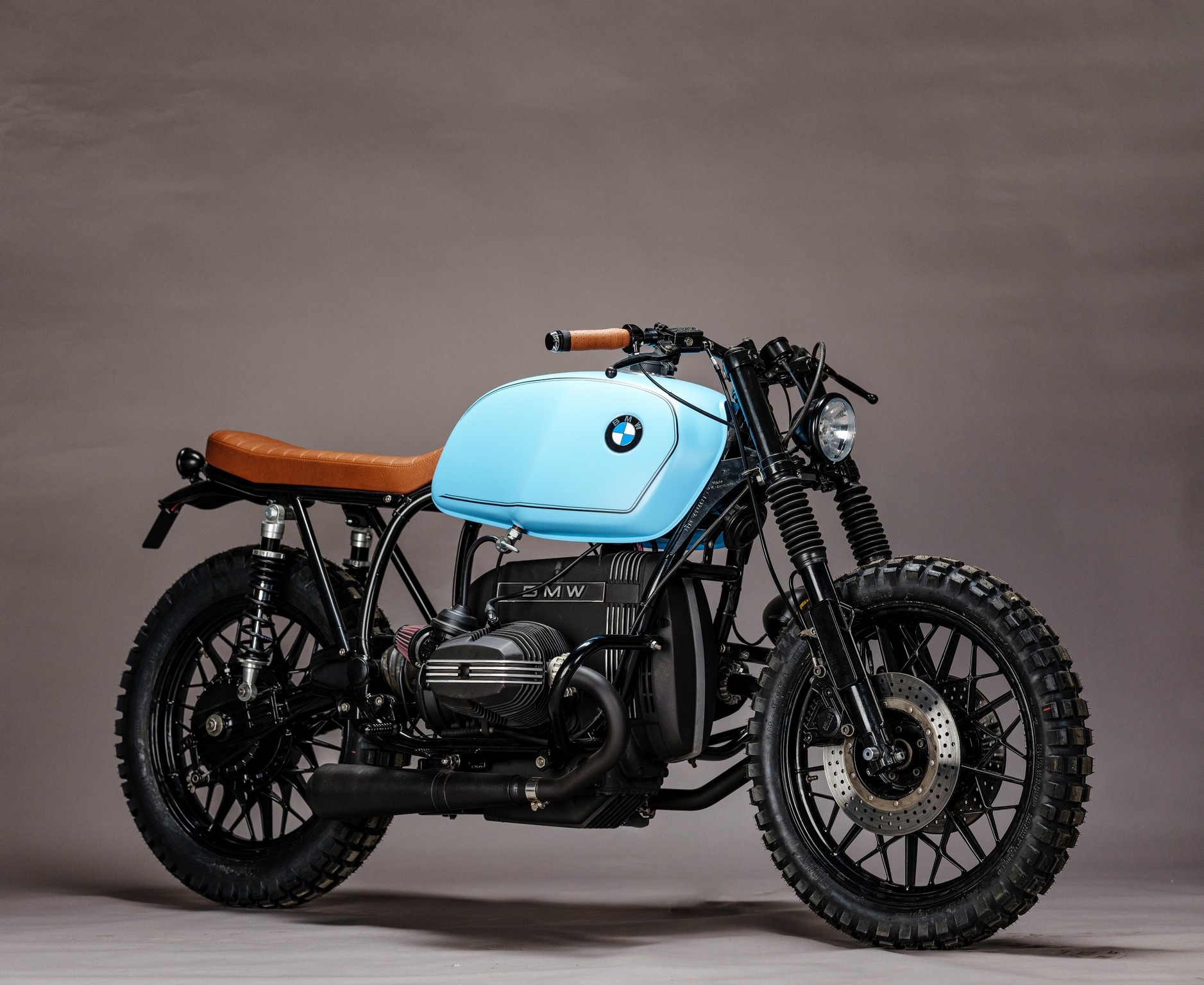 The two's first step was to thoroughly service the bike, bringing it back from the dead and also ensuring that all the new work would be done on mechanically solid foundations. Then the custom mods began in earnest. 'First, the bike was completely stripped down and everything was powder coated. Then the engine and exhaust were painted to match in a satin schwarz,' notes Allen.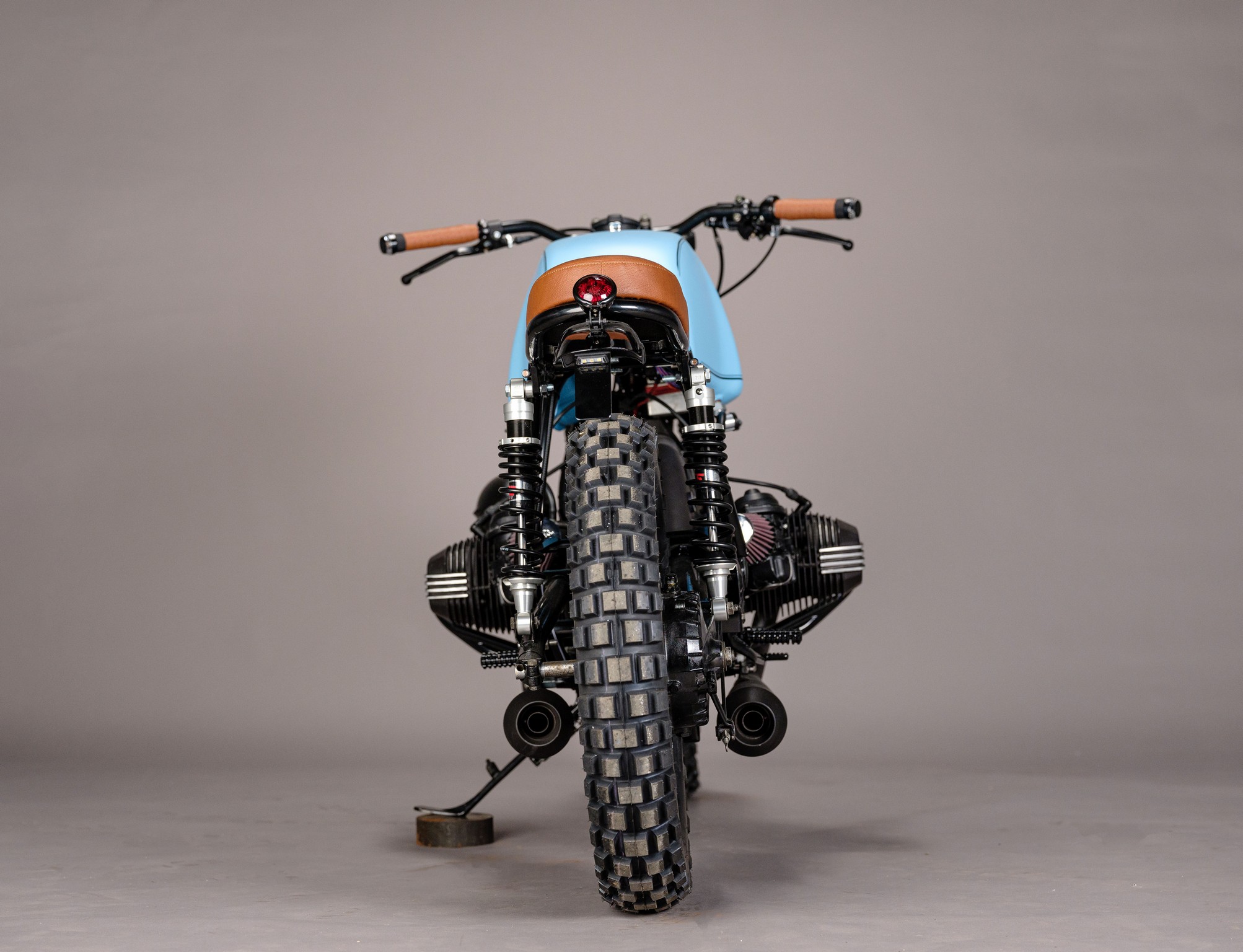 Next, an old R80 fuel tank was sourced and painted in a 'Löwenbräu Blue,' which for those of us that enjoy that popular barley, hops and water beverage will know, is the colour as the famous German beer brand of the same name. 'That color, with the black mechanicals and the bespoke brown leather seat and grips is our favourite part of the build,' says Allen, with a well-deserved smile on his face.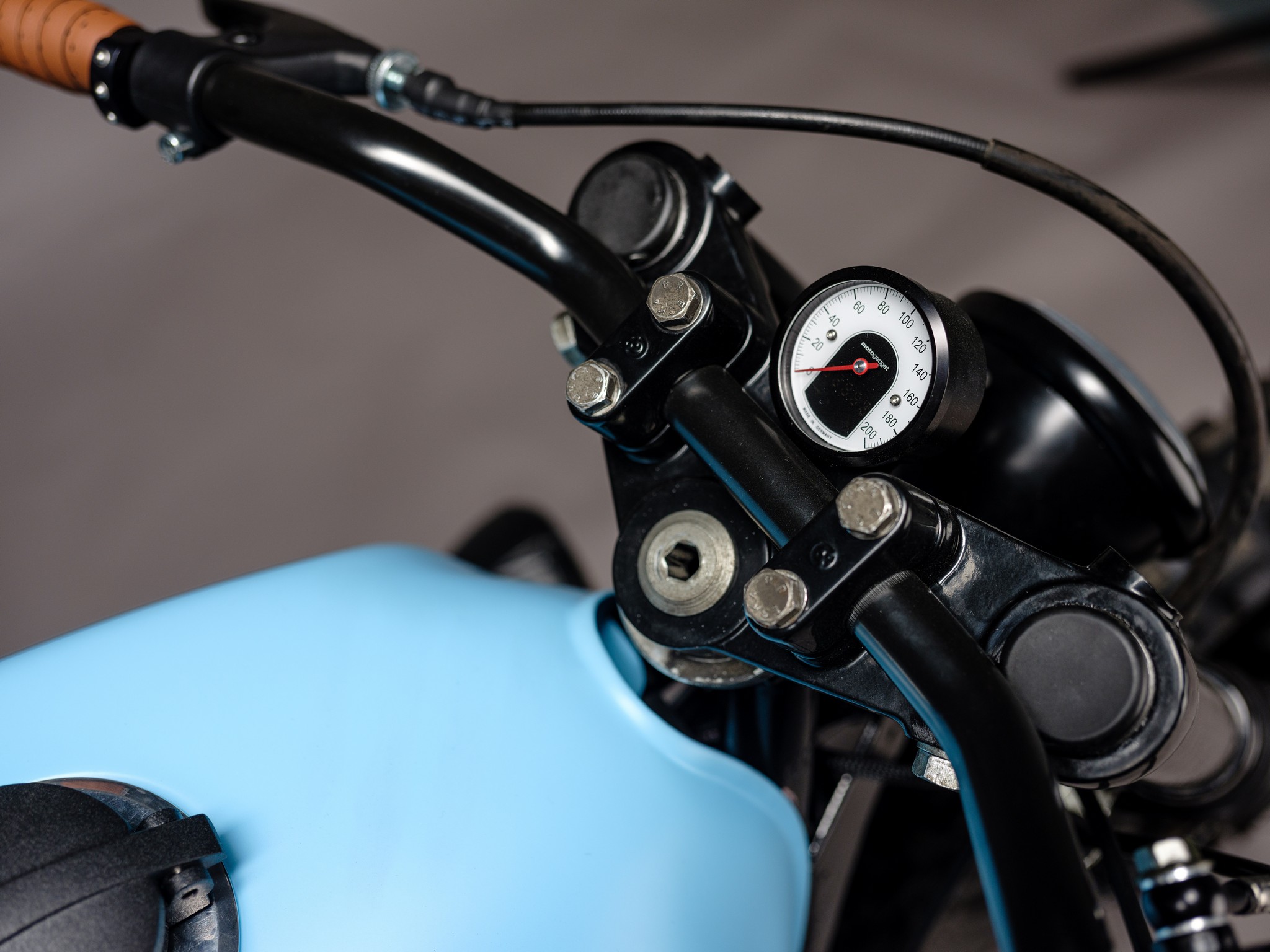 To deftly tick the scrambler box, the bike was shod with dual-purpose Continental TKC 80 boots for that mud-lovin' look while still retaining some decent bitumen acumen. 'Then we added a new bolt-on rear end that was mounted to the frame with fresh YSS shocks. To complete the stance and ensure that the lines were right, the forks were also lowered slightly.'
'Then we created a new wiring harness with a Motogadget m-unit and Racetronics buttons, along with a Motogadget Tiny Speedo and some of their bar-end turn signals.' As with most BMW builds, Allen notes that it's those pesky electrics that takes some real figuring out. 'The wiring on these old German bikes is a bit complex but after the first time you figure it out, it becomes much easier.'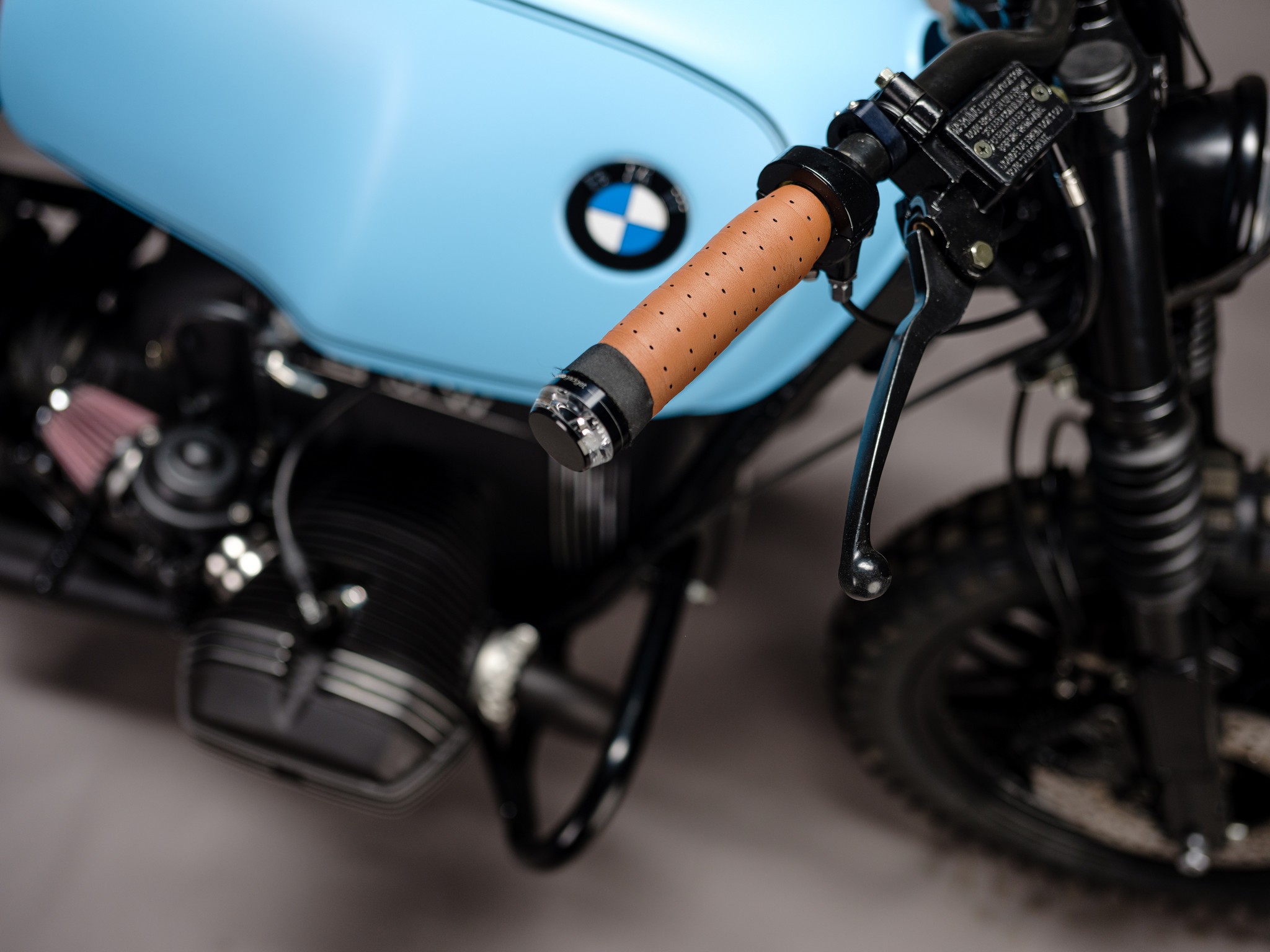 The final sprint to the finish line involved the fitment of some free-flowing K&N filters, twin uber clean-looking custom headers with two similarly minimal reverse cone exhausts. The final touch on this beer-themed Germanic delight was the addition of the front Bates-style headlight with a smaller but similar brake unit above the rear guard and a golden, beer-coloured fog light on the Beemer's left-hand side crash bar.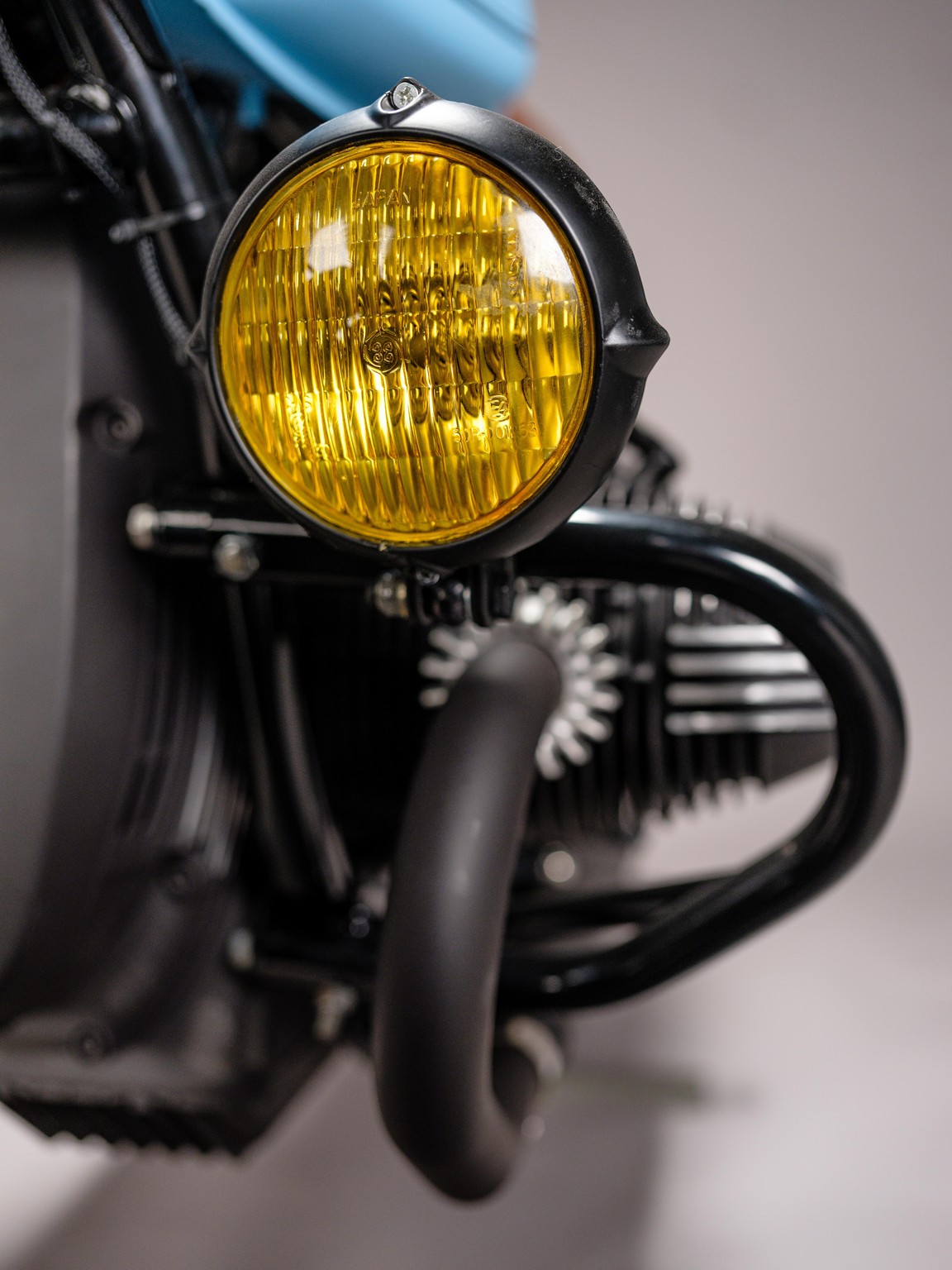 Clearly, the end result is something that both Allen and Mike can not only be proud of, but that will be a definite keeper for its new owner. And there'll be no prizes for guessing what beer they'' be cheersing 'prost' with on the eve of their first ride as the bike's new meister. Hot tip, it probably ain't going to be a can of Bud.
Photos by Marc Holstein