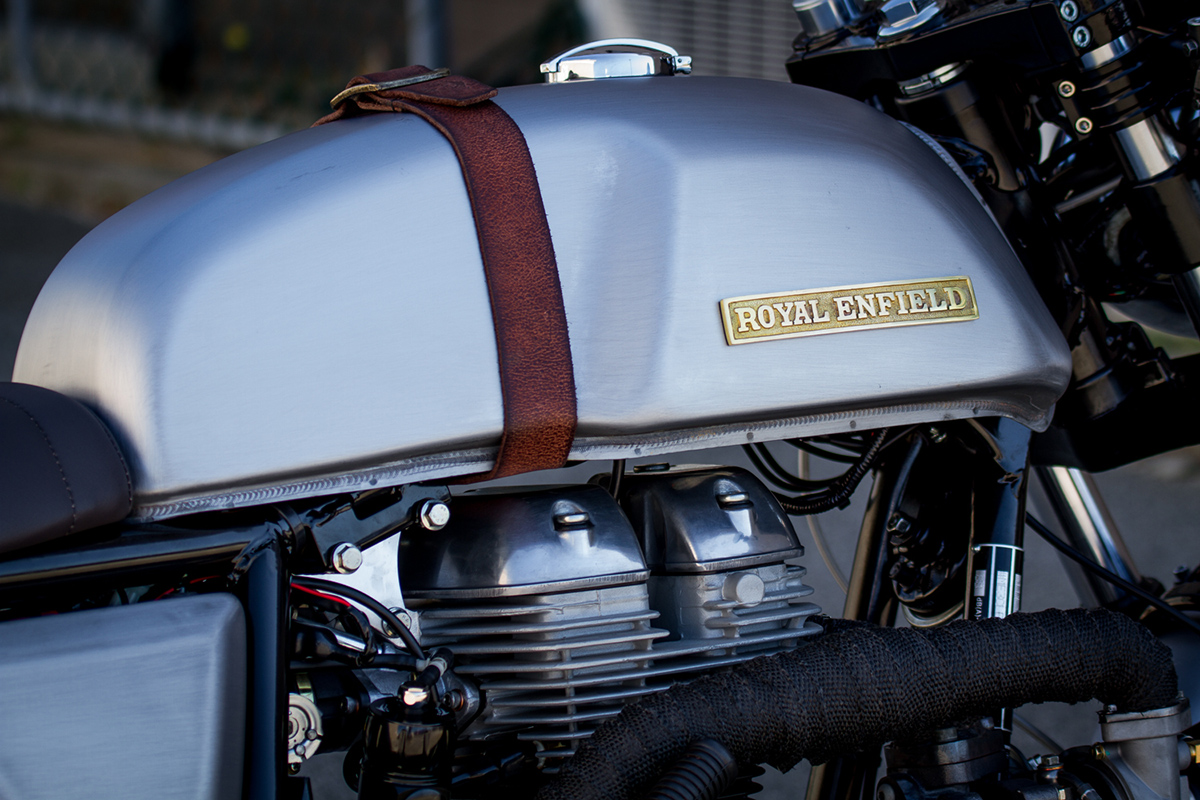 Enter Ric Steele and his team at MotoMAX in Perth, Western Australia. Ric has been dealing Enfields in Perth's north for a few years now and has been customising them since the day they first arrived at his store. Not one to shy away from new ideas, Ric thought it would be a good idea to participate in the inaugural Royal Enfield 31 Day Custom Bike Build Off and build a GT with a little more "T" than usual…and by "T" we are of course alluding to "Turbo".
That's right, along with a smattering of tasteful styling modifications Ric's Continental GT has exactly 100% more turbo than the factory bike. Ric's team at his dealership fabbed up the modified intake system and boosted (get it?) the tiny RHB31 turbo from, of all things, a Suzuki Jimny. Tuned for reliability and because the bike is still at the standard 8.5:1 compression ratio, it's running about 7 psi from 3000rpm while fueling adjustments are handled by a Power Commander V. An AutoTune module helps the PC make minute adjustments on the fly and to keep everything lubed up and happy a new braided oil line for the turbo was tapped from the oil filter cover. Ric and his team made up all the flanges and extra pipework, blacking them out with exhaust wrap to tidy up the look.
Up front, the rather good looking factory clocks were lowered and small bullet indicators installed to replace the factory units. A brushed front mudguard barely covers the apex of the Pirelli Sport Demon rubber and finishes of the front end modifications. The rims, spokes, and hubs are stock and we certainly wouldn't want to see any other wheel option on a bike like this. New clip ons from the well stocked MotoMAX parts shelf are now located under the top yoke and a single bar end mirror caps off the right-hand bar. The fuel tank copped a good dose of paint stripper and sanding to achieve a subtle brushed metal finish that can be appreciated most when standing close to the bike. Sticking to the cafe racer vernacular is a leather tank belt and in a stroke of genius, Ric prised some gold Enfield badges off a toolbox to adorn each side of the tank.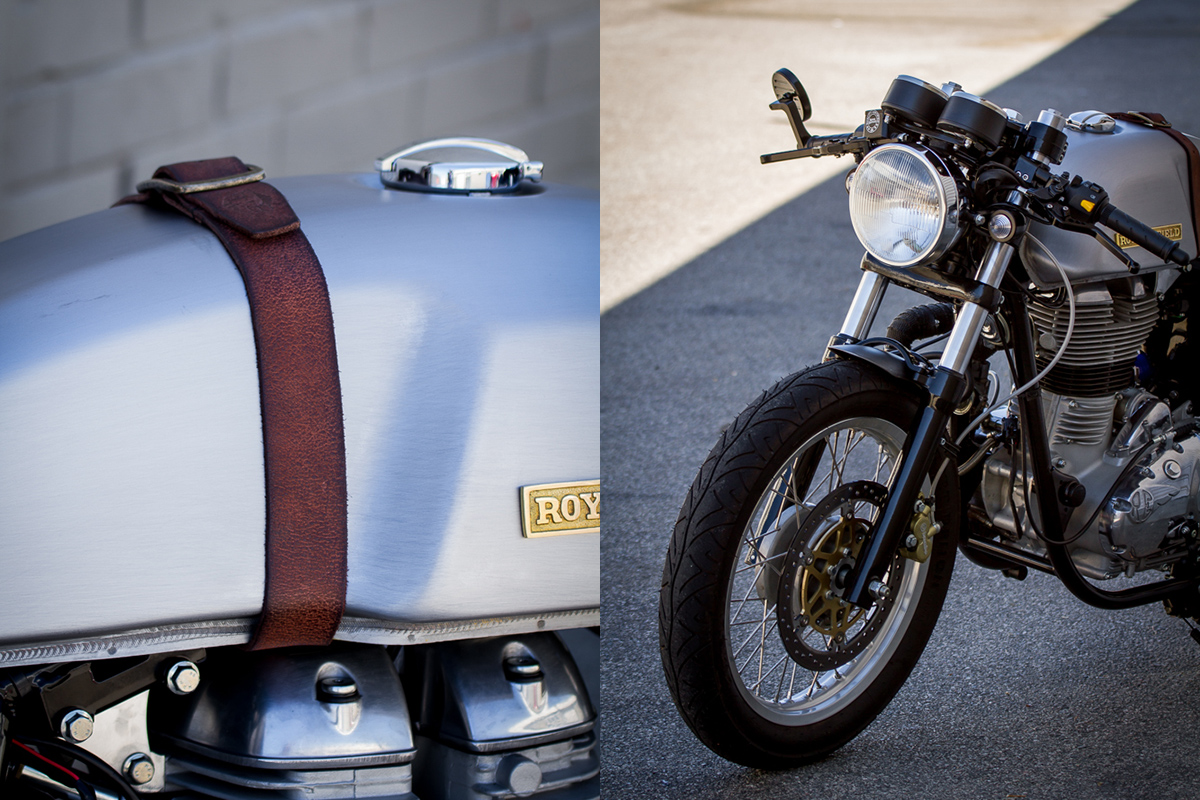 A tail tidy cleverly made from the original back end brackets does exactly what its name implies and is complimented by more bullet indicators slung below the frame loop to match the front. A new flat seat was taken from the Royal Enfield back catalogue, shaved down and reupholstered in brown leather for plus one adventures. Eagle-eyed aficionados will spot the stock foot pegs now powder coated black and the side covers got the same brushed treatment as the tank.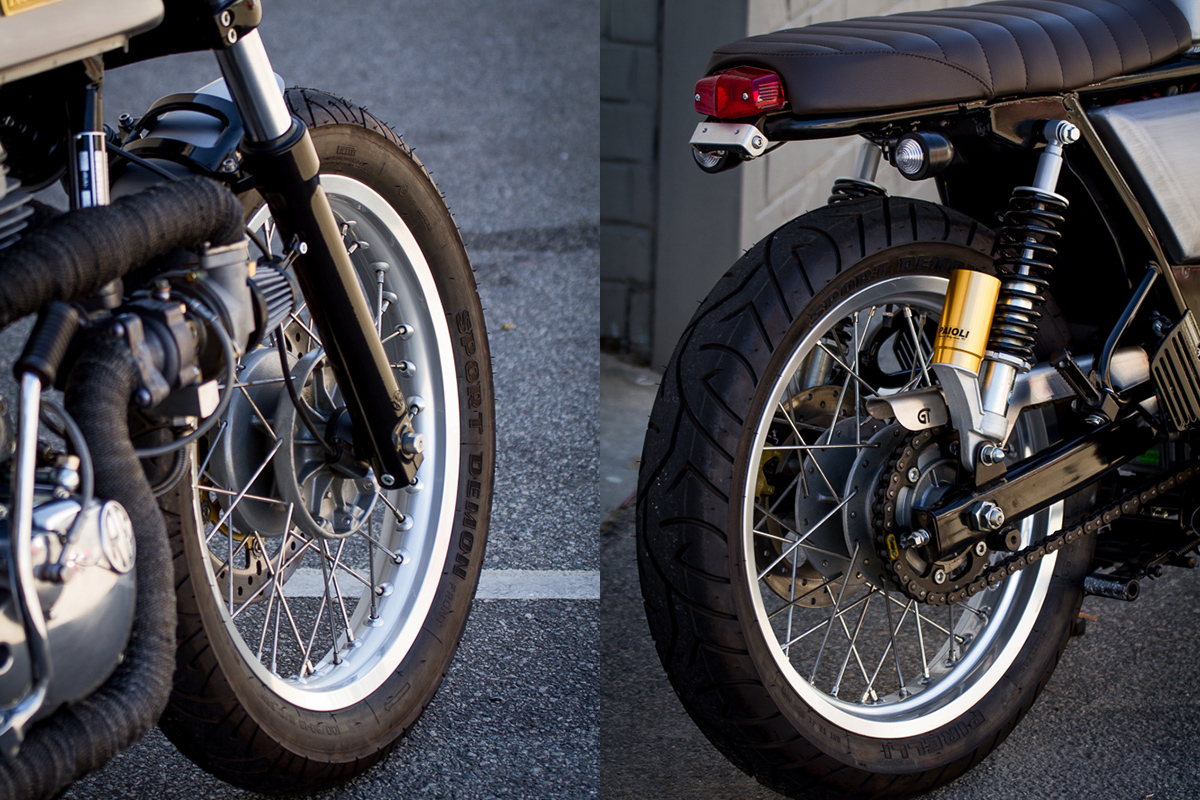 Ric says that what most surprised him about the bike was not the power increase the turbo offers, but the torque. "It pulls like a train when on boost!"
Our hats are off to Ric and his team at MotoMAX as they only had a four-week turnaround from the first conversation about the motorcycle to the completed product. "We squeezed the build in around a busy workshop schedule. Total build time was 60 hours" recalls Ric. We should also mention that along with running an entire motorcycle dealership, servicing department and all, the guys managed to plan, start and finish the build while moving their entire shop to a new location.
The voting for the Royal Enfield 31 Day Custom Bike Build Off is now closed, but this definitely won't be the last custom, Enfield or otherwise, to come out MotoMAX. As it were they've already completed another custom Enfield called "The Royal Flush", this time based on the Bullet 500. Ric says, "I've never built the same bike twice", but if MotoMAX decides to make this turbo kit part of their product offering, they may end up putting together a fair few these Continental GT-Ts .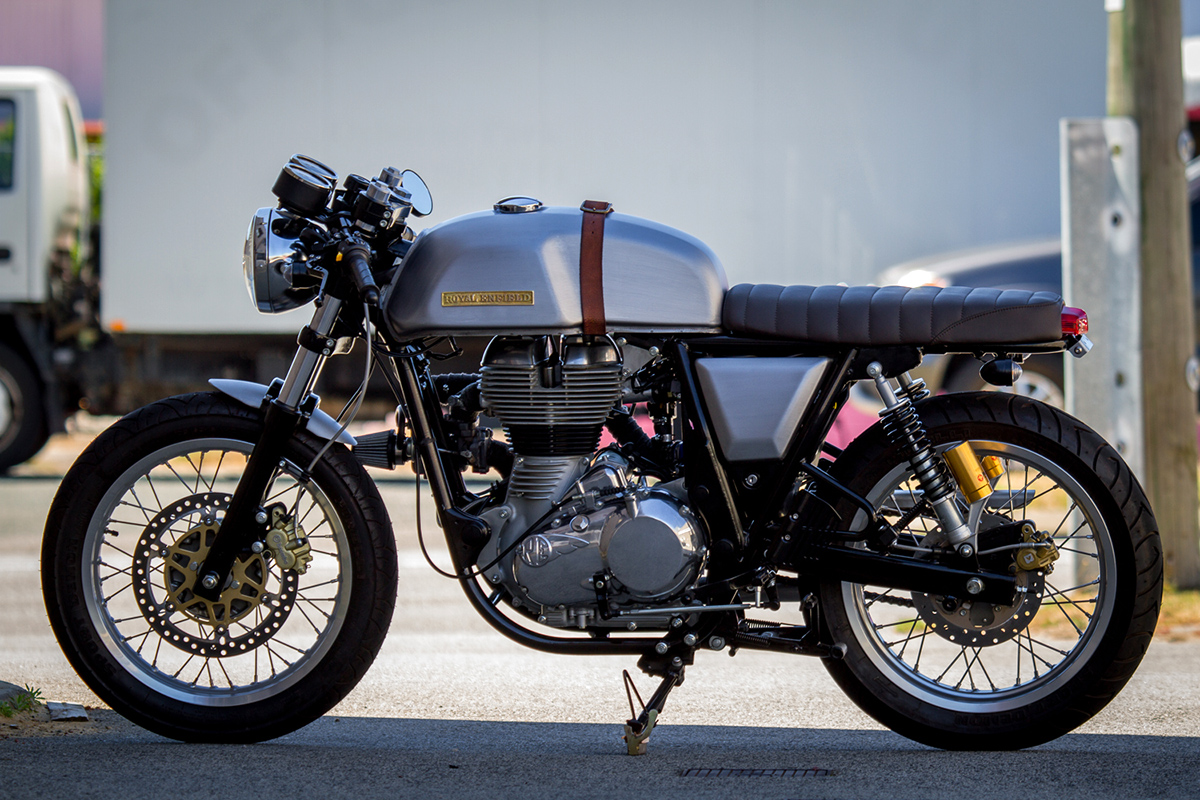 Royal Enfield's Continental GT has been with us for a few years now. A single cylinder 535cc fuel injected engine with a Harris Performance designed frame, Paioli shocks, Brembo brakes, classic retro looks and a reasonable price tag have made it one of the more common Royal Enfield models I see thumping around my hometown on a weekly basis. However, it could be said that the Conti is lacking in the power department. Even though the curb weight is around 180kg, its stock 29hp at 5100 rpm does leave you wanting more, especially if you're hitting the freeway.