It's interesting how long it can take for a vehicle manufacturer to gain respect. Triumph's Bonneville for instance struggled to get a grip in the US market until Marlon Brando rode one in "The Wild One". But not everyone is lucky enough to have a top billing Hollywood star ready to pilot one of their machines on the silver screen thus making them the coolest thing since…well, since Marlon Brandon rode the Bonnie in "The Wild One". One such company never blessed with such a stroke of luck is Royal Enfield who currently reside and manufacture in Chennai, India. Their struggle has been long and hard but but today it looks to have been worth it. Their bikes are now know for their reliability and classic styling which makes them an appealing choice for anyone with a soft spot for the classics (not to mention the affordable price tags. $4800 USD starting price).

The Royal Enfield Bullet which first appeared in 1955 now comes in several different standard versions as has a great range of bolt on accessories including a Cafe Racer conversion kit. The Cafe Racer kit includes the following parts and can be customised to suit your tastes: Alloy Fork Top Yoke, the 7″ Lucus Headlamp, Shell, Rim and Bracket, Rubber Fork Gaiters, the Café Polished Alloy Petrol Tank, Polished Alloy Front Mudguard and Stays, Rear Sets (4 or 5-Speed), Electrics/Battery Covers (ES or KS), Café Seat and Rear Mudguard, Café Exhaust System, Sidestand, and Handlebar Clip-ons. Items that are NOT included, but very nice to have are the Polished Wheel Trims, the Flyscreen, or the dashing Sport Fairing.
Here's how the bikes look in their standard form…The Classic.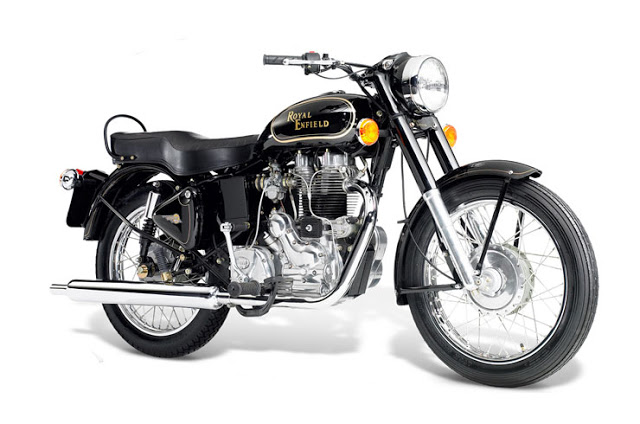 The Deluxe…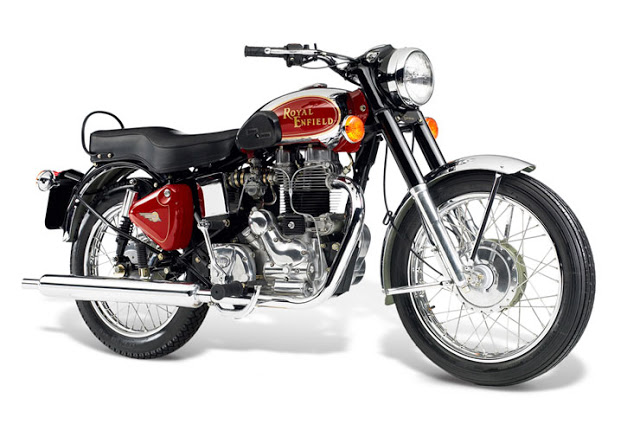 and of course the uber cool Military version!
See what people are saying about the Bullet at these sites:
http://www.motorcyclecruiser.com/roadtests/123_0010_royal_enfield_bullet/index.html
Visit Royal Enfield online
here
.