For a motorcyclist, nothing beats a clear blue sky, warm breeze and the open road. But one of the biggest turn-off for a rider is cold wet weather. Without appropriate riding gear, you can pretty much forget about enjoying your bike during the cooler months. Our mantra at Moto Est. is always be prepared. So to help you gear up for cooler conditions we enlisted the help of local riders Nadine and Dave to showcase our 2020 Winter Riding Gear collection. This awesome gear will help you ride through those winter blues.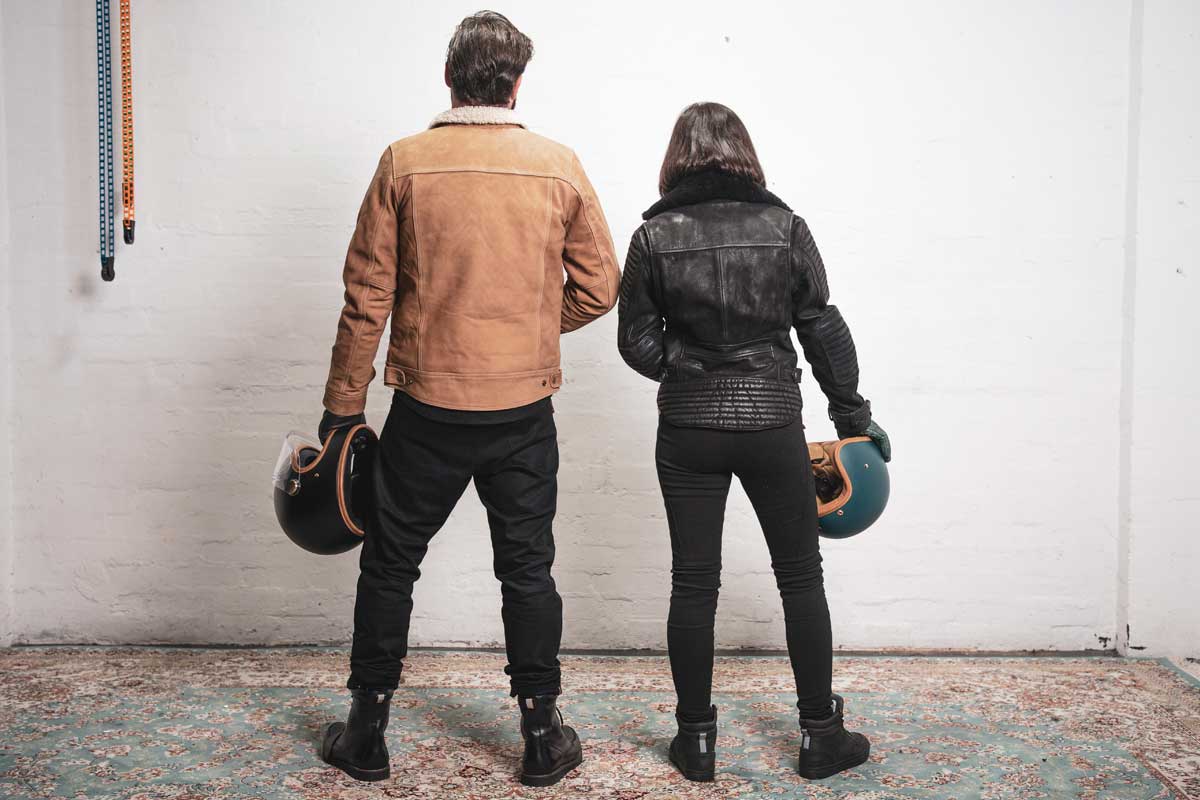 1. THE TOBACCO CALIFORNIA RIDING SHIRT
The Tobacco California is a protective overshirt made from 12oz canvas. The shirt is breathable so you aren't left sweaty when humidity builds underneath your gear. On the safety side, this shirt packs features that most shirts don't. It comes with armour pockets and Tobacco's own air-flow, interlock knit fabric thread lining at the shoulders, elbows, forearms & upper back. Not only is it a timeless staple to your moto wardrobe, but it is also a perfect windbreak for layering on and off the road.
2. THE BLACKBIRD BYRON JACKET
Designed with a tanned nubuck leather outer that is thick and strong the Blackbird Byron jacket will protect you against the elements. It has panels of faux fleece lining on the inside to keep you toasty and comes complete with removable CE-approved Level 1 armour at the back, shoulders and elbows. The final touch is a silky satin lining in the sleeves making it easier to get on and off.
3. THE CLUTCH MOTO SELVEDGE DENIM JEANS
These Clutch Moto Selvedge jeans are made of 14oz raw selvedge denim. The superior quality denim is lined with SuperFabric in key impact zones, making them a great option for winter riding gear. Triple stitched and meeting the highest of abrasion resistance ratings, you will struggle to believe it's not just some regular fabric. Styled into a classic, slim tapered fit means you can add a waterproof layer when the sky lets loose.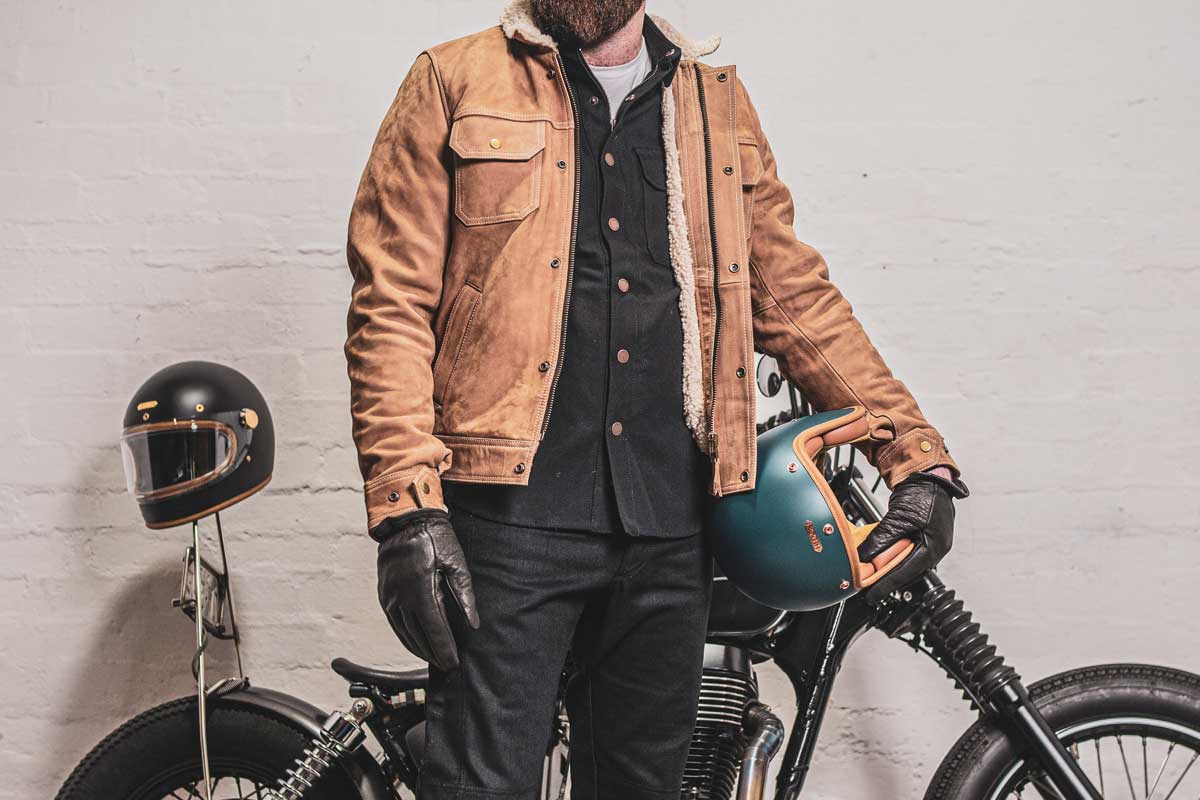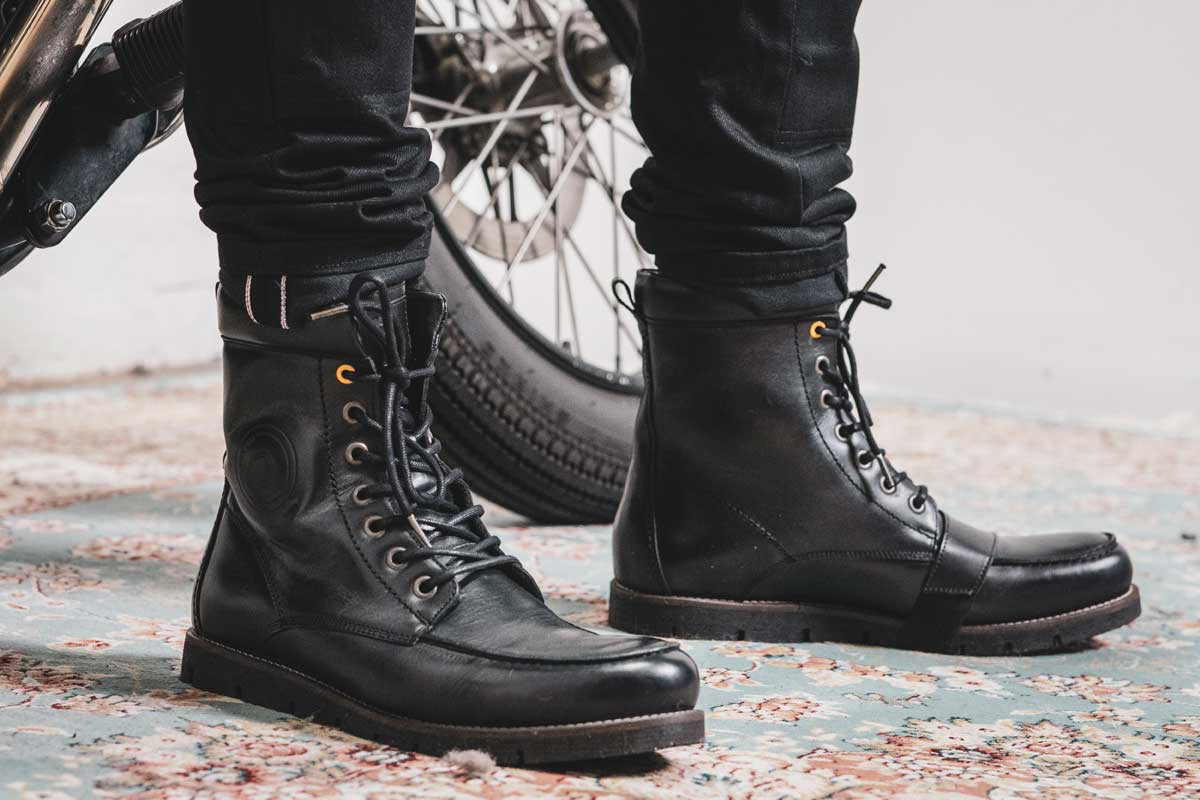 4. THE GRIFTER SCOUNDREL WINTER LINED GLOVES
Chilled to the bone no more! Grifter has taken their famous urban style gloves up a notch with a soft and cosy winter poly lining. The thick Bison leather of the Grifter Scoundrel winter gloves is abrasion-resistant and naturally waterproof to keep your hands protected and dry. The thick outer, with no perforations, paired with the soft lining means you can keep that urban look you're going for but keep your hands warm at the same time.
5. THE REV'IT! MOHAWK BOOTS
The Rev'it! Mohawk boots are a high-cuff, classic moccasin toe style boot that provides an extra touch of coverage which is priceless when riding in the cold. Made from a thick cowhide they are naturally wind & waterproof but have been treated with an added water-resistant coating. The gusseted tongue keeps the wind, water & dirt out, and the 100% rubber non-slip sole will give you the extra grip on the gravel which is a must every time your feet leave the footpegs.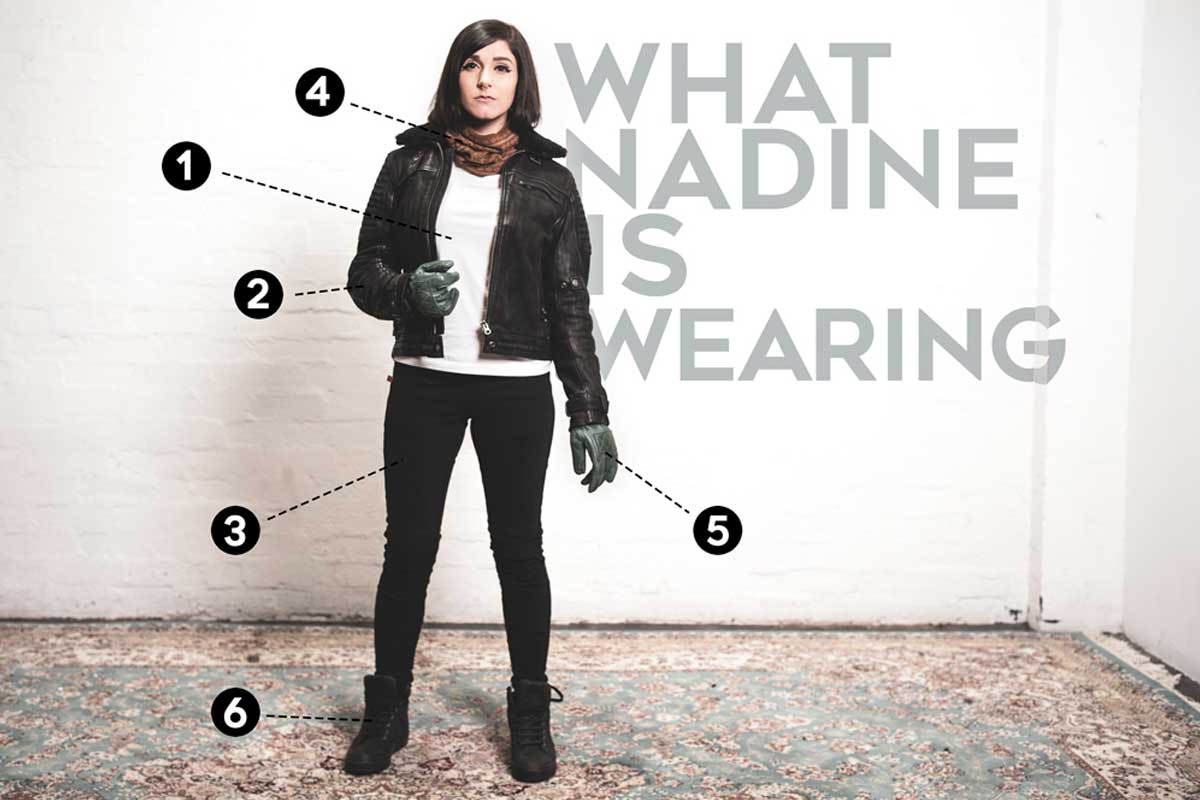 1. MOTO FEMMES GASOLINE TEE
The Moto Femmes Gasoline tee features a retro crew neck design with a dash of colour. A 100% cotton construction means your base layer is insulated while allowing the skin to breathe. It's much better than synthetic fibres that can act as a seal over your sweat glands, leaving you damp and cold despite wearing additional layers.
2. BLACK ARROW NIGHT HAWK JACKET
The vintage aviator inspired Black Arrow Night Hawk jacket has all the bells and whistles a rider needs from Autumn through to Spring. Designed with a waxed nubuck leather outer shell to keep the wet from sinking in and press-stud straps so you can adjust the jacket for a more tailored fit. To take it up a notch, the shearling collar buckles up as a neck warmer and the removable quilted satin liner will keep you toasty against cold blasts of wind. It ticks all the boxes on the safety front, with DuPont Kevlar Fiber panels and CE Level back, elbow and shoulder armour. The key factor to take away from this glorious beast is how flexible it is to suit all the trans-seasonal changes.
3. ARMOURED GOGO LEGGINGS
We are here to announce that women's moto leggings are the new black! The GoGo leggings are the original and the best motorcycle Leggings. They come with removable knee armour and are fully lined with DuPont Kevlar Fiber which makes them thick and warm but they wick sweat thanks to their poly-cotton fabric outer. As the leggings are super stretchy and not bulky at all they are the perfect pants to wear under an outer layer. We always recommend these leggings. They're a best seller because they are elasticised and suitable for every shape and size!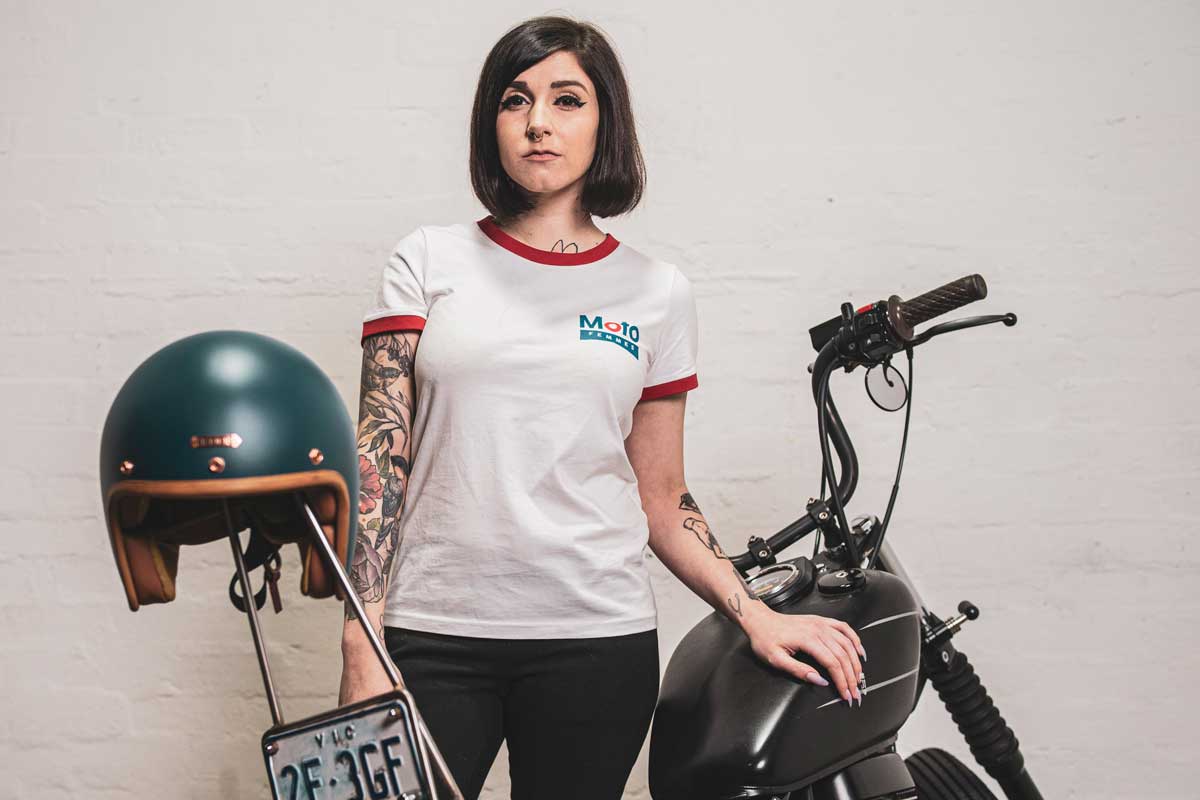 4. THE BLACK ARROW CASHMERE NECK WARMER
Leaving your neck exposed to wind chill can be your fastest ticket to getting sick. In the current climate that'll likely lead to a swab up the nostril too. These luxurious Black Arrow cashmere neck warmers are lightweight and unbelievably cosy. It's double knitted to block out the wind without restricting your head movement.
5. THE 78 MOTOR CO. SIROCCO GLOVES
Who said winter gloves couldn't be stylish, slimline and practical? Made with high-grade thick leather and a diamond hand-stitched finish, these unisex emerald gems are built to last. They have no perforations, so block out the wind and are lined with microfleece to keep your mitts snug and warm. Better yet, the 78 Motor Co. Sirocco gloves are also available in Blackcurrant and Sahara Yellow, adding some brightness to a dark, dreary day.
6. REV'IT! EMERALD BOOTS
Motorcycle shoes that have all the features to keep you riding all year round! Don't be fooled by the urban casual look of these Rev'it! Emerald boots. Made with a top grain leather outer, a non-slip rubber sole and a gusseted tongue to keep out the wind, water and dirt. The cherry on top for these kickin' boots is a reflective strip on the back heel to add some visibility in wild weather.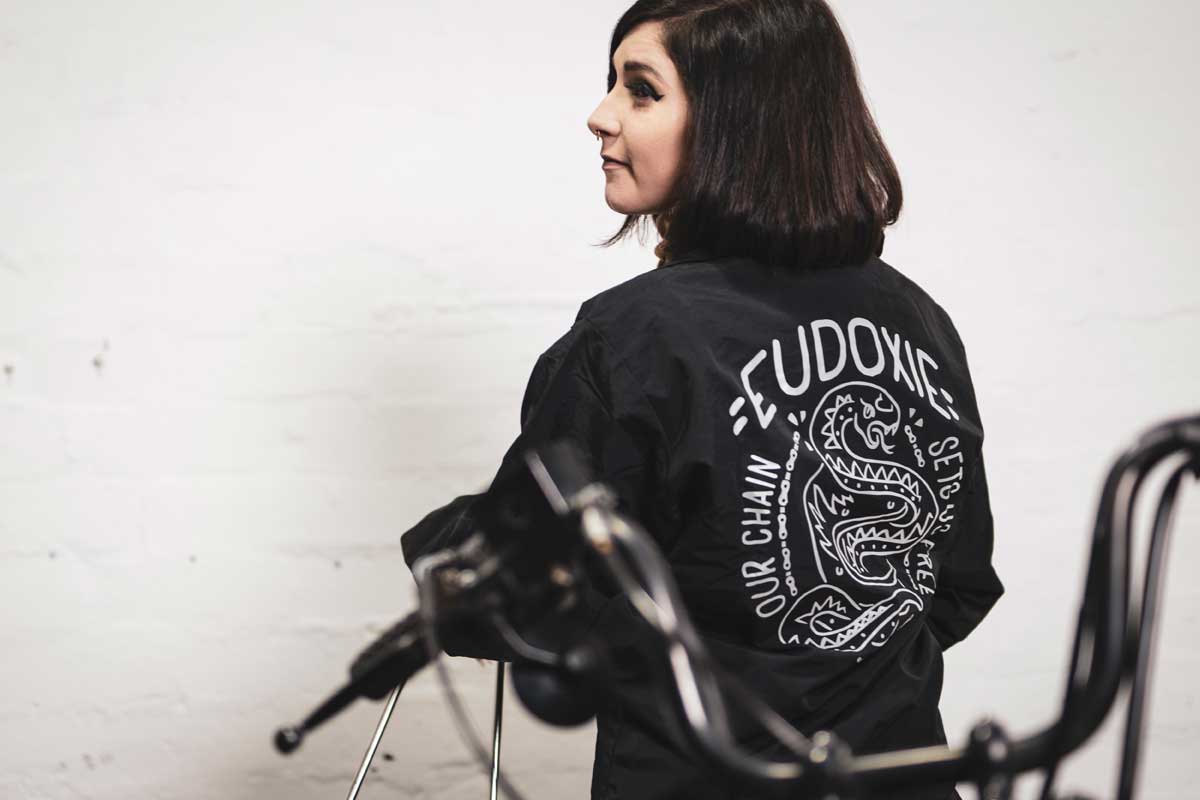 ---
*  W I N T E R   E X T R A S  *
---
THE EUDOXIE MASHA RAIN JACKET
Going to be riding in a downpour? Keep your 100% rain & windproof jacket on hand! The Eudoxie Masha rain jacket is lightweight so you can tuck it away easily without taking up space. It also features a cotton lining and a slick retro reflective design on the back, keeping you safe during those times when visibility is an issue.
THE HEDON RACER FULL FACE HELMET
The Hedon Racer helmet is the perfect companion for your winter riding gear garb. The wide field of view clear visor includes an anti-fog double lens to stop it fogging up when it's cold out. The helmet has been designed to limit wind entry and have a perfect fit suede lining. Our favourite part about this stunning helmet is the brass hardware and brass Hedon metal plate that keeps it classy.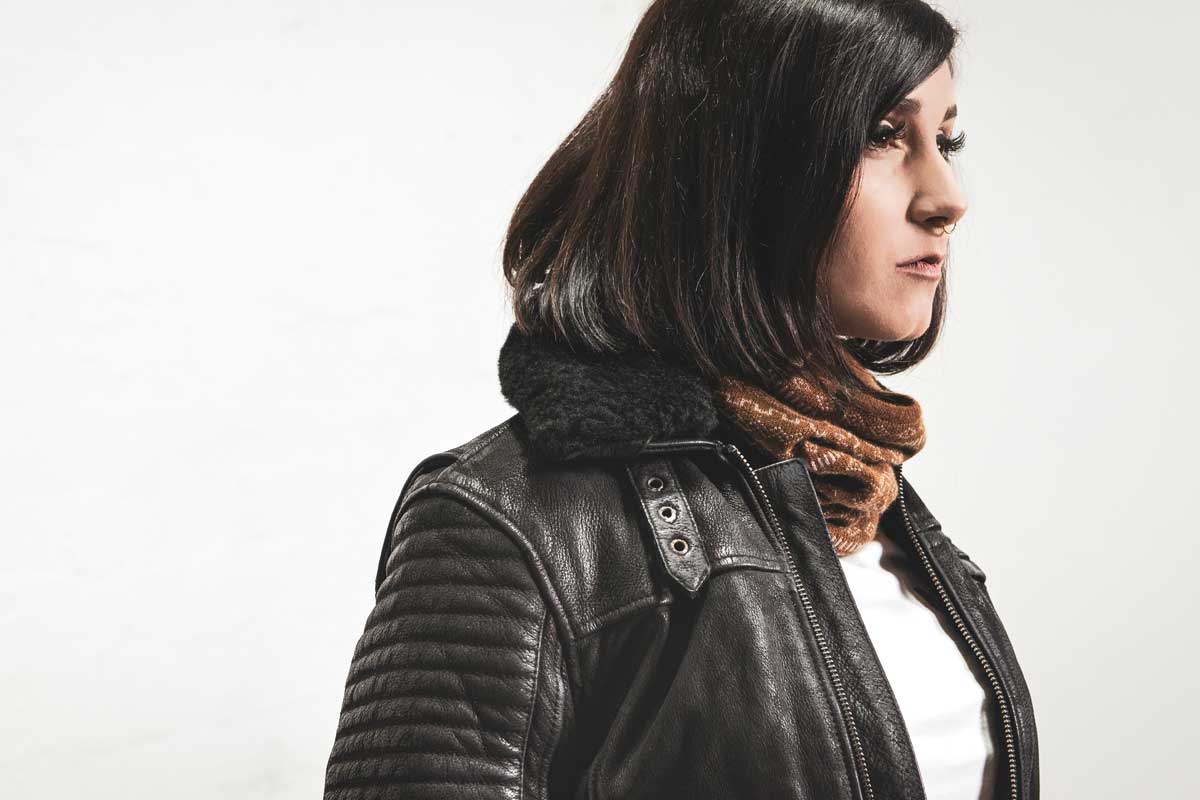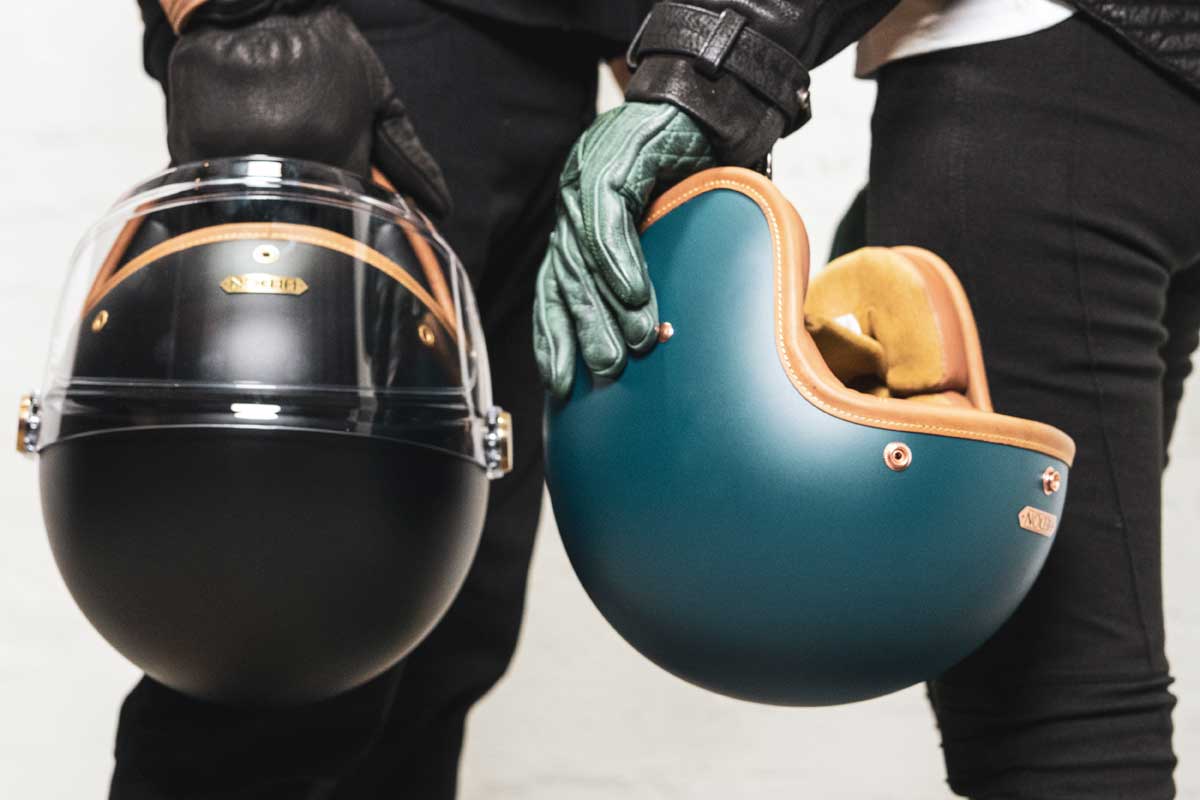 THE REV'IT! ACID H2O RAIN PANTS
I like sitting in puddles… said no one ever! The Rev'it! Acid H2O rain pants are a great layer to keep on hand for when you get caught in the rain. They pack down small but pack a protective punch against the wet weather. 100% waterproof with Velcro adjustment at the legs they aren't bulky and reflective panels allow drivers to spot you when it's gloomy. These are a unisex product so gals, size down from the bottoms you usually wear for the best fit. Gentleman, stick to standard sizing of your pants.
THE HEDON HEDONIST OPEN FACE HELMET
Ok so an open face may not be the first choice for the winter riding gear but they are versatile. The Hedon Hedonist open face helmet provides great visibility with the option to clip on one of their many visors for protection against that cold wind or rain.
---
We hope you have enjoyed our winter riding gear choices. For more information about each product and their functional features just click on the links to find out more. If you want a bit of added waterproof protection for your leather gear, check out our Australian Leather Seal.
Photography by Jacob Simkin   /  Story sponsored by Moto Est.