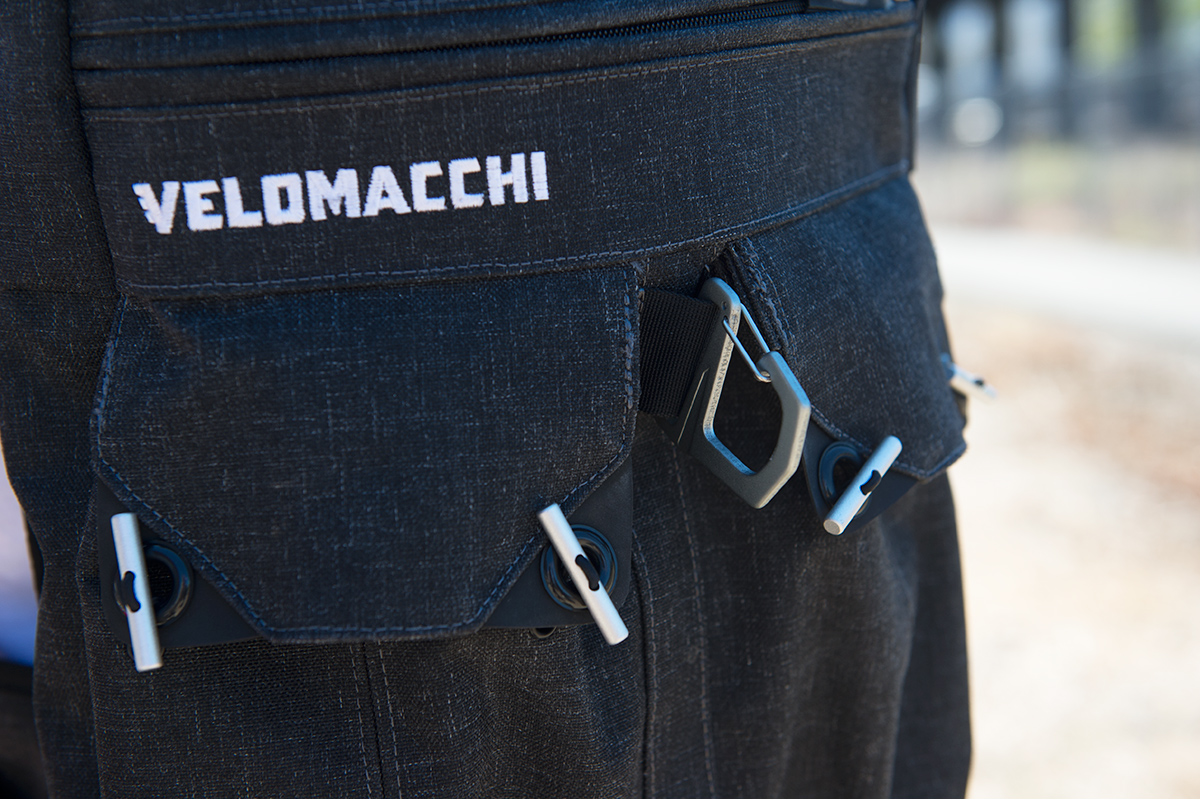 Now despite the price tag, when it comes to storage there's not much that the Speedway can offer over a regular backpack. There's a main compartment with roll top closure, two pouches on the face of the pack and between them, an alloy carabiner designed to hold a motorcycle helmet in such a way that it'll flop about and smack small children in the face at the shops.
There's a redundant one-side entry zipper that opens into the main body of the bag and a pouch for a very small hydration pack. And the main body of the Speedway isn't what you'd call voluminous – it'll only hold around 20 liters. I think that's a little optimistic. They must be imperial liters.
However the Speedway does look good. Incredibly good. The fit and finish is terrific, and the materials high quality and stitching neat. But it looks best from the rear – the front looks a little like you're getting ready to go BASE jumping. It's the backpack equivalent of a 'butterface'. But that parachute-esque front is where the magic happens.
It's shoulder straps designed in two sections, with a pin and lock attachment near the shoulders that rotate to fit better depending on your body position. The two part arrangement means that it'll adjust to fit your riding position whether you're perched up high on a dirtbike or hunched over a set of clip ons. On the straps there's an elasticated loop for a tyre pressure gauge and an medical information card. There's also a flat plastic panel for mounting a GoPro – perfect for capturing all that footage that no-one will watch later.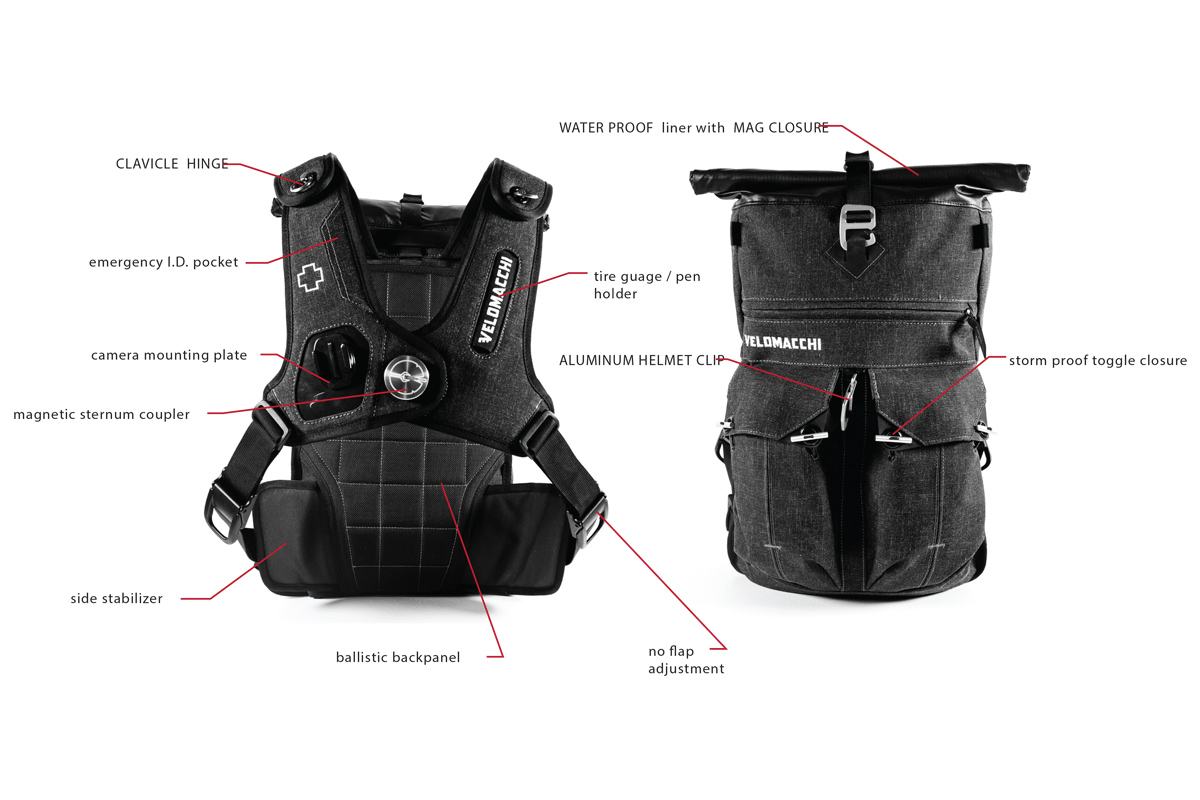 The most interesting thing on the backpack is the magnetic locking system that joins the straps over your chest. A male and a female end of a circular lock twist and connect both ends in place with a satisfying 'click' when held near each other, saving you from some awkward fumbling when trying to get the backpack strapped together. To undo it you just twist it and it comes apart.  It makes it incredibly easy to do up when wearing a helmet and gloves.
My only concern, and it's not a minor one, is what would happen in the event of a crash. That fat chunk of metal right in front of your sternum could crack your chest open like an egg. Velomacchi state that it's got armour behind the lock to spread the impact, but I'm a little skeptical. As someone who's broken several ribs in an otherwise unspectacular fall due to a camera in my jacket, I'm more concerned than most by these things.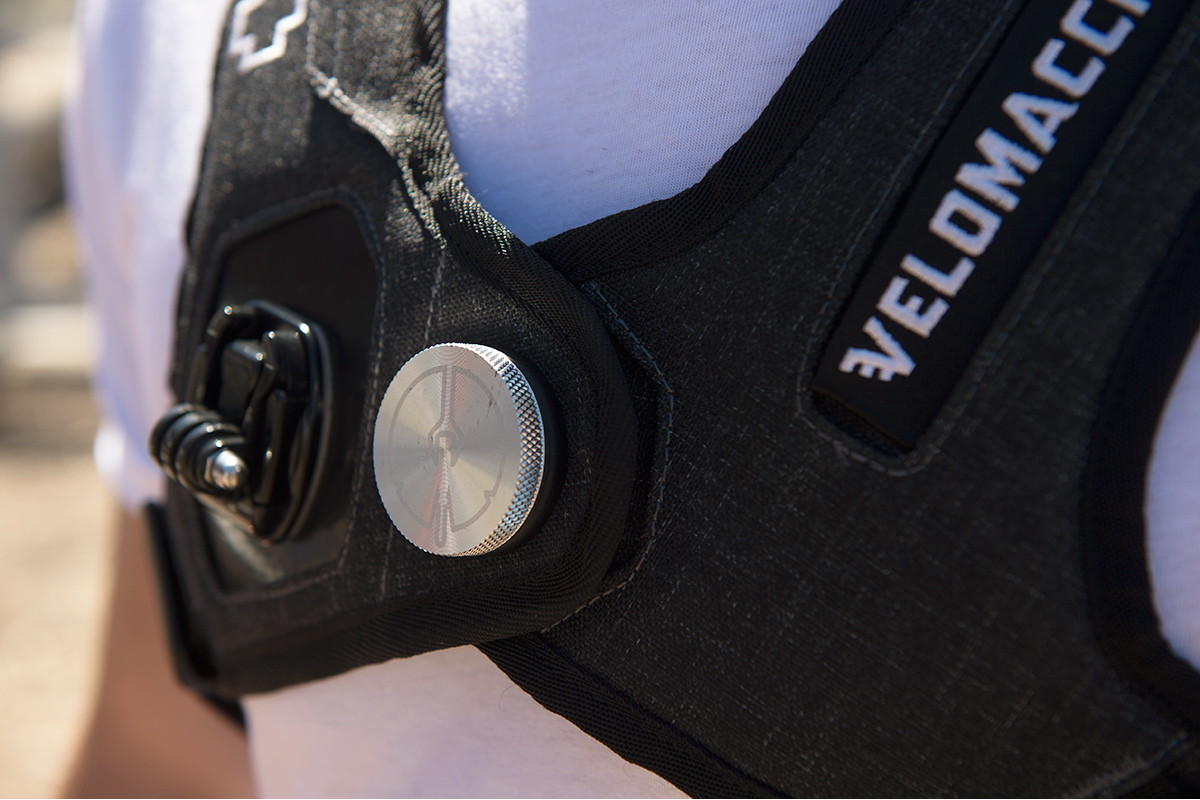 While Velomacchi state the Speedway is only water resistant I've ridden in some absolutely torrential downpours for days at a time and the inside of the bag remained as dry as a bone. That's not the case with the two front pouches which do get some seepage from the bottom. For things that have to remain dry, it's best to put them in the main body of the pack.
All told, I love the Speedway. But I said I'd recommend the backpack with one or two caveats. So here we go.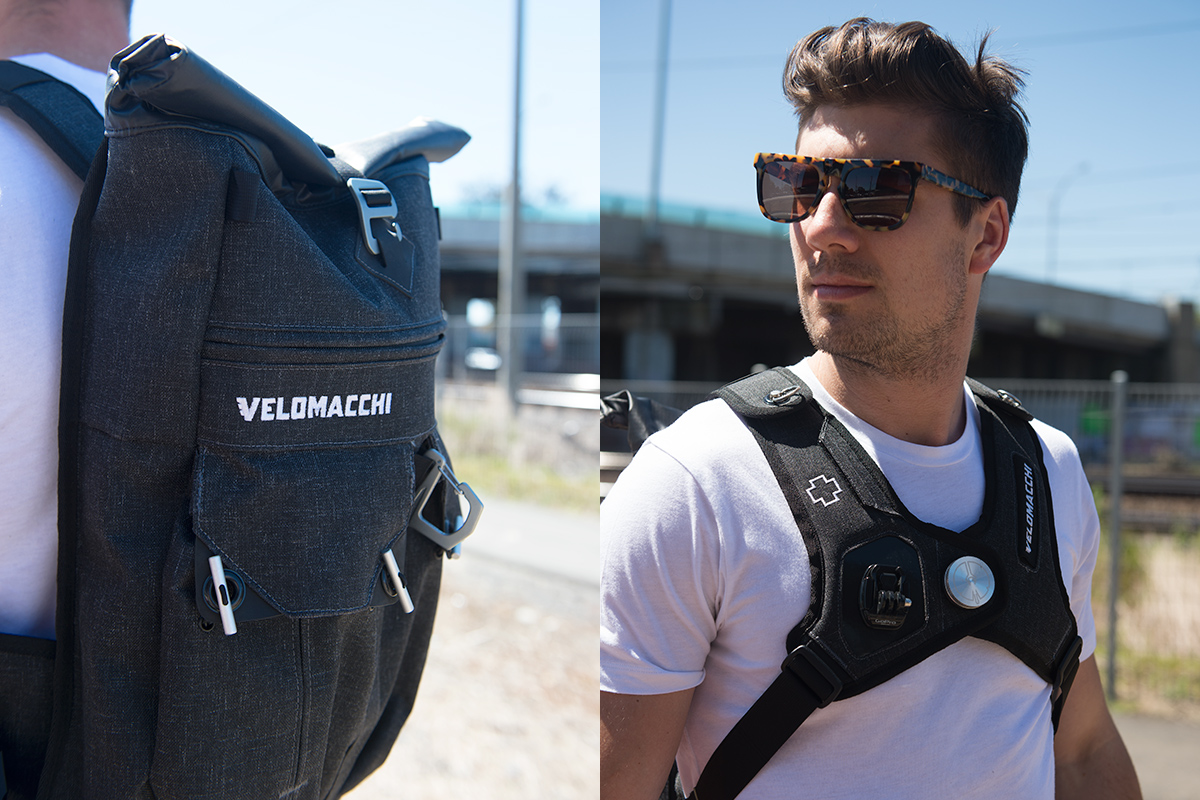 I've been happy with mine, but I've met another owner who wasn't. Quite unhappy, actually. His shoulder strap attachment pins came completely apart after only a brief period of usage. That's unacceptable for a product at this price point, no matter how good the thing looks. And while there isn't a glut of moto backpacks on the market, there are some more tried and tested options out there.
Because while the Speedway does have a niche, it's got some pretty strong competition from other motorcycle-specific backpack manufacturers. Kriega for instance, have been making reliable gear like this for years. It doesn't look half as good, but it's cheaper, has a proven record and is part of a 'system' of interchangeable parts. For many people it'll be hard to drag them away from gear such as that, no matter how good the Velomacchi looks.
For me though, I love it. I love the look of it, the functionality and how unusual the whole package is. It straddles an unusually rare line in the motorcycle industry as a product that's innovative, functional and damn good looking. And, as I mentioned, that combination comes at a price. There'll be a lot of you out there who don't think it's worth it, and that's fair enough. But I'll be damned if it doesn't make me three hundred dollars happier every time I strap it on for a noodle run.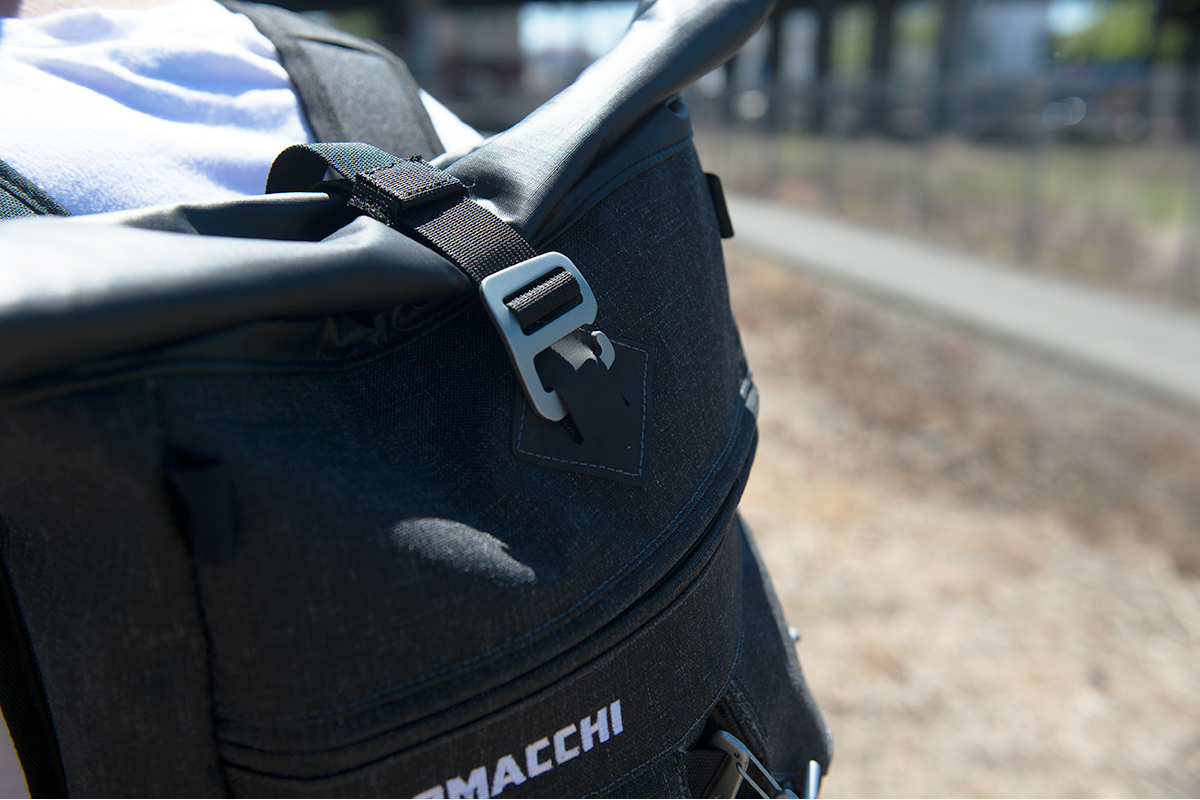 Brace yourself – the Velomacchi Speedway
backpack
costs $300USD. I thought I'd tell you that first, so I don't get your hopes up. But despite the ambitious price tag, I loved the look of it so much I went and bought one, eating instant noodles for a month to ease the financial burden. And now, with six months of touring and commuting with the pack on, I can recommend it as a great bit of it. But with one or two important caveats.