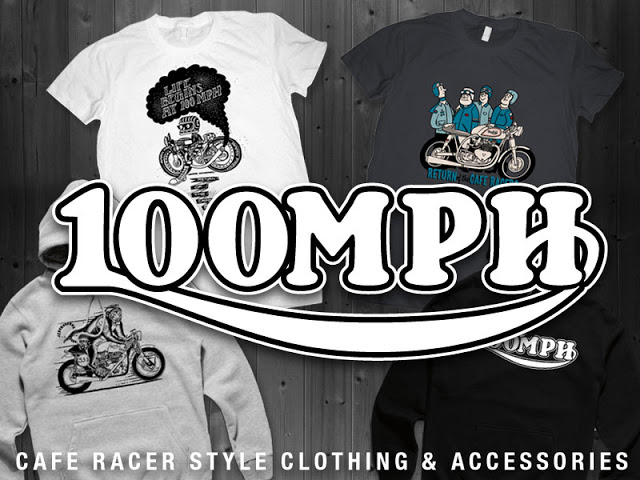 For years I've been toying with the idea of releasing a Cafe Racer themed clothing. A few months ago I was approached by a brand new Aussie brand called "The Ton"(100MPH.com.au) to team up with them for the release of their store with an exclusive range of t-shirts and hoodies. We approached a group of the most talented illustrators and designers who are active in the custom motorcycle scene and commissioned them to each produce a Cafe Racer themed design for us. The result was a set of unique and exclusive illustrations that capture the spirit of the Cafe Racer style and attitude. All of the shirts are available now.
Our 3 designers are Maxwell Paternoster of Corpses from Hell, Lennard Schuurmans from Bubblevisor and Adam Nickel whose designs you would have seen at Deus Ex Machina and Sideburn Magazine.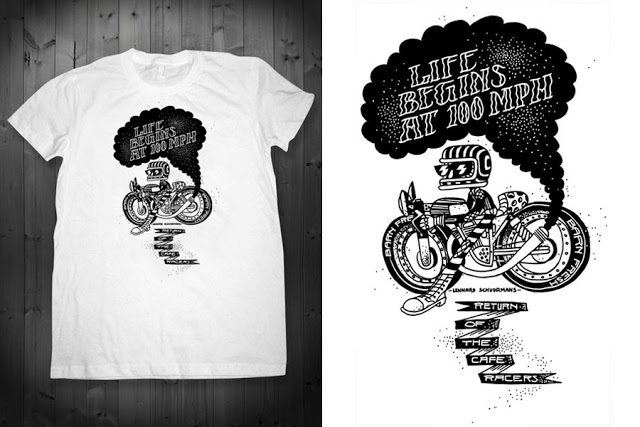 "Life Begins at the Ton" by Lennard Schuurmans


You haven't lived until you've reached the ton. The unwritten rule of the Cafe Racer rider. Chin on the tank, open throttle, straight down the line.
About Lennard…
I'm a artist/illustrator living in Amsterdam. I always start with a black pen an paper. First I make a lot of sketches. Most of the time I do some fine tuning in the computer and then it's finished. I have so many dream bikes but to name a few a Triumph Tiger trial, Douglas speedway bike or a Matchless g80cs.
See more of Lennards work in the Barn Fresh web store or at lennardschuurmans.com. Be sure to also check out his kick arse blog Bubble Visor.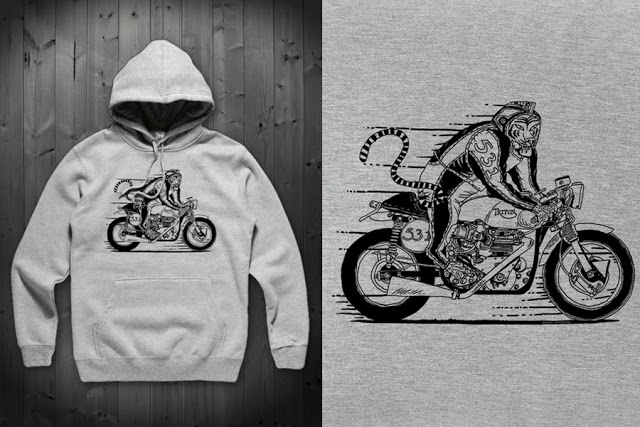 "The Featherbed" by Maxwell Paternoster


Quite possibly the best Cafe Racer combination ever made. A Triumph twin mated with a Norton Featherbed frame. This one's piloted by an icon of Triumph motorcycles, a speed loving Tiger.
About Maxwell…
"I was born in Ipswich, in the county of Suffolk England. I was raised in rural countryside riding in tractors as a child and surrounded by large bits of farm machinery that were juxtaposed against flat natural surroundings. I was at Suffolk College in Ipswich studying art and design and gained a BA Hons in illustration at university of Westminster, where I studied illustration and animation. The main goal was to animate my work but I decided to focus on illustration, to build more of a portfolio.
I have always been a Motorcycle fan, and always into custom machines. I have started to combine my 2 favourite things, motorcycles and art, resulting in a good new outlet for my work.
I suppose my style of artwork is kind of illustrative/comic influenced, quite heavily drawing orientated work really. It usually takes ages for me to settle on an idea, I have to thinkabout all the elements while walking and doing mundane tasks, then go from there sketching out designs based on the thoughts I had (this is for more finished pieces) A lot of my personal images I just start drawing with no plans and see what happens."
See more of Maxwell's work at maxwellp.co.uk and be sure to check out the Corpses from Hell blog.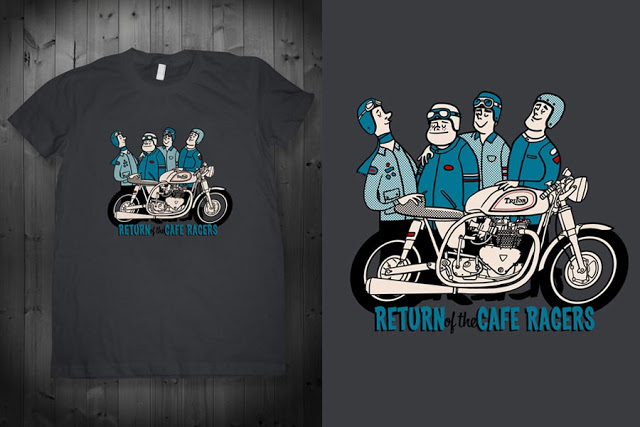 "Old's Cool" by Adam Nickel
"Old's cool" is inspired by images of the Ton Up boys from the 1950's. It's a celebration of the camaraderie between bikers and custom vintage motorcycles.
About Adam…
"I'm an illustrator, most of the work I do is for magazines and newspapers. I don't always get to work on motorcycle projects so its nice when I get the chance. My background is in graphic design, but I eventually decided I wanted to have a career in illustration because I found more room to be creative.
My interest in motorcycles all started with me modifying my sisters bicycle when I was younger so I could cruise around town. As I got older I kept thinking it would be cool to modify bicycles again like I did when I was a kid, but I pretty soon realized as an adult it made a lot more sense to be customizing motorcycles instead of bicycles. Ive always liked older stuff and so naturally I was drawn to the customization of vintage motorcycles rather than the newer stuff. I started doing illustration work that revolved around custom motorcycles and just thought I would send some of my artwork to the guys at DicE magazine. They had my artwork on the cover and then a lot of other motorcycle work came from my exposure from the magazine.
A lot of my illustration is influenced pretty heavily by mid century illustration and design. I work completely digital on the computer with a Wacom drawing tablet. Which can be frustrating not being able to sell "original art" when people ask, but the ease and flexibility of working digital is hard to beat."

Also check out 'The Ton' hoodie. Every rider needs a black hoodie, perfect for an extra layer under your leathers in winter. This one features the 100mph logo (a clever spin on Triumphs old logo) big and bold across the chest.