Image above: BMW R nineT tail tidy by Daedalus
As Sir Mix-a-lot indubitably pointed out, there are some people who are quite fond of large derrières. But in the world of motorcycles, voluminous rear ends are generally ill-favoured. It shouldn't come as a surprise that the aftermarket parts manufacturers have a solution for this issue.
Commonly referred to as 'tail tidy' or 'fender eliminator' kits, these aftermarket accessories are designed to eliminate the excess that manufacturers are often required to hang from the rear end of a motorcycle. Today we're taking a look at what's included in a tail tidy kit, how they are installed and what negative aspects there may be to using one.

Why would anyone need a tail tidy?
Today's motorcycle manufacturers have it tough. Due to constant revisions to emissions and safety regulations, they have to go to great lengths to ensure their motorcycles are legally viable worldwide. One byproduct of such laws is that most modern motorcycles have colossal cabooses.
Over the years rear fenders have gotten bigger, copious superfluous reflectors have been added and they contain enough plastic to completely remodel the entire Kardashian ménage. The problem with all this is that we riders know how good motorcycles look devoid of all that rear-end clutter. That's because we've been drooling over svelte race bikes that have no need for any of that junk for decades. So if you want your motorcycle to look as taut as a Moto GP bike, the first place to start is round the back.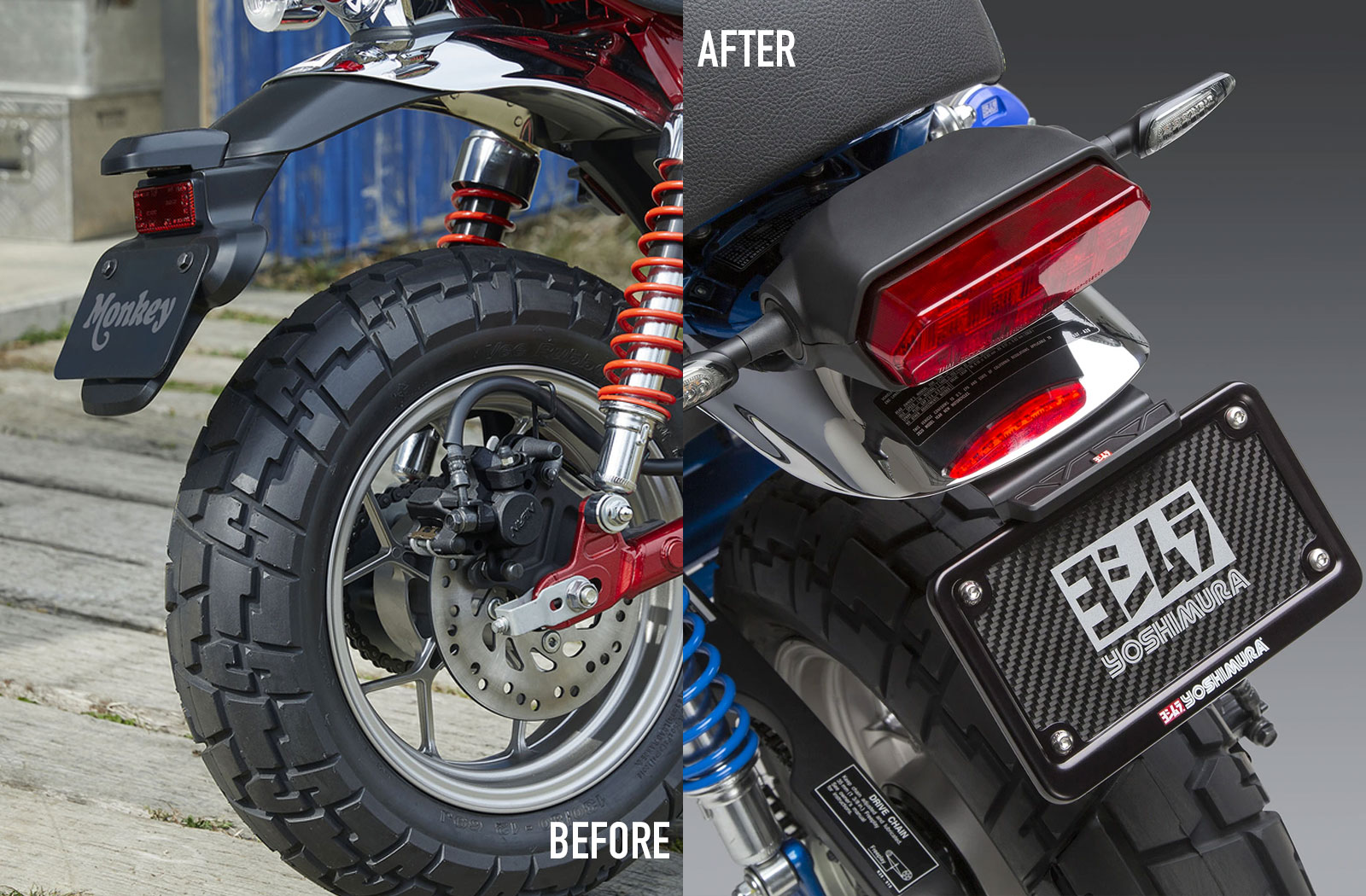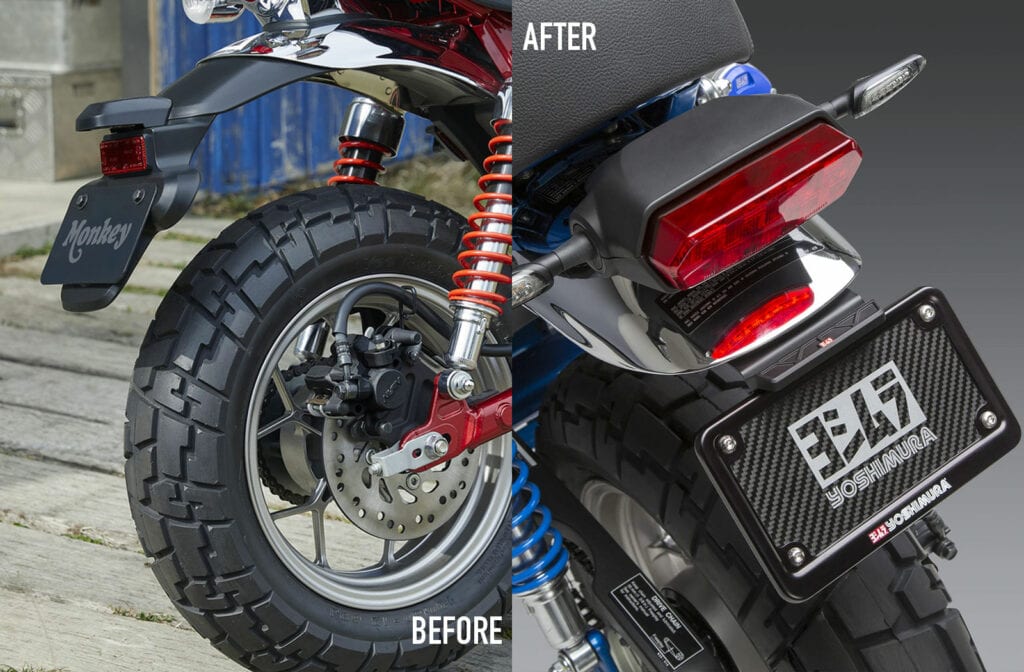 Which motorcycles can tail tidy kits be used on?
Tail tidy kits aren't just for modern sports bikes. Every motorcycle, from the latest Honda Monkey to a Harley-Davidson Fat Boy can benefit from the fitment of one. Infact most popular current models are catered for by aftermarket suppliers. For example, a quick search on Revzilla for a Kawasaki Z900RS fender eliminator will return several options to choose from.
If, on the other hand, you happen to be looking for a solution for an older motorcycle there are also plenty of universal options out there. Just look for ones that don't require fabrication work to install if you're planning on doing it yourself.
Legalities of tail tidy kits
Be aware that any modification you make to your motorcycle could result in you breaking a law. When it comes to the rear end of your motorcycle you may encounter laws that stipulate the fitment of a reflector, license plate lighting, the length of the fender and even the distance between your rear turn signals (yes that is a real law we have in Australia!). Be sure to check with your local licensing department what you can and can't do if you want your bike to remain street legal. The last thing you want is to be slapped with a fine for changing something seemingly innocuous.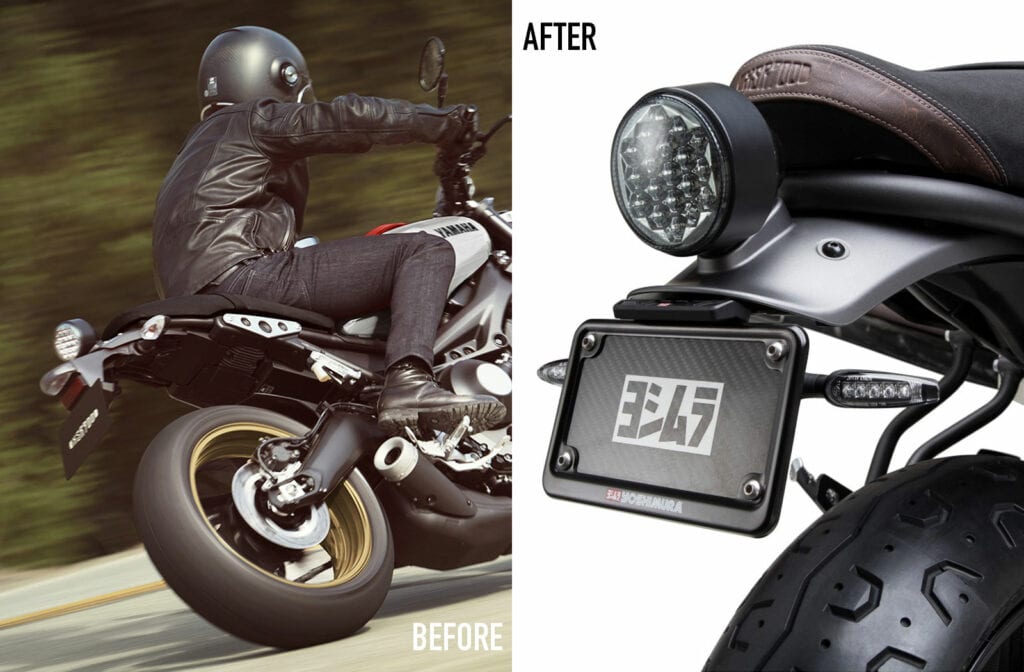 How to install a motorcycle tail tidy
If you're buying a tail tidy kit designed for a specific model motorcycle it will undoubtedly come with detailed instructions. Most kits consist of the main bracket which includes space to mount the license plate and rear indicators, and all the hardware required to install it.
Some of the things you may need to do to fit a tail tidy kit include dismantling the tail section of your bike and removing the stock turn signals. More complicated kits may also require that you splice some wires if the kit includes new license plate lighting. Most kits can be installed with very little technical skill and will only take an afternoon to fit.
Choosing the right tail tidy/fender eliminator kit
Despite their design and construction being quite basic, tail tidy kit prices vary greatly. You can expect to pay anywhere between $80 to $400 for a kit to fit your motorcycle. Deciding which end of that pricing scale you want to go with is up to you. Bear in mind that most tail tidy kits are just anodised laser cut aluminium. So really it's the brand name and perhaps some IP you are paying for. More complex fender eliminators come with their own lighting while others will allow you to repurpose the ones that came with your bike. Some kits will even let you relocate the license plate to a side mount if that's what you're after.
Personally, for my own motorcycle, I went with a lower cost kit. This was because I couldn't see much difference between the cheap one I found and the more expensive versions on offer. Do your research and you're sure to find something that will satisfy your aesthetic and fall within your budget.
Available from: Revzilla / Amazon