Anyone privy to the world of custom motorcycles will have heard of Motogadget. The German aftermarket parts manufacturer made its mark on the scene with a range of high quality electronic and lighting components. These include the ingenious Motogadget Mo.Unit, a digital controller for your bike's electronics and their revolutionary Mo.Blaze Disc bar-end turn signals.
The latest addition to the Motogadget catalogue is no less impressive or pioneering – yet it features none of the electronic wizardry we're used to seeing from them. It is the Motogadget glassless mirror range, otherwise known as Mo.View.
Yes, you read that right. The Motogadget Mo.View mirrors feature no glass in their design whatsoever. Being a curious bunch we decided to check a set out for ourselves…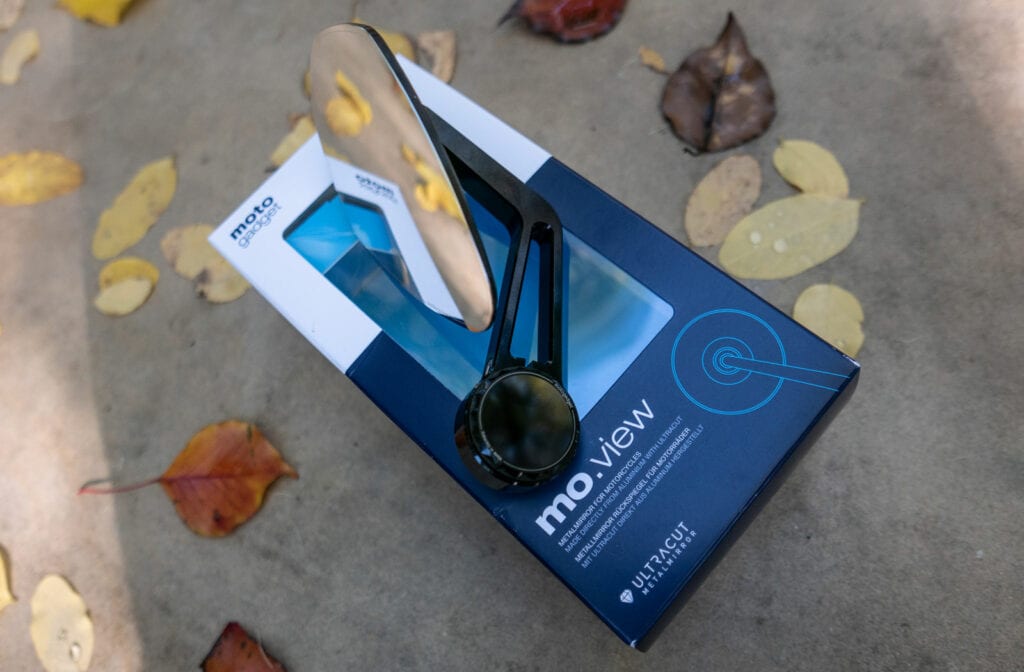 Benefits of a glassless mirror
So why has Motogadget gone to the effort of creating a glassless mirror? The first and most obvious reason is that glass shatters very easily. If you've ever dropped a motorcycle you've probably had to replace at least one mirror. But Motogadget has a few other convincing reasons as to why you should go glassless.
Because the Mo.View range is built entirely from aluminium (including the reflective component) and uses a minimal amount of material they are lightweight. Infact Motogadget states they are, on average, 5 times lighter than your standard motorcycle mirror. While the actual weight-saving figure here may seem negligible there are riders who will appreciate any reduction in weight, no matter how infinitesimal it may be.
Then there's how the mirrors look. When it comes to fit and finish Motogadget are at the top of their game. So it goes without saying, the Mo.View mirrors are a good looking bit of kit. The body and mounts are made entirely from machined aluminium giving them a sleek, modern look. And, to keep them looking good for the long term, the mirror backing and mounting hardware are all finished in a sleek black anodized finish.
On top of all that the Mo.View mirrors are also incredibly thin.
The reflective surface of the mirror is actually part of the "housing", so there's no layers or glues bulking them up. The mirror surface is also frameless running from edge to edge adding to their sleek appearance.
Creating a glassless mirror
As you'd expect, creating a surface on aluminium that's as reflective as a mirror involves some pretty fancy tech.
First off the body of each Motogadget Mo.View mirror is milled using a CNC machine and anodised on the rear. They are then placed into a machine to undergo a process Motogadget calls 'Ultracut'. This involves the use of custom made machinery that runs on air-bearing spindles, hydrostatic axis and vibration-free machine beds made of solid granite – and it weighs several tons.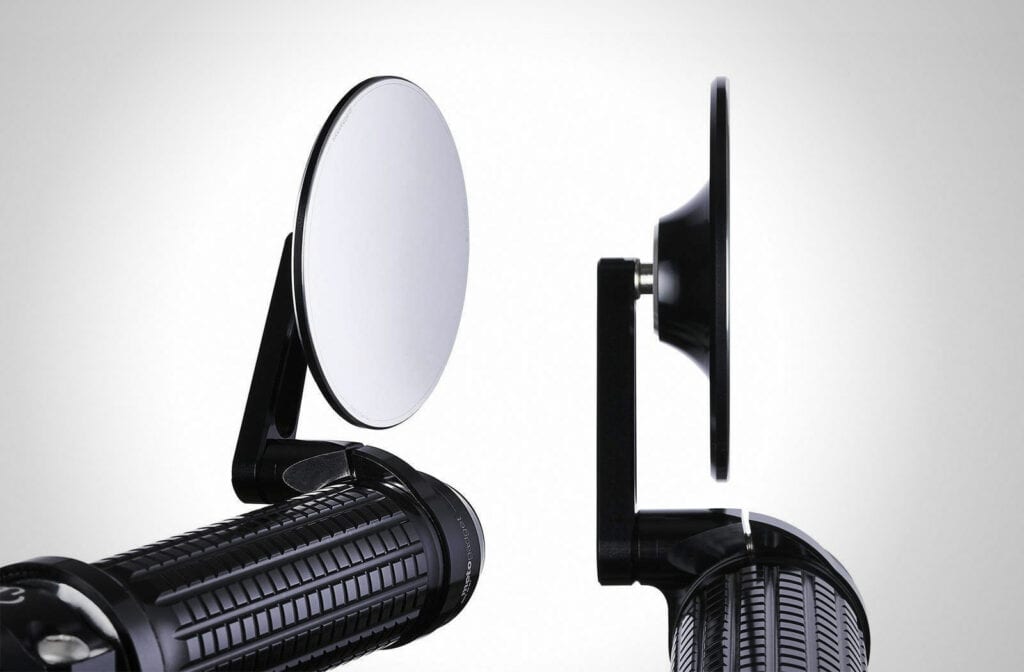 During the polishing (cutting) process a 0.5-carat natural diamond bit shaves a layer of aluminium from the surface of the material that is 0.001mm thick. That equates to roughly 2% of the width of human hair. The cut is so fine it has a roughness of 0.000002 mm and results in a crystal clear reflective finish.
Next, the mirrors are laser etched with branding and homologation markings before being cleaned by a dry ice jet. Finally, in order to protect them from scratching and oxidization, they receive a 0.003mm thick coat of silicon dioxide, the main component in quartz glass. The finished result is a hardwearing, high optical finish that is free from distortion and shatterproof.
Check out the video at the end of the article to watch the entire process.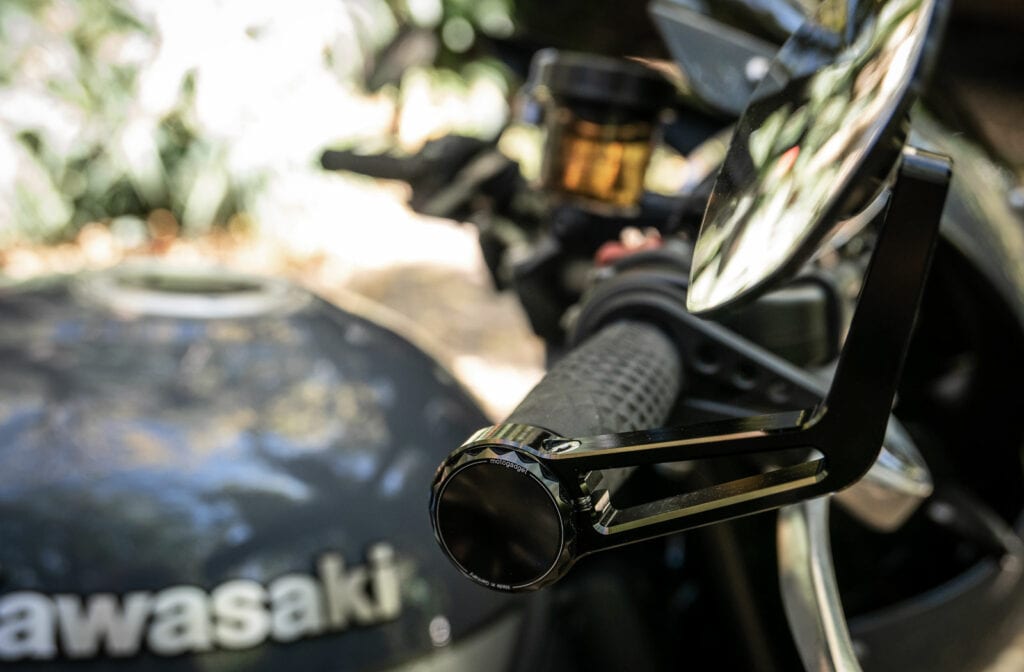 Glass vs No Glass – The Verdict
As with any product we test I was hesitant about how well the Motogadgets glassless mirrors would perform. I routinely customise every motorcycle I own so I've tried my fair share of aftermarket mirrors over the years. I've been bitterly disappointed by blue-tinted glare-free glass and found many "wide viewing angle" mirrors to offer terrible vision. But out of the box the Mo.View mirrors looked promising. The reflection was clean and clear without any sign of ghosting or distortion.
The glassless mirrors we received for testing were the Mo.View Flight, which are a modern looking bar end mounted model. There are 10 different models in the whole Mo.View range and they differ in shape and how they mount to your motorcycle. The 3 mounting options include the use of your standard mirror mounts and 2 bar end styles. One bar-end style has a fixed arm and the other offers 2 points of adjustment.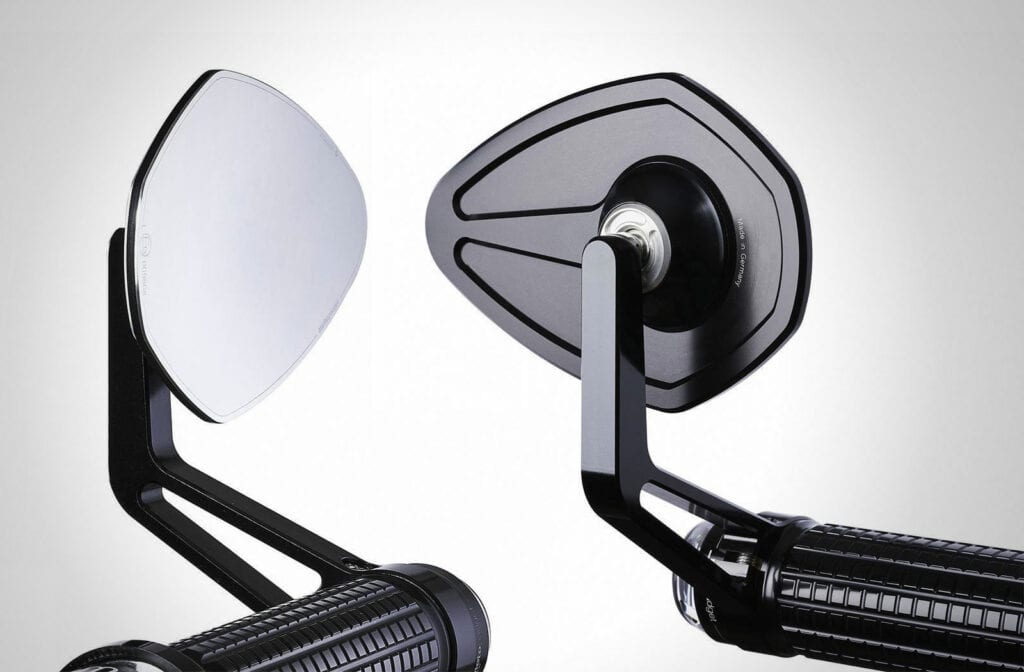 To fit the bar end Mo.View mirrors to your motorcycle Motogadget offer a range of different installation options. You can opt to use your existing bar end weight system, install an expanding bar adapter bolt/cap or combine them with a set of Mo.Blaze Disc bar-end turn signals. Fitting them to our Z900RS Cafe was a little tricky since the bars have M8 threaded plugs welded into them. With a bit of work though, I had them sitting firmly in place.
The finish of the Mo.View mirrors is top-notch, as you'd expect from a premium-priced product such as these. The styling is unique and they suit the look of the Z900RS Cafe perfectly. What really stands out about them though is how incredibly wafer thin they are. Also, without a frame bordering each mirror, they play tricks on your eyes when you look at the bike. It's almost as though there's a hole hovering over your bars that looks into a parallel universe.
As for visibility, I couldn't be any happier. The shape of the Mo.View Flight offers a wide field of view that is easily on par with the huge round mirrors the Z900RS came with. The mirrors solid construction also results in minimal vibration so the image stays nice and clear all through the rev range.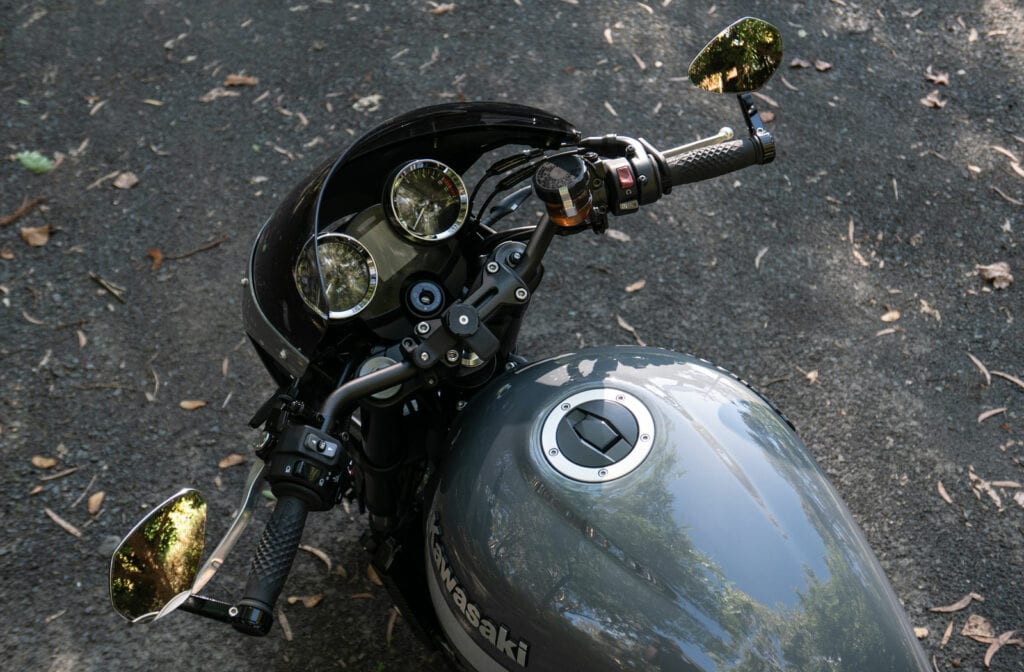 All this excellence comes at a price though. As with other products in the Motogadget range, you're paying a premium. But it's not just because they have the Motogadget brand stamped on them. These are quality mirrors that perform to your expectations and are the closest thing to motorcycle jewellery you can buy.
Best of all, Motogadget has also ensured their Mo.View glassless mirrors adhere to E13 regulations making them legal for use worldwide.
Available from: Motogadget / Revzilla / Amazon
Motogadget Mo.View Mirrors
Motogadget is one of the top players in the motorcycle aftermarket parts game. The latest addition to their catalogue reminds us of this with the introduction of the Mo.View glassless mirror series. Boasting premium quality, striking good looks and great performance they are, without a doubt, some of the best motorcycle mirrors money can buy...the only drawback is you'll need to spend a bit to own them.
Pros
Crystal clear, distortion free vision
Sleek design
Premium quality
Hardwearing finish
E-mark approved
Cons
Can be fiddly to install on some bikes
May be too expensive for some