As it happens, the first motorcycle I ever went on as a kid was a Norton Commando 850 and since that day I have always had a special affinity for the legendary English motorcycle. Nowadays most of my riding buddies have Commandos (I'm not even joking, it's an epidemic…) so even though I really like them it takes a pretty damn special one to make me weak at the knees. Cue Peter and his masterpiece, built by his good friend Murray from CycleCraft Engineering in Welshpool, Western Australia. Now when I say "built" I don't just mean a few aftermarket bits and bobs bolted onto an old bike to make it look cool. What I actually mean is meticulously handmade by a master fabricator who has been specialising in these bikes for more years than most of us have been alive. The details of this build are both lengthy and astonishing so find a comfy quite place before you read on.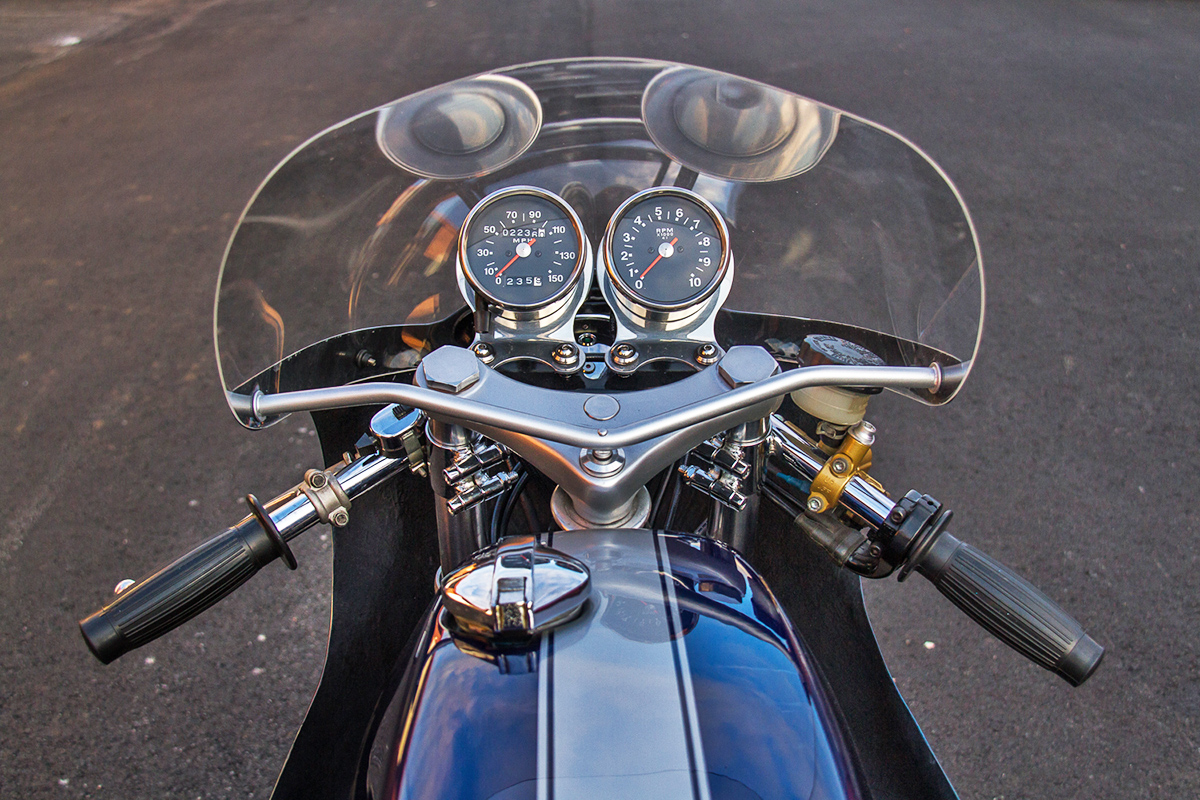 The first of many one off items on this Commando is the fairing. The top half is modelled on a Yamaha TZ350 and the bottom half was designed by Murray to follow the lines of the Norvil fibreglass tank. All the supporting brackets including the headlight mounts and gauge brackets were fabbed up and a Bates headlight fits snugly up front above a Colorado Norton Works fender. The steering stops were modified and the top yoke was milled down to remove the stock handlebar clamps for a cleaner finish. Surprisingly the front end is all standard, the only exception being the oversized 12-inch floating disc with Grimeca caliper.
The original Commando that Peter rolled into the workshop was actually a standard 750 Interstate model, but the engine got the boot in favour of a more modern '73 850 unit. Delving into the engine Murray tells us its sporting aluminium Steve Many barrels, a Norton 4S camshaft, lightened, polished and shimmed rockers, custom link pushrods, a balanced rotating assembly and modified inlet tracts to accept the thoroughly modern Keihin flat slide carburettors. The compression ratio has been increased to 9.5:1 and power output has been upped from 55HP to around 70HP. Not bad at all for 43 years old! Oil cooling is handled by Murray's own CycleCraft oil cooler kit and the engine gases now vent out through the backbone of the frame via the oil tank. Murray sand bent the entire exhaust system by hand and also made the 2-into-1 megaphone before sending it off to be black ceramic coated by Alan and Paul at CIC High Performance Coatings. An aluminium heat shield was beaten out by hand to keep Peter's leg from getting too warm.
One of the single most eye-catching details of this build is the semi-open primary cover. Fabricated in three sections before bringing them all together as one. It does it's best to hide a 38mm racing belt drive kit. Why make the cover in the first place? Murray tells us that the belt drive kit Peter already had caused the alternator to be pushed so far outside its usual position that nothing else would fit, necessitating the unique piece of engineering you see here. I'm sure Murray could make more, but as of right now this is the only one in the world!
Moving to the back of the gearbox those with eagle eyes will spot a little triangulated device at the rear that links the notoriously bouncy Norton powerplant to the frame. This is yet another one of Murray's inventions, "intended as a handling aid to deal with inherent problems in the standard Norton configuration." According to Peter, it's really tightened everything up (especially in the corners) and further aiding in the handling department are a set of Ikon 7614 series shocks. Both wheels front and back are Excel rims wrapped in Avon Roadrider tires with stainless spokes, put together by his mate Budgie at Spoke Wheel Services. The Tarozzi rear sets sit much further back than the original setup, thanks to more alloy brackets Murray made up especially for the bike.
The curvaceous rear cowl is an ABS plastic unit from the US somewhere and after Murray "stuffed around with it for a fair while" it now fits like a glove. The rear mudguard is a Commando Fastback item and after upholstering the seat in black and modifying an Emgo brake light to fit over the rear loop the back end was done.
Not one to sit back and let Murray have all the fun, Peter laid down the stunning blue paint job. Peter actually does all of Murray's paintwork in his own garage and he also made a new wiring loom for the old girl from scratch and a custom battery box.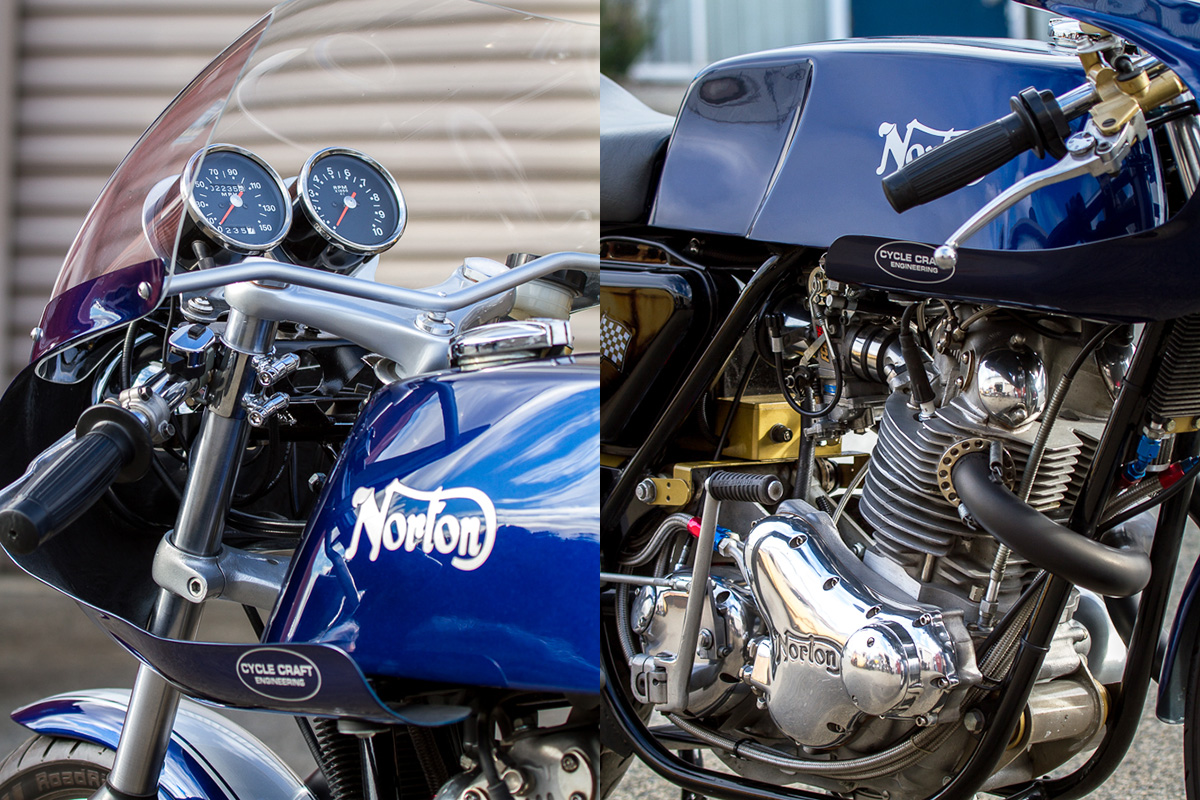 After Murray took me through some of the build photos I realised I had first seen the bike back in 2015 when it was silver, had no fairing and a completely different back end. Almost one year later I saw it being wheeled on to the roof at the 2016 'Ride On' show and I had to sit down to take it all in! It works like this that has made Murray and Cyclecraft Engineering the best stop for all things Norton in Western Australia and with the help of Murray's upcoming website Norton and classic bike aficionados from all over the world will be able to buy some of the best quality custom made parts to keep their beloveds on the road.
Peter's bike is one of many Commandos you'll find here in WA, but this one, in particular, is in a class of its own in terms of looks, performance, and reliability. Any owner of old European motorcycles will appreciate that this one doesn't leave a pool of oil on the driveway when parked and it starts first kick every time. It's these things that are a testament to Murray's skill, attention to detail and dedication to the Norton brand.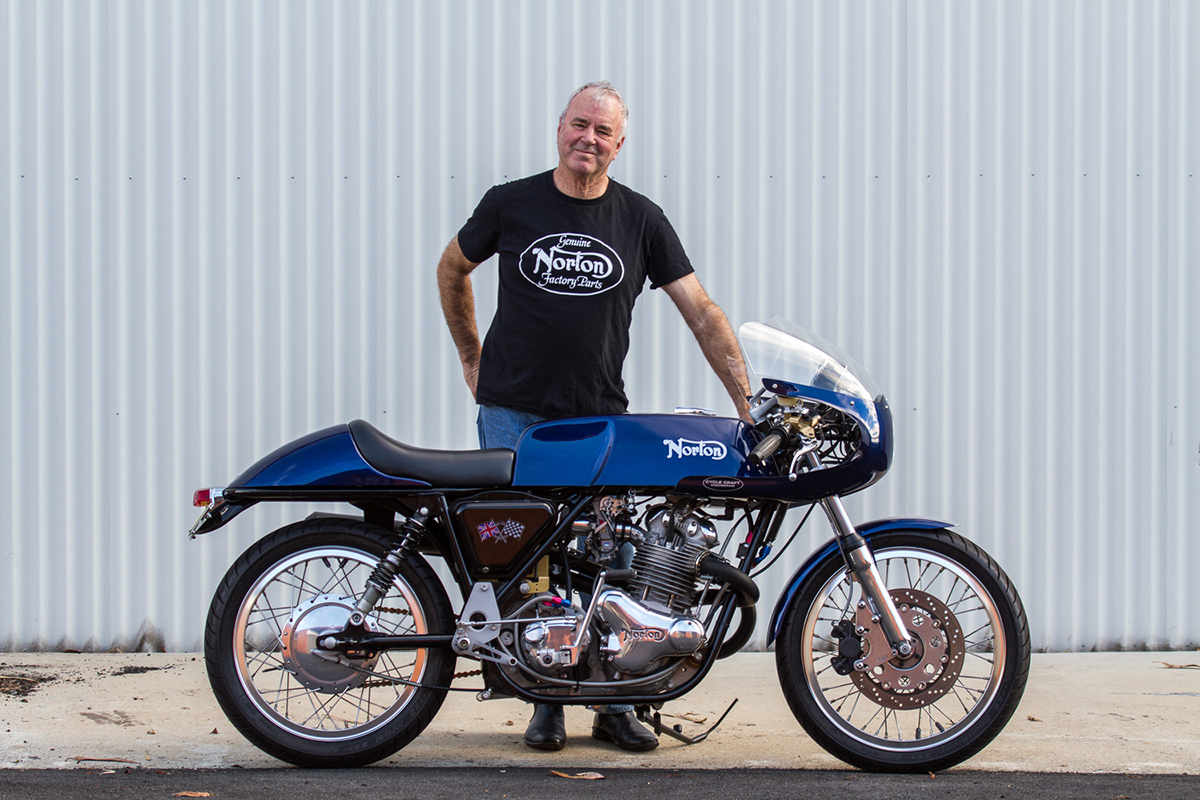 Story courtesy of Tank Moto issue 11    |    Images & words by Ben Pilatti