Norton Motorcycles has a rocky history that predates Stuart Garner's recent disastrous efforts. Since the early 1950s owners of the brand have struggled with financial issues. But somehow, despite all that, the British marque became an icon. This can be attributed to game-changing engineering developments such as rubber-mounted engines and featherbed frames and legendary models like the Manx and the Commando. So while we don't have anything positive to say about the current situation at Norton Motorcycles, there's still plenty to appreciate from the history books.
With all the negative Norton press that's been filling my newsfeed, I was very happy to find today's featured build in my inbox. From Tokyo, Japan this Norton cafe racer belongs to enthusiast Naoki Sugibayashi. After 26 years of ownership, Naoki-san decided it was time to refresh his '74 Norton Commando 850 so he enlisted the help of the Japanese workshop, British Beat.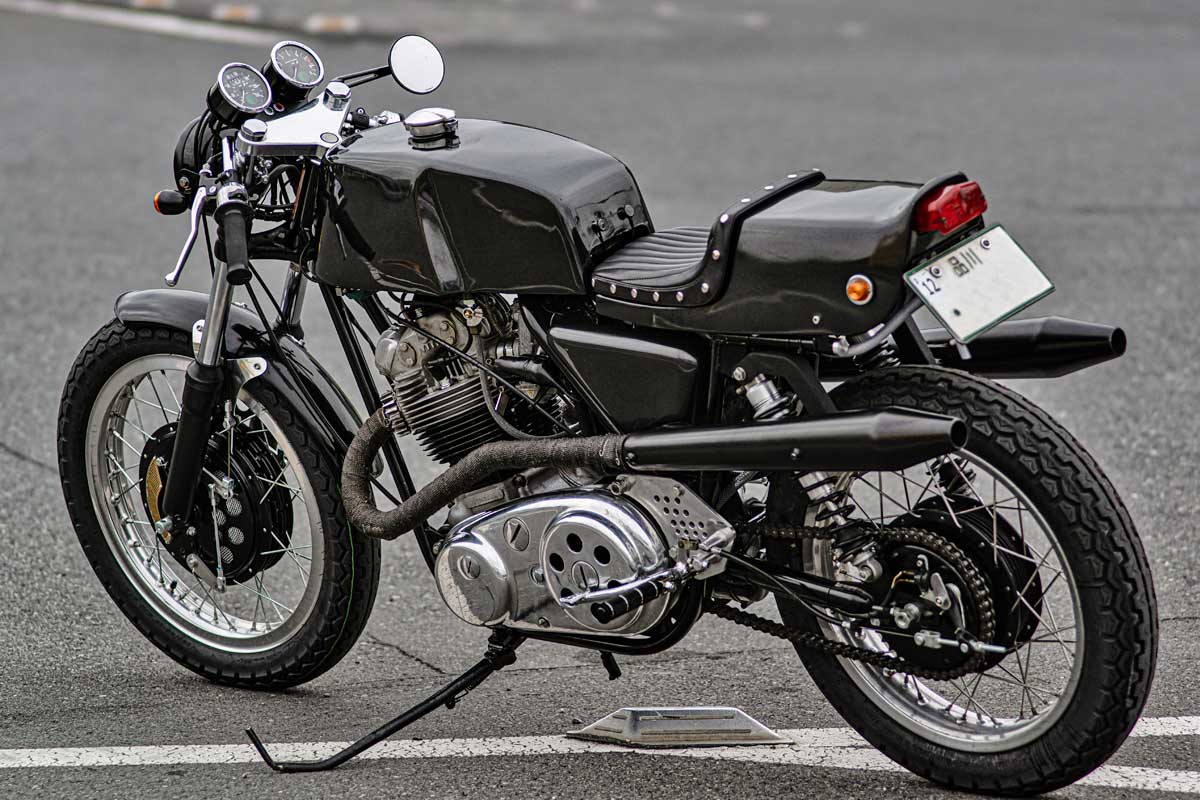 Owning any classic vehicle for 26 years will result in an intimate understanding of its strengths and flaws. Naoki-san's experience was no different. So using his knowledge of the bike he developed a concept for how his Commando 850 could be improved. With concept sketches and notes in hand, he delivered the bike to Katsunao Suzuki at the British Beat workshop.
The Norton Commando 850 featured a pre-unit construction, 828cc parallel-twin engine that was good for 58bhp. This was less than the outgoing 750, but the 850 benefitted from improved reliability. Like the 750 it was quick off the line and did well at the dragstrip. This was thanks to a lower weight than its Japanese rivals and a torque figure of 48.5 ft/lb which came in to play at 5000rpm. The Commando was in production for a decade and during that time held the title of Motor Cycle News 'Machine of the Year' for 5 consecutive years.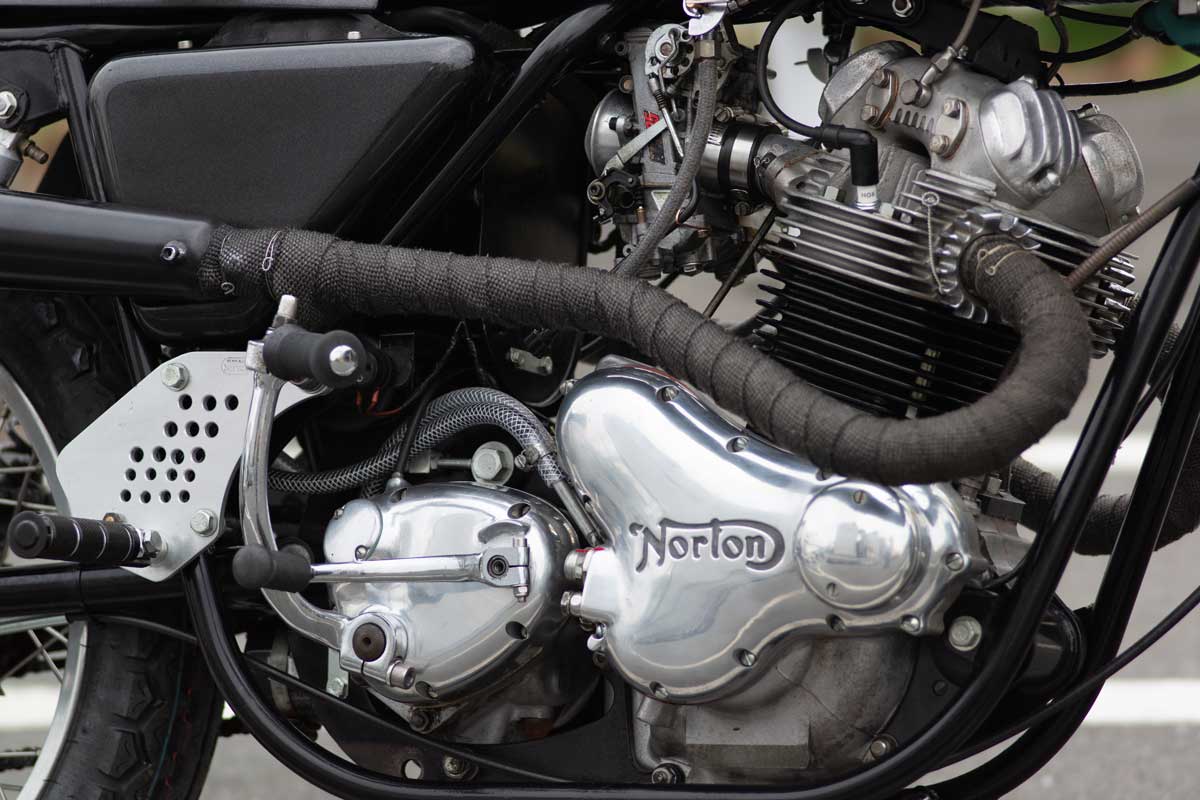 Professional racers and performance workshops have been eking more power out of the Commando 850 platform for decades. As a result, there's no shortage of tried and tested upgrades and aftermarket add-ons. In this instance, it was a matter of creating the right recipe to meet Naoki-san's needs. In his own words, he wanted a "Rock 'n Roll Commando. Built to ride at high speed in the city of Tokyo." and British Beat was happy to oblige.
The parallel-twin now runs a genuine 2S Combat Camshaft for a smooth, broad powerband and improved all-round performance. Performance pistons, modified inlet and exhaust outlets, black diamond valves and surface grinding push the compression ratio to a streetable 9.5*1. Everyday reliability has been achieved with the installation of a Boyer ignition system paired with Dyna coils and leads. Fuelling has also been improved by modifying the inlet port to accept 33mm Keihin FCR flat slide carbs. At the exhaust end is SS type Norton Commando system. And finally, the delivery of power to the rear wheel is taken care of by an RGM Motors belt drive kit.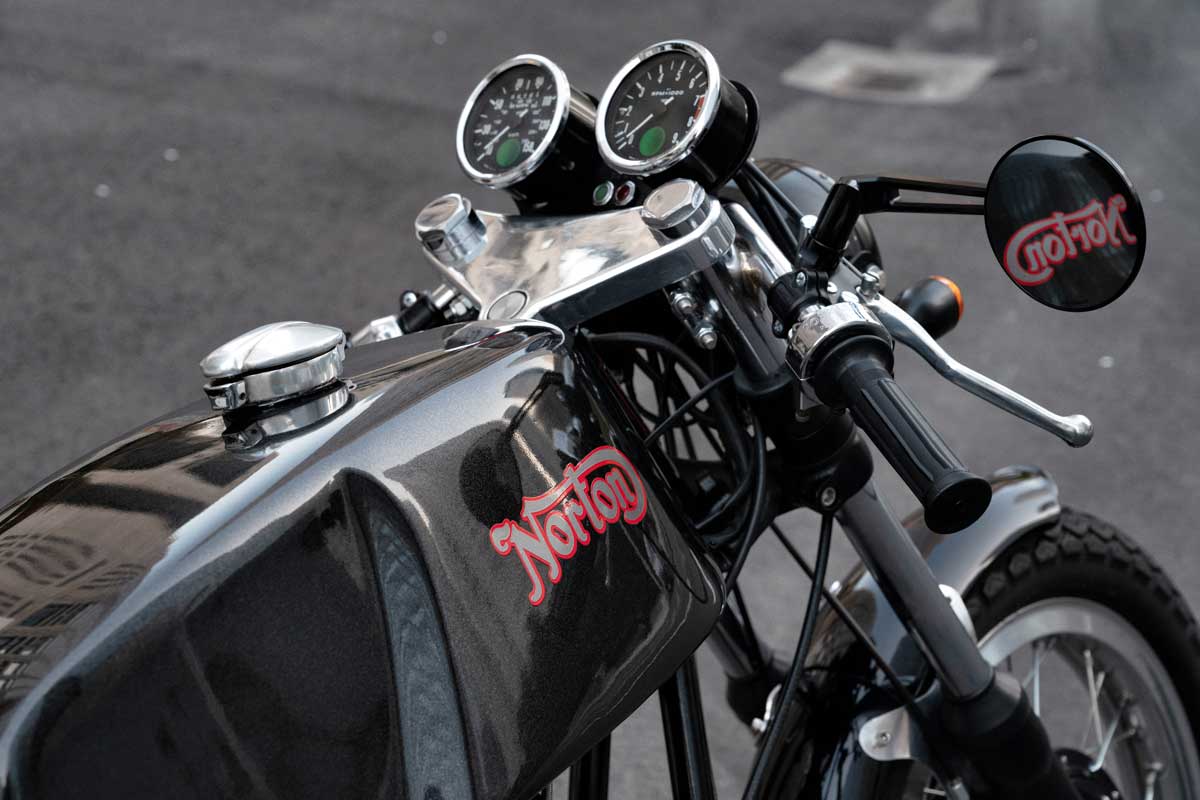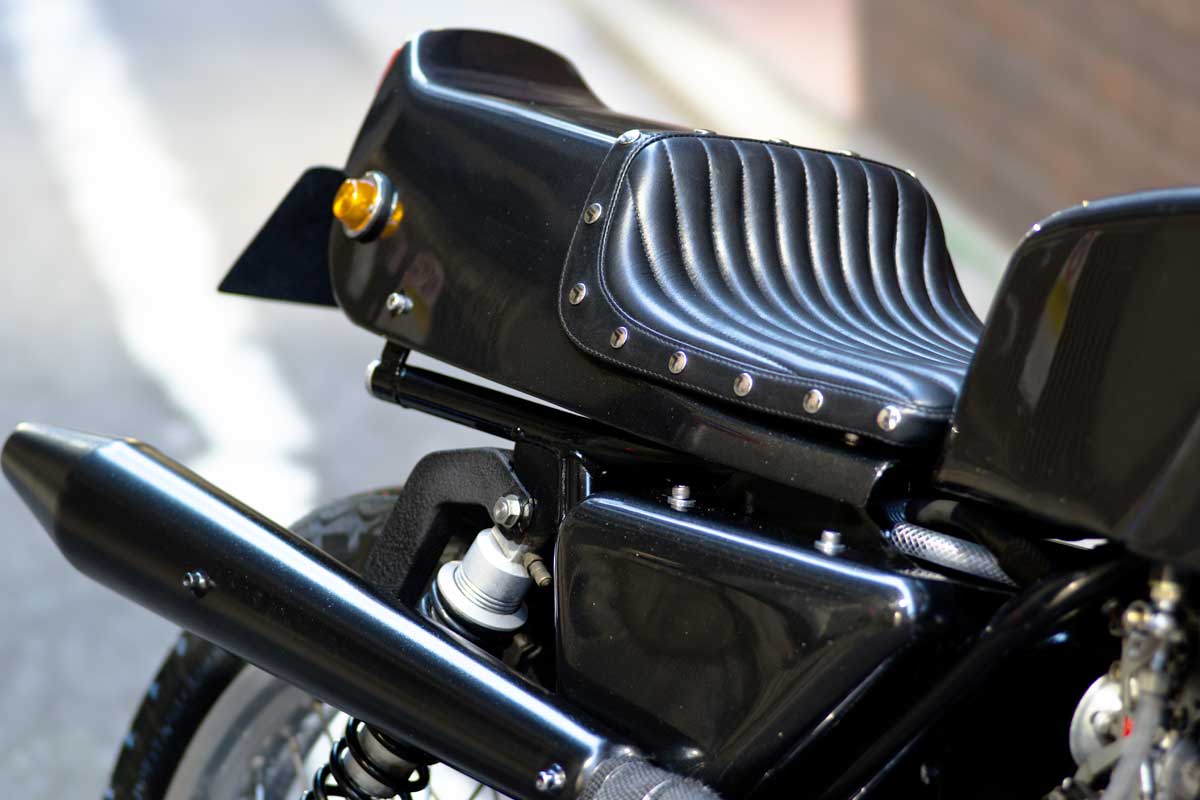 As for handling improvements, they come from a mix of upgraded parts and an overall lower kerb weight. For improved stopping power there's a blacked-out Robinson 230mm 4LS drum brake in the front which has been laced to a shouldered alloy rim. The bike grips the road via Dunlop's classic race tyre the TT100 Roadmaster and the weight savings can be attributed to the changes made to the Commando's styling.
Naoki-san's vision for his Norton Commando 850 included a drastic aesthetic overhaul. In keeping with his rock and roll theme, the bike has been transformed into a period-correct cafe racer. To get the look he was after British Beat designed and fabricated a custom tank and tail section from fibreglass. The look is completed with a studded, black leather saddle by Backdrop Leathers and a very rock and roll black flake paint scheme. Other cafe racer styling cues include a Monza filler cap, Lucas style taillamp, clip-on handlebars and a set of highly desirable Smiths gauges. 
It's hard to imagine Norton Motorcycles ever releasing another bike that will leave a lasting impression on the motorcycling world. The companies new Indian owners will undoubtedly have their hands full simply trying to revive consumer confidence in the Norton name. So, for now, we'll just have to keep appreciating older models like Naoki-san's Norton Commando 850 and that suits us just fine.
Special thanks to Naoki Sugibayashi / Photography by Noisy Paradise
Shop This Look
| | | |
| --- | --- | --- |
| Image | Product | Buy Now |
| | Vintage tread tires | |
| | Clip on handlebars | |
| | Vintage style tail lights | |
| | Cafe racer grips | |