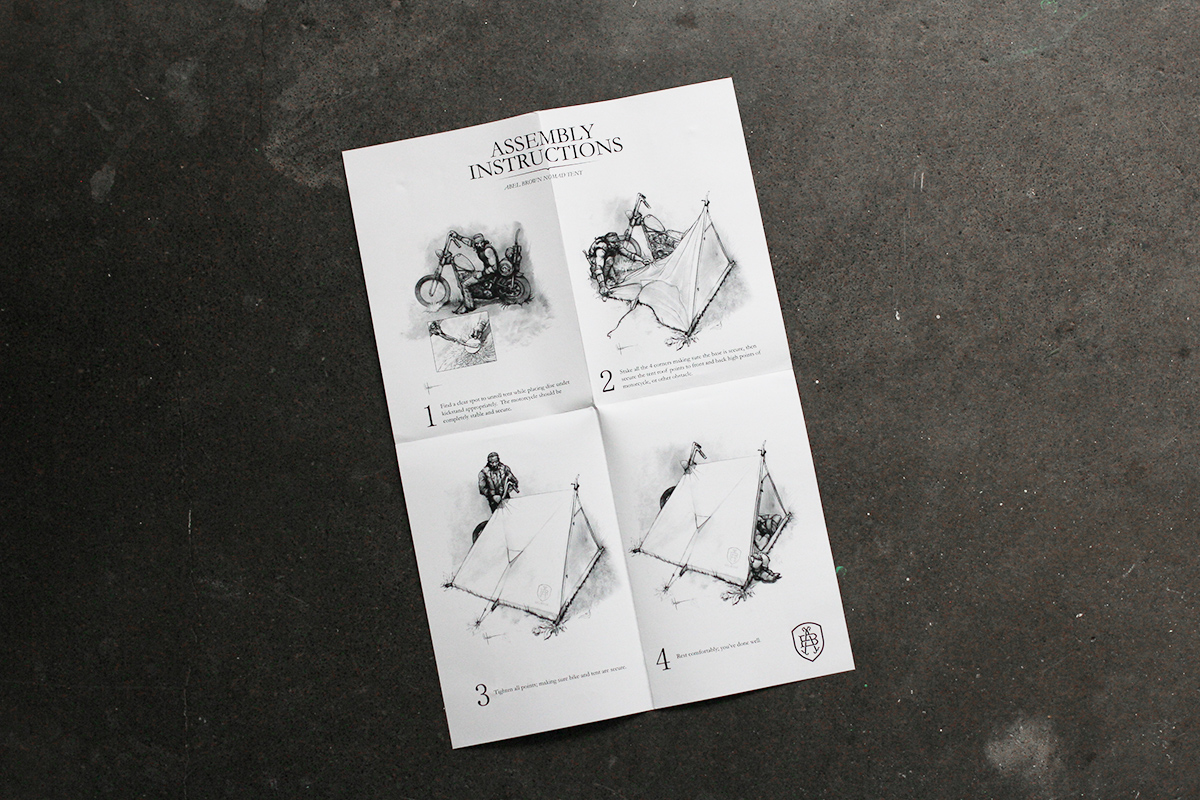 While Mik was left "exposed" (pardon the pun) in his bivouac that consisted of nothing more than a top sheet/motorcycle awning, I basked in the comfort of my fully enclosed, water proof Nomad tent.
Both of these "tents" utilise the same, novel principle of using your motorcycle as a tethering point. Any seasoned camper will tell you that making good use of your surroundings is essential for camping comfort and I couldn't think of a more comforting thing than knowing that my beloved motorcycle was providing my shelter for the night.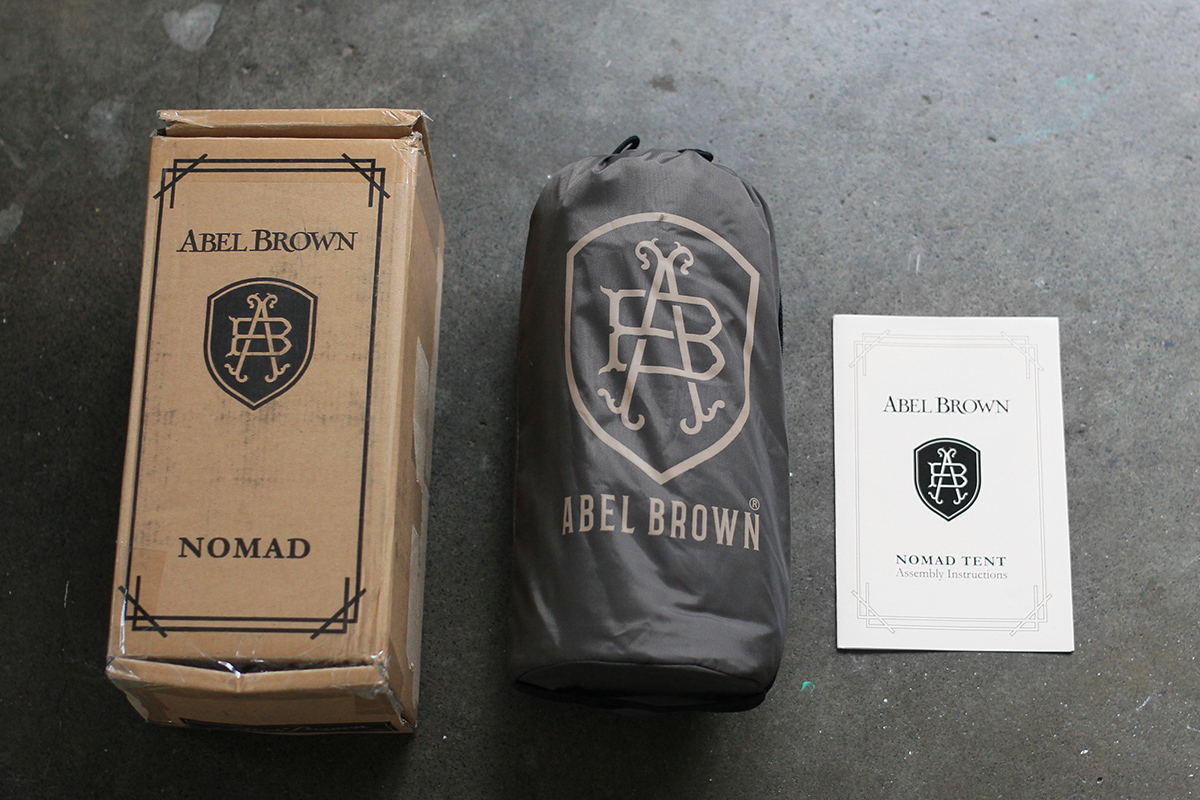 Before we left on the trip I unpacked the Nomad tent at home to get accustomed to how it went together. Inside the box I found the tents instructions and the tent already packed neatly into its carry bag. The tent with all of its equipment weighs less than 2kg (4 pounds) and measures in at 30 x 15 x 15cm (12 x 6 x 6 inches) when packed up. It strapped well to the rear of my bikes seat and left plenty of room to also secure my sleeping bag and self inflating mattress.
Inside the carry bag you'll find the tent itself along with 8 lightweight, aluminium pegs and an aluminium kickstand plate. The plate is an essential item as it can be used to prevent your bike from falling over on soft ground and ruining your entire camping experience. Abel Brown have used a mix of lightweight waterproof nylon for the tents upper half and a durable waterproof polyester base to ensure that you remain dry. Both ends have double door panels with an inner mesh so you can maximise airflow and there's and upper ventilation panel too.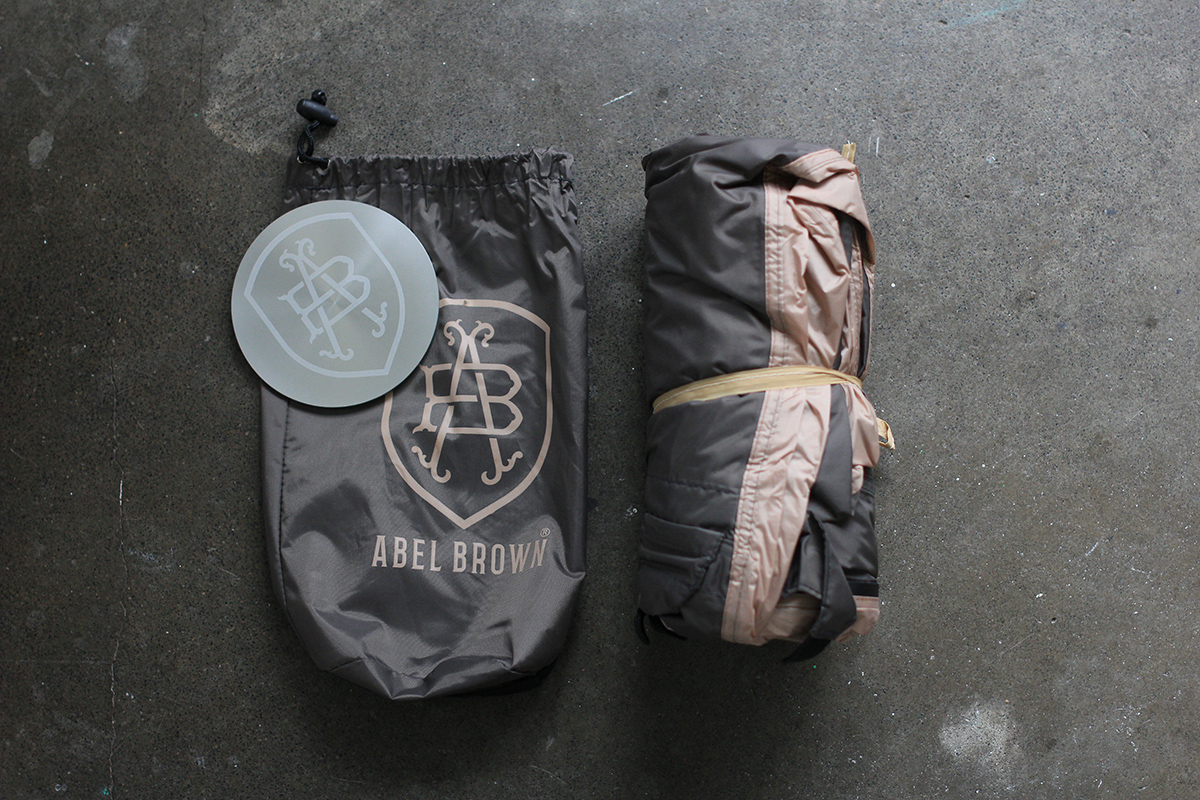 When I acquired the tent for this review the crew at Abel Brown made it clear that they were chopper/bobber guys and these tents were designed with those bikes in mind. The basic idea is that by using your motorcycle as a fixing point you negate the need for poles, thus reducing the amount of space required to pack the tent, something that's essential when you're limited by what you can strap to your motorcycle. Once you've pegged the tent base down you simply attach the top straps to the highest points on your motorcycle and 'hey presto' you're good to go. Erecting the Nomad tent is hands down the simplest tent set up I've ever had to perform and the tent even comes with a special flap for placing over your beloved motorcycle to shelter it from the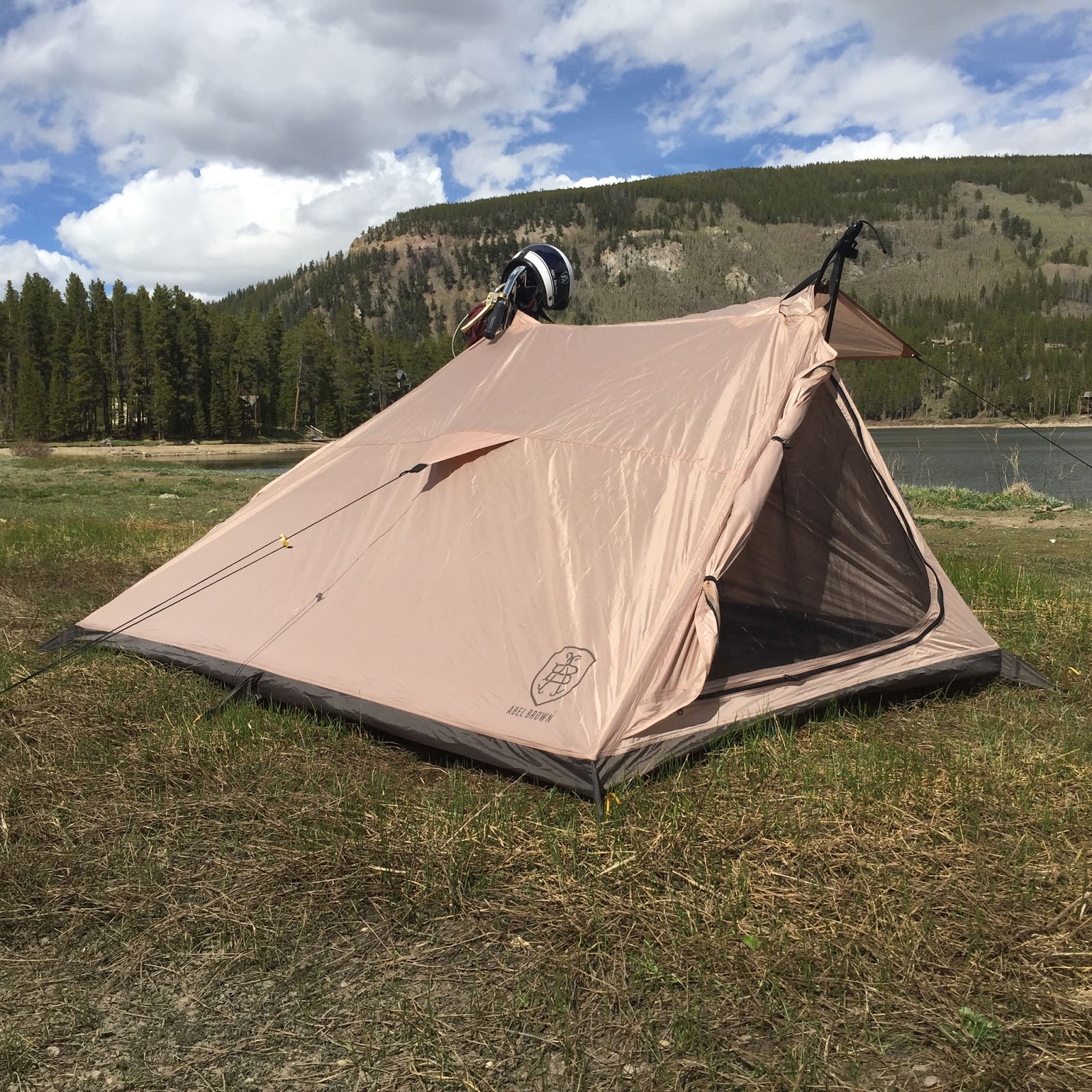 As I said the Nomad tent has been designed with choppers/bobbers in mind, which means tall front ends and sissy bars. I however was riding one of the new Triumph T120 Bonnevilles which evidently didn't have a sissy bar on the back. What this meant is that the tent wasn't pulled as taut as the ones in the photos on the Abel Brown website (see above), but there was still plenty of space inside. Now this may sound like a design fault, but it didn't detract from my experience using the tent and this issue could easily be overcome with a bit of resourceful thinking. One solution I later tested was sitting my helmet on the back of the seat and running the securing rope over it for the additional  height, which worked nicely. The instructions that come with the tent also state that it can be secured to any stable fixing point such as a nearby tree or fence, which I am yet to test but see no reason why this wouldn't work well.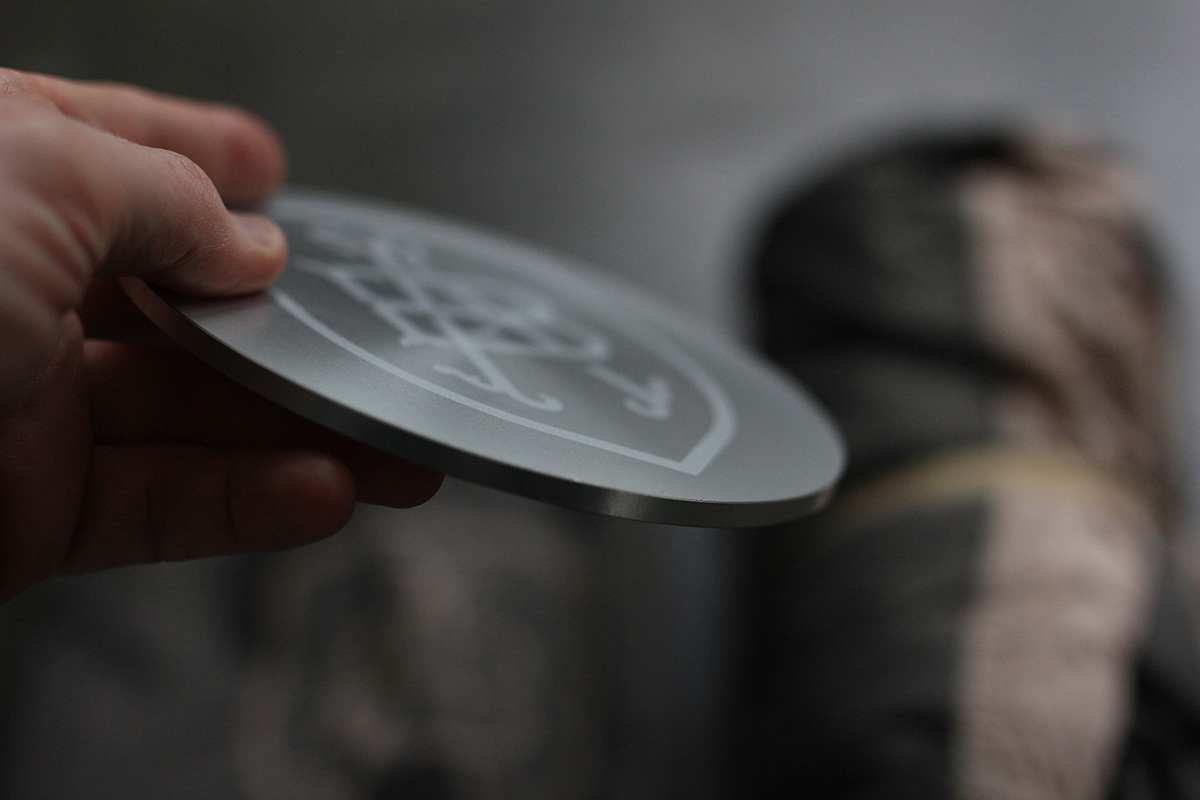 Floorspace inside the Nomad tent is 214 x 106cm (84 x 42 inches) and around 90cm (36 inches) high on its taller side. I stand at 180cm (5′ 11″) tall and could comfortably sit up inside and lay outstretched with plenty of room to move. Along with a self inflating mattress and sleeping bag I also stored my helmet, riding jacket, boots and backpack inside the tent with me. I wouldn't suggest sharing the Nomad with a friend, but it could work well for a couple that doesn't mind snuggling.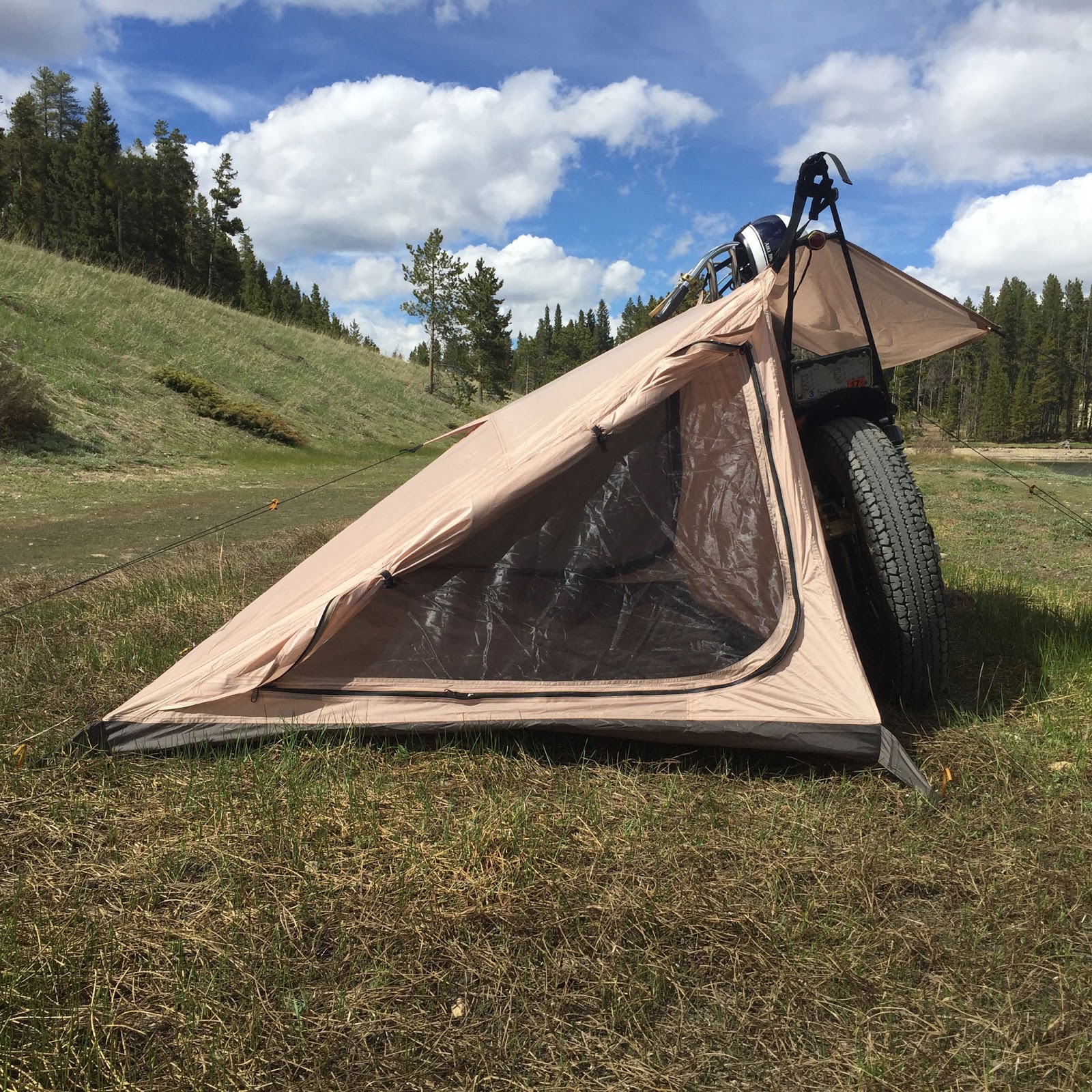 Riding motorcycles and camping are two great ways to reconnect with oneself and enjoy a bit of freedom. For me the only way you could improve on either of those experiences is to combine the two, and that's exactly what the folks at Abel Brown have done with their 'Nomad' motorcycle tent. At $260AUD ($200USD) the tent is great value and the perfect solution when space saving is paramount. If you're planning a two wheeled trip and like the idea of bunking with your bike then I'd recommend considering this awesome bit of camping gear.
THE BAD:
Won't suit all motorcycles (especially smaller ones)
THE GOOD:
Super compact travel tent
Very well made and well thought out
Great price for such a unique product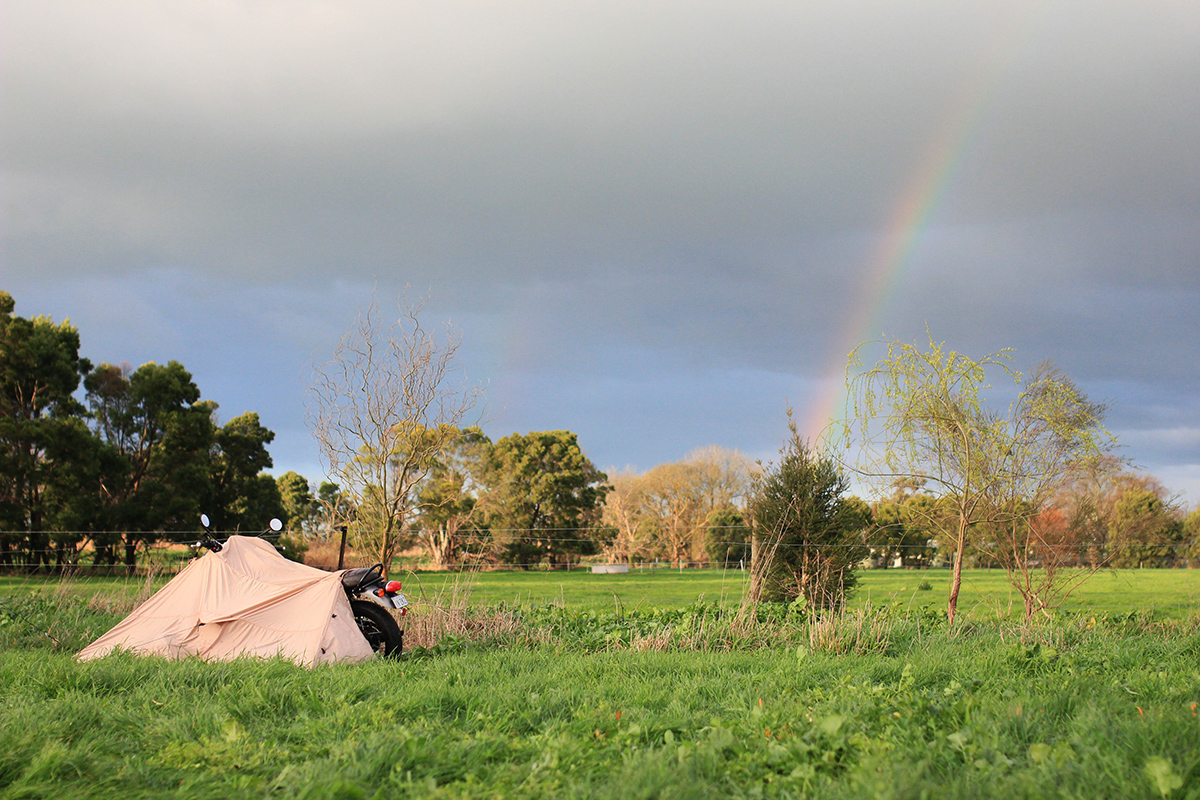 A few weeks ago Mik and I joined the Melbourne Cafe Racers on their annual Brass Monkey Run. The weekend ride and camping trip saw us navigating some of Victoria's best roads before sinking beers and feasting on BBQ'd meats with a group of 50+ fellow cafe racer enthusiasts. The trip wasn't all just for fun though, Mik and I both had some motorcycle camping gear to review.
I have to admit, poor old Mik drew the short straw this time round. He opted for the more expensive "Exposed' Bivouac from Sweden, while I went for the American made Abel Brown 'Nomad' tent. That weekend we saw some rather inclement weather and although Mik's bivouac did a good job my Nomad tent provided the perfect amount of protection against the weekends less than perfect camping conditions.