There are 2 kinds of people in this world. Those who like to keep their motorcycle clean and those who don't. I try not to associate with the latter. Ask any of my friends and they will tell you my vehicle cleaning habits verge on obsessive-compulsive. But the reason I keep my motorcycle clean is more than just pride or any undiagnosed disorders. Keeping a motorcycle clean means you can easily spot problems before they become a real issue and it's also a great time to perform some general maintenance.
Over the years I've used countless motorcycle cleaning products to keep my bikes clean. I've also invested a lot of time (and money!) into finding products that help to keep my ride clean for longer. Usually, I'd invest in a handpicked item here and there to keep my cleaning kit stocked up, but recently I got my hands on an all in one solution, the aptly named Muc-Off Ultimate Motorcycle Care Kit.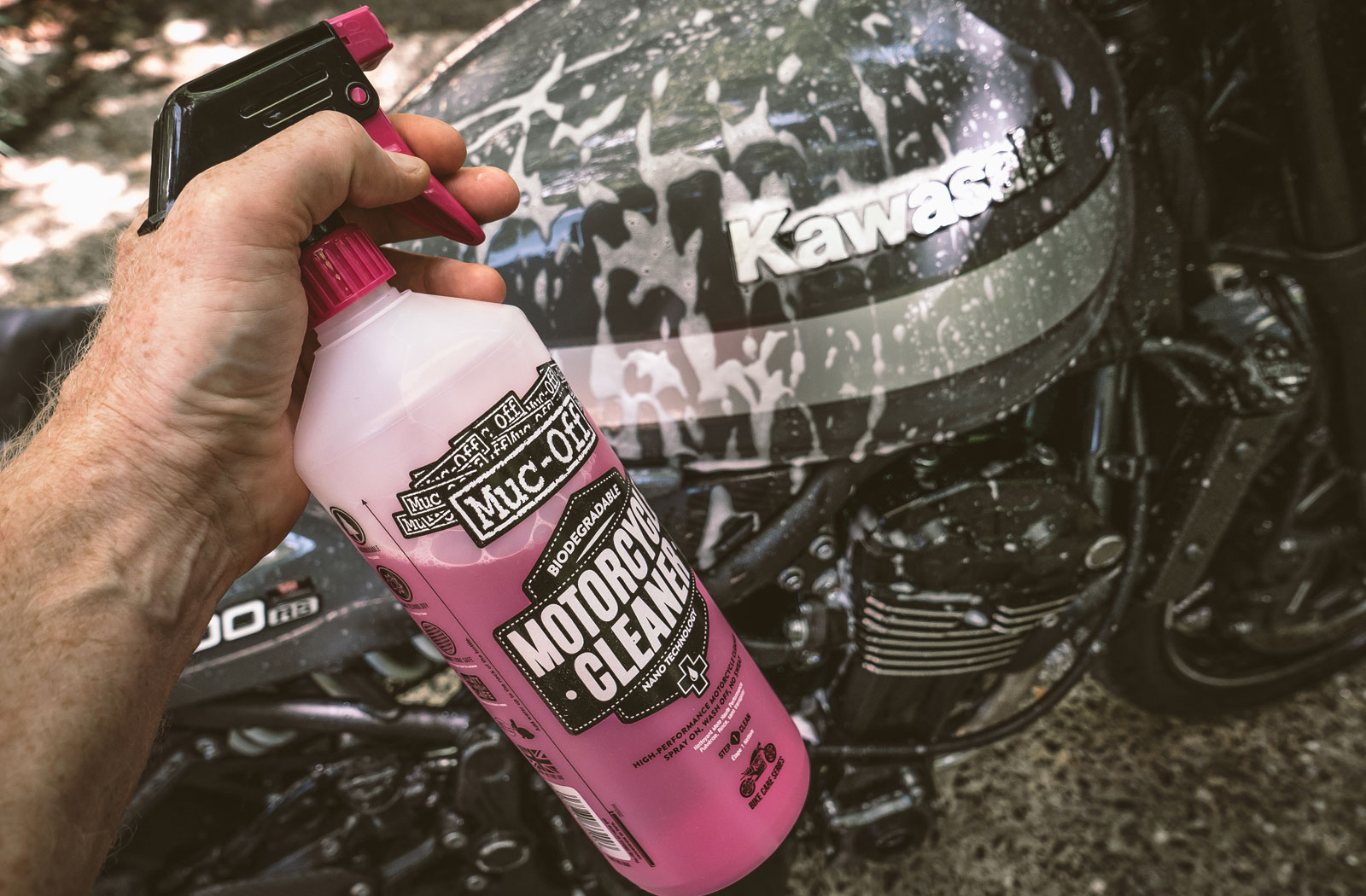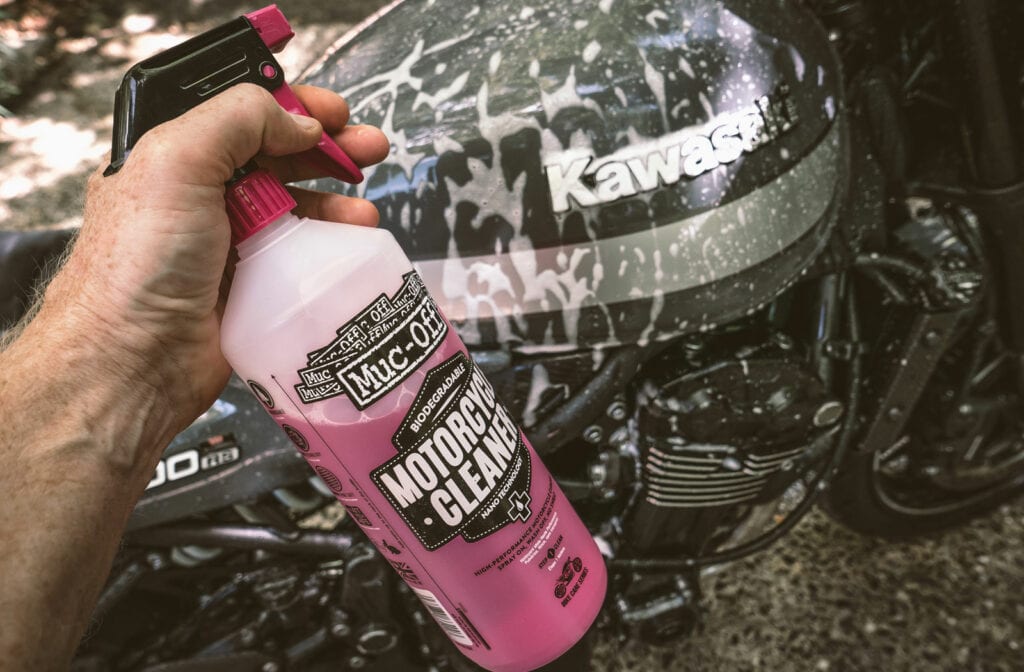 As their name suggests Muc-Off are experts at dispensing with grime. What makes them unique though is their dedication to two-wheeled transport. The Muc-Off Ultimate Motorcycle Care Kit sits at the high end of their price range superseded only by their Pressure Washer Bundle. The kit retails for around $100 which sounds like a lot, but if you break it down by the cost of each individual items it represents great value (the more you spend the more you save…right?).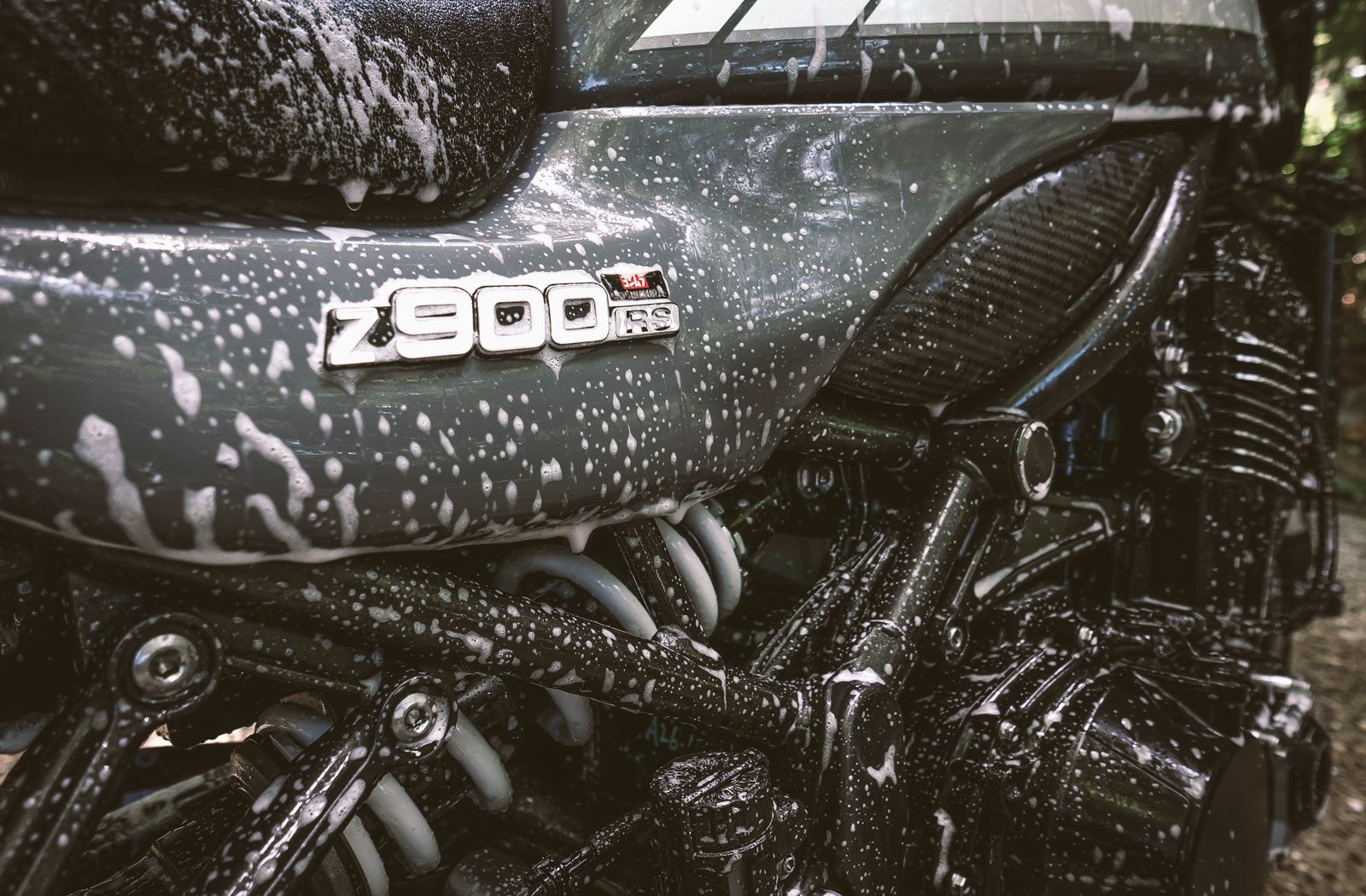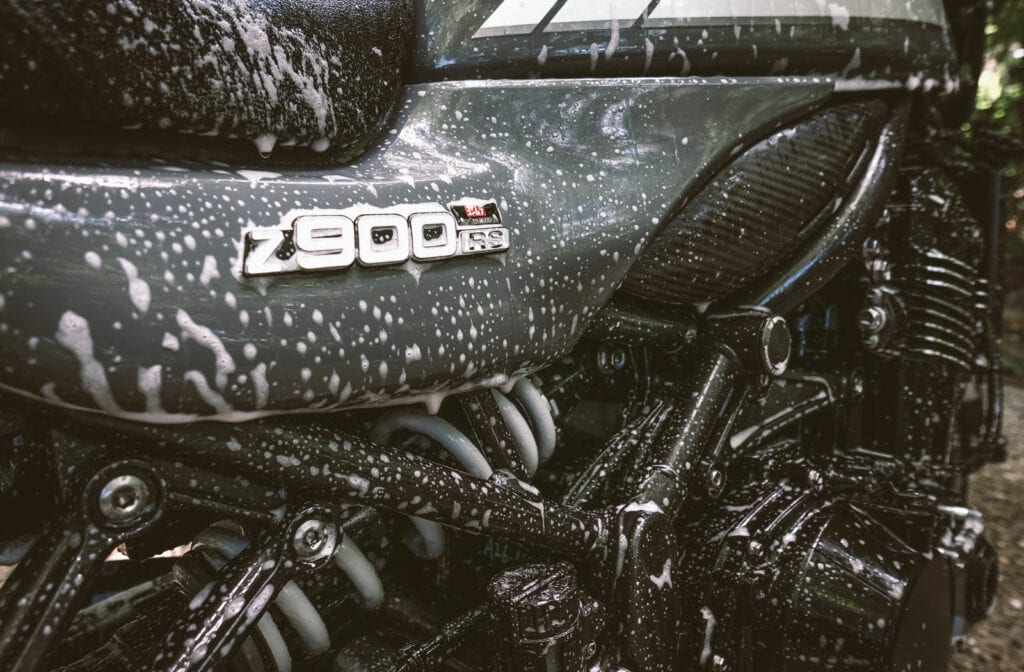 What's inside the box?
The Muc-Off Ultimate Motorcycle Care Kit is made up of 9 products all contained in a toolbox style carry case. If you can get past the bright pink, which is the brand's main colour, the case is a handy bit of kit to have. Here's what you'll find inside…
4 x cleaning brushes –  these include a two-prong brush ideal for cleaning your wheels. A detailing brush for removing "tough grime from hard to reach places" such as sprockets and hubs. A soft washing brush designed to clean delicate surfaces and a claw brush for cleaning chains and sprockets and for removing the kind of built-up mud you find on dirt bikes.
Microcell Sponge – A vacuum-packed sponge that miraculously expands when you open the pack. Other than that it's pretty standard stuff.
NanoTech Motorcycle Cleaner – As the name hints this product uses Muc-Offs "state-of-the-art" nanotech formula to remove dirt, grime and contaminants from your motorcycle. It is also acid, CFC and solvent-free to avoid any chance of long-term damage and its even bio-degradable so it'll keep the planet clean too.
Motorcycle Protectant – An all over protectant spray designed to inhibit dirt adhesion and prevent corrosion by driving out any water left on your bike after washing.
Motorcycle Speed Polish – A spray-on polish and all-in-one wax that contains Carnauba wax which creates a hydrophobic water-resistant barrier over your bike's bodywork.
Microfibre Cloth – pretty self-explanatory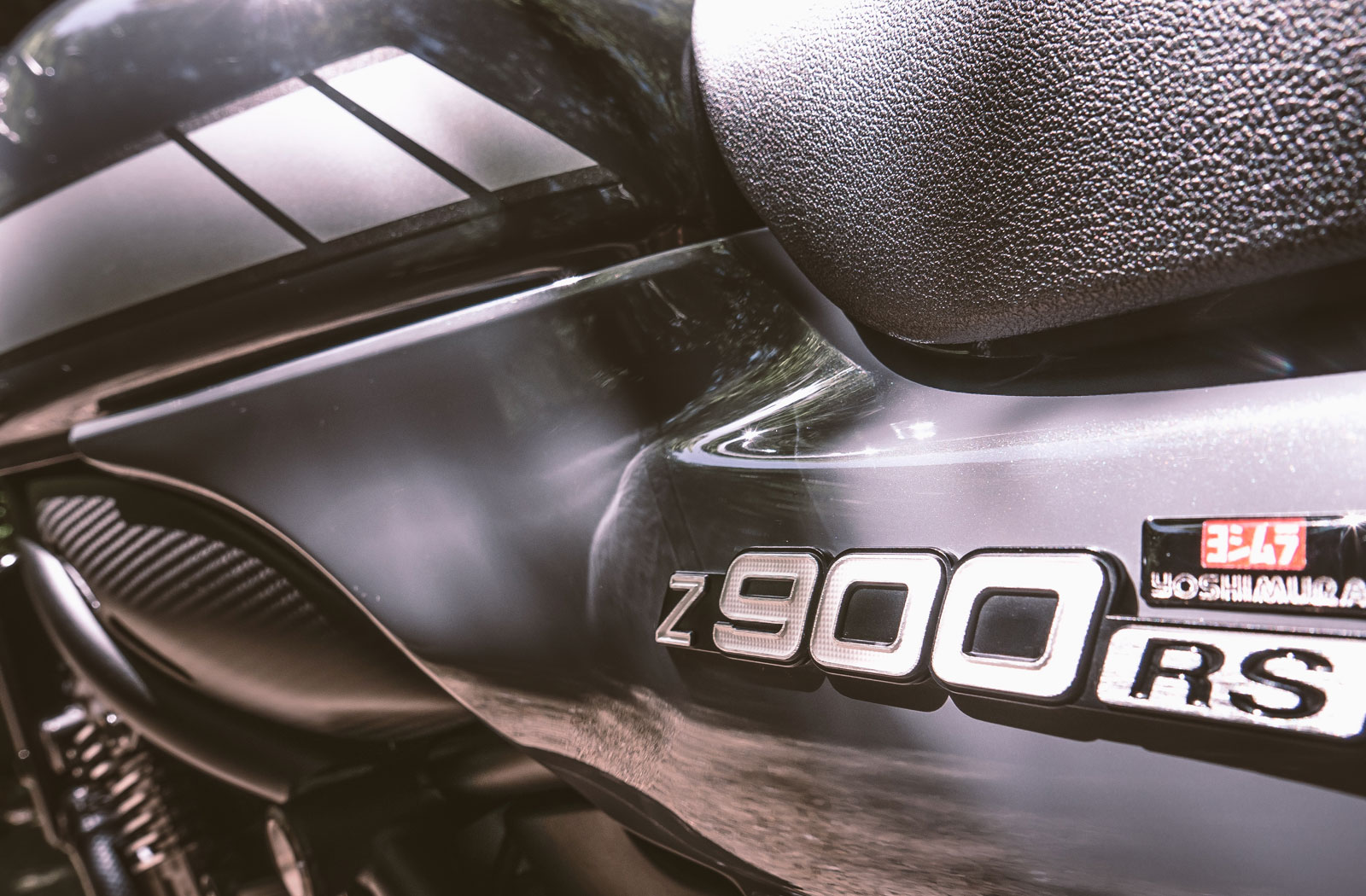 Cleaning your motorcycle with Muc-Off
Muc-Off spilt all their products into 3 categories. These are Step 1: Clean, Step 2: Protect and Step 3: Lube. The Ultimate Motorcycle Care Kit focuses on the first 2 steps to offer a comprehensive cleaning solution.
The first stage of my bikes clean began with the usual douse with a garden hose. I then checked my email while the dried bug guts and dirt had a chance to soften. Next, I sprayed on the Muc-Off NanoTech cleaner and, as directed, let it sit for another 3 or 4 mins. Muc-Off also suggests you agitate the cleaner in areas of built-up grime using the appropriate brush from the kit. In my case, I just gave the belly of our 2018 Kawasaki Z900RS Cafe, a quick once over. It was then time for another hose down to wash away the cleaner. At this point, things were already looking pretty good and I was rather enjoying the bubblegum scent of the bright pink cleaner.
Next, I got to work with the various brushes in the kit. On the Z900RS the wheels are particularly challenging to clean as the space between some of the cast "spokes" is rather tight. The 2 prong brush did a much more comprehensive job than I'd previously been able to achieve with cloths.
Another quick spray down with the hose removed any of the dirt I'd dislodged with the brushes and it was on to Stage 2, "Protect".
Muc-Off state that you can jump straight to the Protectant spray at this point, but I first leant the bike over and rolled it a few steps to get rid of excess water. They also say you can pretty much spray your entire motorcycle, aside from the brake discs and tyres, but I avoided the paint since I was planning to wax it.
I shot pretty much the entire lower half of our Z900RS Cafe with the protectant spray. After letting the protectant penetrate into all of the bikes tight spaces I wiped away any excess fluid. This left everything looking like new – similar to the dashboard protectant spays you get for cars, but more extensive and less oiling looking.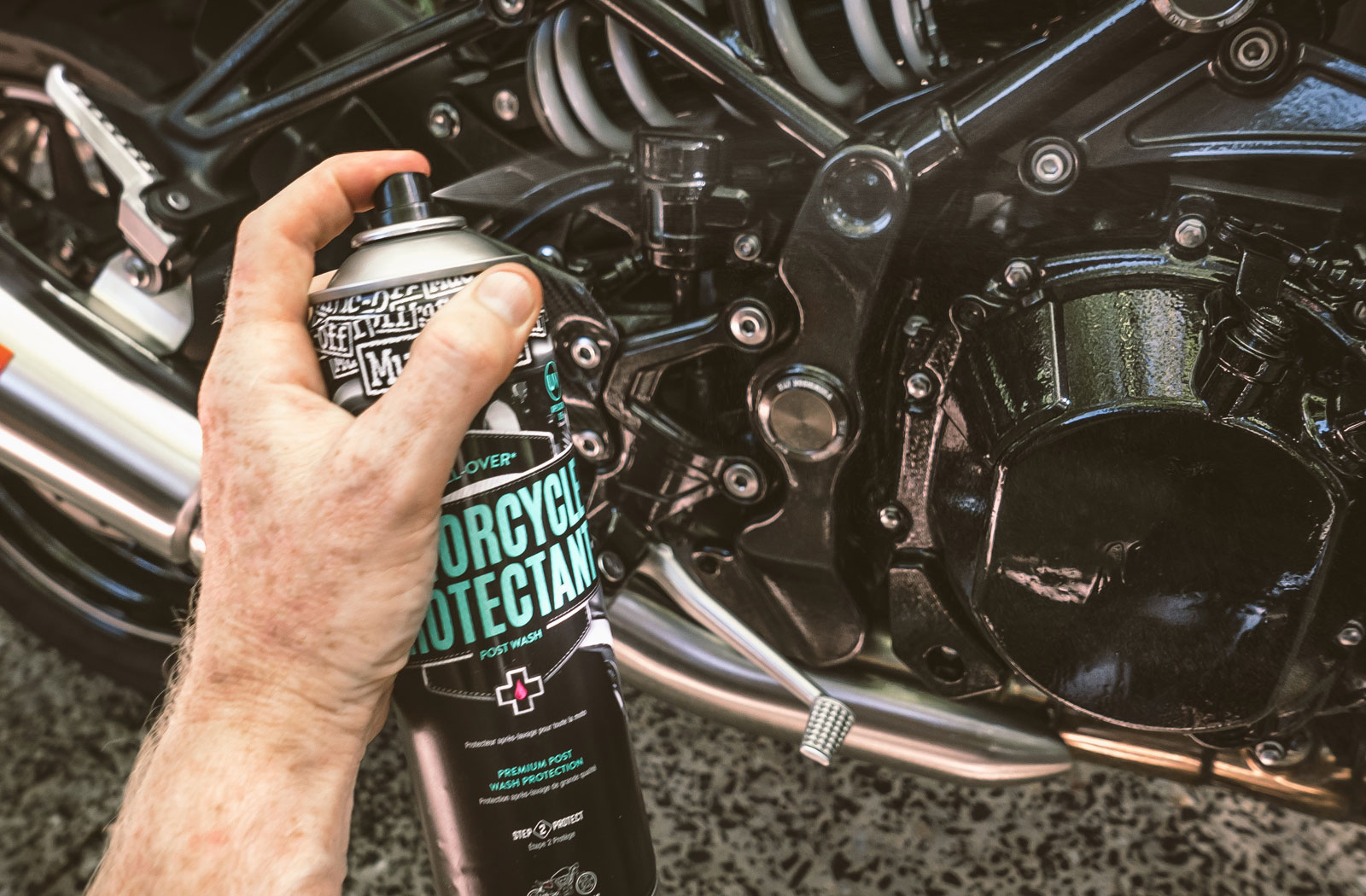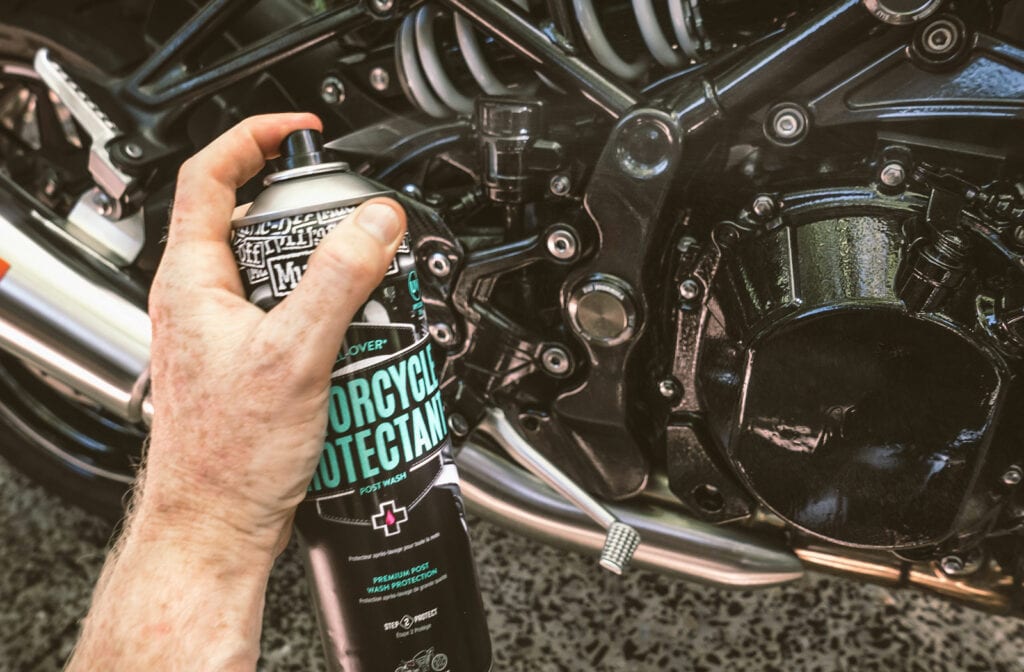 It was now time for the part of the wash I had been looking forward to the most (I told you I'm weird), applying the Muc-Off Speed Polish spray. Like the other stages applying the polish/wax couldn't be any easier. You simply spray it over all of the bikes painted surfaces, plastics and our bikes fancy aftermarket carbon fibre bits.
Once again its time to sit back while the spray dries to a hazy finish. At this stage, I was really wishing I'd dropped a couple of beers into the kit before I started.
Once everything had dried I pulled out the Muc-Off Luxury Microfibre Finishing Cloth. I then spent a couple of minutes buffing away all the lovely vanilla scented polish. This resulted in a super slick looking and feeling finish that left the bike looking like new again.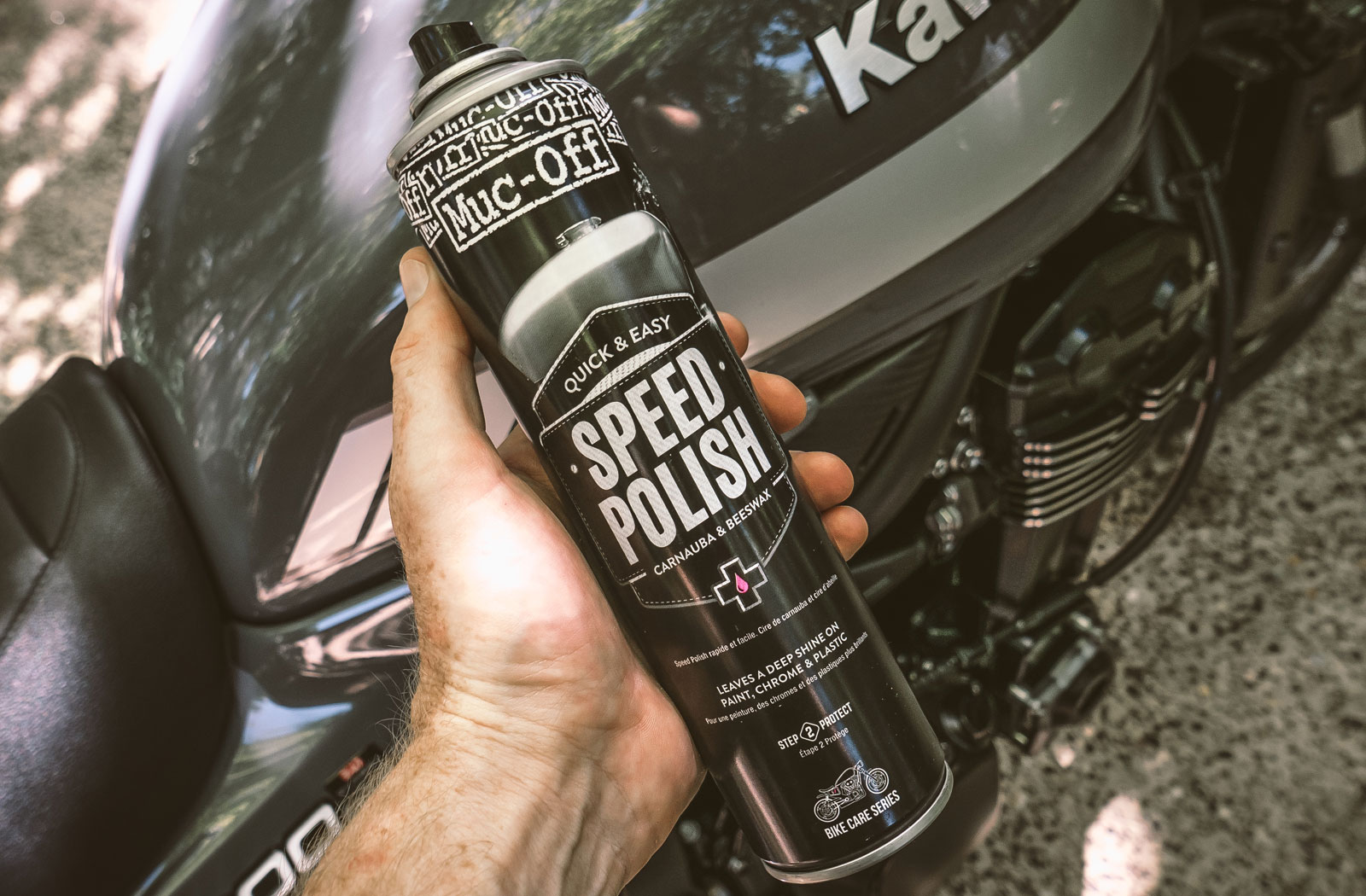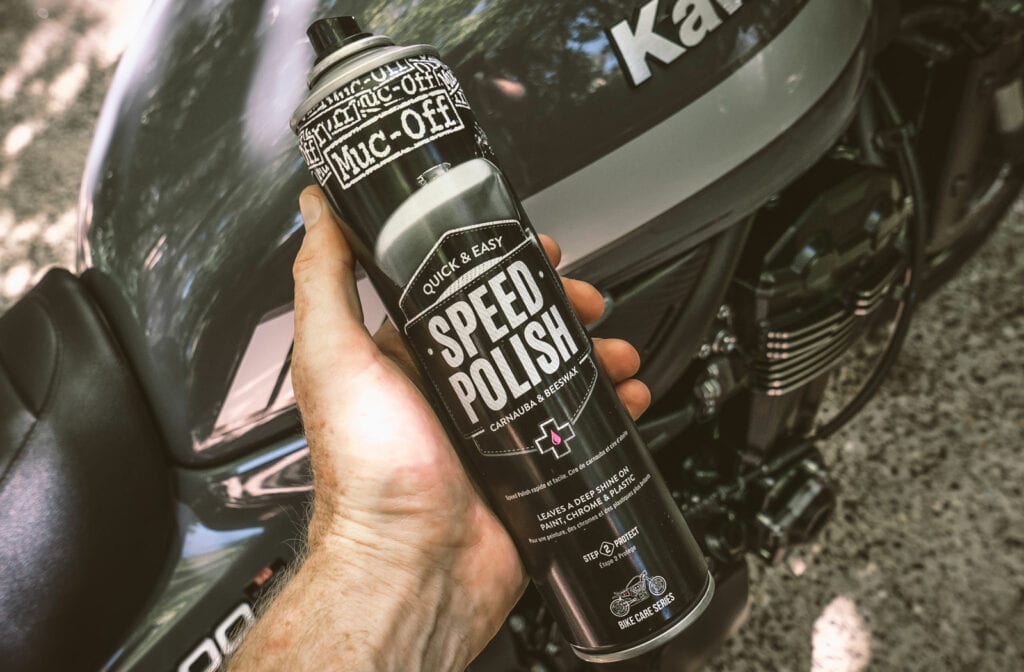 Have I been impressed by the results? Honestly, yes. For starters, the dedicated brushes are worth their weight in gold. Usually, during my pedantic post-wash inspection, I find areas on the wheels and engine that I have missed. The Muc-Off brushes have encouraged me to reach further and scrub harder than I usually would with a cleaning cloth.
The stand out though is the Muc-Off Protectant. Thanks to past experiences with similar products I was expecting an oily, spotty finish, especially on blackened surfaces. What I got was a consistent finish on all surfaces, even on the seat of the bike. It also did exactly what it said it would in terms of fending off the dirt. This has meant less frequent washing, which works wonders for my OCD issues.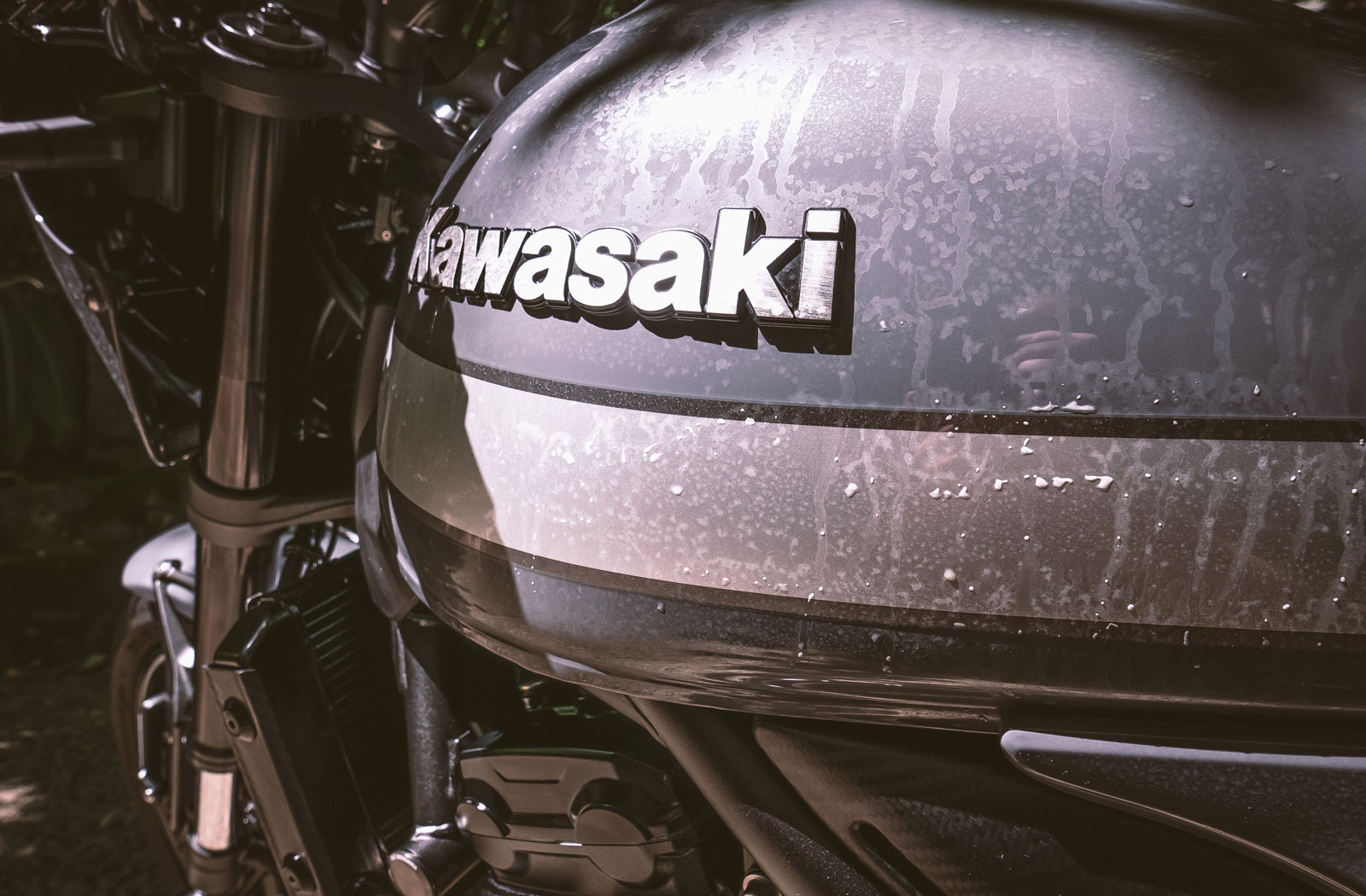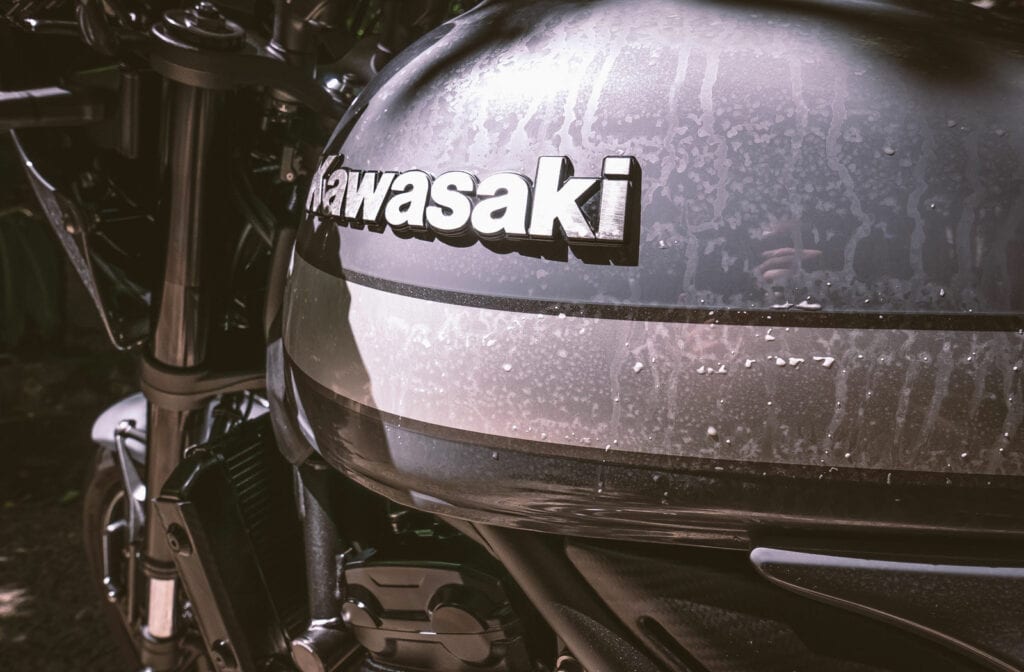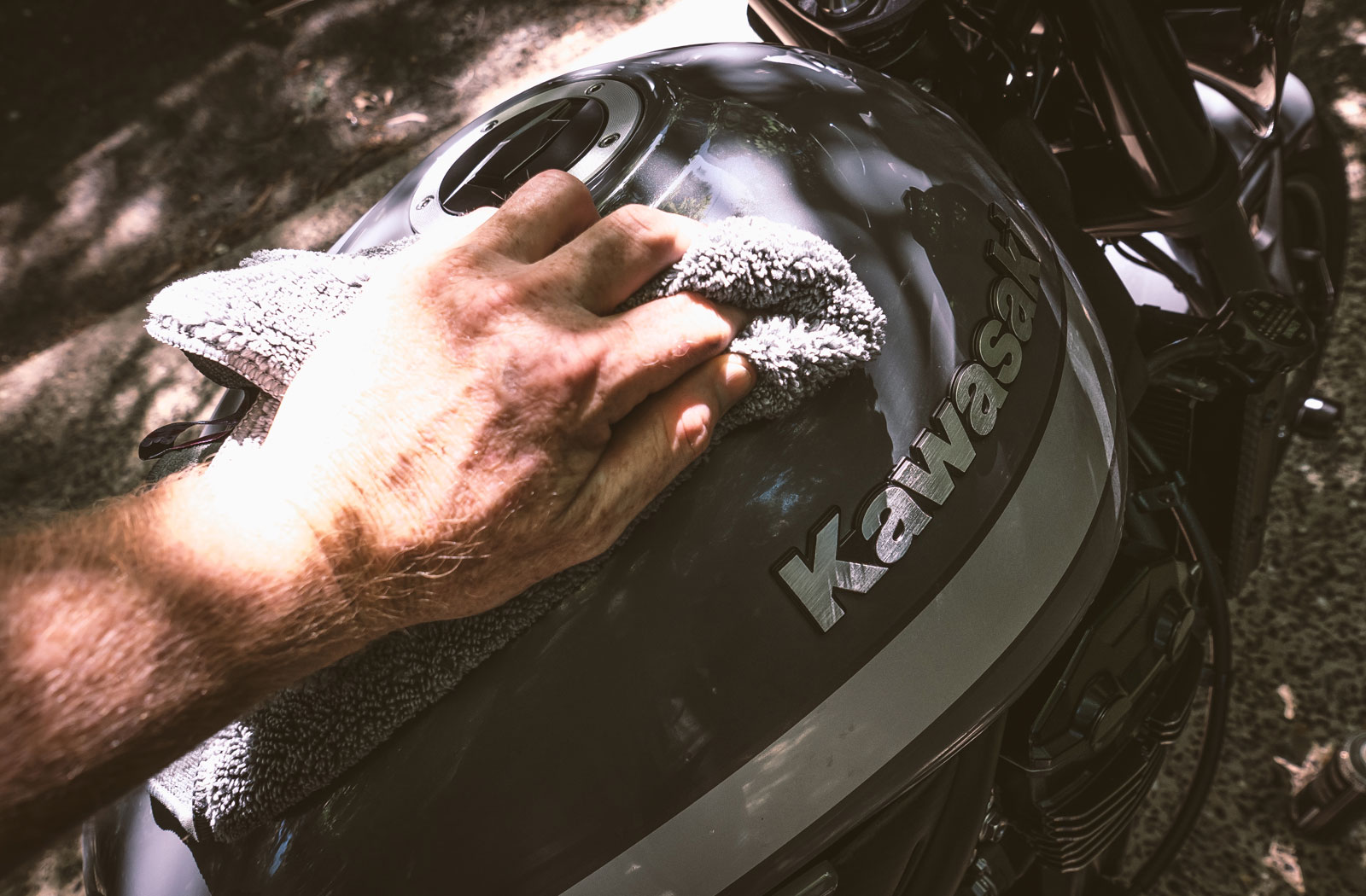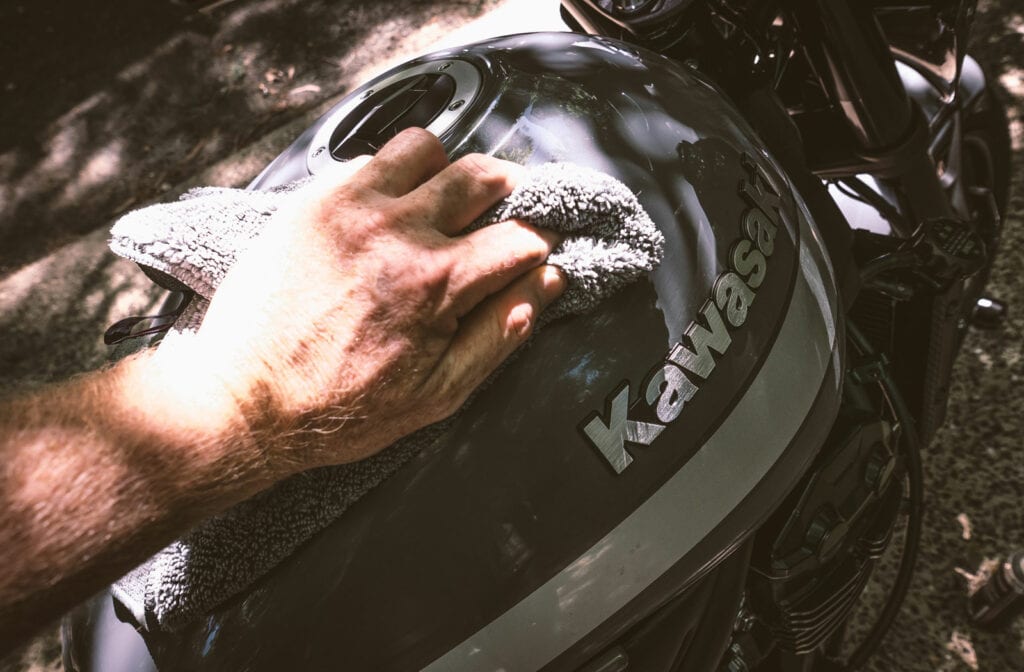 Trust me, I know that cleaning a motorcycle is by far the least enjoyable aspect of owning one. So if you're going to do it you want the best result possible. That's where Muc-Off excel. They have 30 years of experience creating products for cleaning bicycles and motorcycles behind them and ease and practicality sit at the top of their priority list.
If you're after more motorcycle maintenance products Muc-Off offer an extensive range of products including chain lube and filter oil. You'll also find Muc-Off products designed to maintain your motorcycle helmet or keep your hands clean and fresh.
Available from: Amazon / Revzilla