I can't think of anything worse than walking out to my motorcycle only to discover it's been stolen. Motorcycle theft is a huge problem worldwide. In the United Kingdom, the number of motorcycles stolen each year is equivalent to a quarter of the year's total motorcycle sales. That equates to around 25,000 stolen motorcycles in 12 months. And things aren't much better for other countries. In 2019 Australia recorded almost 10,000 thefts and in the USA, a whopping 41,000.

Don't become a statistic
So what can you do to prevent your motorcycle from being stolen?
For starters, you need to get yourself a good, purpose-built motorcycle lock. There are many to choose from but I'd recommend a combination of a couple. This will make things really difficult for would-be thieves.
I'd also look at locks that are very easy to carry and quick to install. This will mean you're more likely to use them all the time.
And lastly, look for a lock that is very easy to see. Most motorcycle theft is opportunistic. If a thief can see your motorcycle is properly secured they are more likely to look for an easier target elsewhere.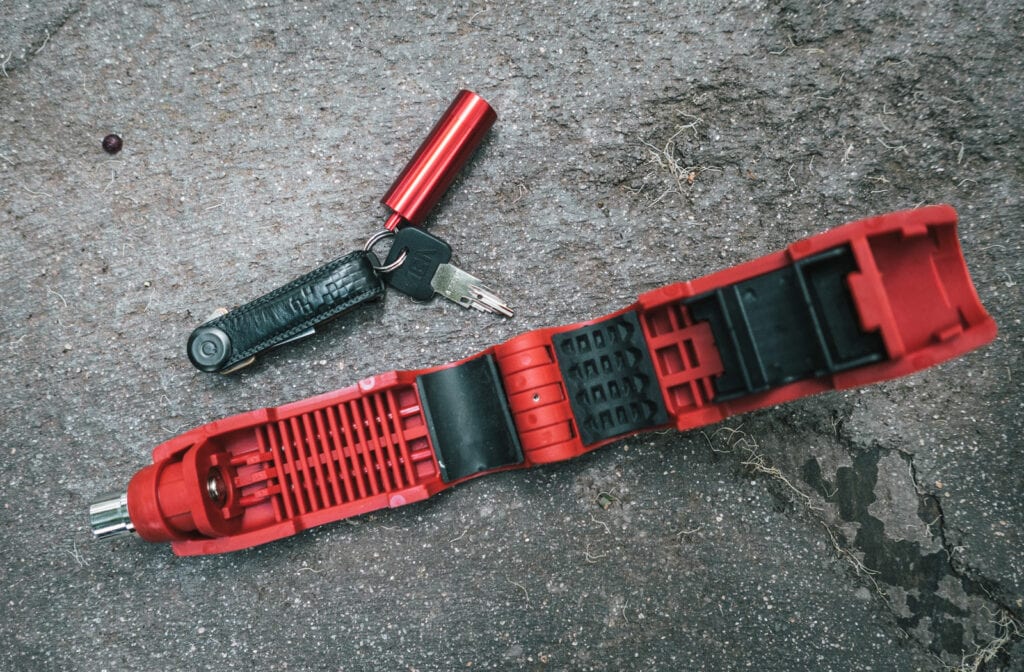 Back in 2001, a clever New Zealand rider developed the Grip-Lock throttle lock. His goal was to create a lock that could be installed and removed in seconds and didn't involve interacting with any dirty or hard to reach areas of a motorcycle – such as the brake discs or wheels. He also wanted a universal solution that could be used on a wide range of applications and could be easily transported.
The result was the Grip-Lock and it achieves all those goals with ease.

Installing the Grip-Lock throttle lock
The Grip-Lock is a throttle affixed lock that secures over the front brake lever and grip. When it's unlocked the Grip-Lock opens like a clam with a hinge on one end. It is installed by pulling the brake lever in and closing the lock assembly over both the brake lever and throttle grip. The barrel lock is then pushed in to secure the Grip-Lock in place.
Once installed the Grip-Lock renders the motorcycle immobile since the front brake is activated. The Grip-Lock comes with rubber inserts to ensure a tight fit which also makes it impossible to function the throttle.
To remove the Grip-Lock you simply use the included key to open the barrel lock. This releases the entire assembly in seconds so you can get on with your ride.
Steadfast motorcycle theft protection
The body of the Grip-Lock is constructed from a tough glass-filled polyamide which is highly resistant to cutting or piercing. Inside the polyamide shell hides a second, line of anti-theft defence. Four hardened steel rods. Finally, a Pagoda Locking Systems offers superior protection against picking and drilling.

Grip-Lock benefits
Along with the security benefits of a throttle lock such as this, there are several factors that make Grip-Lock a great addition to your EDC riding gear. For starters it is compact. The Grip-Lock will fit easily into a pocket or, in most cases, under a motorcycle seat. It is also very quick to install taking less than 10 seconds to fit or remove.
Since it sits on your handlebars the Grip-Lock will be exposed to the elements. The manufacturer has dutifully considered this and made the assembly resistant to UV exposure as well as rust. In fact, Grip-Lock is so confident in the durability of their product it comes with a 10-year warranty.
As for its ability to deter thieves, the Grip-Lock comes in a variety of bright colours that are hard to miss. This is also handy for motorcycle owners as there is no chance of accidentally riding off with it still installed – something that can happen with disc locks and chains and can result in a dropped motorcycle.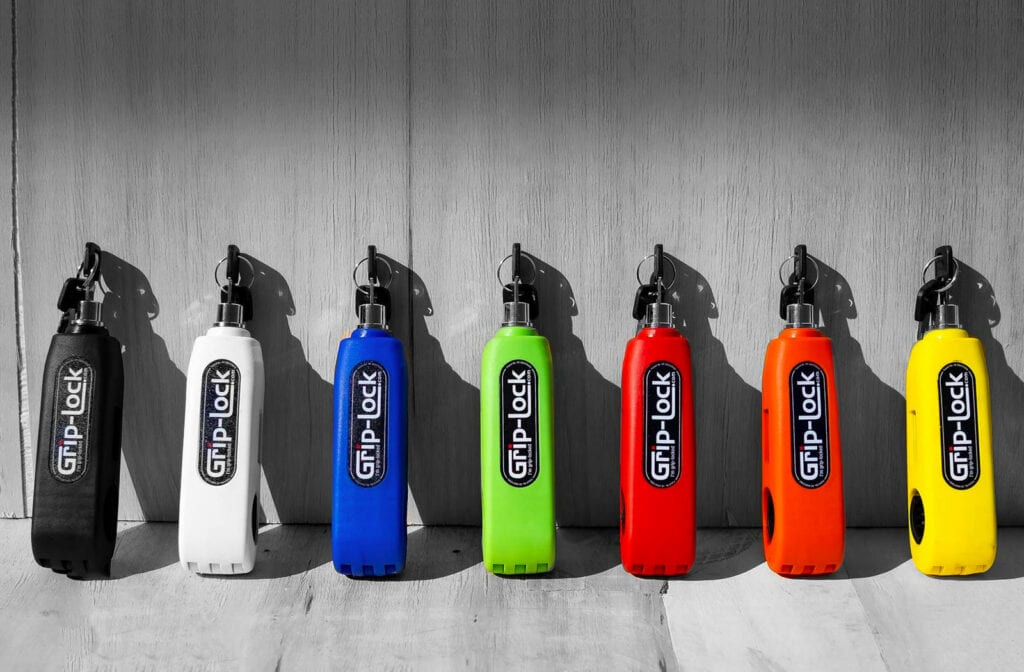 The Grip-Lock throttle lock is designed to fit everything from scooters to top of the range sportbikes. The only exception is motorcycles with very large grips like some Harley-Davidsons or a behemoth like the Triumph Rocket.
You can, of course, choose to use the Grip-Lock on its own or in addition to other anti-theft devices for added security. Whatever you decide to do this clever device could play an integral role in keeping your pride and joy safe and sound.
Available from: Amazon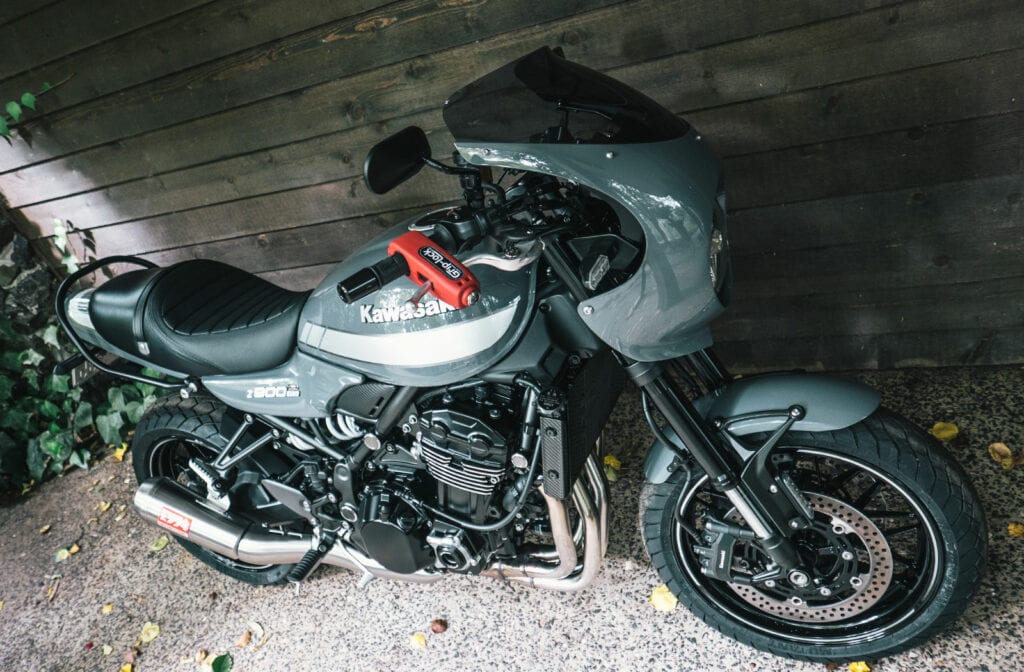 Can you spot the motorcycle lock in this photo?
Your role in theft prevention
Remember no motorcycle security product is 100% theft-proof. No matter how high tech or super strong it may be. A well-equipped thief could cut your brake lever or through the Grip-Lock itself time permitting…or any other chain or lock for that matter. The role you play in preventing this from happening is important too.
Never leave your motorcycle parked in the same place for too long. Always park your motorcycle in a well-lit area. Whenever possible park your motorcycle behind a locked gate or in a garage away from prying eyes.