At it's simplest, the bivouac is a cleverly tailored tarpaulin designed to use your motorcycle for support. Now that the product is a reality, a weekend in the saddle with a group of mates for our annual end of winter "Brass Monkey Run" presented a perfect opportunity to put this swiss-made shelter to the test.
The flexible design means that the bivouac suits almost any bike, however with no floor and no fly mesh, this really is bare bones camping promising basic shelter, a dry seat, and not much else. Setup was easy enough. Exposed take great pains to make clear you should chock your kickstand, and so with terror of waking up beneath my bike in mind I slid a timber puck beneath its foot. Then it's just a matter of staking out guidelines for the flap that covers the seat, erecting the poles and pegging out the foot of the bivouac, and then drawing taut the remaining sides.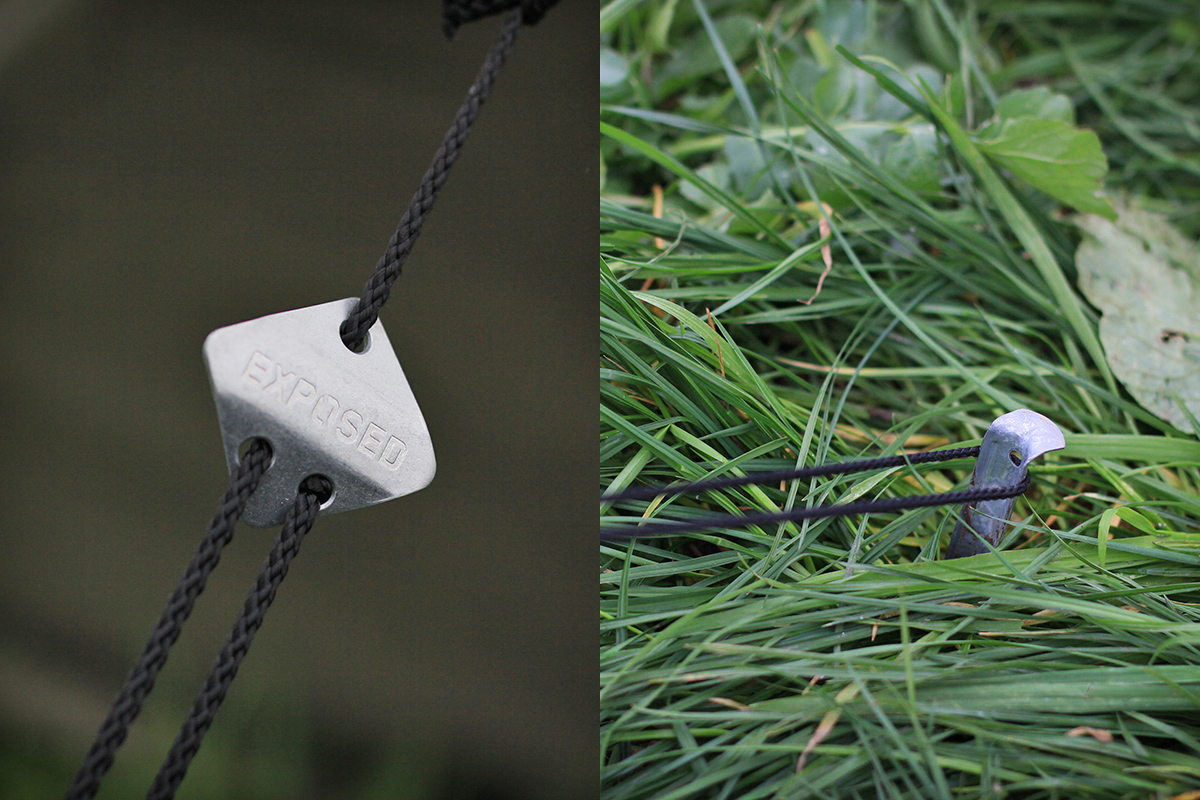 We'd copped quite a soaking during the ride and the grass was well and truly wet when I set up camp, but with a self-inflating mattress between my sleeping bag and the ground below (and a few warming ales) I stayed warm and dry all night long. A well placed zipper allows sitting or standing upright in your bedding and makes getting in and out easy enough.
There's also plenty of space on offer – I'm an XXL human at 6'2 and 120kg, and have long since given up on traditional swags as claustrophobic, stuffy things. The exposed bivouac however provided plenty of room for me, my bedding, my helmet, boots and the rest of my gear. Smaller riders could potentially share the bivvy with a pillion. I'd also suggest that a backpacker's mosquito net will be a worthwhile addition in summer.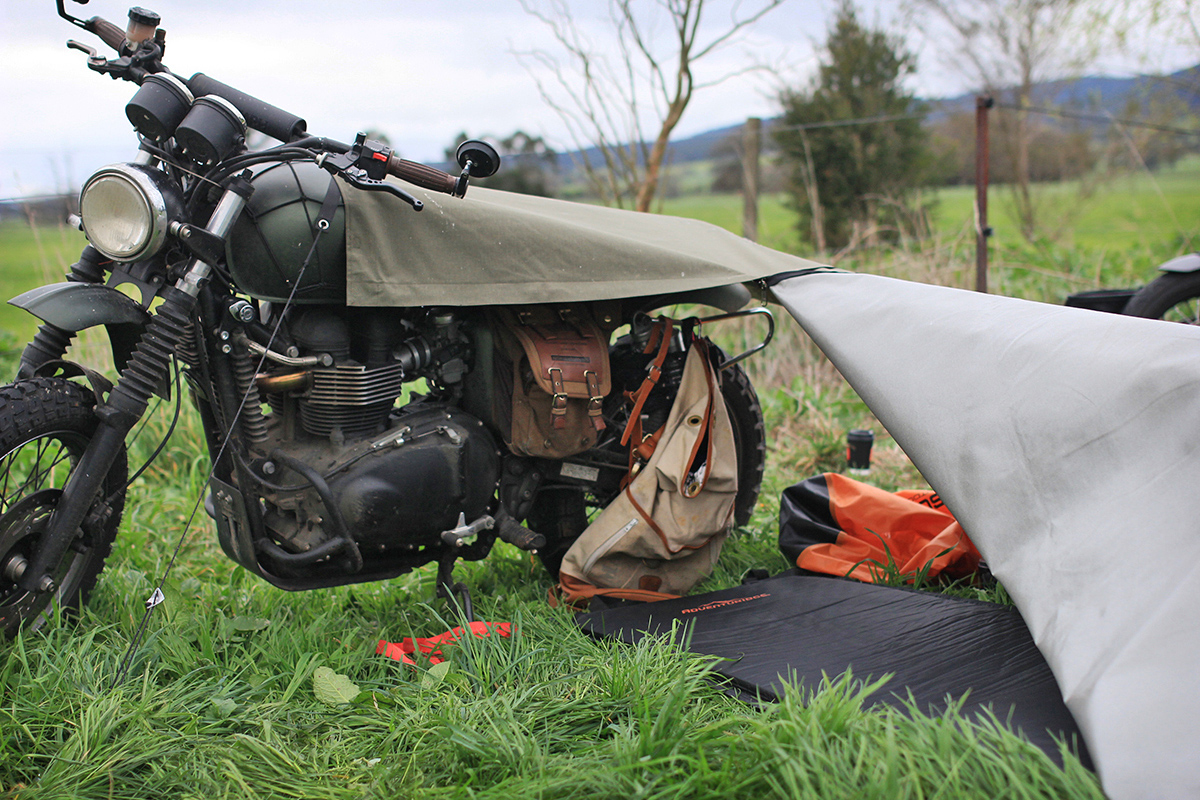 Exposed have hand made the bivouac in Switzerland from premium materials – heavy weight waterproof treated cordura stitched with reinforced and taped seams; 2 short and sturdy alloy poles;  hardcore eyelets, rope hardware and ground pegs. The whole lot packs down to a 2kg roll about 15cm x 45cm in size, which secured easily to my Triumph Scrambler by the use of the included leather straps.
Be warned though, even accounting for quality materials and design this is an expensive place to stay the night. A few mates seemed personally insulted when they found out the price tag around the bonfire – at 650 Swiss Francs the Exposed Bivouac comes in at nearly $900 aussie dollars before shipping. In fairness, Exposed have since dropped that price by nearly a third, but I somehow doubt that price reduction would have gone far to quell the opinion that raged by the fire that evening.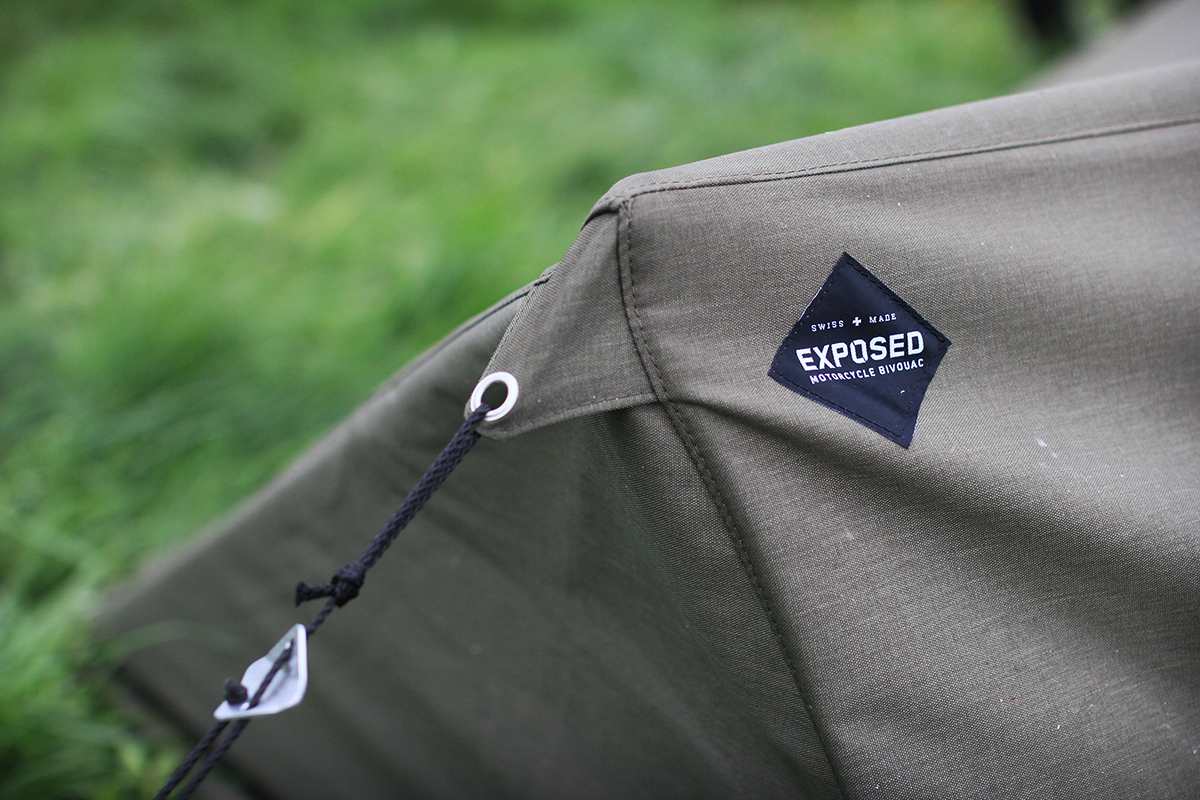 Those who took umbrage raged as if this Bivvy was the epitome of hipsterbiking – a bridge too far in artisanal lifestyle products. Others pointed out that there are excellent, lightweight backpacking tents with full floors and flymesh to be had at a fraction of the cost; or that Exposed could have delivered the product to market for far less by using more traditional materials like swag canvas in a cheaper manufacturing economy elsewhere in the world.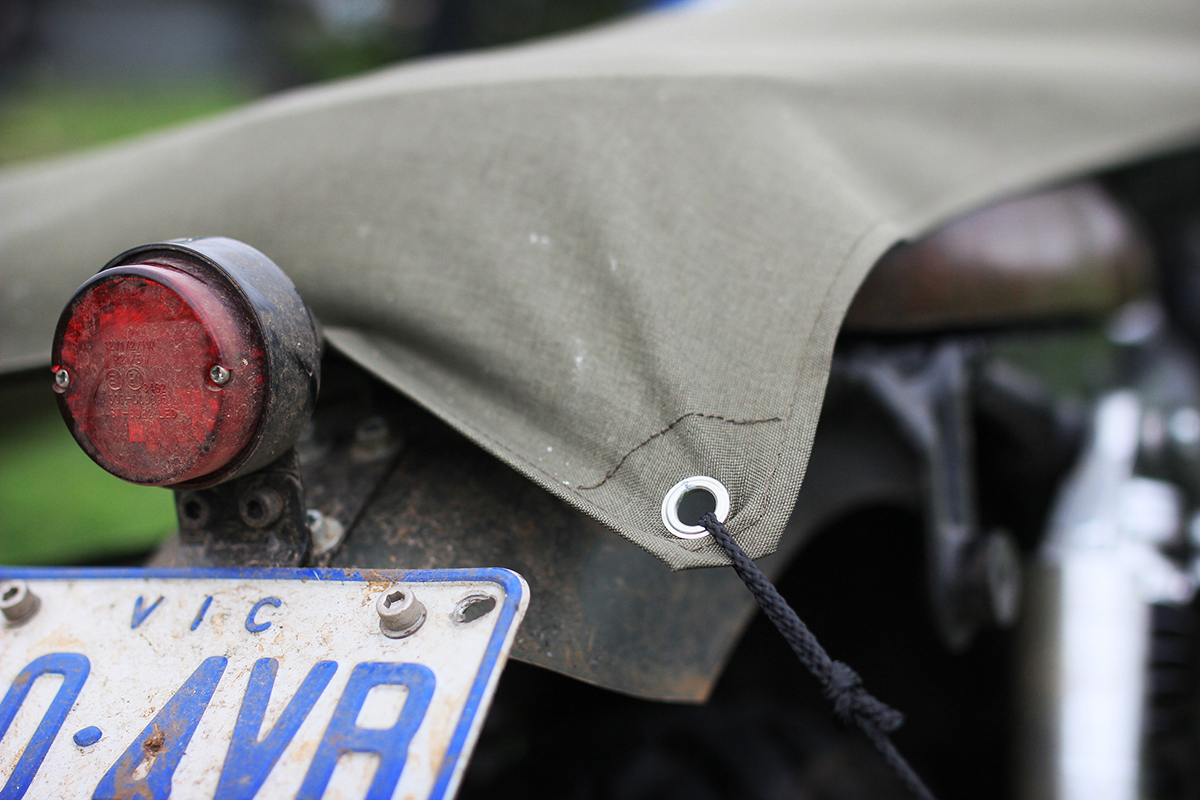 While not invalid, I think these arguments miss the point. The Exposed Bivouac isn't really about practical shelter, any more than my Triumph Scrambler is really a bike for the wild beyond. They're both about evoking the emotion and the essence of the thing – that sense of adventure that tugs at the heart strings in spite of rational alternatives.
For one or two nights away, in the most minimal way possible – and for those that count money as no obstacle – I can think of no simpler or more poetic way to escape beneath the stars. I'm already daydreaming of the weekend.
Words by Mik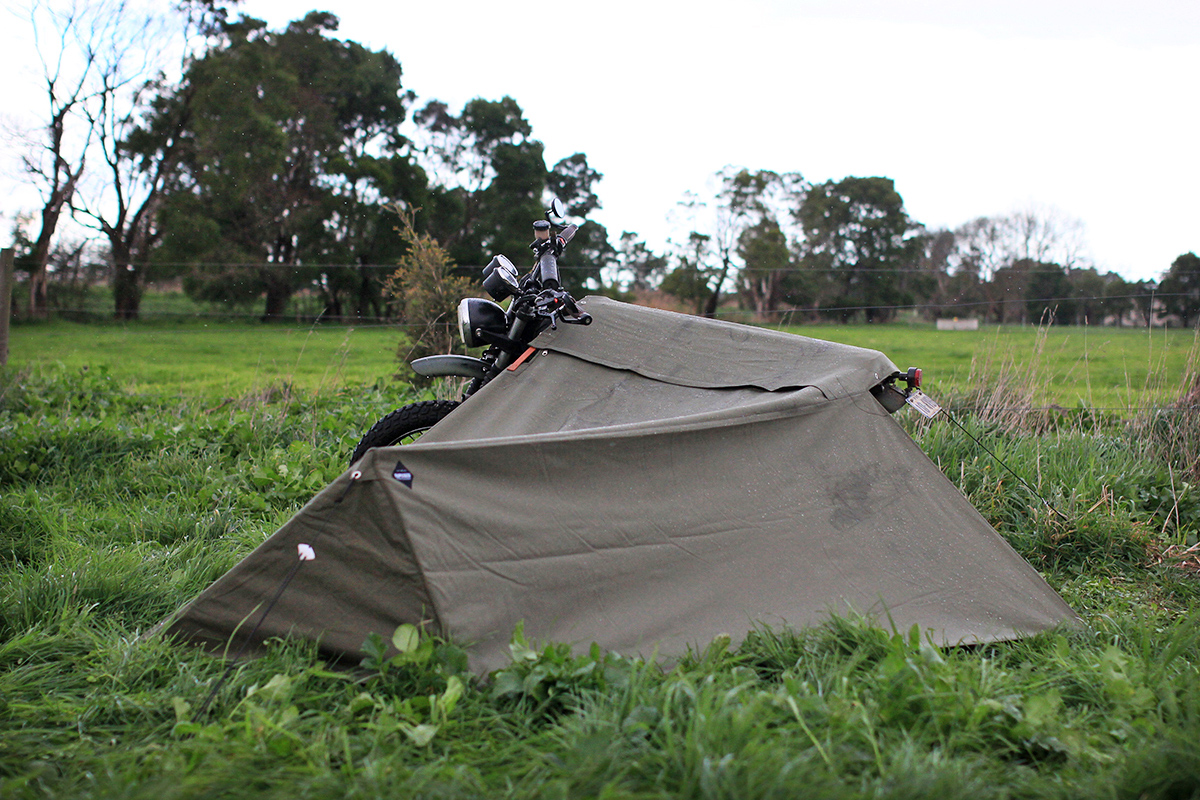 I love camping. I'm fortunate to live in Australia, and have ventured all over; setting up camp on beaches and in rainforests, in rugged alpine valleys and searing desert sands. There's something about the great outdoors, a sense of adventure that leads my mind to wander out the office window towards the weekend and a wide open sky.
It's the same calling that the folks over at Exposed set out to answer with their Motorcycle Bivouac. This minimalist shelter got a fair bit of *ahem* exposure on the blogosphere back in March when it was funded through a successful Kickstarter.