Last time we featured the Portugese workshop Tricana motorcycles they had just completed their first Moto Guzzi Cafe Racer build. Today I'm visiting Jonathan's workshop again to reveal his latest Moto Guzzi based Cafe Racer build the "Mondego", named after the river that runs through his hometown of Coimbra. Based on the garishly ugly (opinions may vary) Moto Guzzi V65 Lario, Jonathan has done an impressive job and converting the Guzzi into a rolling work of art.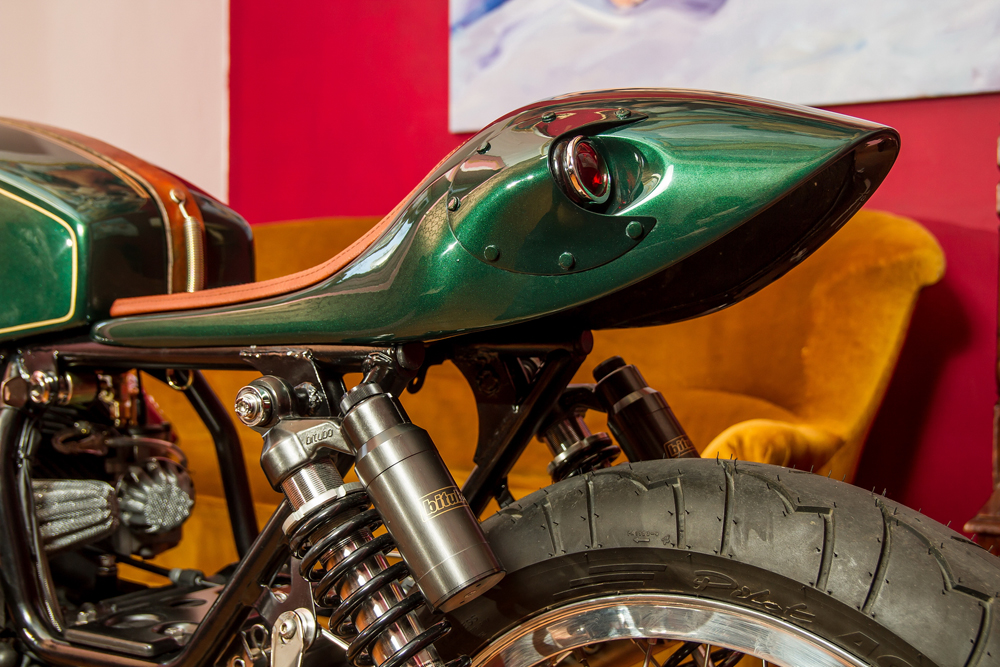 "The idea was to create a bike that looks light and ready to race, aggressive with a hint of elegance"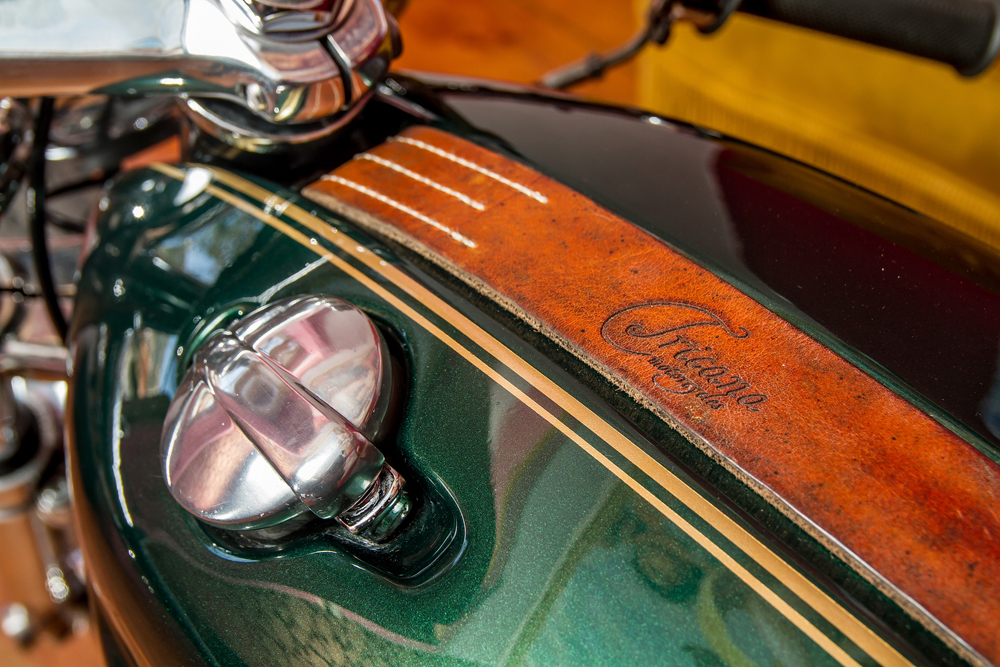 This '89 Moto Guzzi V65 Lario donor bike was discovered in a cellar. As the story goes it had stopped running 10 years earlier and was left abandoned in the darkness. The new owner brought the bike to Jonathan at Tricana where it was decided that the bike would be a solid base for a Café Racer project. 


"The modifications are endless. The idea was to create a bike that looks light and ready to race, aggressive with a hint of elegance. I wanted to make a pure café racer with big drum brakes, instead of the original 16" alloy rims with brake discs."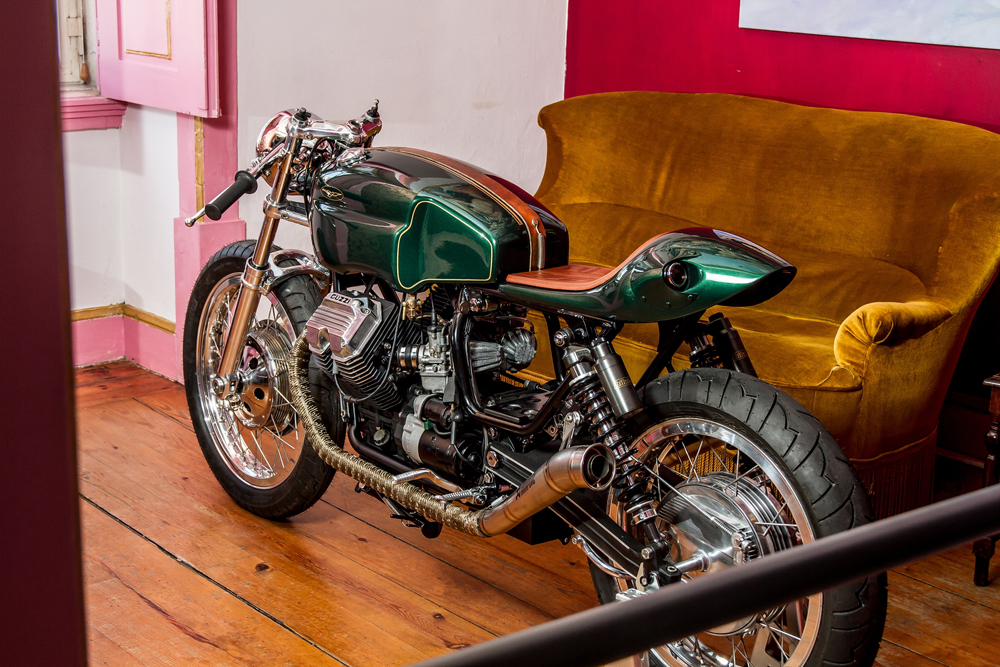 To achieve his "pure Cafe Racer" look Jonathan swapped out the stock wheels for a pair of Akron Morrad rims, 19 inches at the front 18 in the rear and wrapped in Michelin Pilot Active rubber. A redesigned custom made linkage allowed the fitment of a 70's Guzzi drum on the rear and a vintage Triumph hub with its drum brake was laced to the front.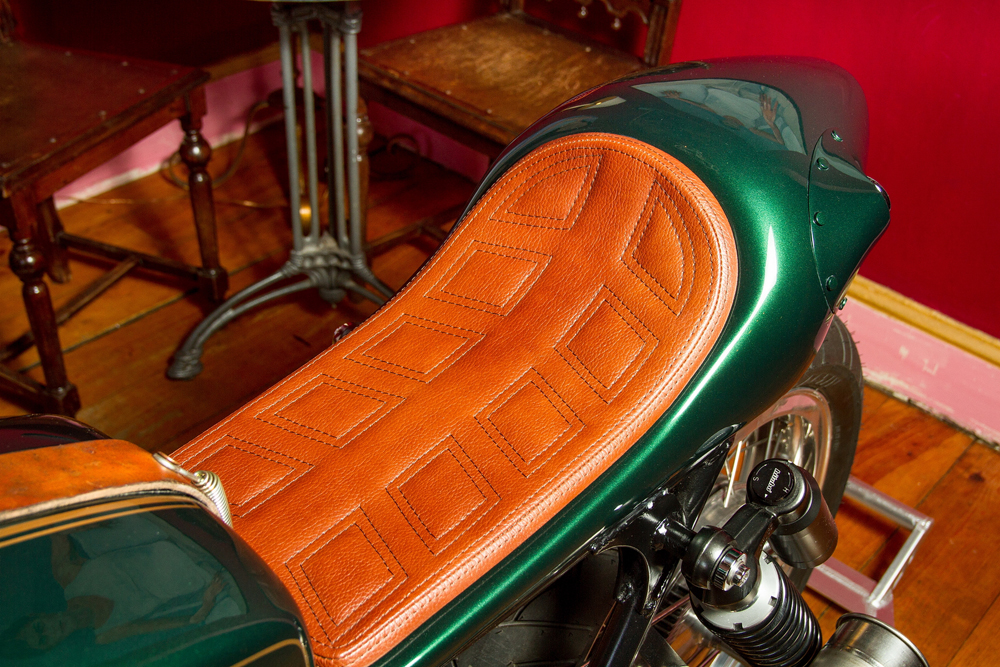 The bikes suspension has received a serious upgrade with a pair of Bitubo shocks in the rear held in place by repositioned upper mounts. The front forks were then modified to level out the stance of the bike after the change in suspension and wheel dimensions. The 650cc powerplant retains it's stock internals but a pair of free flowing filters and rejetted carbs combined with titanium Akrapovic exhausts beef up the power figures.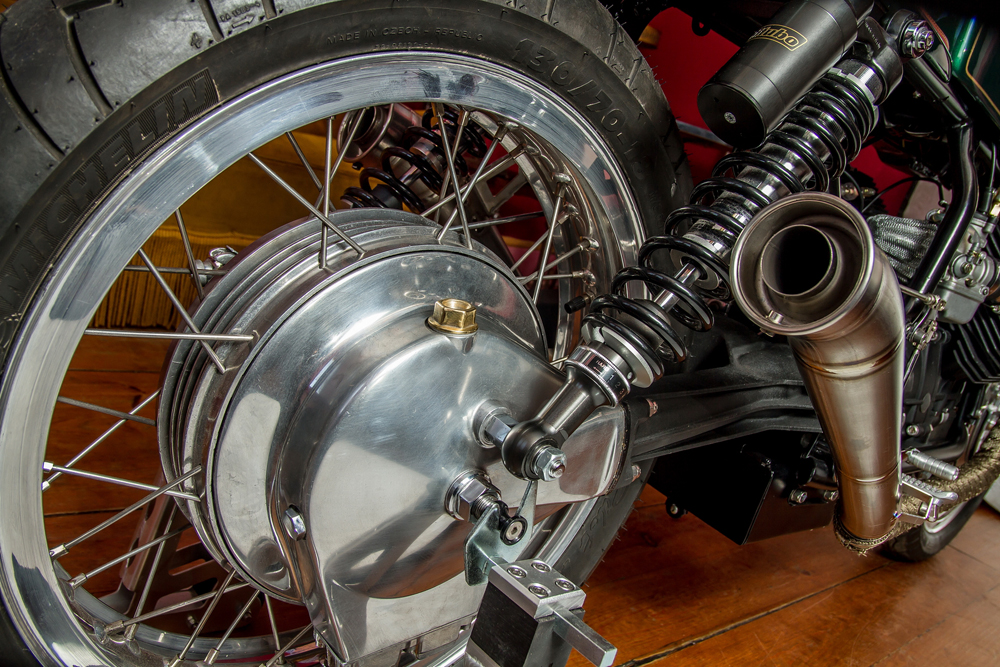 Jonathan's most proud of the work he did to create the bikes unique bodywork and as you can imagine the one-off fuel tank and seat took the longest to complete. Constructed using 2 layers of fiberglass and one of carbon fibre it's lightweight and beautiful. The Mondego has been finished in a classic racing green and gold paint scheme with a section of clear coat in the tail to show off Jonathan's carbon fibre work. Tan leather on the saddle and brass highlights on the engine and wheels then tie the whole package together perfectly.The Mondego boasts an interesting mix of old and new components. On paper you wouldn't expect them to all work together but it seems that Tricana Motorcycles is more than capable of proving they can.