"My idea was to take a motorcycle built before the invasion of complex electronic gadgetry, but not so old it'd be unreliable." Omar explained. "No plastic, no unnecessary components and it had to be Italian. So what better place to start than with the legendary manufacturer, Moto Guzzi."
It was Moto Guzzi's V11, a 2001 model to be precise, that satisfied Omar's requirements. Happy with the bikes 91 horses of power, Brembo brakes and sportsbike handling he had solid starting point, allowing him to focus his time and his budget on aesthetic upgrades.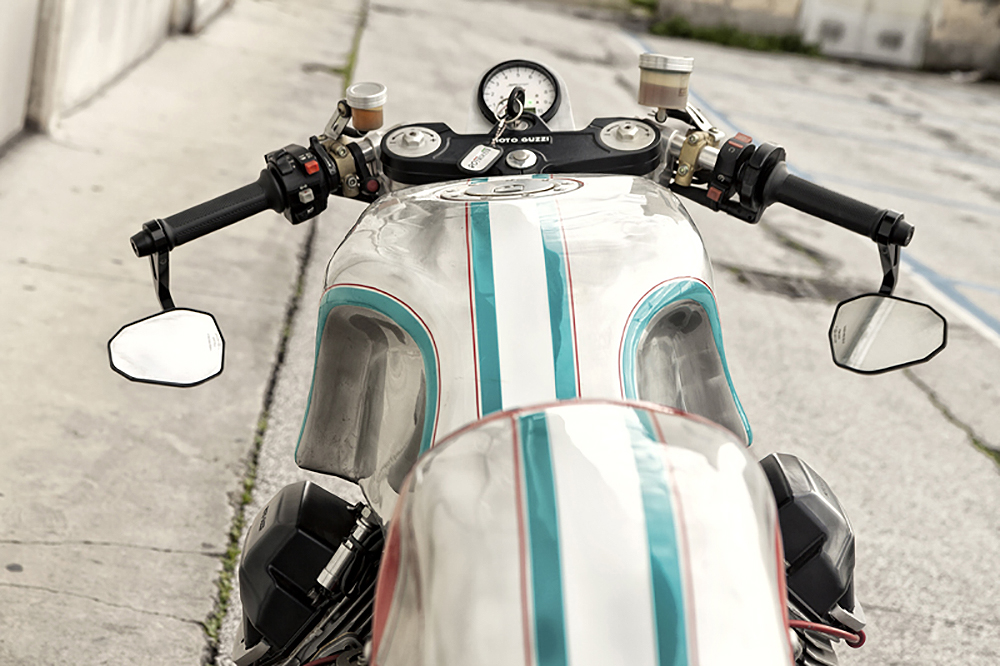 When it came to redesigning the V11 Omar's goal was to create a look for the bike that would better complement its transverse 1100cc V-twin motor. "I chose a Guzzi because I believe they use a fantastic engine. It deserves attention and a more creative design than what the Moto Guzzi factory gave it." As you can imagine achieving that goal was no mean feat. When Moto Guzzi created the V11 they had a team of professional designers and a massive budget behind them, Omar was one guy with a big dream and a modest budget. Thankfully, what he didn't lack was determination.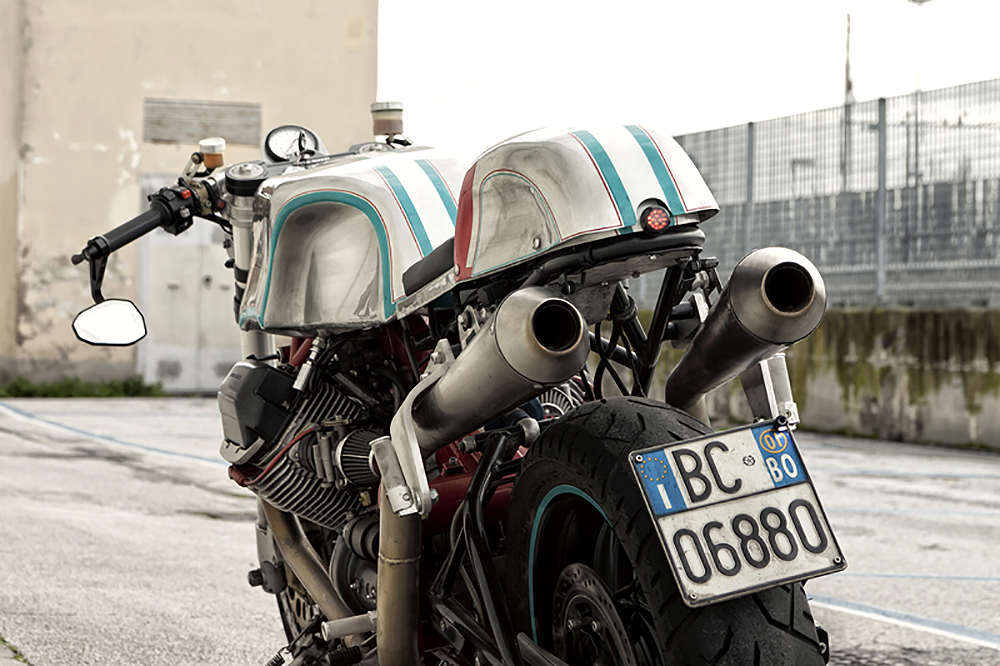 As Omar began stripping the stock V11 down he soon realised he was going to have his work cut out for him. Removing the plastic side covers and airbox revealed a slew of wiring and electrical components that would have to be relocated, and with the rest of the bodywork off he also realised that achieving his vision of a slimmer bodied V11 could only happen with some serious frame modifications.
After nine months of work, millions of doubts and countless problems to solve, the bike was done. Together with the help of a friend Omar had created a new subframe that suited his concept and the wiring was all painstakingly rerouted. He shaped a new, classic race-inspired tail from aluminium with a removable cowl that conceals a second seat pad to accommodate a pillion. With no room for a traditional battery in the tail he resorted to hiding 2 tiny lithium batteries out of sight and joined them in parallel to provide sufficient cranking amps to turn over the 1100cc v-twin.
To further reduce the bikes weight (something V11's are notorious for) Omar continued the use of aluminium for the remainder of the bodywork. A handmade alloy tank was carefully modified to sit over the backbone of the frame and a trim fender was fashioned to cover the front wheel. A feature-packed Motogadget Motoscope Classic dial replaces the original dual setup and clip on bars and rear set footpegs place Omar in a sportier, Cafe Racer style riding position.
The V11's factory exhaust was perhaps its least appealing feature. Knowing he couldn't leave the pipes stock Omar searched for an Italian replacement and discovered a system by Mass Moto, which he modified to fit the V11. With the airbox gone pod filters were strapped to the opening of each carb and a Power Commander with an appropriate map was installed to get the most out of the free breathing engine.
When it came time to paint the bike Omar finished the wheels, swingarm and subframe in a dark grey, leaving the rest of the frame it's original fiery red. After hand brushing the alloy bodywork he decided it looked too good to paint, so instead he added his own race inspired pinstriping in red and blue. After applying the finishing touch, a lucky number 7 on either side of the tank, the whole lot was given a final coat of clear.
Nine months well spent? I'd have to say yes.
Build sheet:
Tank, mudguard and tail in handcrafted aluminum
Custom seat with removable cowl for pillion passenger
Moto Gadget MotoScope Classic dial
2x Lithium batteries
Power Commander
Pod filters
Mass Moto exhaust systems
Clip-on handlebars, bar-end mirrors
Discreet turn signals.
Wheel hugger license plate holder
Custom driver and pillion footpegs
LED lights for rear and license plate
In this super tech world we live in there seems to be a revolution happening in auto enthusiast circles. Rather than opting for vehicles packed with risk suppressing sensors and performance honing gadgets, many of us are opting for old school mechanics. We're buying motorcycles that run on carbs, use cables for control and give you a physical workout when you ride them hard. There's something visceral about a motorcycle that responds according to how much pressure you apply to it and it's great to know that if something goes wrong you might actually be able to fix it yourself. Today's build is the product of this train of thought. Omar Biagi is a 35-year-old "Italian guy" and when he went searching for a donor bike electronics were the last thing on his mind.