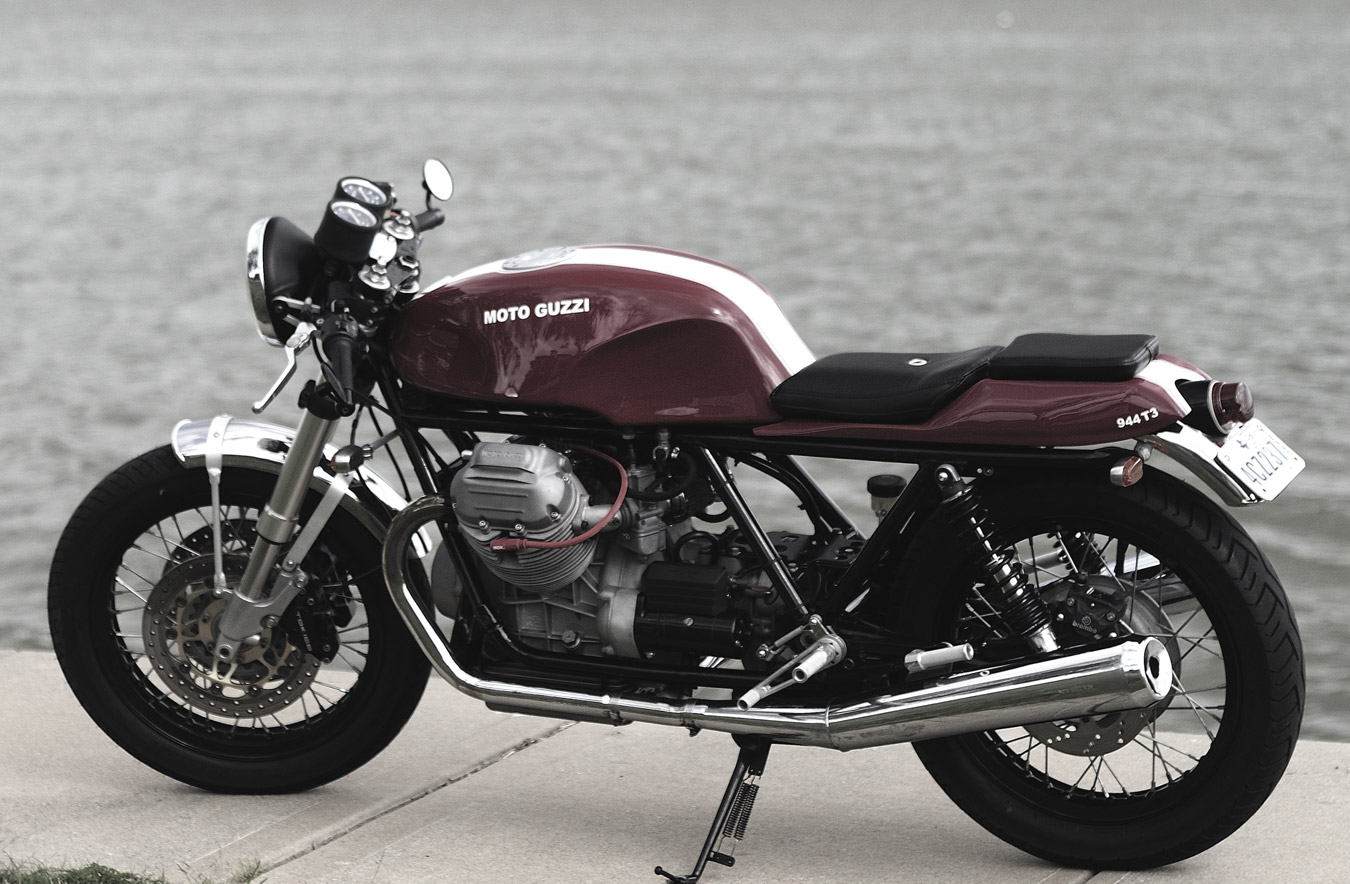 READERS RIDES
Moto Guzzi 850T3 Cafe Racer by Helge
This
Moto Guzzi 850T3
based Cafe Racer was sent in by Helge a German expat living in the states. The Guzzi was purchased as a "barn find" but turned out to be in a much worse state that Helge would have ever imagined. Quickly realising the machine wasn't fit for a rest Helge decided a Cafe Racer conversion was the best path to take. Helges story is one that many people fear when purchasing motorcycles in this state but his hard work and determination ended with one hell of a great looking, home built Cafe Racer.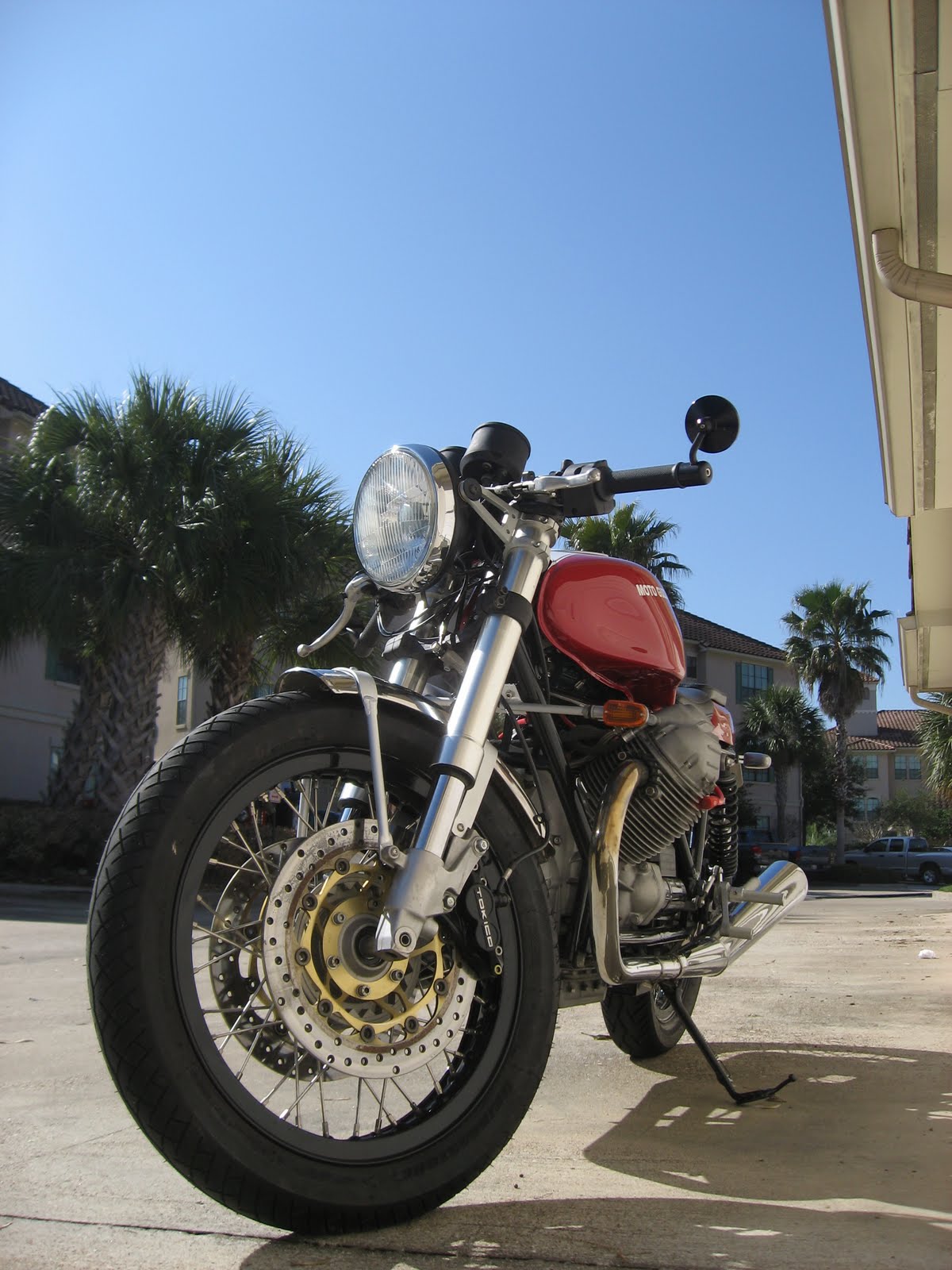 "I had been dreaming of restoring an old Italian bike – a Ducati, MV, Gilera… However, it was clear to me that even if I could get my hands on one of those, I would likely butcher the project or get in well over my head financially. The Moto Guzzi 850T3, on the other hand, seemed like a great beginner's option for a rebuild. There were plenty of them still around, they have stone-age mechanics, are easy to upgrade and best of all inexpensive spares are available on ebay. Without much hesitation I bid, overpaid massively, won and found myself with a very beat up, non-running 1976 Moto Guzzi 850T3.
Once at home, I immediately started the tear down. I had been told that the bike sat in a barn for 15 years but the overall state indicated that it rather sat outside. I wasn't feeling too bad until I opened the jugs – chrome peeling off in sheets, light rust on everything metal inside the engine, black tar instead of engine oil, wire loom completely torn apart by previous owners, one fork leg stuck, the carbs so badly corroded that they had to be completely replaced, etc. etc. Under these conditions restoration was out of the question, but a Café Racer style rebuild suited my taste much better anyway."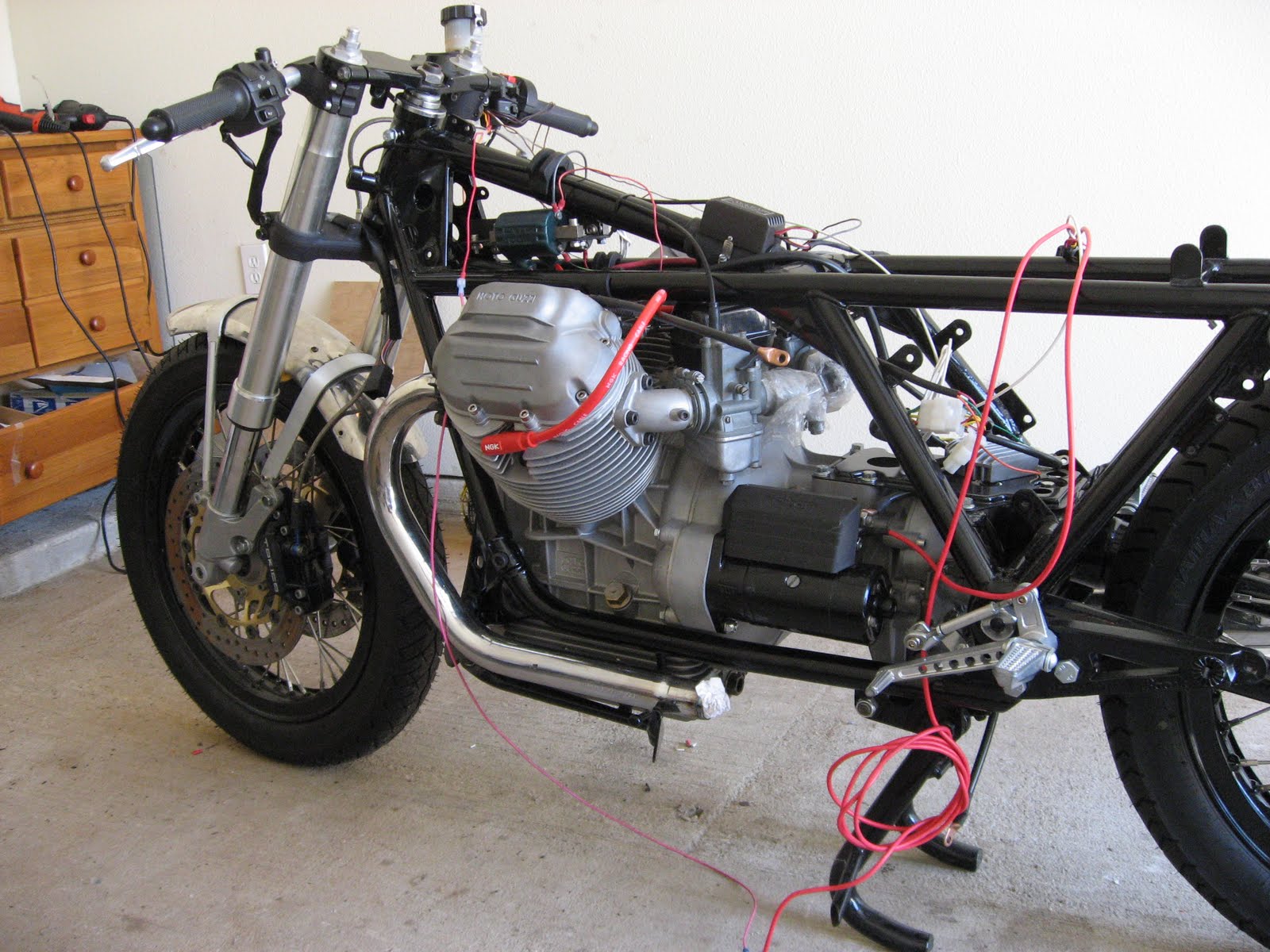 Not to be beaten by this less than desirable start to his dream project, Helge looked to the websites of fellow Germans Axelino and Guzziladen for parts and advice. A decision was made to retain the Guzzi's skinny standard tires and as many old parts as possible, but to upgrade the motorcycles performance and looks with USD forks purchased from Guzziladen and rebuilt 4 piston Suzuki brake calipers.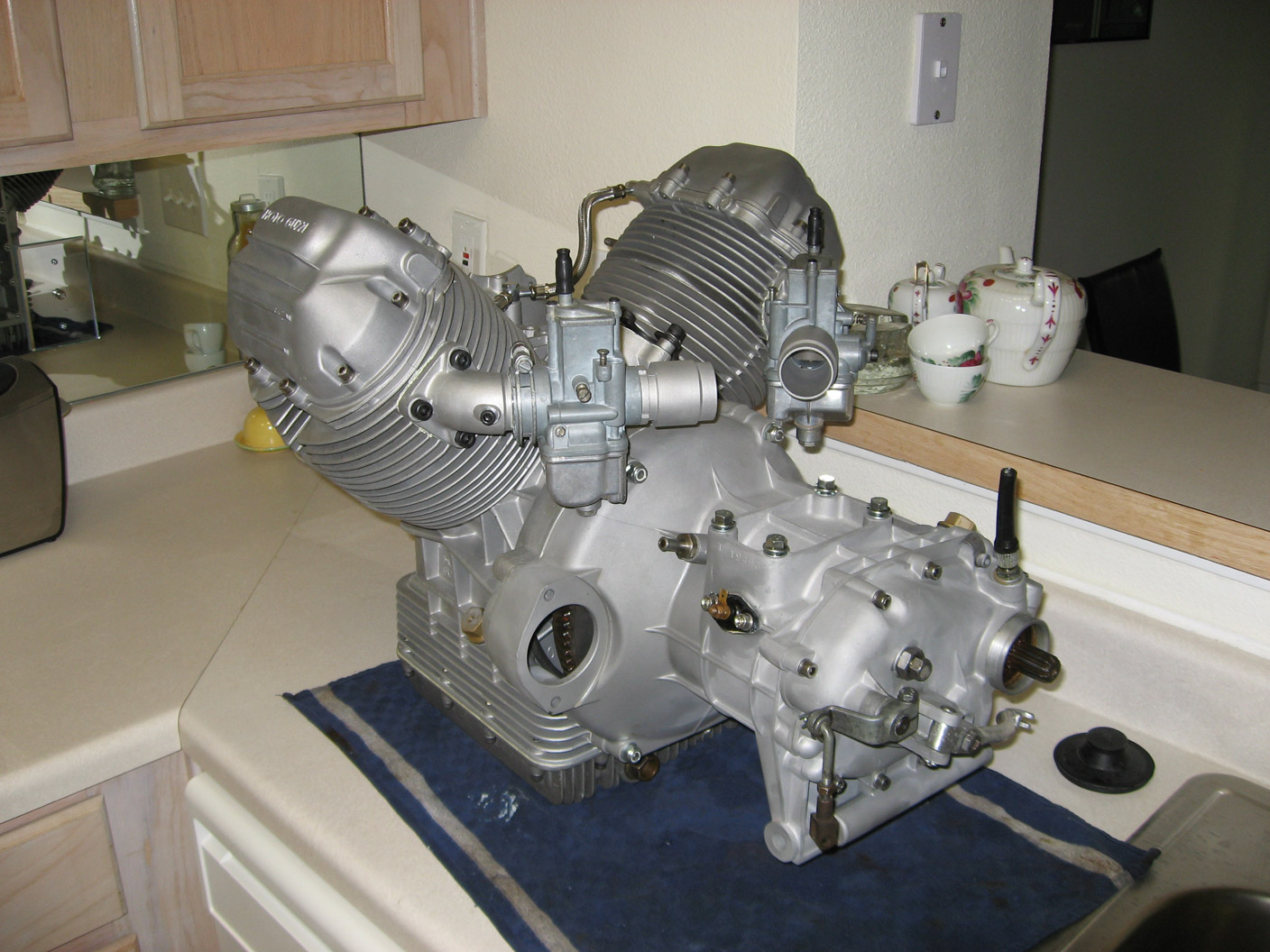 All parts that were still usable were media blasted and new parts were sourced worldwide: tank (Italy), 944cc Gilardonis (Germany). The frame was then detabbed frame and powder coated along with the swing arm and original rims. Helge states that during this time his girlfriend had to "suffer quite a bit" as all parts that came back from the bead blaster went through plenty of cleaning in our tub and then the engine was rebuilt on the their kitchen counter. The latter turned out to be a bit of a mistake as once the engine was completed it remained on the kitchen counter for a month while Helge waited for a strong friend to come and help him relocate it! The result of this inconvenience to Helge's was that a deal had to be made…
"she wanted to pillion. If you look at the real Café Racers from 70s Britain they often had two seats (of course! How else would you get your girlfriend to the Ace??). These days that seems to be pretty rare – on a single seater you don't worry about seat base strength as much, gain room for unsightly electrics, can shorten the frame, etc. Luckily for me, the father and son team at Miller's Machine and Welding were able to help out."
The Guzzi was then painted and Helge was able to take the bike out and add some miles to the clock. Handling was satisfactory but performance from the bikes stock 70's pushrod V-Twin was not great, however as with most projects this ones still not finished. Improvements to the transmission, charging system, a newly ground cam, PHF carbs, ported heads and NOS are all on the books and we can wait to hear about the result.
Moto Guzzi 850T3 Cafe Racer
Modifications:
– Frame detabbed, new brackets for 1100 sport tank
– Handcrafted aluminum twin seat
– 944cc Gilardoni piston and cylinder
– All bearings replaced
– Suzuki USD and front brakes
– Brembo rear caliper with custom bracket and repositioned master cylinder
– Stainless custom brake hoses
– Homemade, minimal wire loom; hidden under seat / tank
– Dyna III electronic ignition
– Solid state regulator / rectifier
– Repositioned gel battery
– Tarozzi pegs (together with Rask backplate)
– Repositioned side stand
– Clip-ons with Suzuki and Yamaha switch gear
– Use of stainless steel and aluminum where possible
Acknowledgements: All of the artistic pics taken by neighbor, Bill Hunt
Paint was done by David Kinsey of Coachwerks by Kinsey.