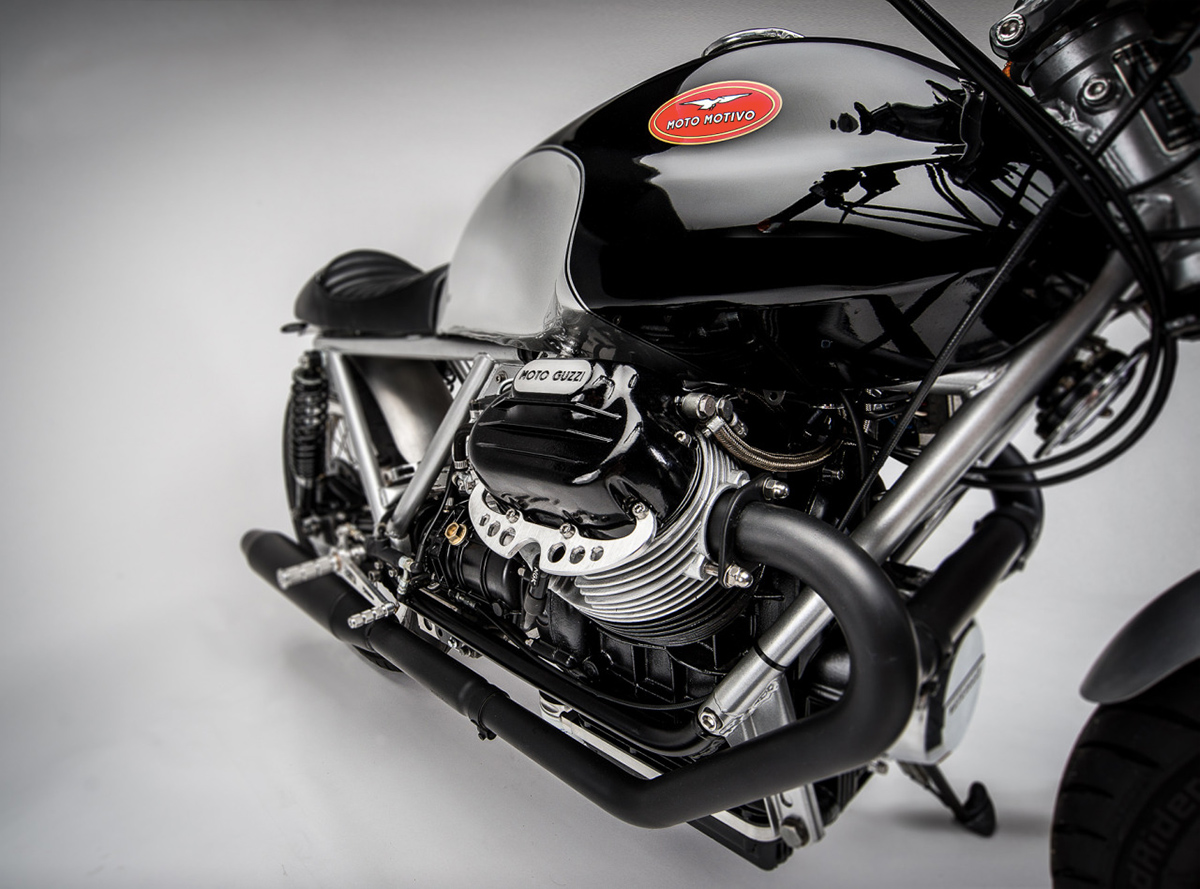 "I am a South African that moved to the USA in 2005." says Johann. "I started riding motorcycles at the age of 7 on the farm where I lived as a child. Later I moved on to feet up trials while still living in South Africa and was fortunate to be sponsored by the Italian motorcycle company Fantic Motor. I always worked on motorcycles as a hobby and the hobby changed into a full time career in 2009 when the economy went bad."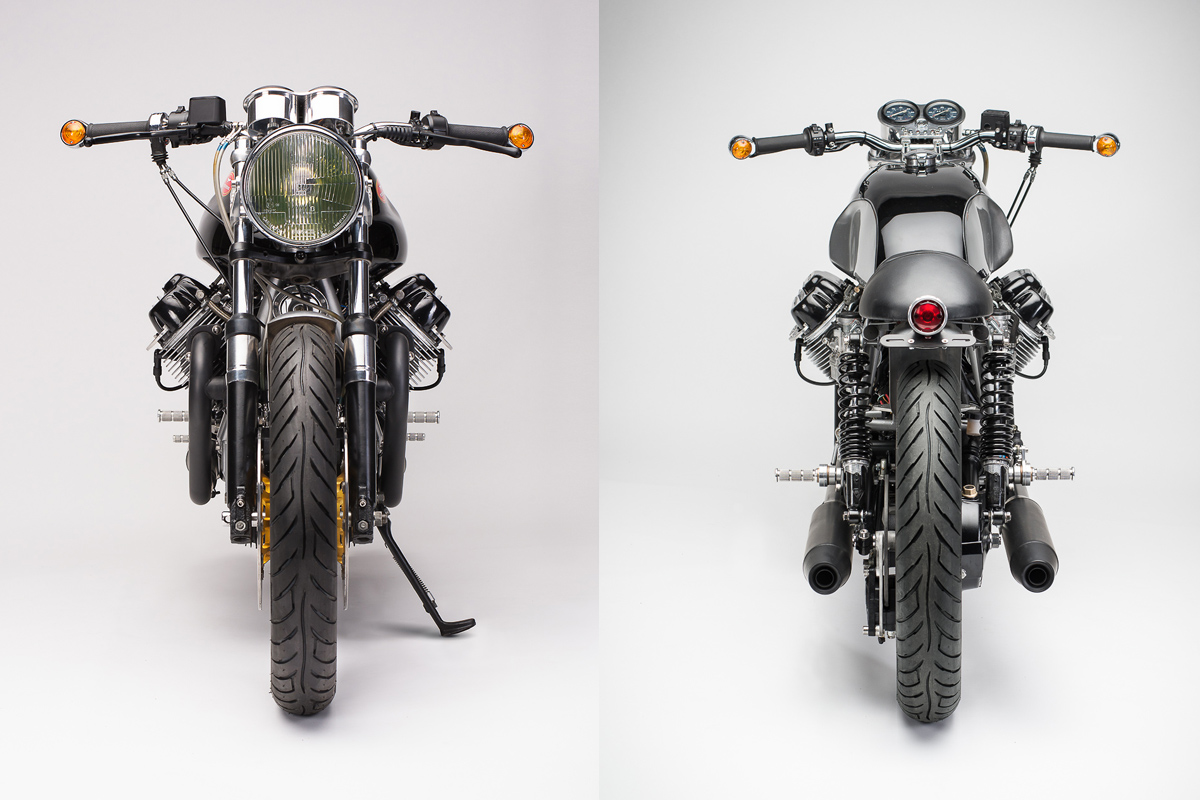 Johann's custom Moto Guzzi 850T cafe racer was an exercise in creating a "period correct" cafe racer. To achieve this Johann resorted to using as many NOS parts as possible or fabricating components from scratch. To kick the project off he contacted a UK based fabricator to hand form the bikes bespoke alloy fuel tank. With its narrow rear half and wide front the tank sits on the frame perfectly, and special attention was paid to ensuring that it complimented the shape of the engines longitudinally positioned cylinder heads.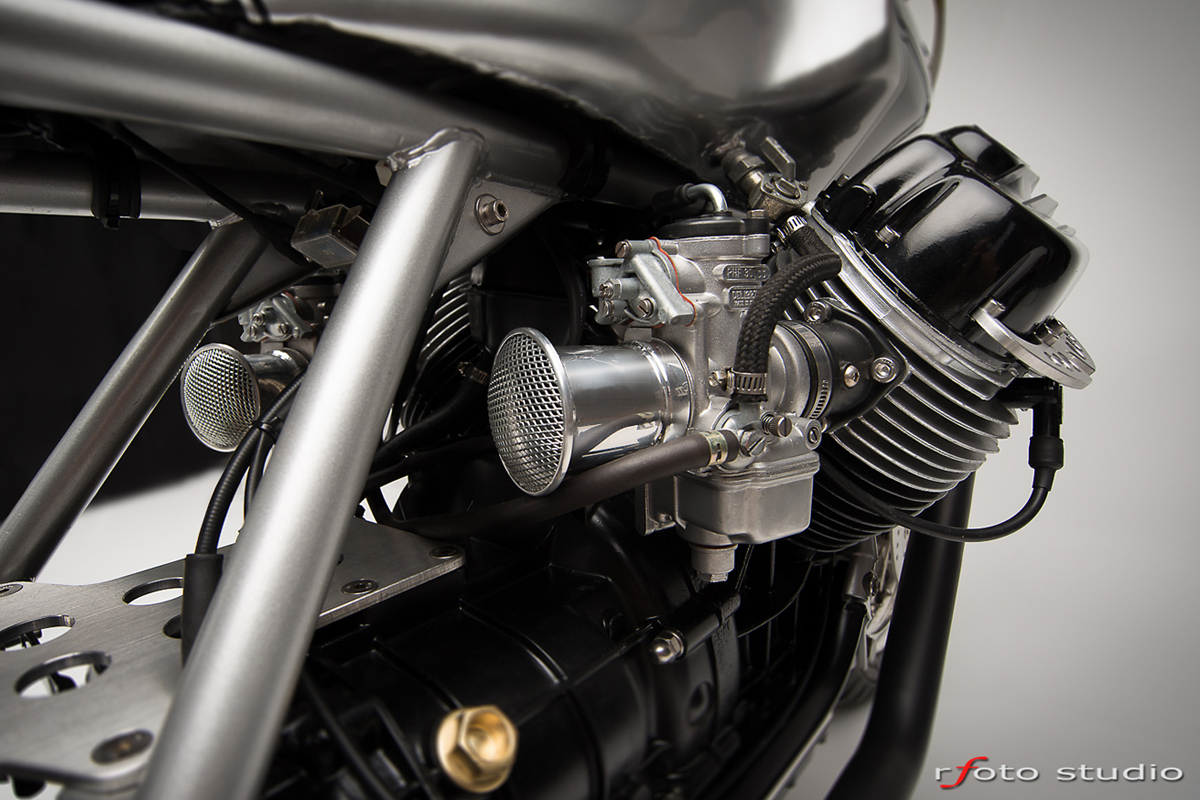 Rather than opting for the typical clip on handlebars a set of higher, more classically style bars were fitted to the bike. The battery was relocated down behind the transmission and the rear of the frame trimmed back to slim down the Guzzi's proportions. To open up the frame and simplify the overall look of the bike the airbox was then removed and a pair of mesh covered, alloy velocity stacks installed in its place.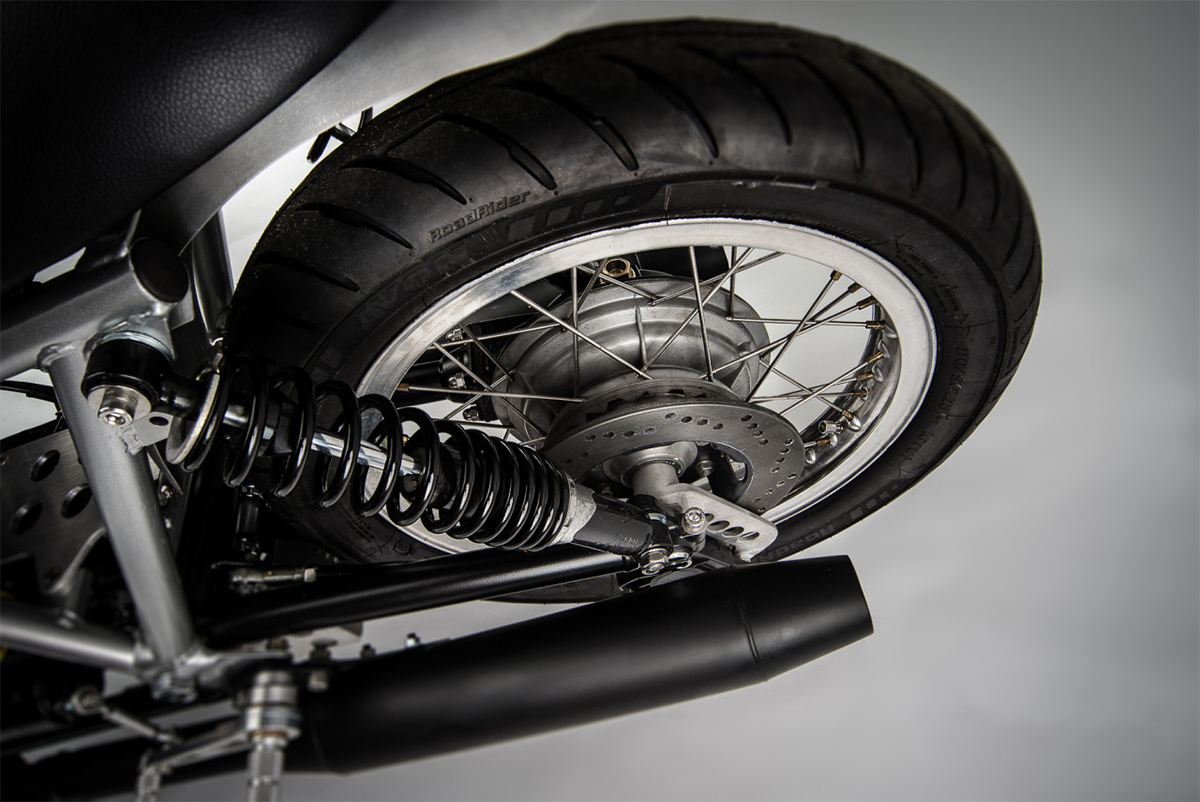 While discarding mudguards can produce a less cluttered look Johann wanted a practical bike that could be ridden rain hail or shine, so a set of alloy mudguards were rolled up and custom mounted to the forks and the rear of the frame.
Practicality and period correctness don't always go hand in hand so some compromises were made when it came to performance. Knowing full well that the Guzzi's outdated electrics were it achilles heel Johann swapped out the points ignition for a digital system. While he was at it he also installed a fresh charging system and wiring harness to keep all of the bikes electrical systems in check. Other compromises were also made with the Guzzi's braking set up. While a drum may have looked more the part it simply wasn't going to perform as Johann would like and since this was a personal build he decided to upgrade the rear using the disc system from an 850 T3.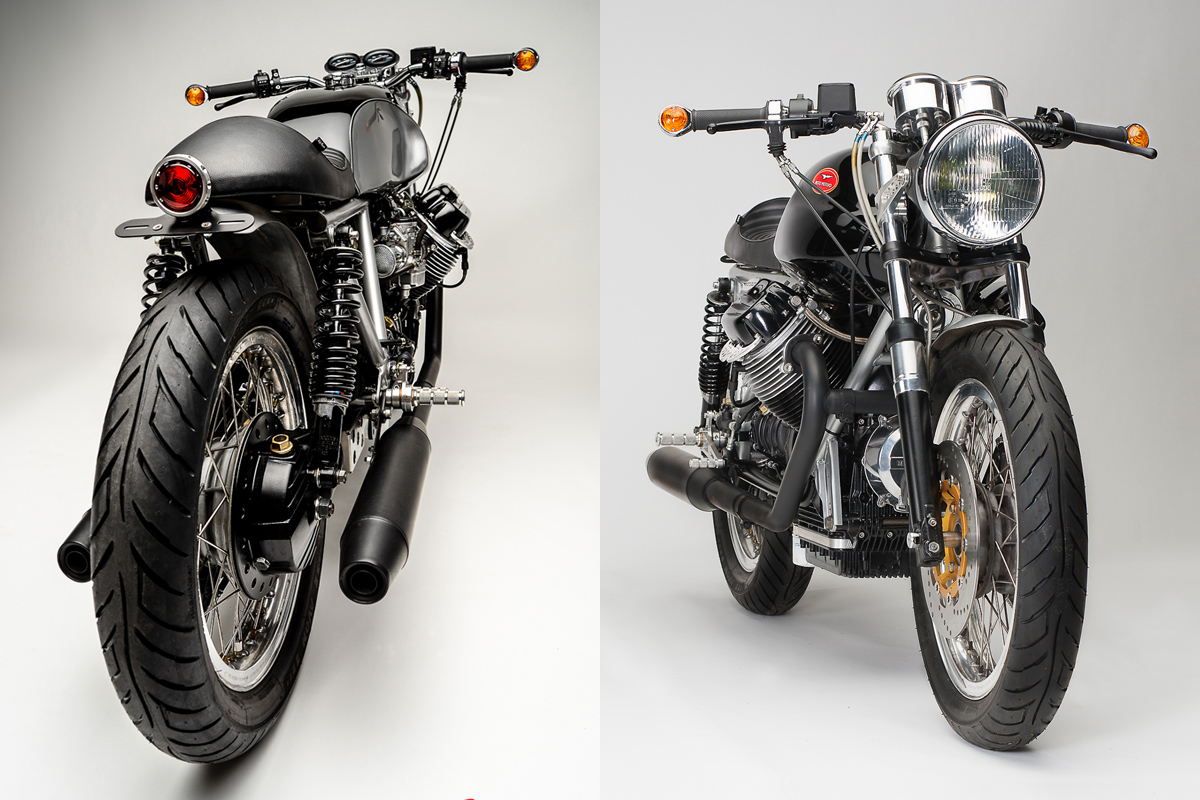 To finish the build of the bike Johann then devised a monochromatic paint scheme. The bikes frame was given a fresh coat of silver to compliment the billet aluminium brackets, rear sets, instrument panel and mudguards. Other alloy parts were then either polished or left raw while the engine cases and exhaust were shot in heat proof satin black. For the tank Johann made a smart decision opting to leave it a mix of polished and painted finishes. The gloss black contrasts perfectly with the red of the Moto Guzzi emblem (by Tapeworks) and the polished side panels do a great job of showcasing the level of workmanship that went into making it.
As with many builds of this calibre Johann's 850T cafe racer soon caught the eye of a customer and was let go after being made an offer he couldn't pass up. Once again he's has been left with a gap in his garage, thankfully though this means we'll be seeing another personal project from him soon.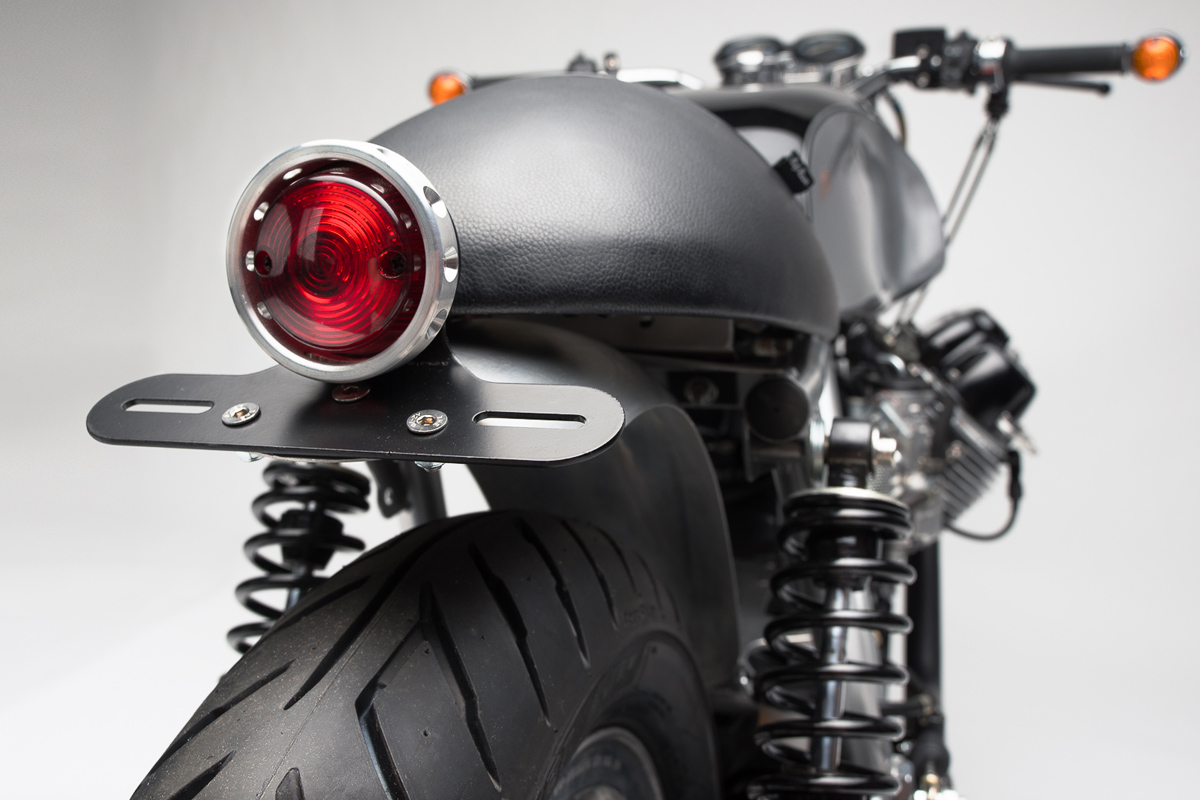 Despite an unfortunate and unforeseeable turn of events, Johann Keyser managed to turn misfortune into an opportunity that lead to the birth of his Moto Motivo workshop. After building a slew of cool custom motorcycles for customers Johann decided it was time to treat himself by building a bike to his own liking. To complete the task he got his hands on a 1975 Moto Guzzi 850T which, over a 3 month period, was transformed into his interpretation of a pure, Italian bred café racer.